Summary of this article: Wedding wishes/congratulations/greeting cards are used to show our love and celebrate those momentous occasions to the recipient. Adding a personal touch in the card can be the difference between creating a meaningful keepsake or just another purchased one. This article teaches you how to create an innovative wedding wishes card with AmoyShare Photo Collage Maker.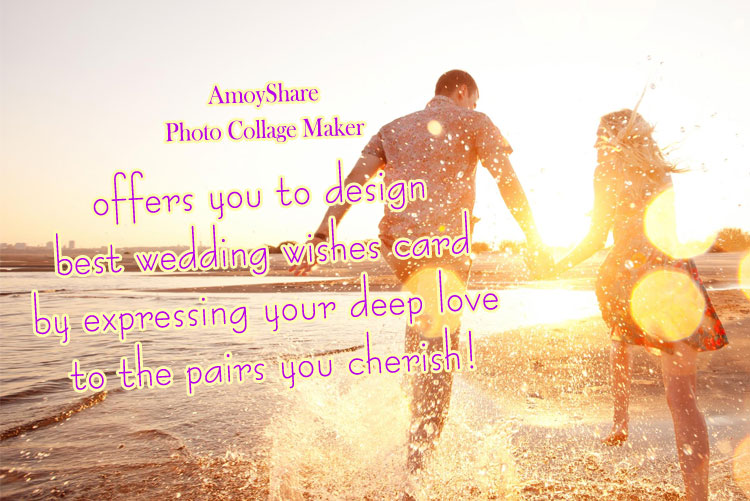 Few days ago, Carolyn, one of my relatives just poured out something of her daily life before me; among which one thing vexed her most. Things just like this: Carolyn has a niece who is getting married to a man, but the wedding is out of the state. So she will have to send her niece a wedding wishes card instead of attending the wedding.
Here comes the question. Carolyn shopped, finding many beautiful and costly wedding congratulations card in store, but they're most too old style, the most important thing is that only a few words printed on these readymade cards, which cannot enough show her unique feelings of love to her niece. She wants to write some personalized things that come from her own heart. Therefore, she was confused, asking whether I can help her come out a good idea about designing a creative wedding wishes card with editable feature.
After I got what she was facing, I strongly recommended AmoyShare Photo Collage Maker (abbreviated AmoyShare PCM), a good card maker software to her. Actually, I found this wonderful software once by accident and it had helped me to design various beautiful and elegant cards, including wedding congratulations card. I know still some other popular card makers online, I just addicted to this one! There are so many card templates inside AmoyShare PCM that I can not only use them directly but also customize them with various editable tools into my own ones. Moreover, as many innovative ideas as I could think out, I can put them into practice through this easy-to-use card maker.
Long story short, I really hope below steps for making a wedding greetings card with AmoyShare PCM can help Carolyn and anyone who has the same situation!
Step 1: Download and launch AmoyShare PCM. If you click from template, it will offer all kinds of card templates for wedding congratulations cards with different themes. Choose the theme that best suits the occasion. Or you can just click Create Blank Collage to customize your own wishes card. Set the card size and click OK to start.



Step 2: Drag the wedding photos you want to use directly to the blank page; they will be shown as thumbnails. Right click your mouse to further modify your photos and then adjust every picture to its proper position that you'd like.





Step 3: Add text to personalize your own wedding greetings card. You can add some special congratulation words on the card page to express your deep wish. There is a vast array of fonts and colors for you to choose here.



Step 4: Below is the making process of first half wedding wishes card. Now we can make the left. Just open Amoyshare Photo Collage Maker to create a blank collage, adding the text you prefer. You can add the name of the recipient and the occasion, mentioning the day that the couple got married and what you remember from the event would be appropriate for a wishes card. Of course, there are other options for further personalization, just do at you will!



Step 5: Print or email your greeting card. You can have your card professionally printed or mailed to the recipient now!
Want something truly unique? No longer upset to make custom wedding wishes card now, AmoyShare PCM will help you design ones that can better express to your friends or family how much you care. Just go ahead and have a try!
JUST DOWNLOAD IT TO FREE TRIAL NOW BY CLICKING BELOW LINK:
Download Trial
Green Software with NO Plug-ins.

Download Trial
Green Software with NO Plug-ins.