Summary of this article: This article aims to help those who would like to create a high quality personalized photo montage on their own. Here introduces a best and quickest way to make a photo montage desirable. By Photo Collage Maker, nothing is complicated and you would be amazed at its speedy and user-friendly feature!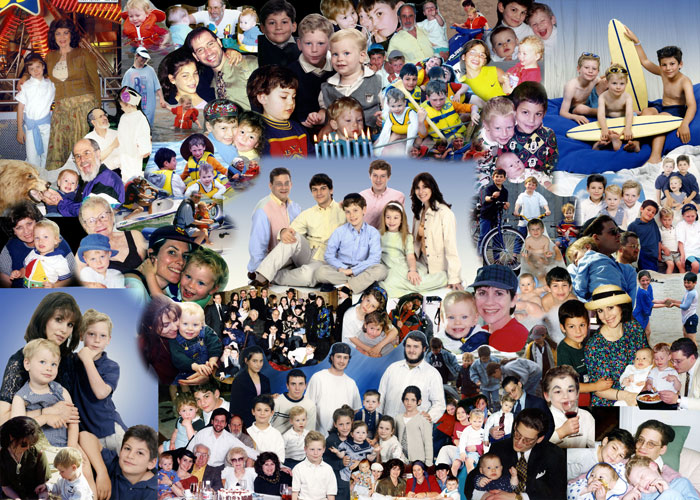 Few days ago, I just heard a bad news from my friend Betty. There is something pity happened to her, for her grandma passed away recently and she never got to take a family portrait together with her grandma before. She missed her grandma very much and wondered that whether it is possible to use several photos of theirs and make them into 1 portrait, definitely not the one of a black and white portrait, sort of pencil like.
First, I felt very sorry for her, and in order to help her, I had the impulse to write this article. I really hope after reading it, she will get the right clue to make a portrait together with her grandma that can leave her best life memory.
Then, what really is a photo montage? If we don't know its definition, we cannot properly combine photos in design to create a photo montage desirable. Photo montage is a kind of collage that is composed primarily of photographs or fragments of photographs. It contains a set of scenes that show the passage of time, a progression of events, or an emotional transition. To create a photo montage, gluing all photographs on a surface sometimes just like to direct the viewer's mind towards it. It's also a kind of unique visual interpretation and design that is meant to please the eye. A photo montage can be fun to create and done with virtually anything.
Therefore, how to make a photo montage artistic and personalized is what we all would like to seek for. Fortunately, with the help of AmoyShare Photo Collage Maker, what visual presentation we desire for to combine photos in design can easily come true.
AmoyShare Photo Collage Maker, as an easy-to-use, template-driven software, it allows the users to create a variety of photo montages by different themes at their will, such as travel journey, wedding celebration or family together. There are many templates in Photo Collage Maker, which makes great gifts for the use of birthday parties, students' graduations or business etc.
In this article, I will teach you how to create a photo montage from scratch, but the techniques explained also apply to using templates within AmoyShare Photo Collage Maker.
Besides, before you combine photos in design, I suggest you to pick a theme for your photo montage under production. This will determine the kind of photo montage you need. The theme can be as simple as the passage of time; of course you can just name it after a favorite song or even some encouraging messages that represent the purpose of the photo montage.
Ok, to sum up, let's just start by following steps!
Step 1: Gather all your photo resources needed on computer. Download and open AmoyShare Photo Collage Maker.

Download Trial

Green Software with NO Plug-ins.



Step 2: Click Create From Template option and you will see various templates, just choose the one you like and load it.



Step 3: Drag the photos you prepared into the four photo frames and adjust every photo to its proper position to fill the whole frame. Right click your mouse to adjust the frame width and color you like by choosing the Color Frame option. Next on the left tool bar of Photo Collage Maker menu, click Background option, you will see More Settings. Then just click it and load the background photo you prepared on your computer by the Stretch icon to fill the whole page.



Step 4: Click Add on top of menu to adjust text elements by choosing Add Text option (you can change font, size, color, etc. as you like). The possibilities are endless!



Step 5: Save the photo montage you made when you are satisfied with your creation.



Now I think Betty will feel so comfortable to make a photo montage contains her grandma's portrait as many as she likes!
If you also want to create a photo montage that can leave best life memory, why not try to use AmoyShare Photo Collage Maker right now?
JUST DOWNLOAD IT TO FREE TRIAL NOW BY CLICKING BELOW LINK:
Download Trial
Green Software with NO Plug-ins.