Summary of this article: Graduation party is so special that you should make it outstanding by installing the best decorations and also inviting the people you love. One of the important things before party is to well design the invitation cards, which can attract your guest postpone all other activities in order to attend your commencement ceremony. So, how to design an effective invitation card? Just read more to find out.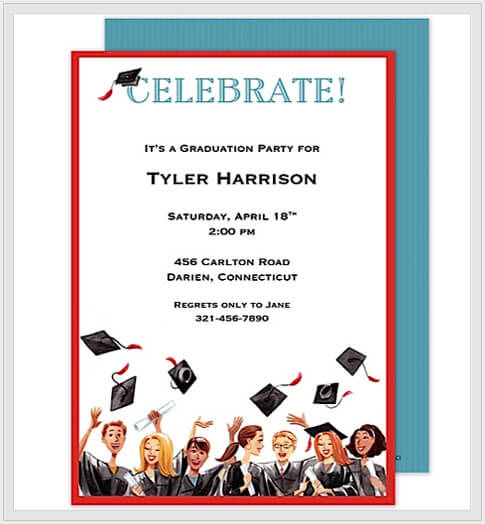 Every year there are always several million young people graduate from high school in the United States. To celebrate the achievements of the graduate, graduation parties are always a great way to get friends and family members together in one place to celebrate. It is no wonder graduates spend a lot of time to attend graduation parties and open houses for the graduating teens of friends and family. While this time of year is indeed exciting, it can also be a bit exhausting. Especially if one of the parties you're dealing with happens to be for your own special graduate.
To plan a graduation party, you need to prepare from decorations to food, but another one of the most significant parts of planning a graduation party is the invitations. The invitation cards are not only important because they inform guests of the time and date of the party, but they serve as an official announcement of the very important accomplishment for the graduate. So to design unique graduation party invitations for your guest is vital to help hold an effective party. Below is something that you should pay attention to the invitation cards for graduation.
1. Choose a Nice Invitation Maker When Designing Graduation Invitations
Numerous techniques can be used in designing invitation cards for your graduation party. However, not all of these techniques are good enough to produce attractive and high quality invitation cards. Some people may decide to have invitations custom-made, but this can end up costing hundreds of dollars or even more if you decide to invite a lot of people. So to save cost and keep your own style, choosing a nice and user-friendly invitation maker is very important. Various invitation maker for you to choose online, just select the one you think is suitable. For me, I think AmoyShare Photo Collage Maker, this nice invitation maker is my best choice. There are so many suitable party invitation templates inside it. With it, I can quickly and easily create graduation party invitations that feature photos of the graduate and all of the information that i need guests to know. To see is to believe, below is one of the graduation party invitations I made.
graduation-party-invitations.zip
Download
Wanna customize your own one? Download and unzip, then open the project by Photo Collage Maker.
2. Type into Invitation Card Text You Need.
When contemplating designing your invitations, some of the important considerations that you should put in thought, for example, the date and time. Sometimes, your guests will have to rush around to attend multiple events, so you need to inform them of the necessary messages. If you do so your graduated guest may not miss a friend's party in order to attend your own. It's good that more of your invited guests will be able to attend and enjoy the party without feeling rushed. Good news, AmoyShare Photo Collage Maker has the feature enables you to customize any text on your graduation party invitations
3. Email or Print out Your Artwork.
With AmoyShare Photo Collage Maker, you can do many things of your made graduation invitation card. Save it as picture on your hard drive or directly share it through Facebook, and even email it to your friends. Furthermore, you can just print it out for many copies to send out.
Instead of wasting money to have personalized graduation party invites made, design your own with an invitation card maker program like AmoyShare Photo Collage Maker. You will have more options for designing your graduation party invitations unique. Besides, you can save yourself a lot of money by making them on your own. It is truly the best way to make sure your graduation party invites stick out and get noticed by all of your guests!
Have a free try to download AmoyShare Photo Collage Maker below.
Download Trial
Green Software with NO Plug-ins.

Download Trial
Green Software with NO Plug-ins.