Summary of this article:A family tree card can help you to organize your family members in ascending order, starting from the oldest family member and to the youngest till date. Here a nice photo editor offers you family tree photo card templates with some guidelines to personalize your own one!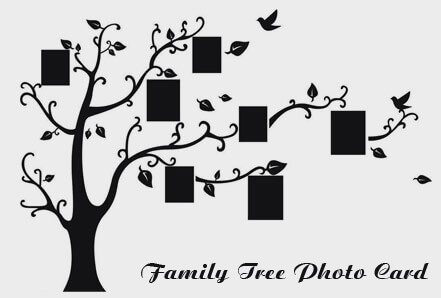 It's a great way to map your ancestry on a family tree. For children, they can better understand their heritage and gain knowledge about great grandparents and other family members they may never have had the chance to meet. For adults, it can be a chance to memorialize people who have passed away and create a beautiful representation of one's family history.
The purpose of a family tree is to establish the link between generations. Today, several computer software help to build a family tree. Here is a simple step-by-step guide on creating your family tree card.
Step 1: Researching Your Family History
Find out the names of your genealogy, their date of birth, their date of marriage and the day on which they died (if necessary). Some people are intimately familiar with their family history, and others don't know as much about their grandparents, great grandparents, cousins, and so on. Before you make a family tree, get all the information you need by conducting research. If you wish to, you can stretch back the past as further as you like.
Step 2: Utilize a Good Photo Editor
Choose a photo editor that can offer you the family tree templates, for example, AmoyShare Photo Collage Maker .
Download Trial
Green Software with NO Plug-ins.

Download Trial
Green Software with NO Plug-ins.

Since you're taking the time to research and have this nice photo editor tool, AmoyShare Photo Collage Maker. Then you can pick out one suitable among its huge amount of template collections in order that your information can be best presented.
You can just decide what form your tree will take. Some family trees are in the shape of actual trees that have a branch for each "branch" of the family. Others are more like family diagrams; simply choose the one you prefer.
Step 3: Edit Photos and Texts
Since this is your family tree, it all begins with you. Type your name in a spot on the page that is surrounded by plenty of space for all of the other names. The place where you type your name is the beginning of the tree. If you type it at the bottom of the page, the branches will protrude upward. You could type it at the top of the page and have the rest flow downward, or type it on one side of the page and have the tree bloom out in the other direction.
You can also edit photos as you like; there are many built-in photo effects in AmoyShare Photo Collage Maker, such as backgrounds, masks, frames, etc.
Step 4: Share or Print out Your Artwork
After all has done, you can now share your artwork through Facebook or by Email directly, which is supported by AmoyShare Photo Collage Maker. Of course, you can also print it out, hanging on your home wall as a décor.
Below is a simple family tree card sample made by AmoyShare Photo Collage Maker, you can take it as reference.
Wanna customize your own one? Download and unzip, then open the project by Photo Collage Maker.