Summary of this article: Grown tired of existing templates for greeting cards, calendars, and more? Or just not able to find the collage templates you want? Just try Photo Collage Maker, download free add-on template in a jiff, and get busy with fresh new materials and ideas.
AmoyShare Photo Collage Maker has made it easy for thousands of people to enrich their lives with meaningful collages and photo displays made from home. When you download AmoyShare Photo Collage Maker, you can appreciate the ease-of-use and functionality it has to offer. But what if your Photo Collage Maker free download doesn't offer the templates you desire? What if you need more? Luckily, there are collage maker add-on template downloads, all totally free.
Existing AmoyShare collage templates include: Calendar, Birthday, Anniversary, Baby, Wedding Invitation, Easter, Mother's Day, Father's Day, Valentine's Day, Pet, Sports, Travel, Christmas, Graduation, Congratulations, Friendship, Thanksgiving, Halloween, New Year, and more!
AmoyShare Collage Maker free download feature allows greater freedom with your home collaging and expanded creative opportunities. In addition, new add-on template packages are added frequently.
To download AmoyShare Photo Collage Maker, click the download button below or visit Photo Collage Maker's website page.
Download Trial
Green Software with NO Plug-ins.

Download Trial
Green Software with NO Plug-ins.

You can try it with the Photo Collage free download, and activate after the trial period if you're happy with the results.
If you've already taken the leap and completed the Photo Collage Maker download, then I will show you how to download AmoyShare free add-on templates. For example, how to get some free wedding invitation templates easily?
Step 1: Type AmoyShare official website link as below to check out.
Step 2: Two entrances for you to step into the section of AmoyShare Free Wedding Card, you can select either one. And then you will be directed to a page that displayed with many free wedding card templates.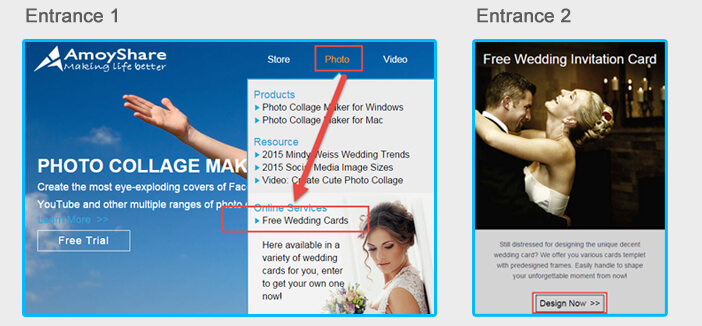 Step 3: Browse and choose one template you prefer. Click the button to download its file.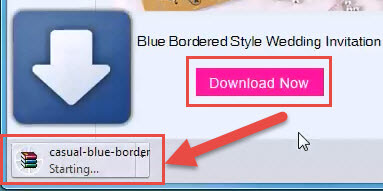 Step 4: Unzip the file, then extract all.

Step 5: Now, you will see the attached project, just enjoy or customize your own one.

Never let your photos sit and mold in some file hidden away on your computer. It's time to bring them to the light, and share them with your family and friends. Try out AmoyShare Photo Collage Maker today, and reinvigorate your memories!