Summary of this article: Wedding is your big moment. Ensure every small detail being perfect. Let's start from here- by this collage software would make yourself a modern and personalized wedding poster, including wedding invitations, save the date cards, Bachelorette Party Invites, wedding thank-you card, etc.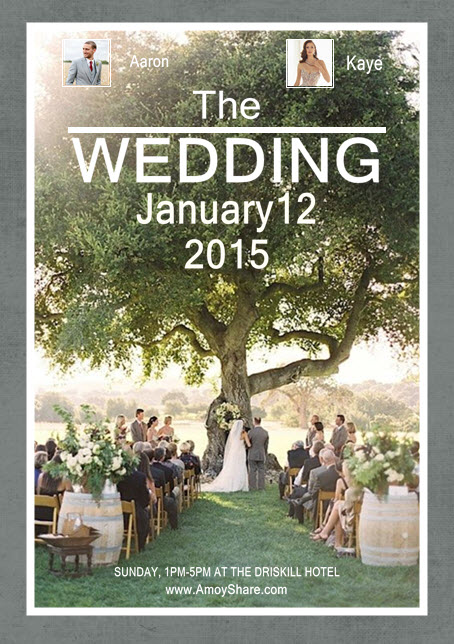 I'm sure that, before the wedding day, there will be so much preparation on the to-do task list. Such as select the most dreamful place to hold the ceremony, choose the most professional stylist who will take care of your hair and dress at that day, and one meaningful thing is picking up your favorite diamond ring, etc.
Apart from these momentous preparing items, don't forget some small details which are also significant to your big day. What I'm talking about is your wedding display items- yes, wedding poster, wedding invitations, bridal shower invitations, and thank-you cards! Especially the personalized wedding poster, it obviously would decorate the entire wedding atmosphere, and let everybody who is present at your wedding feel warm and sweet!
Now I'm going to say, just put down those machine-made wedding poster templates (no matter poster, wedding invitation or thank-you card) chosen from the supermarket. They are even though with blingbling appearances I have to admit. But without any creative ideas of your own mind, they all turn out to be boring and empty faces. Actually if you can Google one photo collage software (I'm sure there are dozens online), even a layman can design his unique art. And what's more, it's special as being with your entire love and full heart to your mate! Instead of frowning and hesitating for a hard decision at the supermarket, now all you shall do is to find the photo material you want to use inside these items, and then download a collage making software to help you start. Usually one professional collage software will pay you back wonderful and surprising results. Then you can start your own DIY wedding invitations.
Here the software I'll discuss to teach you create your personalized wedding poster (invitation, thank-you cards) is called Photo Collage Maker. Of course, it is one powerful but easy-to-use collage maker software. Only simple clicks will make a poster of wedding in high-quality poster or other stylish photo collage. Besides, you could find and create almost every kind of wedding poster template inside this fabulous maker! Just have a try by yourself to follow the steps below; you will definitely experience much fun!
Step 1: Download and open Photo Collage Maker on your computer. Make sure you have any photos you want to use already saved on your computer.

Download Trial

Green Software with NO Plug-ins.

Download Trial

Green Software with NO Plug-ins.



Step 2: This collage software will ask you whether you want to create the blank collage, or choose from the existed templates (there are many references inside software's resource library). We can make a poster of wedding by choosing any template here (there are also many references inside software's resource library), just click Create From Template and select one to begin.



Step 3: This photo collage software provides choices for users to design a creative image. On the left column and on the top are the options for the element or background set up. For example, you can change background by clicking Background option to select a pattern you prefer.



Step 4: Double click your mouse on the photo frame to add any photos or folders of photos you want to use in your poster to Photo Collage Maker. You can browse any folder in your computer to find the right photos. Any photos you selected will automatically appear on the poster. You can also change text by simple double click on the words existed. It is so simple, right?



Step 5: The next stop is to edit your photos further, if desired. You can replace photos, crop or add frames and masks, add decorations, adjust text elements (change font, size, color, etc.), and more. The sky's the limit!



Step 6: Save the personalized wedding poster you made, then send it by email or just print it out, all is no problem by this helpful software! You will the completed wedding invite template in the begging of the article. Now you can diy wedding invites!
See, it's really that easy to make a poster for personalized wedding poster, including wedding invitations, save the dates, shower & party invites, even seating table planner, etc. To print the poster in a large size, you can visit any local printer with a copy of the poster. Wish you enjoy your sweetest moment in your life!
JUST DOWNLOAD IT TO FREE TRIAL NOW BY CLICKING BELOW LINK:
Download Trial
Green Software with NO Plug-ins.

Download Trial
Green Software with NO Plug-ins.