Summary of this article: Creating classmates yearbook is a great project allowing students to express their creativity and memories of the past year. AmoyShare PCM, one ease-to-use book cover maker here helps you design a yearbook from its cover.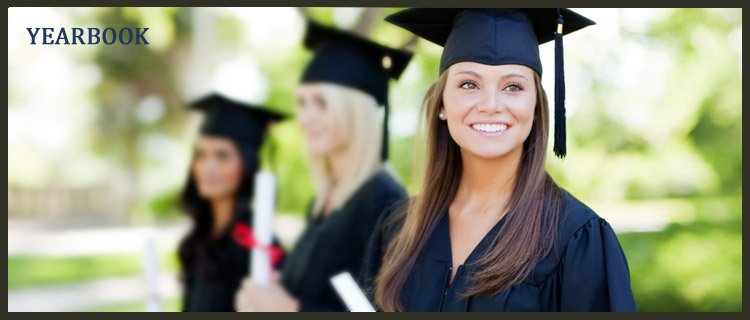 A yearbook, also known as an annual, is a type of a book published annually including to record, highlight, or commemorate the past year of a school. From its definition above, we can know it, possessing a yearbook is widely popular among the student body, but how to design the classmates yearbook economic but creatively stunning? I think most of students may wonder.
First, how to make classmates yearbook that can save budget? In terms of it, I have to introduce a popular and economic book cover maker (AmoyShare Photo Collage Maker, abbreviated AmoyShare PCM) for your good sake; it's really worthwhile to recommend for
a. Some creative theme ideas inside it.
b. Dozens of easy-to-use cover templates, and backgrounds
c. Various professional editing tools and much more other features.
Second, how to design classmates yearbook that creatively nice?
As known to us, yearbook contains pictures or photographs of memories that occurred for one year or one generation, and it is generally divided into two parts, the cover and contents page. Content section will contain pictures of students or students who have graduated, while the cover usually describes the major theme of the yearbook, so the role it plays in whole yearbook is critical important.
We're to the point now, the next I will show you how to make yearbook covers easily with AmoyShare PCM, the contents page inside the yearbook can also follow almost the same design steps. And after the process, finally I will give you some tips on making whole yearbook, hoping they will do some favor to you.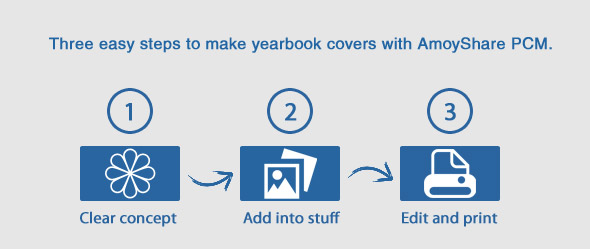 Step1: Clear concept
Because the cover is usually described the overall theme of the yearbook, then you will need a concept to design it. Good and clear concept would make the yearbook look better, for everyone will want a clear plot and scheme starting from the cover of the book until the last page. Of course, you can use the popular yearbook concepts inside AmoyShare PCM directly or just choose to create a creative concept yourself. Do not be afraid of the strange idea, because instead of an idea that may seem strange, it will lead to something great.
Step2: Add into stuff
Gather all yearbook photos and other paragraph materials you need. Launch AmoyShare PCM and then you can add all the photos and texts separately into this user-friendly book cover maker through its top Add option of the appearing menu as below.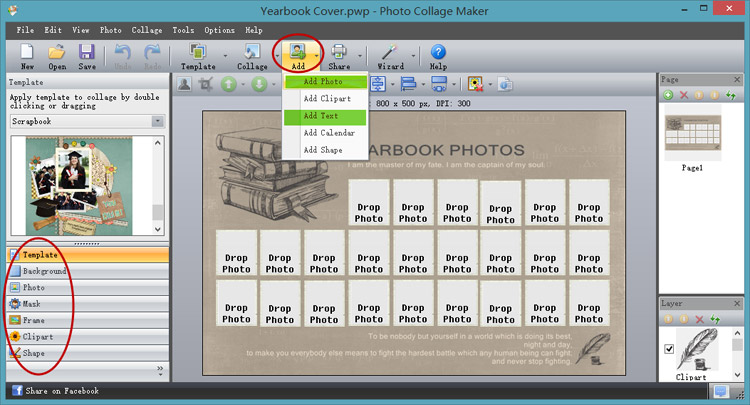 Step3 Edit and print
After you drag all the stuff into it, you can now customize the yearbook at your will with various editing effects on the left tool bar. If you want to further edit or get more effects, just right click your mouse on the yearbook photos, there has other amazing small tools waiting for you!
Now it's the printing time, on the top Share option, choose the Print from its pull-down list. Then you can adjust the position and size according to your needs in the setting menu that called out. When all has finished, just enjoy your artwork!

Some tips to help you make a beautiful yearbook:
1, Make sure you choose and stick to a theme. A unified theme will organize your content and make your yearbook look much more polished and professional.
2, Gather as many yearbook photos as you can. The more photos you have access to, the more likely you are to discover the perfect shot for your yearbook or school.
3, Keep your yearbook simple and go for single-image pages when possible.
Making a yearbook can be a small labor of love, and its cover can be more critical to share your whole book's impression. Try by yourself with AmoyShare PCM to design a creative and unforgettable one now, you will enjoy the process!
Below is Photo Collage Maker free trial download button:
Download Trial
Green Software with NO Plug-ins.

Download Trial
Green Software with NO Plug-ins.