Summary of this article: In this article, we'll give you the Google+ cover photo size and other basic guidelines to help you to create a Google+ cover photo with AmoyShare PCM that will wow your clients.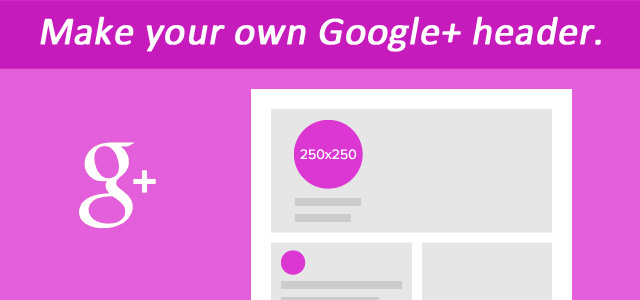 On Google+, personal profiles and business Pages share identical layouts, so the cover photo image sizes are universal. Furthermore, Google+ users need to understand where and how their cover photo is displayed. Being a "hovercard" across entire social network, your Google+ cover photo sometimes can be an important digital business card.
Therefore, in order to help make a Google+ cover photo that showcase your career skills and stand out amongst the competition, we show you here how to create a unique Google+ header with some practical guidelines, which will finally help your SEO and grow your business!
Ok, let's take a look at 4 useful design considerations below when creating your Google+ header.
Guidelines
1. Google+ Cover Photo Size In 2015
To make your Google+ cover great looking, you should first pay attention to its size. Although Google+ keeps changing its header size, it's stable this year. The 2015 Google+ cover photo size is the same to 2014.
Cover Photo:
Recommended: 1080 x 608 pixels
Maximum: 2120 x 1192 pixels
Minimum: 480 x 270 pixels
Displayed as: 920 x 518 pixels
Note: In a word, the Google+ cover photo size you upload should be the ratio16:9 and at least 480 x 270 pixels, or else the Google+ will pop up a reminder as below.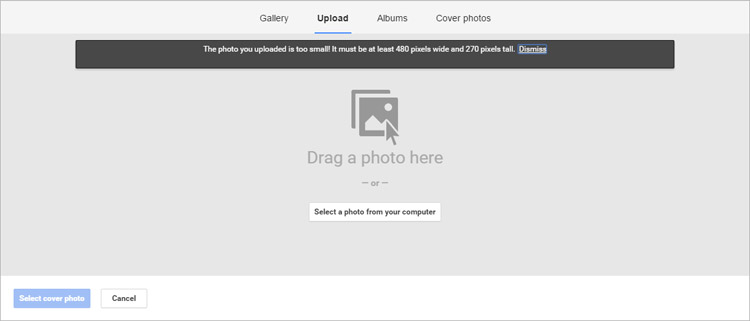 2. Google+ Profile Photo Size
Displayed as circle, the left of the cover photo with a blurred portion of your cover photo behind it, the Google+ profile photo is uploaded at least 250 x 250 pixels. The max size can be 1000 x 1000 pixels.
Note: After selecting the proper profile photo to upload, you can crop the image by adjusting to best region. If your photo is too small, it will ask you to change a better one as below.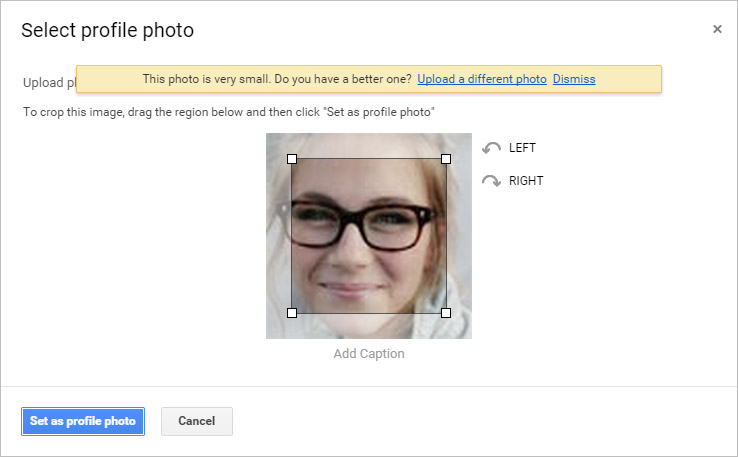 3 Keep it Harmony
Choose a Google+ header photo best fit for your page's theme or your business skill.
Too many people settle for plain and irrelevant Google+ cover photos to their business, which is unlikely to make people remember their page. Since a picture is worth a thousand words, just choosing a unique cover photo that will grab the reader's attention is very important.
Below is a simple Google+ cover photo template, this is what mine looks like, you can take it only for reference. (The blurred left side of the header is a repurposed copy of the header image you upload. You do not have to worry about the dimensions since you already have the header image at the correct size.)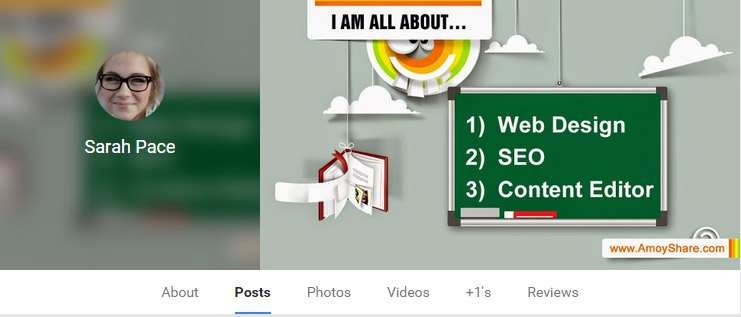 Wanna customize your own one? Download and unzip, then open the project by Photo Collage Maker.
4 The Google+ Cover Photo Maker Recommended
When using images of your Google+ profile page, the image sizes are generally more logical than the Facebook Page. But there are still some tricks to get the images to look their best (just the guidelines mentioned above).
Thus, which Google+ Cover Photo Maker can achieve all effect best? I know maybe you have many choices, but here I just recommend one I suppose best to you-AmoyShare Photo Collage Maker. With it, no picture dimension problems will show up to you. Furthermore, you will find various cover templates to fit your Google+ header, Facebook banner or other social media headers.

To see is to believe; you can have a free try yourself and make your own judgment!
Below is Photo Collage Maker free trial download button:
Download Trial
Green Software with NO Plug-ins.

Download Trial
Green Software with NO Plug-ins.