Summary of this article:You are the celebrant and the star of your birthday party only once every year. The guests that come to your birthday celebration make your birthday happier and lively as they bring gifts and presents only just for you. Here is the guide to help you design an attracting and elegant birthday invitation card.
Below are the subtitles included in the screen:
1. How to make an elegant birthday invitation card quickly?
2. Launch AmoyShare Photo Collage Maker.
3. Set your birthday invitation card dimension.
4. Drag and drop the picture materials you prepared to fill the blank template. You can clear the frame and mask effect at will.
5. Select a clipart you prefer.
6. Add texts to the template center.
7. Select a suitable font, color and size for your words.
8. Select all the words and pictures, then right click to align center.
9. Create another new bland template.
10. Select a color you prefer as background.
11. Add a rose clipart.
12. Add your birthday invitation card wordings.
13. Type any words you prefer. There are plentiful options for rich text editing here.
14. Try to highlight the name in a fit font.
15. You need to be a little patient here.
16. Try to make your name more prominent in the whole birthday invitation card.
17. After some adjustment, align all elements in the card.
18. Now you can choose Save Collage AS Picture and then output your artwork by setting the image quality.
19. You can also share it through Facebook directly.
20. Of course, you can save it as a project to edit next time.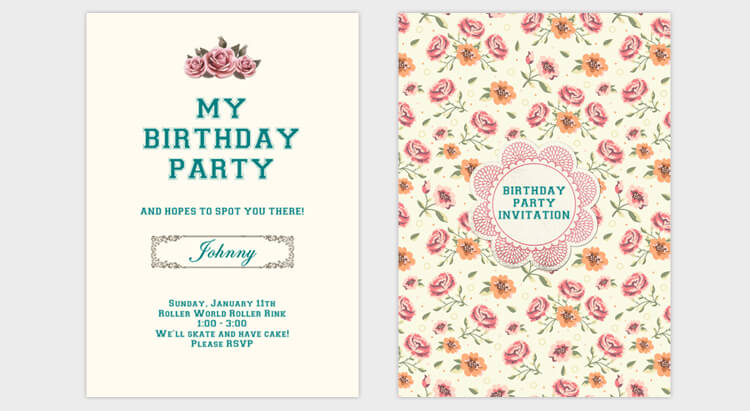 Wanna customize your own one? Download and unzip, then open the project by Photo Collage Maker.
Thanks!
Download AmoyShare Photo Collage Maker for free trial now!
Download Trial
Green Software with NO Plug-ins.

Download Trial
Green Software with NO Plug-ins.

Contact us: support@amoyshare.com