Summary of this article: Wedding is one of the most exceptional days in life. Everyone will hope each wedding event run smoothly in order. From booking venue to the dresses, to the band and the food at the reception; it all has to be just perfect. Here offers you a nice wedding checklist, letting you know what to expect and how to be prepared. Moreover, some best wedding websites based on this wedding planning guide are recommended here, you will no need to shop or search the wedding service online anymore!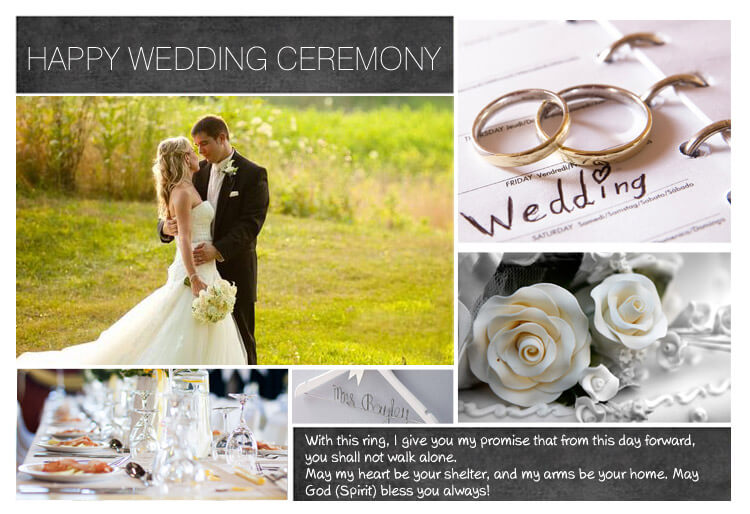 The most memorable and thrilling days of your life may be getting married. Although most of the wedding preparation will be time consuming and stressful, it is worth to do that for the final wedding ceremony would be fun. Making your wedding ceremony fun and extraordinary can only be done if you have a smart wedding planner checklist in advance. A smart wedding planning guide can help ensure that everything goes smoothly and nothing is forgotten. Besides, you can get everything ready in plenty of time for you to still enjoy it.
What is a smart wedding planning guide? A wedding planning guide with some best wedding websites recommended will be smart.
As we all know, a wedding plan should include a wedding checklist of many items you need to remember for the wedding ceremony like the wedding invitation, place card, and other wedding card; stationary including the wedding cake and flowers, favors, booking the wedding reception venue, and catering services. What's more, finding all the dresses and accessories, as well as sorting out the décor, the wedding ceremony service, order of evening, and anything else you want to add to make your wedding day amazing.
If you have no good timeline of wedding plan, much hassle will appear, for example, your wedding invitation could be sent too late, the wedding cake may not be ready and you might not even have a great wedding reception venue as many places are booked up a year in advance. The wedding checklist can also serve as a goal, because you cannot do everything in one week - and still be sane that is. As many brides have jobs as well, wedding plan is left for the weekends or the time to get off duty, and you want to make sure that everything done in time for your perfect wedding.
Therefore, if you want to save your time most, finishing your wedding checklist perfectly, you should find a quick way to prepare all wedding items before your wedding party. To help you have a smart wedding plan, here is a handy wedding planning guide for you. From the wedding checklist below, you can know where to start, what things to organize and plan for, where to shop for your wedding items and how far in advance each one should be done, etc.
To make your wedding day is done properly and everything goes according to your dreams. You should hold the engagement party first, of course, it's completely optional. Traditionally, the parents of the bride will host the engagement party. Then you should start:
Book Wedding Reception Venue:When planning your wedding reception, the most important thing is to book your wedding reception venue at least six months in advance of the big day. But, you should remember, planning six months in advance is actually the very minimum that you should aim for. Many wedding planner experts recommend booking the wedding reception venue as far in advance as possible, in some cases, which is better to book more than a year in advance.
The "Find Vendors" service in Wedding Wire website is what I would like to recommend here. Planning a wedding reception can involve a lot of work, but planning your reception and booking the venue well in advance can help to ensure that your big day goes off without a hitch! Wedding Wire offers the most comprehensive vendor catalog with over 200,000 reviewed wedding vendors from across the US. It can enable you quickly and easily search based on your location and preferences to find the perfect match.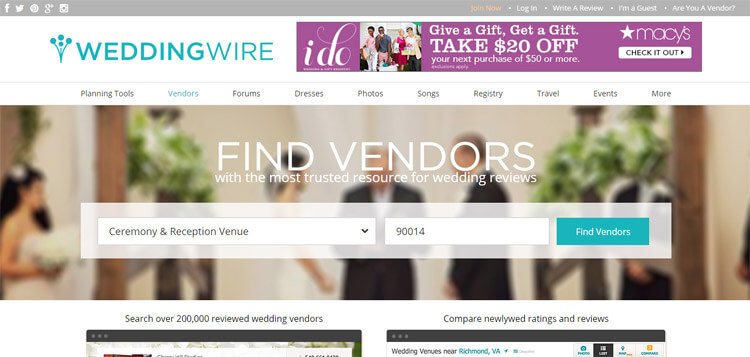 Draft Wedding Party Guest List: The wedding party guest list will determine the amount of plates or buffet service at the wedding reception, wedding invitation ordered, favor needed, size and seating needed for ceremony and reception venues, and will affect most aspects of the wedding ceremony. To make your wedding ceremony guest list can be a daunting task, but the guest list is the crucial step in determining your wedding budget.
Therefore, you should find a website to help you achieve that, and your family can easily access the list and update as needed. Wedding Wire website is one of the best wedding websites that contains easiest-to-use free wedding planner tools. With Wedding Wire, you can create a free account to start building your wedding guest list and easily keep track of attendance, gifts and more. Besides, its wedding planner tools can also help you avoid the issue of having multiple versions of the same document floating around in your email.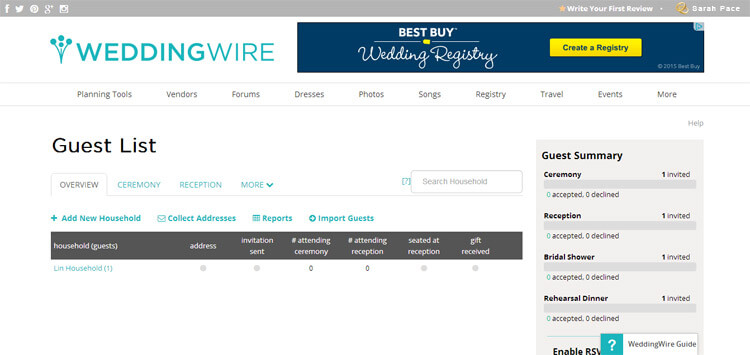 Wedding Gift Register: The wedding gift registry is the wedding list that the couple who are about to get married expect. It will contain all the things that the couple feel will be necessary in their new home immediately after marriage. It is also a way to allow the guests to buy the bride and bridegroom truly treasured gifts, as opposed to presents that will only occupy space and never be truly used or appreciated.
The appycouple.com, one of the best wedding websites can help the couple register online at their favorite wedding shop. The gift registry includes everything from home appliances to furnishings. It offers a good way letting people know what to get you if they want to send you an engagement party or bridal shower gift. You can also go back and edit your gift registry. Besides, the appycouple.com also gives you expert advices about your registry gifts. To learn more, you can visit the website.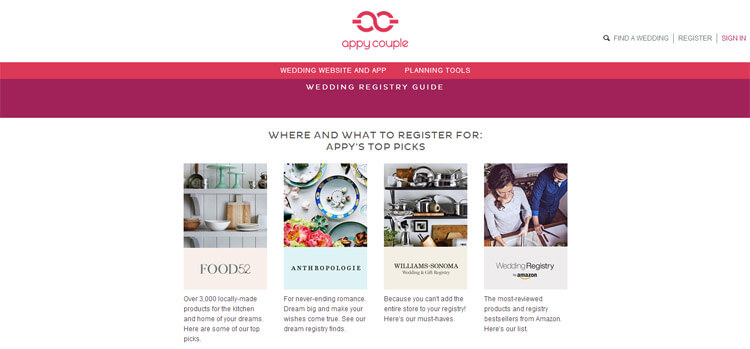 Plan to Select Bridal Party: This is one of the toughest decisions for the couple-to-be, for it is impossible to include all of their closest friends. So although bridal parties are supposed to be fun and agitating, these expectations can be turned into embarrassment and disappointment. You should plan it in advance to ensure you have plenty time to make decisions (the Bridal shower Party and Bachelorette Party is usually thrown 1 month before the wedding).Just search online, such as theknot wedding website, you will find many bridal shower party ideas.
Hope with the wedding tips of some best wedding websites, you can make your bridal shower party a real difference on your amazing day.
Take Engagement Party Photos: An engagement party photo session provides a nice opportunity to portray the newlyweds' love in the forthcoming years. For a couple, it is a good occasion to get a set of photos where they are enjoying being together, relaxed, without the rush of time. For the photographer, he is able to know the couple more so that he knows what the couple would like in terms of shots. He will be able to capture good poses during the wedding as he already has an idea of the good shots based on the engagement party sessions.
Of course, although many couples like to include an engagement photo in their announcements or save the dates, it is optional. If you do not wish to include a photo in either, you can take them at a later date or not at all. Completely up to you! My Wedding website is one of the best wedding websites that including photographer service. With this service in My Wedding, you can search for your favorite photographer around based on your living place.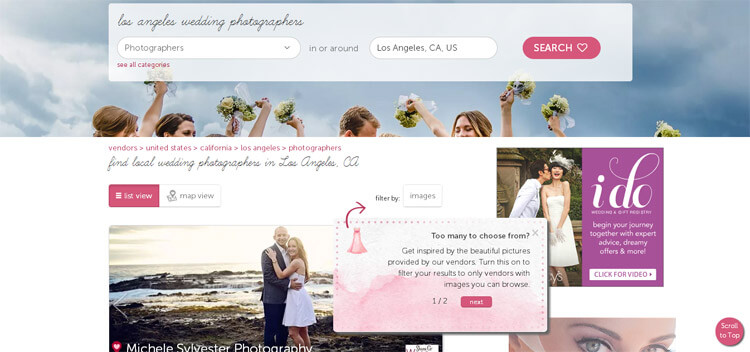 Order Your Wedding Dress:I know many brides go out shopping for the perfect wedding dress within days and even hours of the proposal. But believe it or not, a wedding dress can take up to 7 or 8 months to receive after ordering—especially if you are doing something customized. So choosing the right wedding dress is very important.
Every bride I have seen is beautiful, but not every bride's dress suits her. Some wedding dresses even are a definite detriment to the bride's appearance, the wedding pictures and even the whole wedding ceremony. While, My Wedding website can offer you chances to browse different wedding dress ideas and inspiration for your big day. The photo collection and wedding tips of My Wedding will also help you find wedding dresses that perfectly fit your style. Furthermore, you can buy the dress directly from the wedding shop related with these wonderful wedding pictures.

The wedding dresses service in theknot wedding website is another one to recommend. There are about 10 thousand wedding pictures of dress in this website. They are arranged in various themes, colors and occasions. What's more, nearly every kind of wedding dress has full description here. You can choose your favorite one as your preference.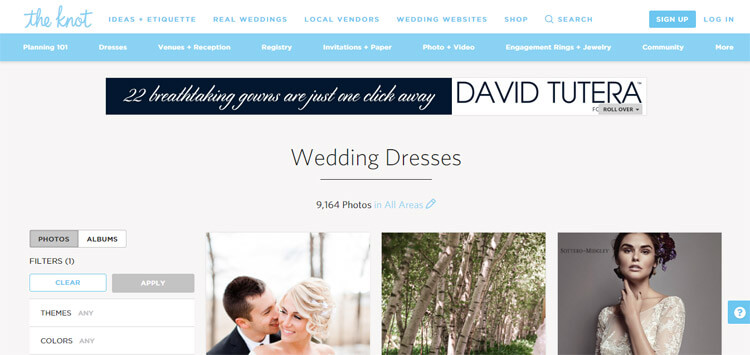 Block Hotel Rooms for Guests: Your wedding is a time when all your friends and family come together to celebrate your unity of marriage. Perhaps some of your friends or family members are coming in from out-of-town; you should do your best to keep them happy and busy during their stay. Thus, it's necessary to book a block of rooms at a local hotel for your guests. Typically hotels will give you a discounted group rate if you meet the minimum room block requirement.
Hotelweddingblocks.com is one of the best wedding websites that are able to negotiate great deals for your guests, and its service is 100% free for you, your families, and your friends. Only negotiate with the source, it has the service to secure rates that are not available on the consumer market. What's more, it can help handle everything from start to finish. All in all, it saves money and time with fantastic service.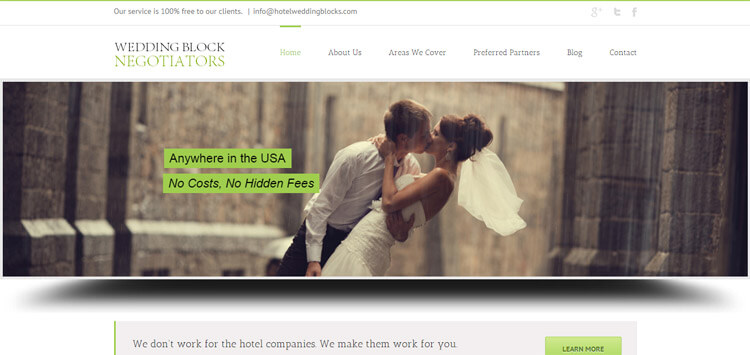 Order Wedding Cake:Brides always want some reaction of amazement and admiration to their wedding cake. They want people to mill around it and admire the creation, which is a symbolic of a couple's new union. Everyone has dreams of hearing those "ooh's" and "ah's" and the conversations about the décor, the colors, and the height of the cake. The right wedding cake should take the breath away of all your guests, and make them anxious to take a bite. If you ask me, this is by far the best part of the entire wedding to do list.
The wedding cake is one of the major elements of the wedding ceremony day. Because it is such a big purchase, much time and purpose needs to be dedicated into choosing or making the perfect cake. Some best wedding websites, for example theknot wedding website can offer you considerate service about wedding cake. It not only offers you different categories of wedding cakes, but also some wedding cake advice and etiquette. Besides, you can easily know your local wedding cake bakers in this website. Of course, if you want to shop the wedding cake accessories, it provides you the access to nearly any wedding shop.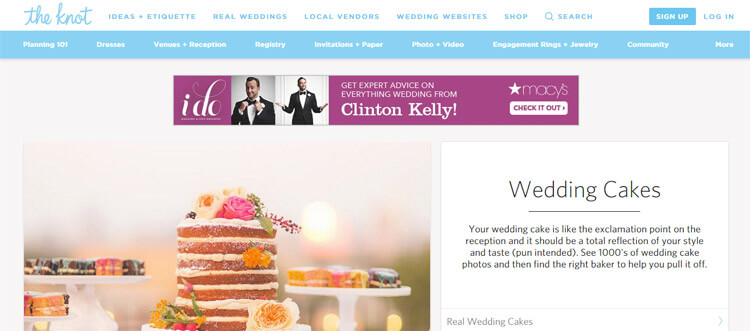 My Wedding website is your another choice to select your favorite wedding cake. You can find local wedding cake bakeries and pastry chefs in your area easily in My Wedding.
Begin Hair & Makeup Trails:Once you've ordered your dress, it's a good idea to begin thinking about your beauty look. There are so many details about hair and makeup that you must complete at the same time. If you are doing your own hair and makeup, be sure to test out a few styles with some serious staying power. Also, if you are going to get an airbrush tan, I suggest testing out a few different places. Once you find a tan that works for you, book your wedding appointment at least 48-hours before your actual nuptials take place.
Below two of the best wedding websites contain all the tips and tricks to gorgeous wedding hairstyles and wedding makeup that you need. Whether you're looking for wedding hairstyles for long hair or wedding hairstyles for short hair, they have thousands of photos of real brides to help you find the perfect updo or down hairstyle to match your wedding theme. Besides, you can even buy the wedding hair accessories at the wedding shop they offer you.
Here is theknot wedding website.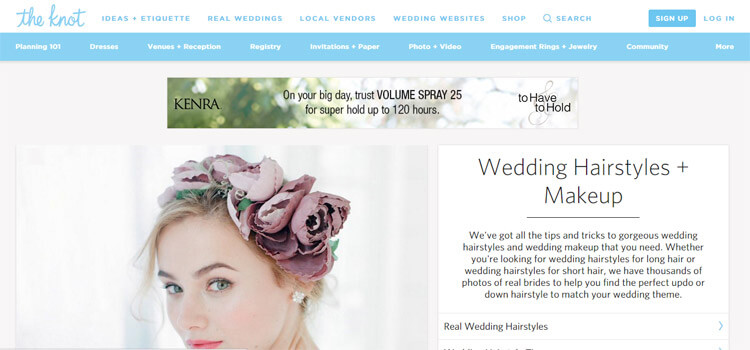 The other one website is Wedding Wire. Here you can discover plentiful beauty or health ideas and advices. Besides, you can even search for your local beauty & health vendors and beauty & health pictures.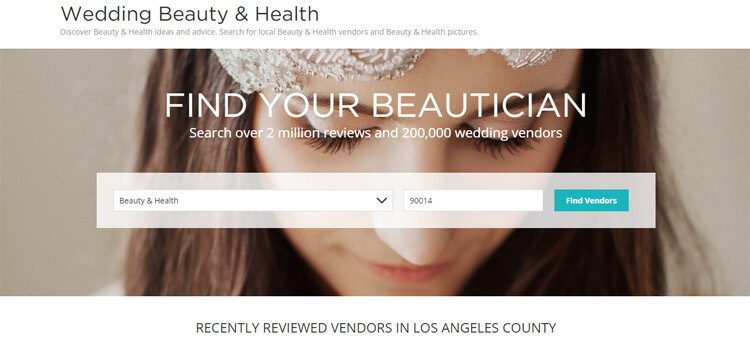 Another service the Wedding Wire website offers is the fantastic wedding pictures of hairstyles. In Wedding Wire, you can choose your perfect wedding hairstyle by browsing through thousands of wedding hairstyle photos.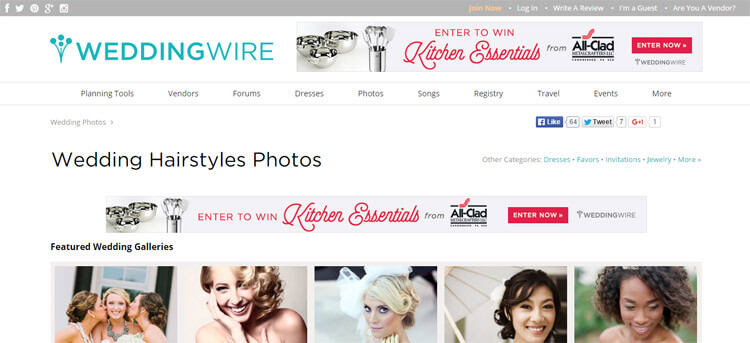 Send Save the Date Cards:It's important for brides and grooms who are planning their wedding to send save the date cards before sending the wedding invitation. While it isn't a requirement, it is a courtesy to extend to your guests that will help them make travel arrangements so that they'll be able to attend your special day. At least 6-month-notice in advance you should give to your guest.
Save the date cards are appropriate for every marriage ceremony, but there are some that they are more important for. If you are having a destination wedding, it is especially vital. Perhaps several out of town guests are coming to your wedding, letting them know early on with a card is very advisable.
Wedding Divas is one of the best wedding websites that offer you stylish save the date cards. You can find the save the date cards in unique themes and custom designs here. What's more, it saves up to 25% off + free shipping on save the date cards at Wedding Divas website.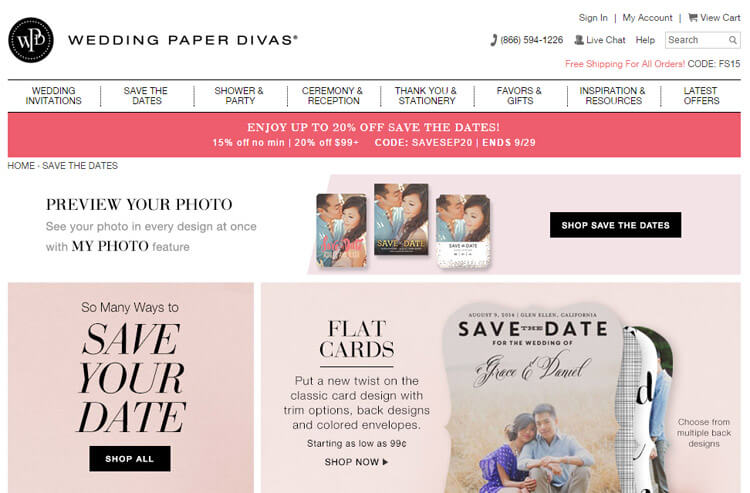 Book Honeymoon:Are you searching for the top honeymoon destinations? Or looking for all inclusive honeymoon resorts? At theknot wedding website, you can find the best places to honeymoon from Hawaii to Bora Bora or destinations in the U.S. like Disney. The Honeymoon services that theknot wedding website included are honeymoon destination ideas, honeymoon advice, local travel agents, shop honeymoon essentials, etc.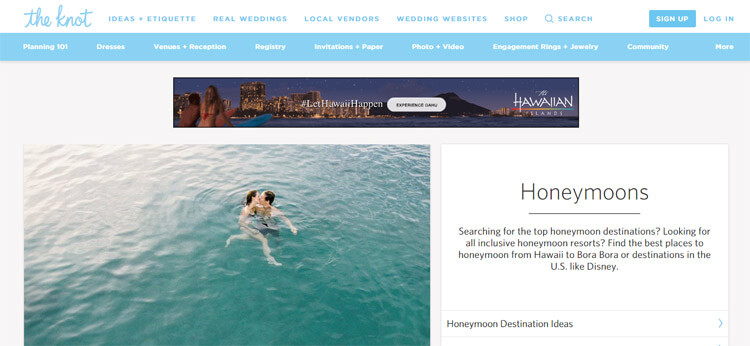 My Wedding website can also offer high-quality honeymoon service. In My Wedding, you can explore exciting honeymoon packages and destinations. Besides, you can discover the perfect spot for your romantic getaway. My Wedding honeymoon service features the top honeymoon resorts and hotels around the world. You can see more featured locations at its website.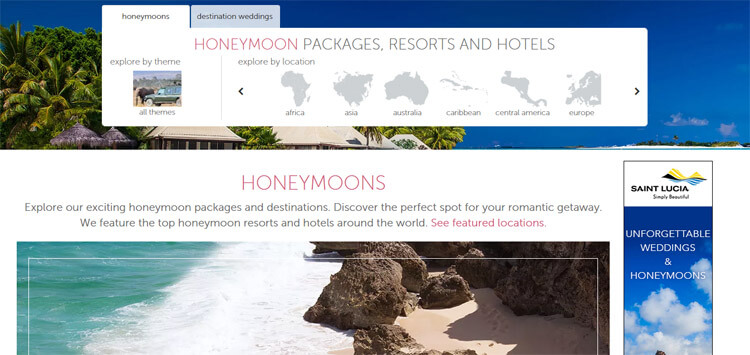 Purchase Wedding Bands:There are virtually hundreds of styles of wedding bands from which to choose, for both the bride and the groom. While the traditional band for both is a simple, round gold ring, today they can be simple or elaborate, wide or thin, gem studded or not. It is not unusual, even in the groom's ring, to find gemstone accents. Sometimes, knowing what bands go with the engagement ring can help you make a decision. If you want to customize your bands with an inscription, it's best for you to order them in advance in case there are any issues with sizing.
Learn more about wedding bands; just visit 11 Ways to Pick the Perfect Wedding Bands.
Select Groomsmen Attire:Whether to rent or purchase the groomsmen attire, maybe you are still hesitating. So, it's a good idea to get it sorted out a few months before the wedding party to avoid any last minute mishaps.
In theknot wedding website, you can get help finding vendors for a tuxedo rental or suit rental, and style wedding tips for colorful socks and vintage suspenders. Plus, the theknot wedding website got unique groomsmen gift ideas and advice for the best man speech. Of course, if you do not have budget issue, you can buy your groomsmen attire or gift in the wedding shop of this website.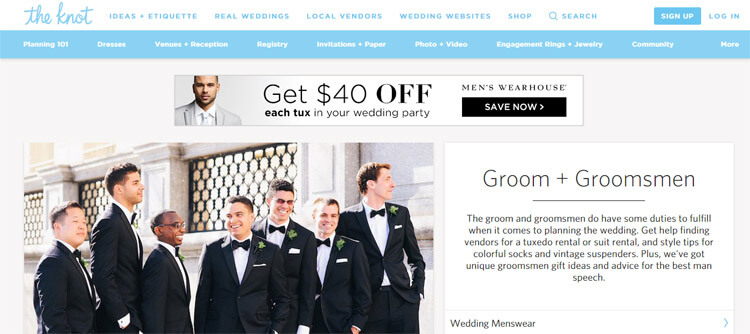 Plan Rehearsal Dinner: Traditionally, the wedding rehearsal dinner is hosted and paid for by the groom's parents or the groom's family, especially if the bride's family is paying for the reception. Today, a lot of couples are also hosting and paying for both, especially if this is a second wedding for either the bride or the groom, or if the event is a vow renewal wedding. Learn more about the rehearsal dinner ideas here.
Send Wedding Invitation: Wedding invitation designs are the focal point of your wedding stationery, providing the first glimpse into the style and formality of the wedding. While save the date cards can be flirty and fun, your wedding invitation will be a true reflection of your event. It is typically sent out 6 to 8 weeks prior to the wedding.
Some people may choose to DIY their wedding invitation; others prefer to buy their wedding card online or in store. No matter what way you choose, some best wedding websites may help you to a great degree, for example, the Zazzle.com website. It provides a lot of exquisite wedding invitation designs for you. It has various categories for you to choose when shopping cards, including Shop Popular Themes, Shop by Season, Shop by Color, Featured Designers, etc. Then, it has a function, namely, Complete Your Suite. In such part, you can choose suitable Wedding Wraparound Labels.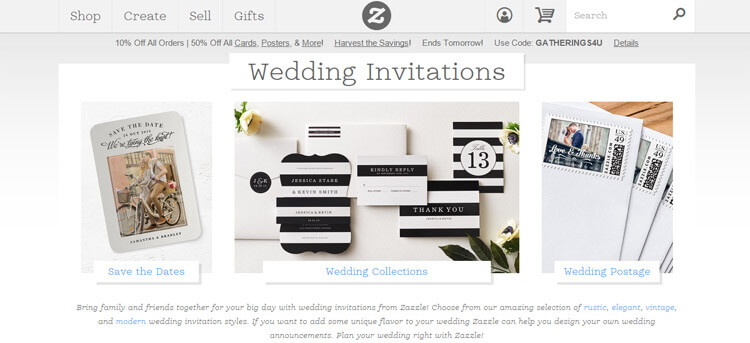 Enjoy up to 20% off on wedding card, you can shop unique wedding invitation from independent artists in minted.com. Free recipient addressing is also offered. Here, you can browse hundreds of unique wedding invitation designs from independent artists. Matching printed wedding invitation is also available.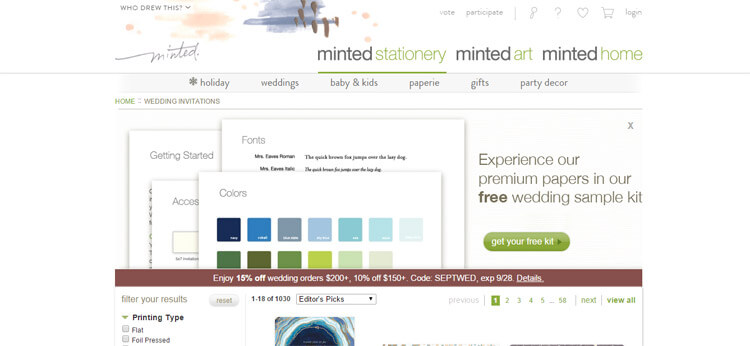 Decide On Your Wedding Vows:Wedding vows are a very special part of every couple's ceremony. It's regard as the words to cherish and reinforce the love before all people taking part in the wedding ceremony. The wedding vows can also be a way to let the partner know that he or she weds out of love and own desire and commits to be by his or her side for as long as he or she is breathing. If you have chosen your own wedding vows, it's nice touch if you memorize them.
Myweddingvows.com can enable you to browse through nearly all collection of both traditional and contemporary wedding vows for you to use as a source of inspiration!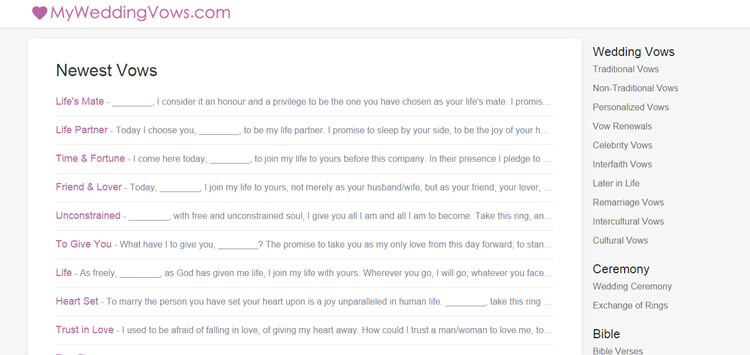 Purchase Day of Accessories: To match your dress on the wedding list, it's time to purchase something like your wedding dress, jewelry, hairpieces, veil, etc. Of course, one old adage you should remember: "Something old, something new, something borrowed, and something blue!"
Etsy.com is one of the best wedding websites for homemade, artisan crafted items. You can find anything and everything on Etsy! You purchase the items on wedding to do list from individual vendors, but in all of the transactions, and there have been many, you will never been disappointed. When shopping for wedding accessories on Etsy, you can express your through the buying of handmade and vintage goods on the wedding list.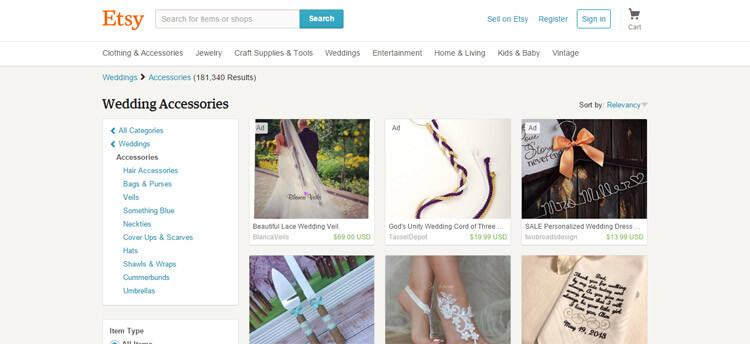 Wrapwithus.com is also one of best wedding websites that have a wide assortment of wedding accessories and wedding novelties at low discounted prices. You can buy here various things on your wedding to do list, such as the wedding sets, photo albums, bridal jewelry, tiaras, gloves, garters, veils, wedding party supplies and much, much more!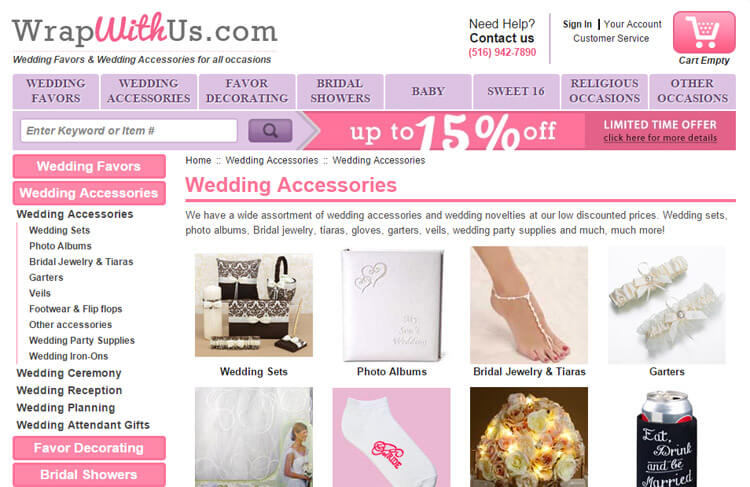 Confirm Day of Transportation: When it comes to wedding transportation, you can decide how you, your bridal party, and your families will be getting to and from locations of your wedding ceremony. Does your wedding call for a horse-drawn carriage or white stretch limo? A Bentley or classic Cadillac? Theknot wedding website can offer you full guide to wedding transportation, including local wedding transportation services, wedding transportation advice and etiquette, etc.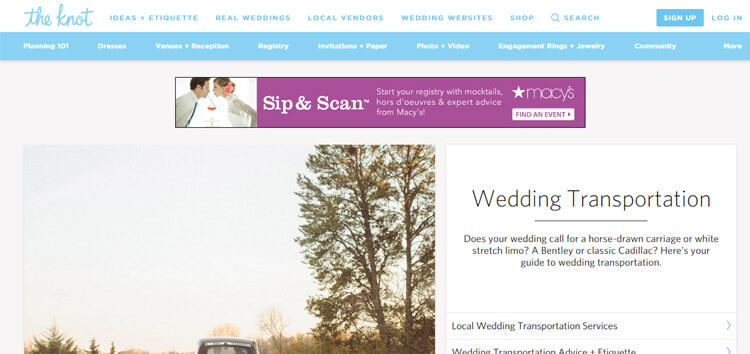 Is the thought of not finding the perfect wedding transportation giving you jitters? Are you looking for a deluxe limo that can match with your lavish wedding? Well, then your search ends right at reliancenygroup.com here. It has the best and the largest fleet of wedding cars, ranging from Antique Rolls Royce, Rolls Royce Ghost, to Hummer Limousine and many more for you to choose from.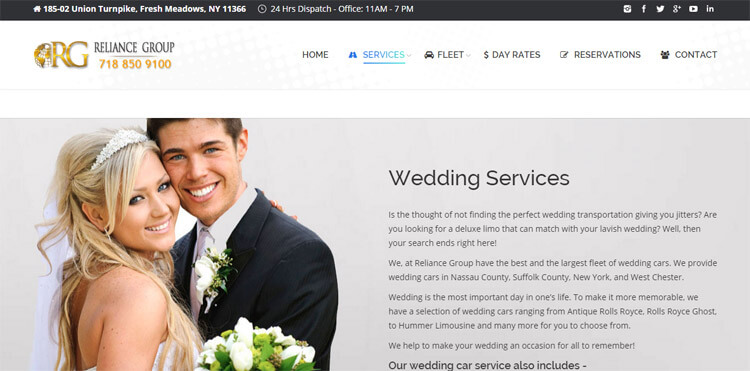 Apply for Marriage License:For most couples, applying for the marriage license is the least romantic part of getting married. They go, they sit, they fill out the form, they show their IDs, they pay the fee and then they leave. It's about as romantic as a visit to the DMV. It is a necessary part of the process, though. Without a marriage license, your wedding is—at best—a really fancy and romantic party. The license is what seals the deal with the state and the government. It's important, even though it feels like a chore.
If you want to know your local requirements and details, check US Marriage Laws here.
If you want to know how much a marriage license cost, things you need to bring with you, and what you need to know about the United States marriage license laws and the Same-Sex marriage laws before applying for your state's marriage license application, you can visit United States Marriage License Laws.
After applying for your marriage license and getting every wedding card printed, now it's time to hold a bachelorette party and a bridal shower.
Bachelorette Party: A bachelorette party is a common way for a woman to have one last night of wild abandon before she walks down the isle. It is a recent addition to pre-wedding ceremonies, a send-off event for the bride-to-be. Getting started early is of prime importance in organizing a bachelorette party. The maid or matron of honor must first decide on the location. The basic idea of a bachelorette party is to have fun with the bachelorette. To see bachelorette party ideas to your unique wedding themes, you can visit here.
Bridal Shower: A bridal shower is commonly hosted by the maid-of-honor and bridesmaids or friends and family of the bride or groom. The underlying reason for a bridal shower is that it's a perfect occasion for family and friends of the bride to spend relaxed time with her before the big wedding day.
The bridal shower invitation is the first impression of your party, though you can drive yourself crazy when trying to come up with a unique bridal shower invitation idea. To save your time, you can choose to buy the bridal shower invitations online, for example, the Wedding Divas website. Here you can find a great selection of delicate wedding card of bridal shower.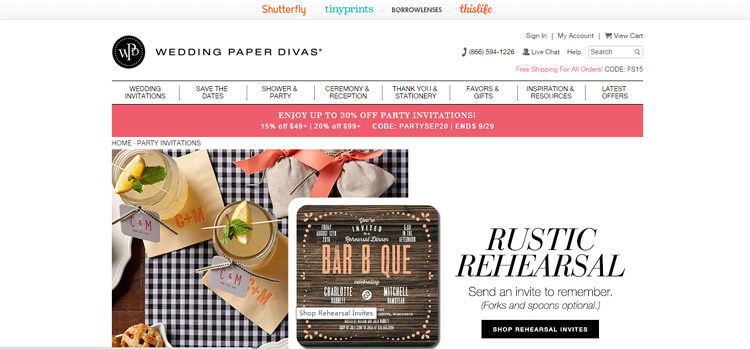 Final Dress Try-on: It's time for your final dress fitting. You should make sure to examine that your accessories match the dress well and timely make some changes as needed. As well, it's wise to start planning and trying your wedding shoes.
Make Shot Wedding List to Photographer: Make a wedding checklist of shot for the photographer and tell him clearly what you want him or her to shot in the wedding ceremony.
Review Music with Band: You must keep in touch with your band or DJ to finalize the playlist and verify special request songs.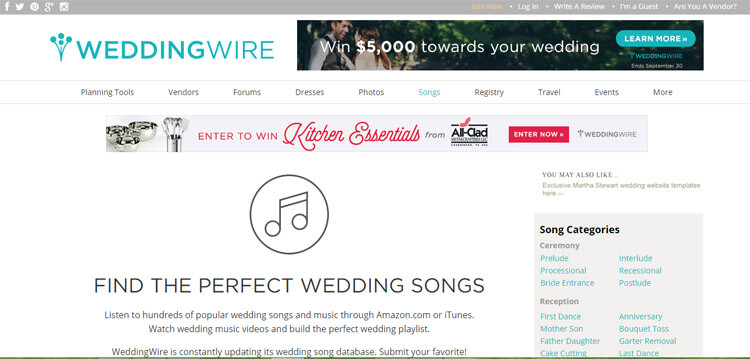 In Wedding Wire website, you can listen to hundreds of popular wedding songs and music through Amazon.com or iTunes. In addition, you can also watch wedding music videos and build the perfect wedding playlist here. Wedding Wire is constantly updating its wedding song database. You can submit your favorite songs and Wedding Wire will take your information into consideration!

Here have a lot of songs for you to choose from, the Wedding Window includes ceremony music, reception music and extra bonus music, What's more, it enables you to search your favorite songs here and store them up, and then choose one from the option box-my favorite songs. Here, I advise you to choose songs according to your wedding themes. Otherwise, you can browse songs by artist, which is easier for you to choose your favorite ones.
Final Headcount:After reviewing your wedding card of RSVPs, it is time for you to confirm the numbers, including your rental companies (chairs, tables) and your caterers.
Finalize Seating Chart:You'd better plan the seat checklist according to the relationship between you and the guest. After all, people are more likely to sit with friends and acquaintance. You can make a wedding to do list here.
Get Facials & Waxings:One of the wedding checklist is getting facials and waxings. Sometimes these treatments can cause unforeseen breakouts, so be sure to give yourself one week to maintain your skin before the wedding ceremony. As well, you never want to get waxed after you get spray tanned unless you're going for an intentional zebra look.
Get Tan: If bronzed skin is of great importance to you, you may get an airbrush spray tan. But you should remember not to take a risk to get momentary sunburn.
Have Nails Done: In the wedding planner checklist, if you want your manicure and pedicure to be fresh as far as possible you'd better get this done as the wedding is approaching.
Rehearsal Dinner: Attend and enjoy!
In theknot wedding website, there provides a lot of the rehearsal ideas and etiquettes for you. Before the wedding ceremony and the wedding party, we should know clearly about the rehearsal etiquettes in case of some common mistakes. Like, what should the bride wear in the rehearsal dinner? You can learn more in the knot.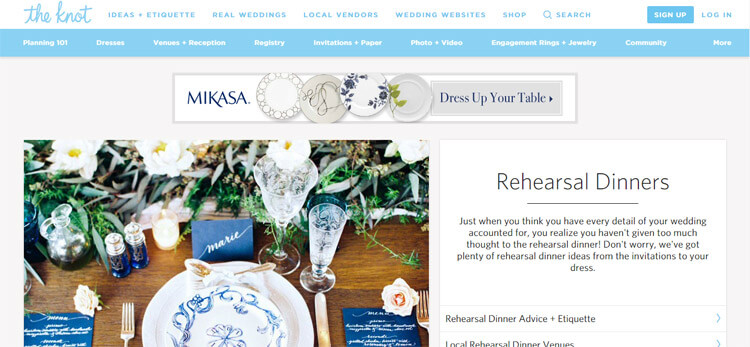 Day Of Your Wedding Ceremony
It is your big day, wedding ceremony and wedding party for you two lucky ones! No wedding is a perfect wedding and things might go lost. Just remember to enjoy the moment and have fun!
To design personalized wedding cards that wow your recipient, just download AmoyShare Photo Collage Maker below to free try.
Download Trial
Green Software with NO Plug-ins.
Download Trial
Green Software with NO Plug-ins.