Summary of this article: What is a visiting card? What content should it be contains? How about the visiting card size? A personalized and proper-designed visiting card always can promote your image or business brand, even lead to a career success. This article helps you to well design visiting cards by AmoyShare Photo Collage Maker, a professional card layout maker.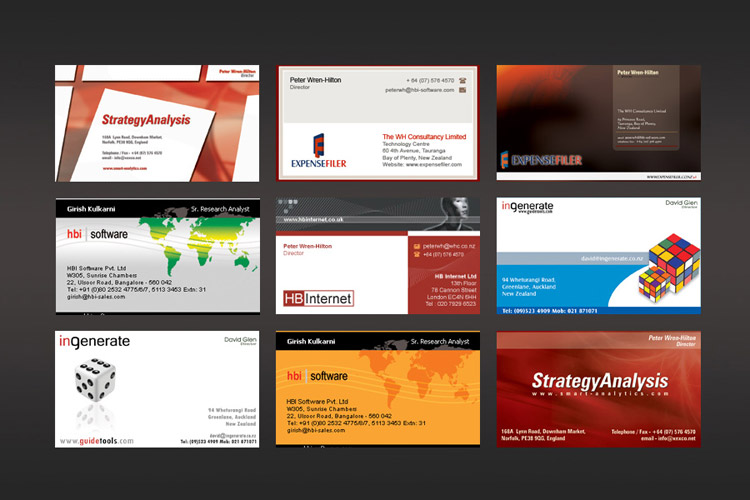 Although we're in the digital age, visiting cards are still vital nowadays. A visiting card, also known as a calling card, is a small paper card with one's name or other contact information printed on it, and often bearing an artistic design. Most visiting cards are regularly exchanged at conferences or interviews. They can do way more than just give your contact details, sometimes the kind of card you have can say a lot about you, just as below.
It's really a great way to tell people a bit about who you are. Therefore, the visiting card designs should be proper and professional, which can indeed enhance one's image.
Here comes the problem, for some persons are really confused about how to make a striking and personalized visiting card that both can show their sincere to the person they would like to make acquaintance with. One of the most perplexed problems during the designs would be the visiting card size.
All these problems people may concern, but no worry, today I will teach you by using a most recommended card layout making software, AmoyShare Photo Collage Maker to best design your outstanding visiting card, which can help you leave a deep and glowing impression on others. And as a good result, it even may become a good helper to successfully meet the person you wish to contact or achieve a goal that you would like to in business!
Ok, before starting to make a visiting card, we should know something about its size. We know that a visiting card can be used not only for personal but also business purpose. The personal visiting card designs maybe a little casual, but business visiting card should be paid more careful attention, especially for its size.
So, what is the standard visiting card size?
There are two types of standard visiting card size here.
1. American Size: 92 X 54 mm
2. Business Size: 92 X 60 mm
In the following instruction, we will be working with Business size visiting card. All the steps are similarly applied to the American size card also.
Download and open AmoyShare Photo Collage Maker before we start.

Download Trial

Green Software with NO Plug-ins.

Download Trial

Green Software with NO Plug-ins.



Step 1: Preserve your company logo and the visiting card background picture that you'd like to use on computer. Download Photo Collage Maker at AmoyShare.com and open it. Then click Create Blank Collage button to set the visiting card size.



Step 2: Drag the logo and your visiting card background picture to the blank template below and adjust their position separately by clicking and moving your mouse. If you like to add mask for the background, just choose Mask button at the left tool bar of the menu. Then drag the mask shape you prefer to the template.



Step 3: Add the cardholder name and your business description to the card ( such as your occupation, company address, email box and contact information etc.).Just click the Add icon on top of the menu and choose Add Text. Then you can adjust the font color that suitable to your company logo color.



Step 4: Click the Add Shape option and choose the shape type you like to add on the captions of your business description, making sure the color be balanced to your logo color.



Step 5: Now it's the creative part. Right click your mouse on the shape to choose Layer option and then click Layer Top. The three captions on the left bottom will be show as below. There are still various tool options for you to choose, just follow your heart in this step and make your own desirable visiting card! Finally, please enjoy your visiting card by printing it (just click Share icon on top to choose Print option).






Effective way to design, isn't it? You can also utilize this user-friendly tool, AmoyShare Photo Collage, to make your highly creative and personalized visiting cards. Action now!
Download Trial
Green Software with NO Plug-ins.

Download Trial
Green Software with NO Plug-ins.