Best Instagram Video Download App (Online, Desktop & Mobile)
---
Browsing Instagram, we get used to saving photos and videos that we want to see again.
While, if publishers delete those photos and videos, we are not able to watch them later in the SAVED.
So, if you really want to save those materials for entertainment or other use, it's better to download them to your own device permanently.
You might know how to download Instagram photos. But, do you know how to download Instagram videos?
Just google "Instagram video download app", you'll find multiple Instagram video saver apps. But at the same time, you are easily dazzled to see there are so many downloaders and don't know which one is better.
I'm here to help you select one Instagram video downloader app suitable for your device. No matter you want to download Instagram videos on pc, mac or mobile devices, you totally can find one satisfying you.
Online Instagram video download app
---
I know you guys wouldn't bother to download third- party app, so the first Instagram video download app I recommend today is an online video downloader.
Click the following banner and you can directly visit AmoyShare Instagram Video Downloader.

To select a video downloader, the most important thing I value is whether it is easy to use. AmoyShare Instagram Video Downloader supports link searching to download, which is easy to operate.
To learn more about how to download Instagram videos online, you can read this article: Instagram Video Download Online (2-Step Guide)
The second reason I like this download app is its clear interface without ads.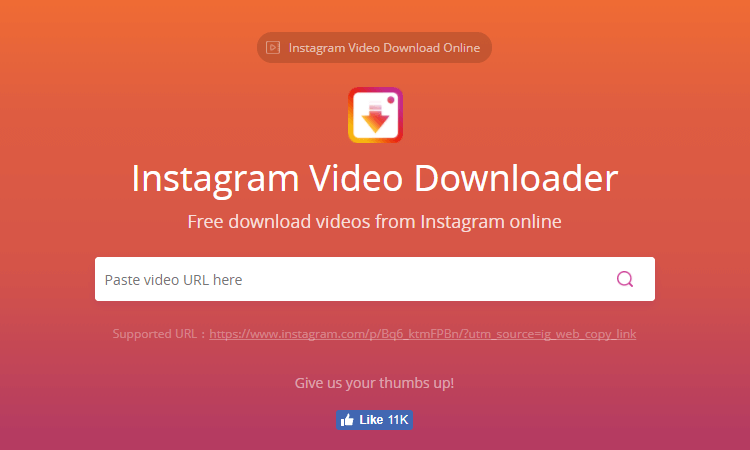 The background is gradient ramp color from orange to pink, which are main colors extracted from the Instagram logo.
Besides title and search bar, there are only social media share button, Instagram article entrance on this page.
No any ad, no other irrelevant content, which really makes me feel comfortable to stay on this site.
There is a hidden bonus for you. This Instagram video downloader not only enables you to download MP4 but also MP3. This feature provides you an additional possibility, that doesn't excite you?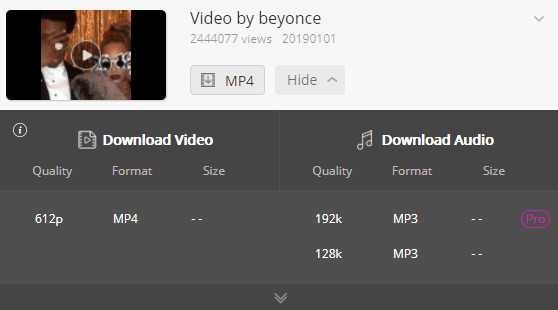 Instagram video download app for PC, Mac, smartphone
---
If you care more about a stable downloading experience, you should have an Instagram video download app on your devices.
AnyVid is an Instagram video download app for desktop and mobile devices.
AnyVid
Easy but powerful video downloader & converter.
Windows 64-bit
Windows 32-bit
macOS 10.9 and later
Android
If you just want to know how to download Instagram videos on PC, there is already a detailed how-to guide for you.
Actually, AnyVid is the pro version of AmoyShare Instagram video downloader with more features.
Now follow my steps to explore this Instagram video saver app:
Basically, it is still an easy-to-use video downloader as the online version. Pasting Instagram video link and you can download the videos fast.
With this pro Instagram video downloader, you can download higher quality and lower quality audio according to your need.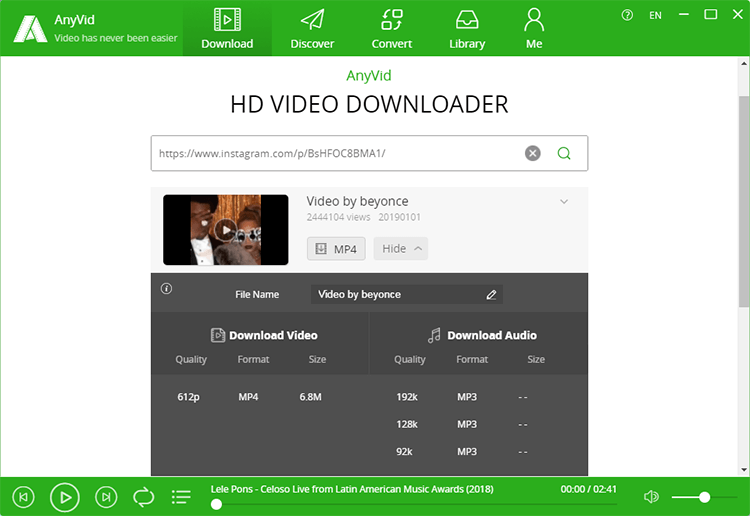 When you start to use it, you will find it is more powerful than you imagine.
There's one thing you need to know: AnyVid is not only a video downloader for Instagram but for more than 1000 sites. On the "Discover" page, you will see all sites which are supported to download and you can directly click on the site name to visit the site on AnyVid.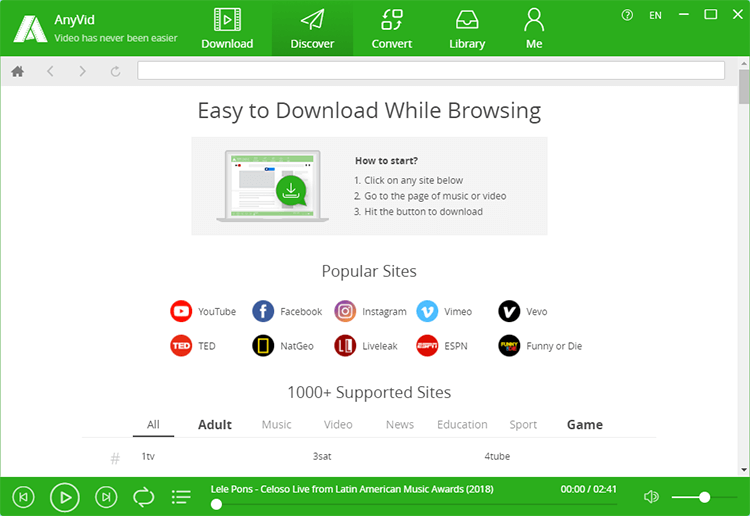 Since what I introduce is Instagram video download app, I will still take Instagram downloading as an example.
Click "Instagram" and I'm already on Instagram site. After a couple of clicks, here I am at my favorite singer Beyoncé's homepage!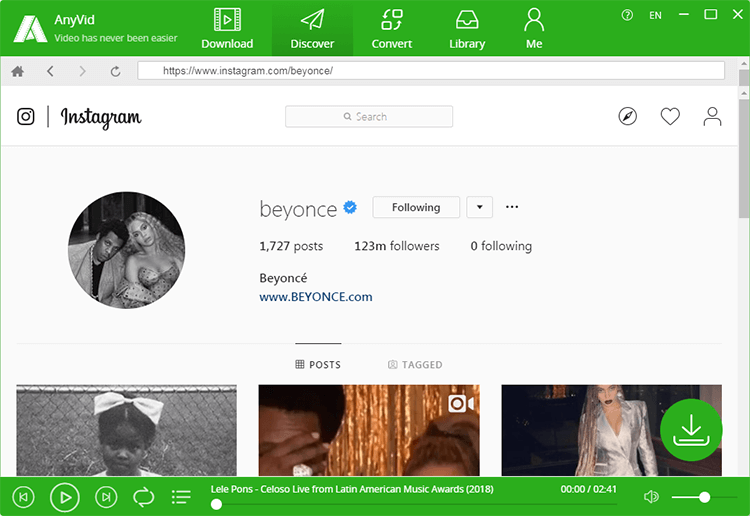 See? I've found out the video I just searched by the link.
But for this time, I don't need to copy video link to download this Instagram video.
AnyVid already provides a Green download button at the right bottom corner. And you can click it to download video or songs at any time when you are browsing here.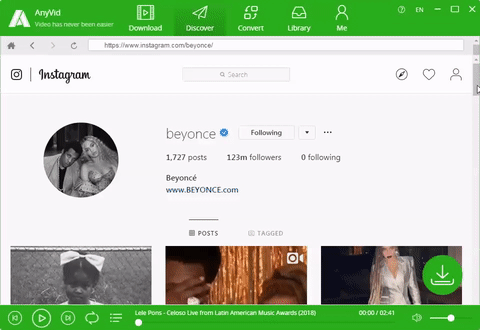 After downloading, all downloaded videos and music will be sorted out neatly in your computer.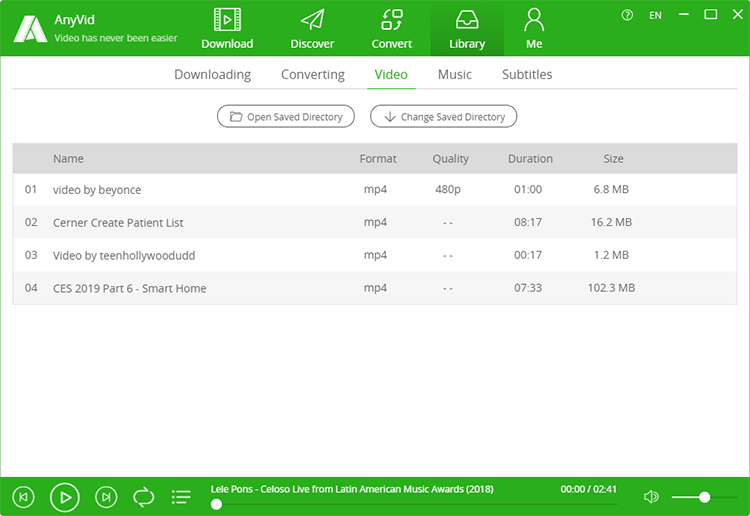 Today's exploration of Instagram video download app is coming to an end.
Wait, is there an app for mobile devices?
Definitely! You are lucky if you are an Android user, AnyVid for Android is already released.
AnyVid
Easy but powerful video downloader & converter.
But AnyVid for iOS, I'm afraid it is still under development.
What should we do then?
Read Download Instagram Video to iPhone (No Jailbreak Required), and you will find the solution.
Have you got your ideal Instagram video download app now?
If you are looking for a video downloader more than an Instagram video downloader, AnyVid will not let you down.
Don't be the last one to try this amazing app!
Any comments, feel free to leave below.
See you next time!
Hi! I'm Sarah Pace from LA, and I am a freelancer. I like to explore the Internet and help users to fix problem, etc. So I create blogs on my
Google+
to share everything I got with you, follow me!