AnyUTube MP3 Downloader
Get YouTube to MP3 songs download in a smart way.
320k YouTube mp3 song download
One click to download 200+ YouTube songs
3X faster download speed
Windows 64-bit
Windows 32-bit
macOS 10.9 and later
Android
YouTube to MP3 Songs Download Free
---
For people who like listening to music, YouTube is likely the most frequently used website. However, it's a bummer that you have to wait for two minutes or longer unless you pay to skip the ads.
Besides, watching music videos consume more data and are often interrupted in places where the network connection is not stable. That's why you need to download YouTube to MP3 songs.
If you have a free online YouTube MP3 downloader, there will be no problem at all. The AmoyShare Free YouTube Downloader is an online tool with which you can easily get YouTube to MP3 songs download free.
You can try the YouTube MP3 downloader by yourself or follow the steps below.
Step 1: Visit www.amoyshare.com/free-youtube-downloader/ and you can see the interface as follows.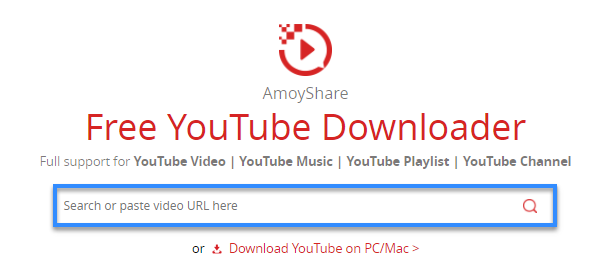 Step 2: Search songs
There are two ways to search a YouTube song – to enter a keyword or paste a URL link. Firstly, a keyword can be anything about the music, such as a song, singer or lyrics. Secondly, the URL link can be a link of a YouTube song, playlist or channel. The following are the detailed guides:
Search with a keyword about a song: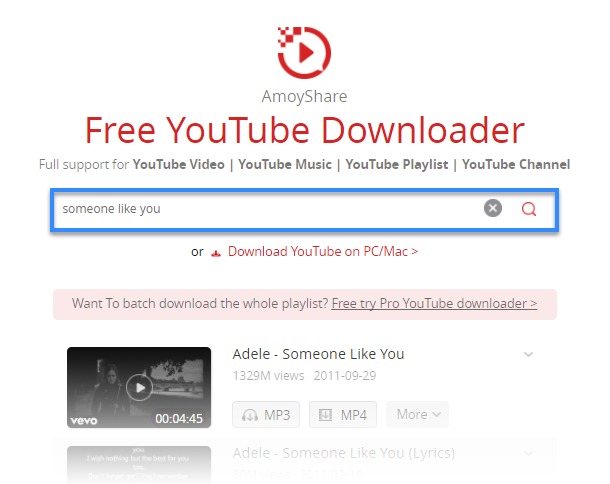 Search with a keyword about a singer: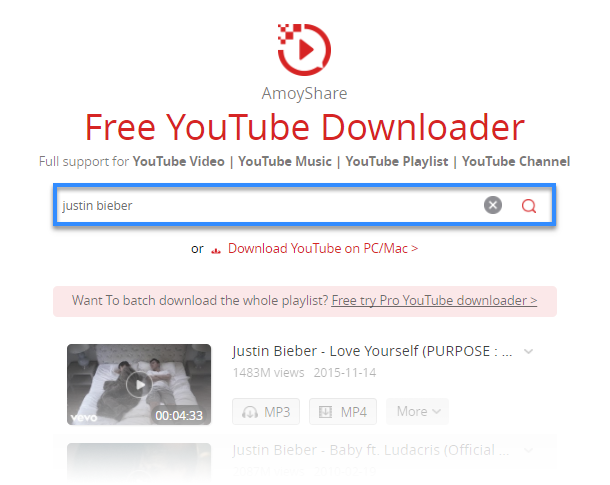 Search with lyrics of a song: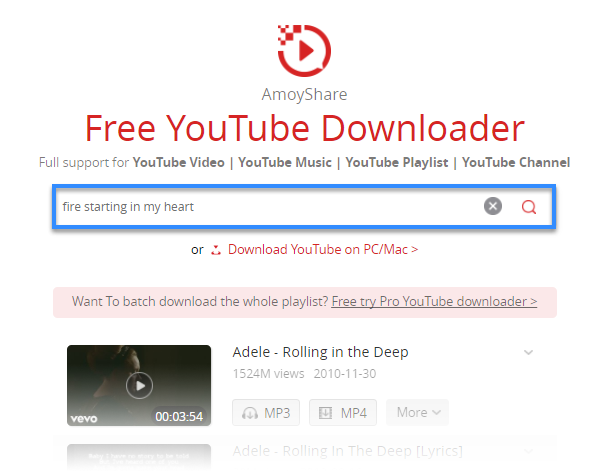 Search with a URL link of YouTube video: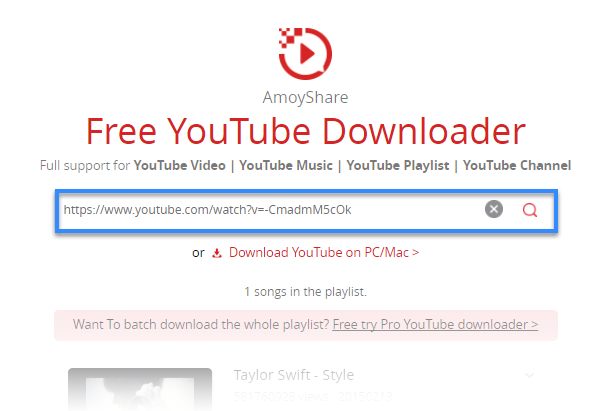 Search with a URL link of YouTube playlist or channel: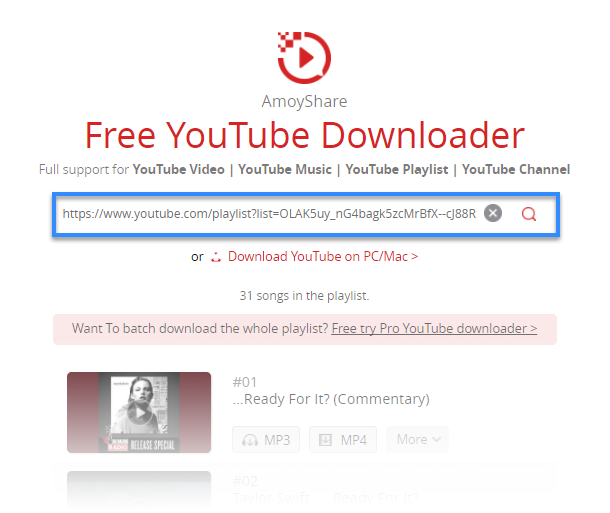 Step 3: Download YouTube to MP3 songs
Click the "MP3" button to download the music. The downloaded audio file will be of high quality in MP3 format by default.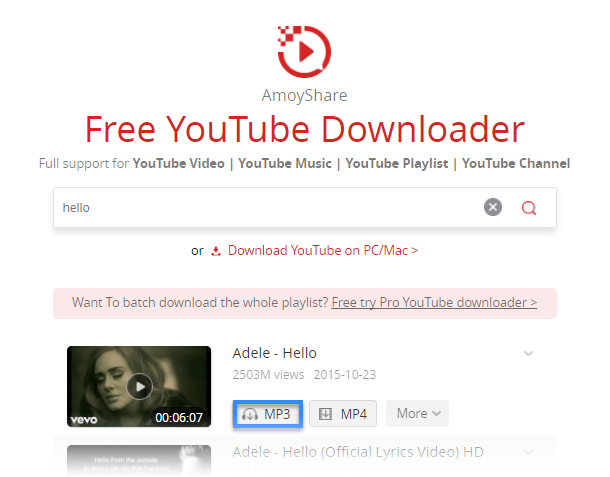 If you need an audio file of lower quality or other formats (M4A/WebM), just click "More" for more options.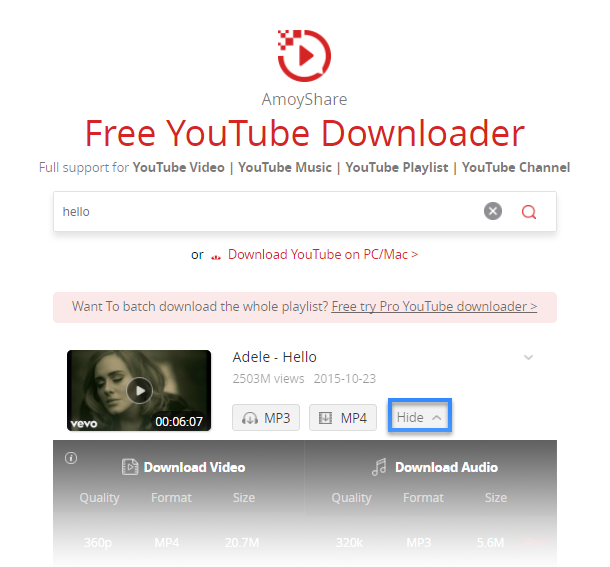 After the download is finished, open the directory and double-click the downloaded audio file, and it will be played with an installed audio player.
Simple but powerful
---
The Free YouTube Converter is simple but not simplistic. You can download all kinds of YouTube videos to MP3 format, including a movie, program, show, episode, and news.
For example, if you want to download the CNN news, enter "CNN news" in the search bar and you will get the results as below: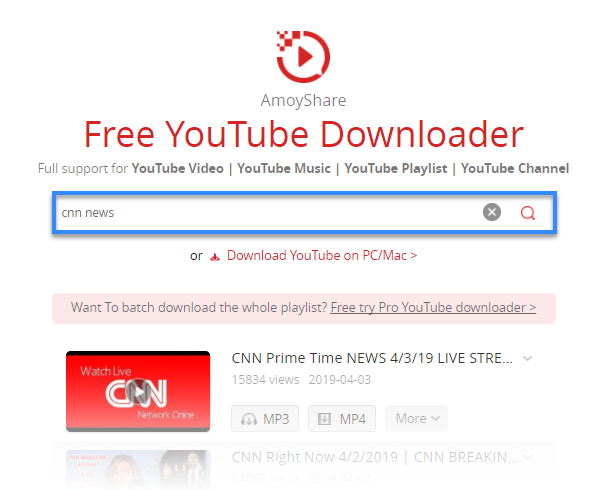 Alternatively, you can enter a keyword about the news. For example: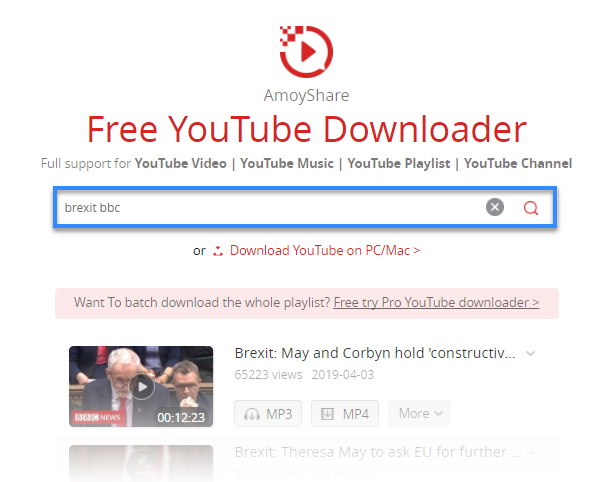 More importantly, you can download music to MP3 from more than 1,000 sources other than YouTube, such as Facebook, Vimeo, Dailymotion, Vevo, SoundCloud, etc., without ads, plug-ins or virus. The operations are similar. Take Vimeo and SoundCloud for example: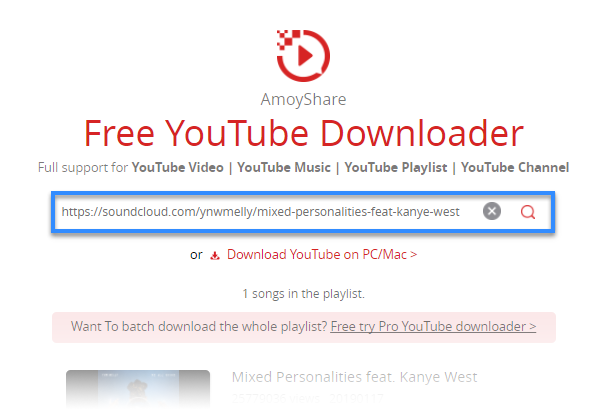 More to explore
---
You've learned how to use the Free YouTube Converter to get YouTube to MP3 songs download free.
Alternatively, you can install AnyUTube (the Pro version of Free YouTube Converter) to your Android phone or Win/Mac computer. With AnyUTube, you can download an entire YouTube playlist or channel at one go, filter the search results, download songs in more audio formats (M4A/WebM), play music with the built-in player, manage files, and convert YouTube videos to MP4.
Windows 64-bit
Windows 32-bit
macOS 10.9 and later
Android
Dale Moore is a senior blogger who has a passion for exploring and sharing anything about YouTube over a decade. He is keen on helping users to discover the best YouTube videos and channels.