Mobile Video Downloader| Videoder VS AnyVid
---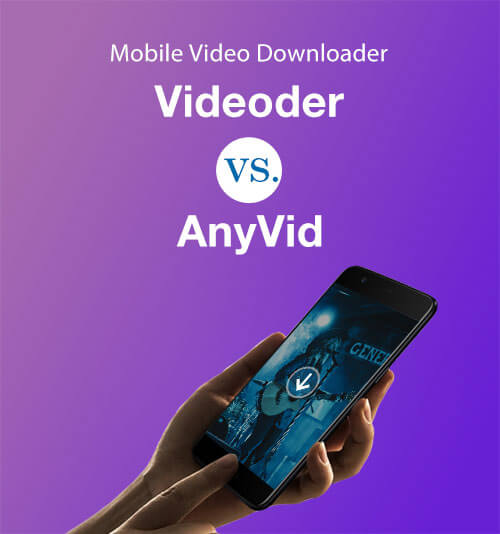 Couldn't find your favorite video online any longer?
Being in a place where the internet connection is slow?
Want to get videos from popular websites downloaded?
How to resolve these annoying problems?
What you need is an app that allows you to enjoy videos everywhere, anytime.
Well, I found an app named Videoder these days.
This time, I'm going to test it and see what kind of software it is.
Is it helpful?
Will Videoder be a powerful video downloader for mobile phone?
What are pros and cons of Videoder?
If this app fails to meet my readers' requirements, is there any alternative?
I will give you answers for all these questions.
Let's begin!
Part 1. Videoder - Mobile Video Downloader
---
Videoder is a video downloader app for android that makes it possible for users to get YouTube playlists and videos downloaded.
You can get the whole playlist from YouTube downloaded. If you don't want to get all the song from one playlist on your phone, Videoder has another function.
Select the songs you want from this playlist then click the "start download" button.
You can get all your favorite songs in this easy way!
To create a better-using experience, Videoder blocks every advertisement when you browse the websites.
Thanks to its excellent accelerator, this app lets a user get things downloaded in a pretty high speed, which is 5 times faster.
Don't want to spend any time on waiting?
Videoder has quick download function to give you a hand.
Find your favorite video on Videoder then click the lightning icon.
The video will be downloaded to your phone in just a few seconds.
Therefore, you don't need to care about the long and precious time that downloading process will cost.
Users now can use this app to download video from more than 50 websites to phone. The websites include Tiktok, Dailymotion, Twitter and other famous sites.
Of course, new websites are adding to this list according to the users' need. If you can't find the website on this list, you can be a keen user and send an e-mail to them.
When HD video can't satisfy you anymore, 4K video will be a better choice. This means Videoder is not only an HD video downloader.
Play these super clear videos online or download them with the help of Videoder. Trust me, you won't be disappointed.
Here is another function of Videoder.
Collect the songs and videos you like while enjoying them online. You could get your own collection downloaded with only one simple click.
This is very efficient, isn't it?
When you got too many songs in your phone, they may make the music library messy.
Videoder can fix it, too.
You are able to organize the library by setting cover art and adding MP3 tags.
Pop-ups are not always pesky.
Videoder has a clever tool to detect the links you copy.
How does it work?
This detector shows users a pop-up after they copy a URL of a video, music, even media file. It helps users to save time on process of downloading.
Tired of ordinary themes?
Videoder provides you infinite themes. If you don't like its preset themes, you could DIY the theme based on your favor.
Pick the color you like from the palette then the new theme made by you will show up.
Turn off the light and turn night mode on. This will protect your eyes and make your using experience better at night.
That's all about Videoder.
I regard it as a thoughtful Video downloader app.
It does care about its users, doesn't it?
Part 2. Best Alternative to Videoder - AnyVid
---
If Videoder still can't meet your demand, I would like to introduce an outstanding alternative to you, which is called AnyVid.
What makes it outstanding?
It is easy to use.

Enter the keyword or URL about the video you like in the search bar, then you will get the results quickly.

Embedded sites for users to find their favorite videos.

There are more than 1,000 embedded websites in AnyVid for you. Users will discover a world with a large number of fantastic videos.
Afraid of virus from video download app?
AnyVid guarantees that your phone won't be affected by virus because it is a virus-free app.
What about ads?
The download app Videoder we talked in the part 1 is ad-supported. If users want to avoid ads, they need to buy premium subscription.
This is totally different on AnyVid.
You won't see any advertisement when you use it.
This definitely brings you a better experience, right?
If you have more than one video to download, this app will increase the download speed to the maximum.
This impressive function is one of the reasons that make AnyVid a perfect alternative.
Want to make your library well-ordered?
You could manage the videos by names.
Also, you are able to change the location of the downloaded videos.
Next, I am going to show you how simple it is to download videos with the help of AnyVid.
Step 1. Search for the video you want to download.
Enter the name of your favorite singer in the search bar.
Click the search icon to get results.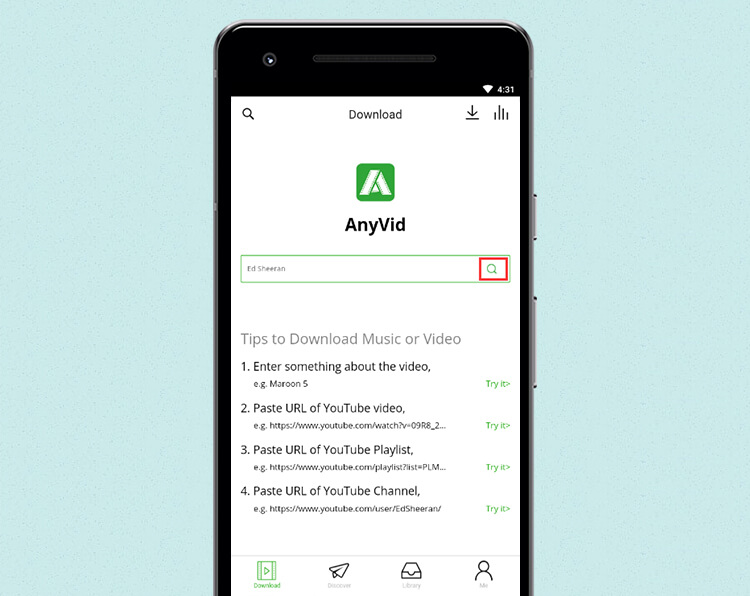 Step 2. Play the video in AnyVid.
Click the play button under the video's title.
Make sure this is exactly the one you want.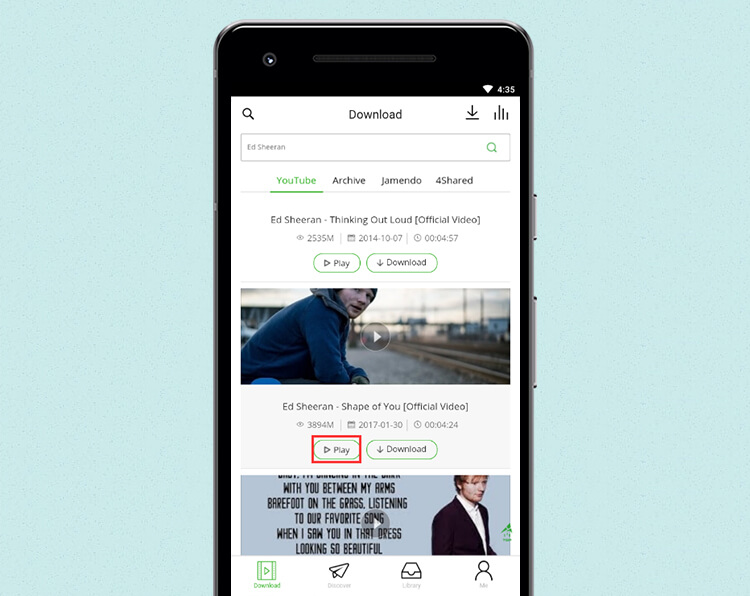 Step 3. Pick one format to download this video.
AnyVid offers you many different video formats.
Choose one format according to your requirement.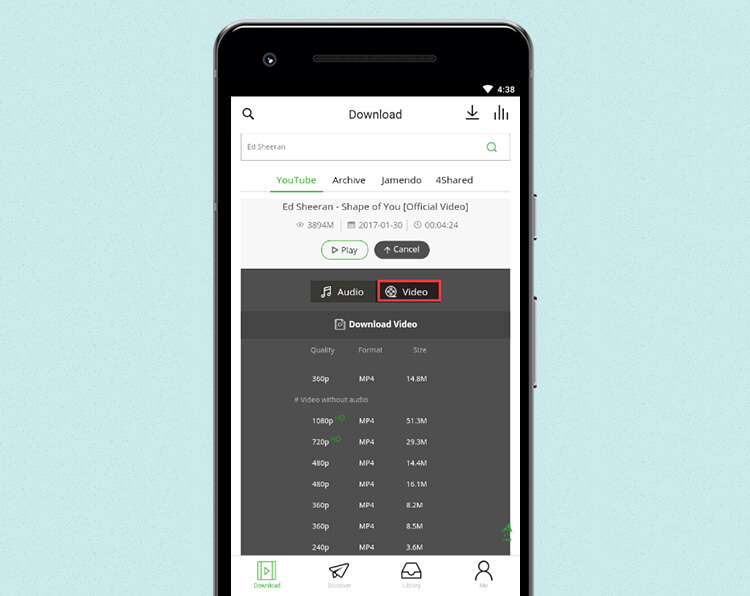 Step 4. Download the video with AnyVid.
Click the download button on the right.
The video will be downloaded to your phone fast.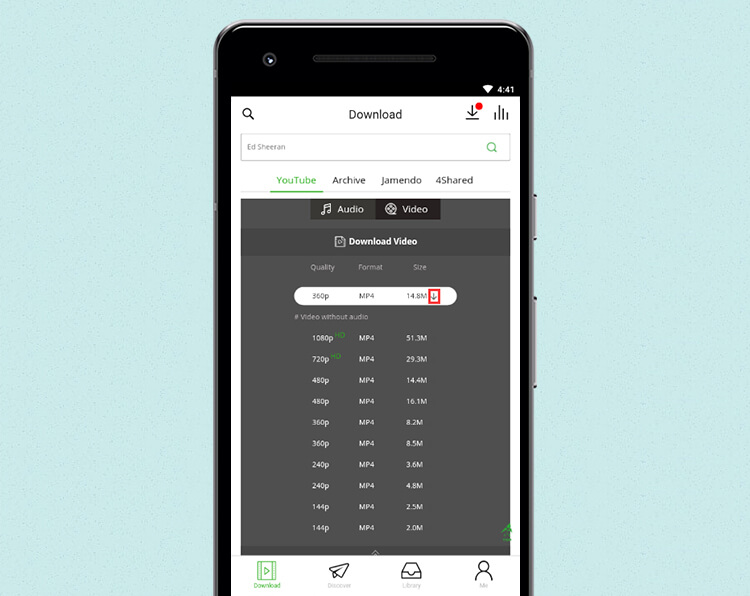 This is how you get videos downloaded easily by AnyVid.
Did you get it?
Conclusion
---
Videoder and AnyVid are video downloaders for mobile phone I wanted to share with you today.
There is no doubt that they are both amazing.
But if you prefer the app with simple but powerful functions, I will recommend AnyVid.
You could get it from the official website to install AnyVid.
Feel free to leave your comments below.
See you next time!
Eric Quinn is a freelance writer based in Florida. He has 9-year experience in writing product reviews about software and mobile apps, having tested over 100 products so far.