Best TubeOffline Alternative [Online/Mobile/Desktop]
Last updated: Jul 24, 2019
Get free video download here:
AmoyShare
Free Video Finder
or
Video Downloader Pro >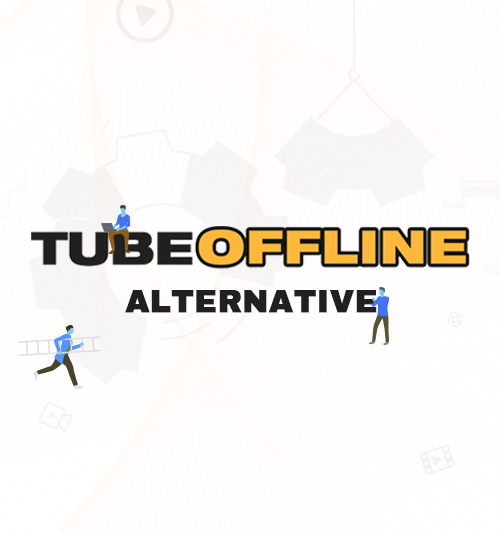 As a video enthusiast, I often download videos from Facebook and some popular video streaming sites, such as YouTube, Dailymotion, and Vimeo. And I've tried quite a few video downloaders.
I'm not fastidious, but I've been careful to choose online tools, particularly the free ones.
Very recently, I've tried TubeOffline, and AmoyShare Free Video Finder, which I think is a more powerful alternative to TubeOffline.
In this article, I'd like to make a comparison of these two tools for your reference.
Part 1. TubeOffline VS. Free Video Finder
---
TubeOffline, also known as Tube Offline, is a free online video downloader.
Like many other online tools, Tube Offline is for you to download videos and watch them offline. Moreover, you can convert videos to audio.
Free Video Finder, developed by AmoyShare, is an online video downloader to download videos for free. It is green and clean – completely ad-free and virus-free.
Now you've got to know who they are.
Let's move on for the pros and cons.
Part 2. Why is Free Video Finder the best alternative to TubeOffline?
---
As I said before, Free Video Finder is much better than TubeOffline.
I compared these 2 tools in several aspects as below:
| | TubeOffline | Free Video Finder |
| --- | --- | --- |
| Ads & popups | Yes | No |
| Devices | Desktop browser | Desktop/mobile browser |
| Sites | 700+ | 1,000+ |
| User-friendly | Poor | Good |
| Preview | No | Yes |
| Keyword search | No | Yes |
| App | No | Yes |
Which is better? A glance at this table will give you the answer.
To be specific, I'd like to restate the pros and cons of each tool. Read on!
Firstly, there are tons of commercial ads, popups, and recommendations on TubeOffline.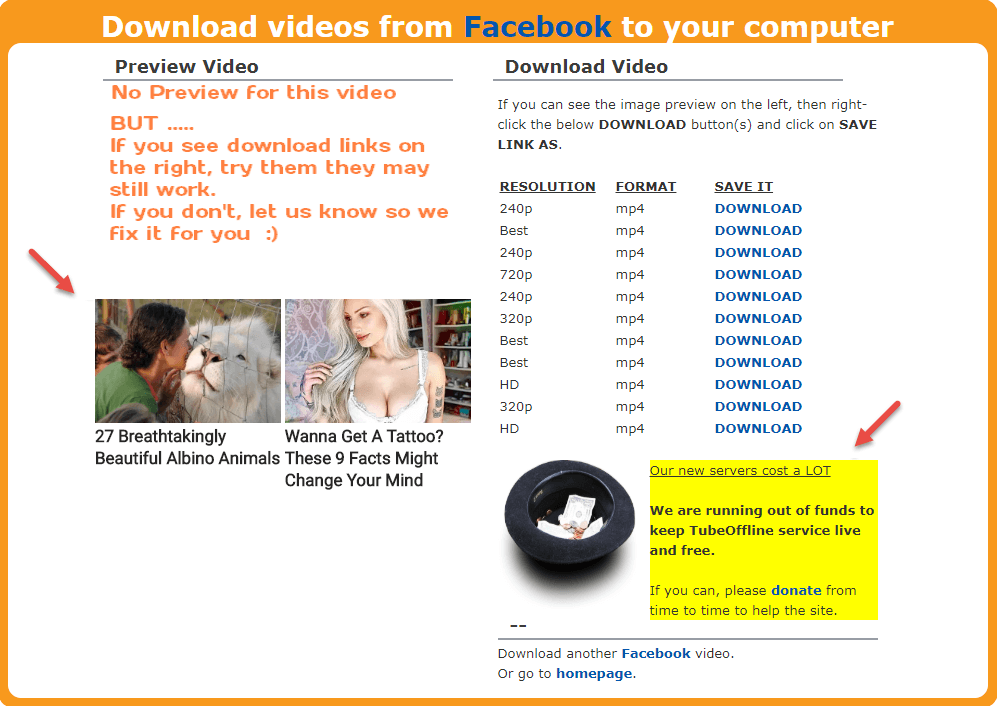 In contrast, Free Video Finder is 100% clean, without ads, plugins, or malware.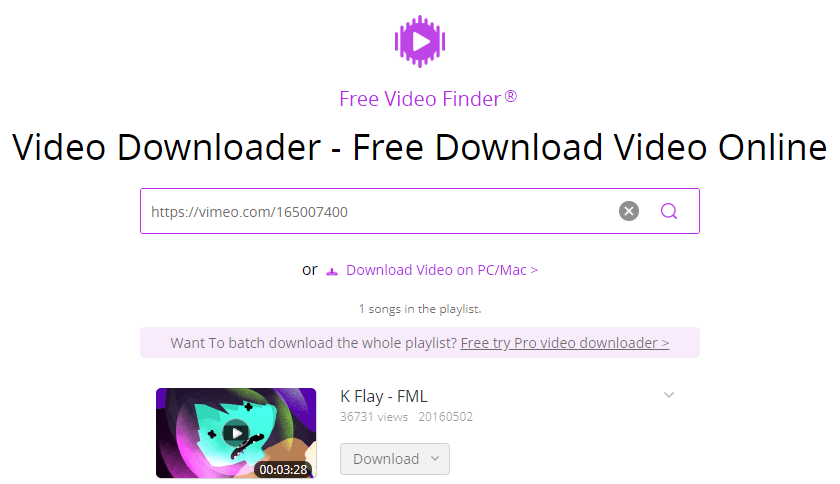 Secondly, TubeOffline video downloader can be only used online on a computer, while Free Video Finder is a browser-based tool for a Win/Mac computer, as well as any browser on a mobile device, such as Android, iPhone, and tablet.
Thirdly, Free Video Finder supports more sites. Check the sites here. The supported video sites are classified into several categories, including social networking sites, music, video, news, adult, education, and sport.
Fourthly, the user experience on Free Video Finder is much better. All elements are neatly arranged and the search box is eye-catching. You can paste URL to search for videos from hundreds of sites in the search box.
Then look at the TubeOffline homepage on the minimized web browser: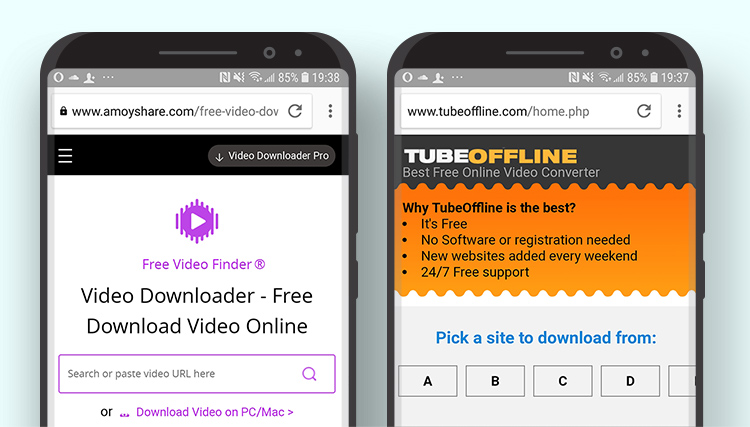 See? The search box is not the direct one you need. You have to choose a site from the "Download from Other Sites" list first before you search for a video.
Fifthly, you can preview the video on Free Video Finder. Unlike the original videos on YouTube or other sites, the video preview on Free Video Finder is totally ad-free.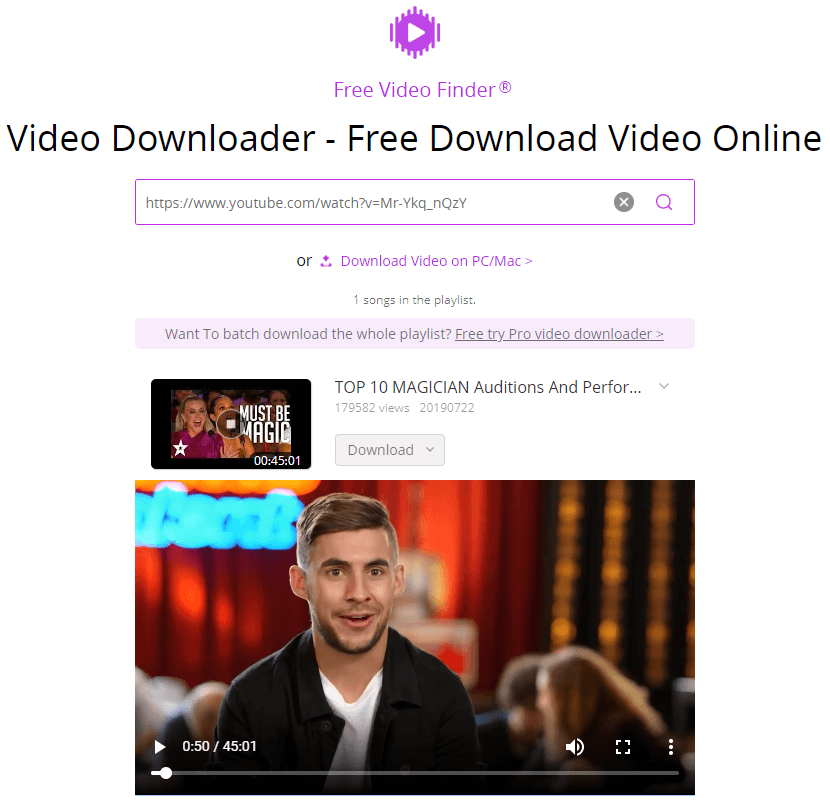 However, the preview is not available on TubeOffline.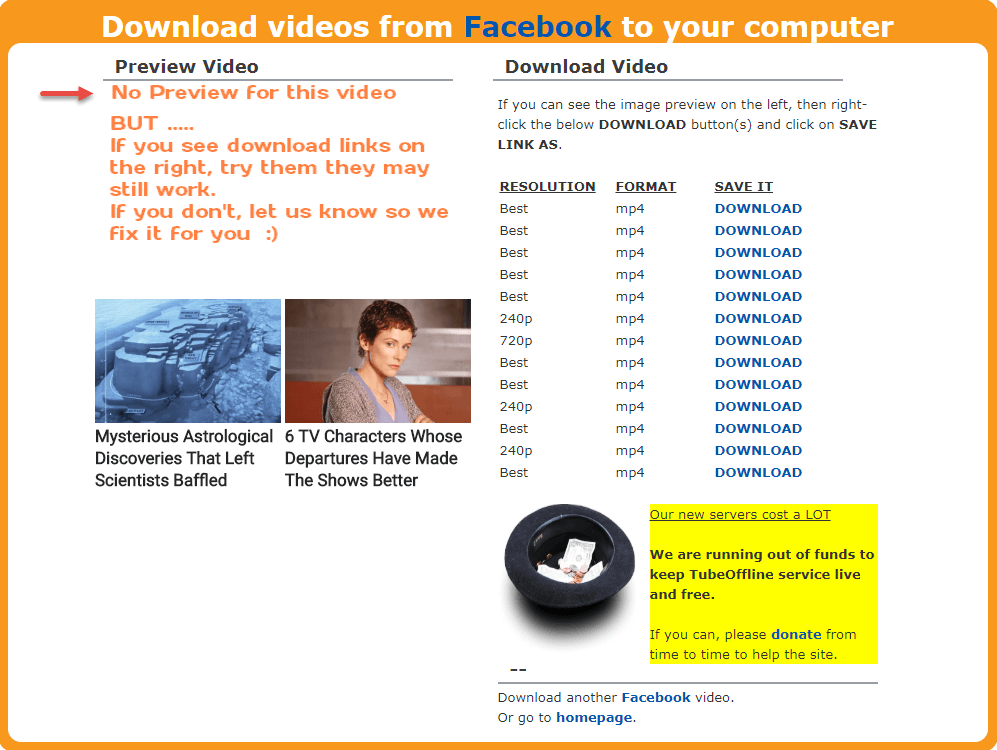 Sixthly, different from TubeOffline, which is only available on the desktop browser, Free Video Finder has an app called AnyVid. The app is compatible with Android, Windows, and Mac. It has more features, such as batch download, playlist download, and HD video download.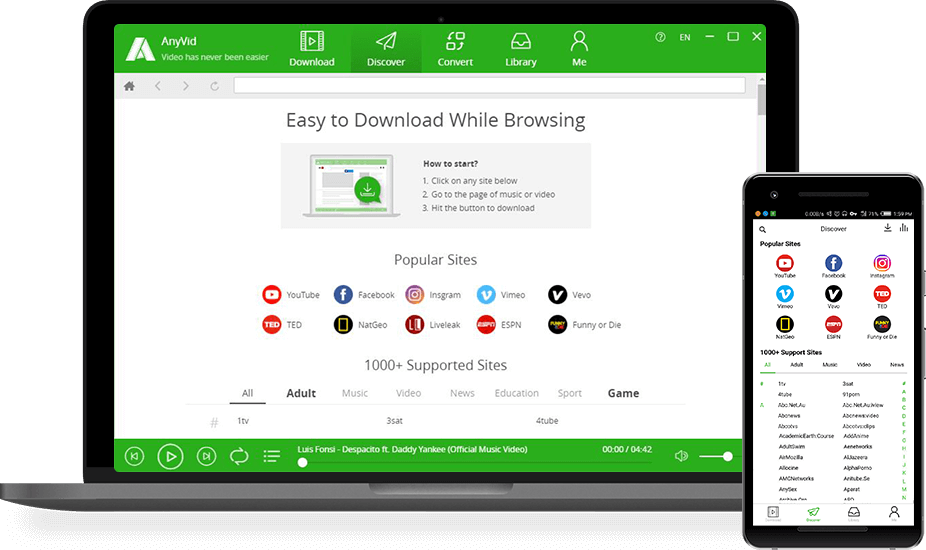 Lastly, you can only search for a video by copying URL to TubeOffline, but you have another method on Free Video Finder.
If you want to search for a YouTube video, you can also enter some words about the video, such as a song, artist, lyrics, news title, movie, and program.
That's more effective if you've forgotten a video link. It saves the trouble of switching between two tabs to copy URL from another site.
So, it's clear that the advantages of Free Video Finder stick out a mile.
---
It's acknowledged that only those have experienced have a say.
Time for you to take actions.
Don't forget to leave us with a few words about how you think about TubeOffline and Free Video Finder.
Luna Davies has been a technology writer for the last seven years, which covers mobile, Internet service, social media, and the good and bad of tech.