Snaptube App Alternative | AnyVid Video Downloader
---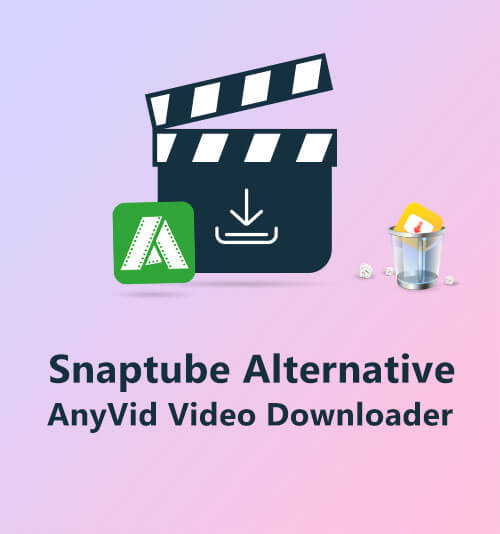 When it comes to video downloader for mobile phone, you may think of Snaptube app.
That is a not bad choice.
It works well as a video downloader app.
Today, we are going to share some details about the Snaptube including its functions and guides.
But we also want to share another alternative video downloader with you - AnyVid. An easier and more powerful video download app for you.
Part 1. Snaptube - A Popular Video Downloader for Android
---
Snaptube video downloader is an app for downloading videos to mobile phone, exclusively on Android. It perfectly solves the regret that mobile phone users can't download their favorite videos and music from video platforms such as YouTube, Facebook, and Instagram.
The design of Snaptube app is mainly rounded square, with wine red, white and gray as the main colors. The background color is dark red, in line with YouTube's background color, with a downloaded symbol embedded in it.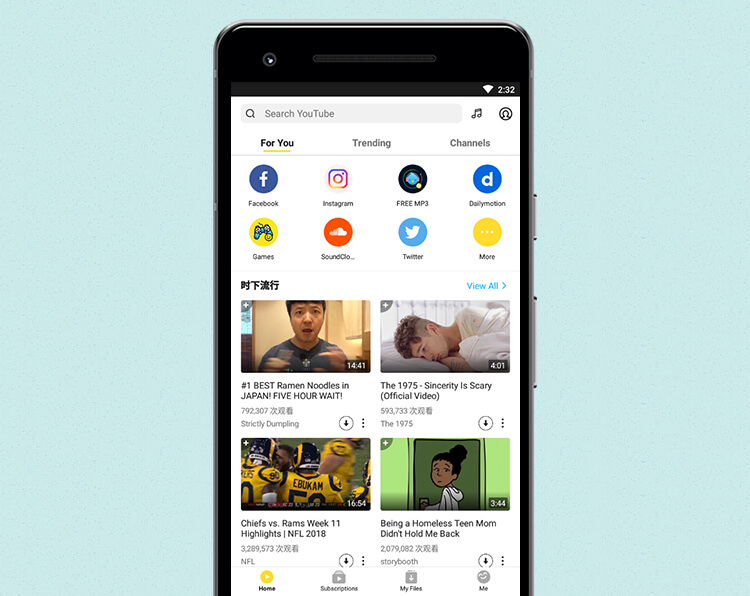 It has two main functions: play and download.
In addition to providing one-stop downloading tools for downloading music and videos on YouTube, Facebook, Instagram and other websites for overseas users who like to watch videos and listen to songs, it is also a music player and video player.
Knowing the function is not important, what is important is how Android users can use this app to download videos.
Here are the simple steps to teach you how to download movies:
Since SnapTube is not available on Google Play, we must go directly to his official website to download the APK to install.
After downloading and installing, go to the home page and you can see that he supports video downloads of various audio and video platforms. You can choose according to your needs.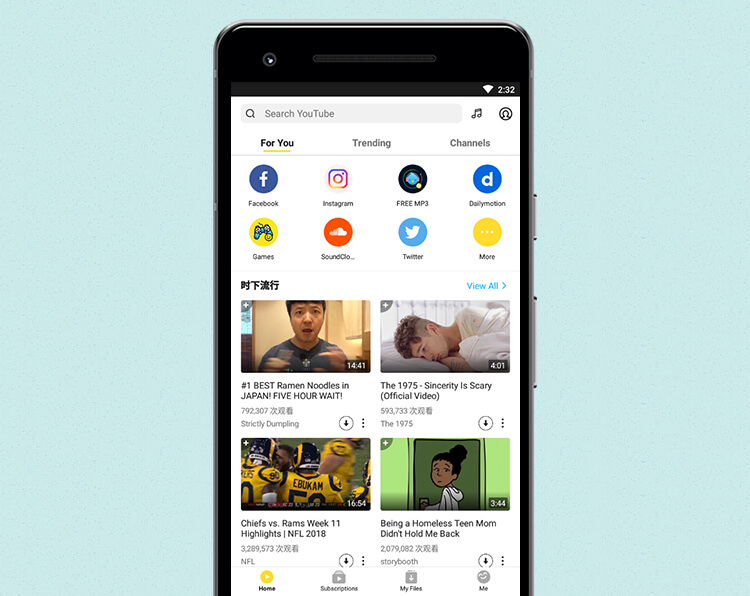 Step 1. Find the Video You Want to Download
They are all YouTube videos on Sanptube, choose one video and download.If you choose Facebook or Instagram, you can directly input the URL of the video , or browse through the built-in browser.
For users who have not determined the download target, they can type keywords to find what they want.
Step 2. Download Video Directly
After selecting the video, you will enter a play page like YouTube. Click the "Download" button and the video download begins.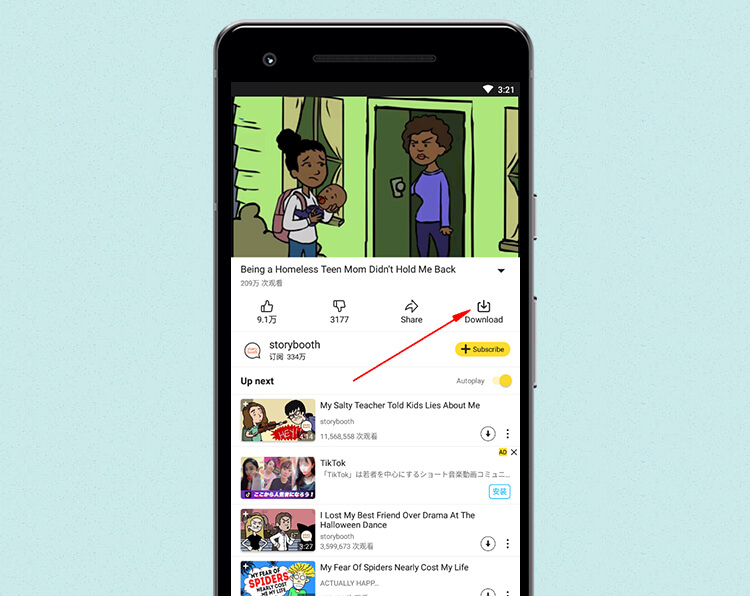 Choose the video or music formats/quality you need. Click it and it will start to download.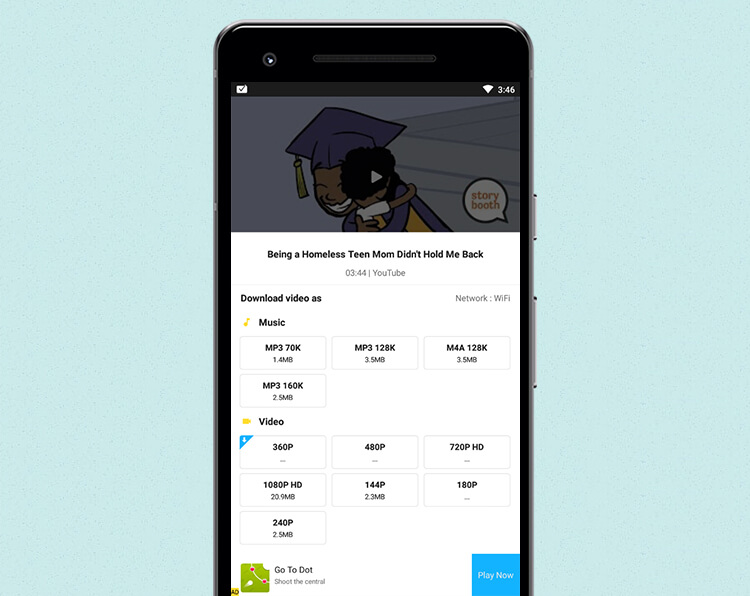 If the user wants to convert the music video into audio, you can make it on the downloaded video files from "My Files".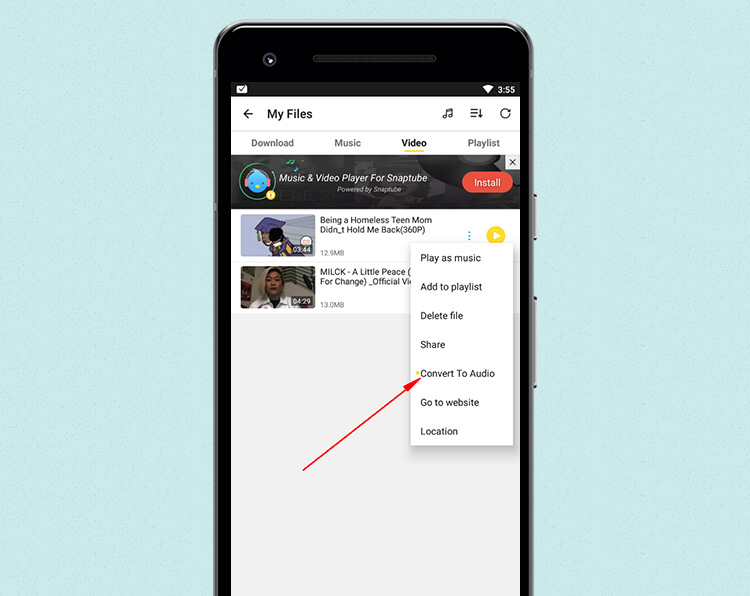 But unfortunately, you can't play the video even you downloaded the video successfully on Snaptube. You have to download a video player powered by Snaptube. That is so troublesome.
The only thing we want is that we can enjoy the video after downloading right away. So, you need a video downloader that you can download video and play video in the same app.
AnyVid is the only downloader can do that!
Part 2 Best Snaptube Alternative- AnyVid
---
If you want to get rid of the problem happened on Snaptube then AnyVid is your best choice!
AnyVid is a video downloader from AmoyShare. In addition to the basic social media websites such as YouTube and Facebook, AnyVid also supports audio and video downloads of more than 1000 websites, as well as audio and video files.
Why do I say that AnyVid is the best alternative? Let's see!
1. Rich in resources
Users can search for videos on AnyVid on YouTube, Facebook or other video hosting sites.
2. One-step video converter
AnyVid Video downloader support video to MP3 convert, you can convert video to MP3 format in 128 or 160k.
3. Provide HD video download
With AnyVid, you can download standard definition (240p or 460p), high definition (720p or 1080p) video to 4k video (2160p).
Is it really powerful as I said, try to download a favorite video from AnyVid app and you will know.
Now, install AnyVid app here!
Then, the following is the AnyVid video download tutorial.
Step 1. Open AnyVid and Find Video You Want to Download
After downloading and installing, we can directly search for the name of the video we want to download on AnyVid. You can search video by keywords or video link.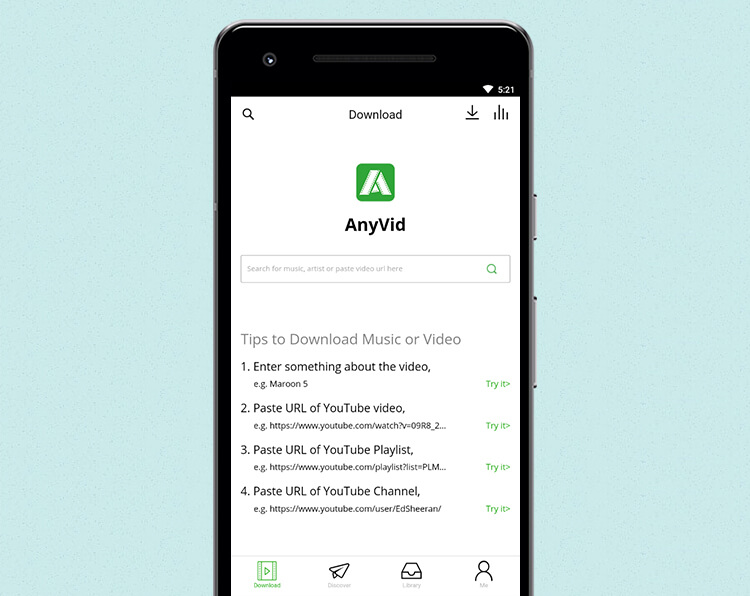 Step 2. Play Video on AnyVid
Before you download video from AnyVid, you can stream the video just like on YouTube.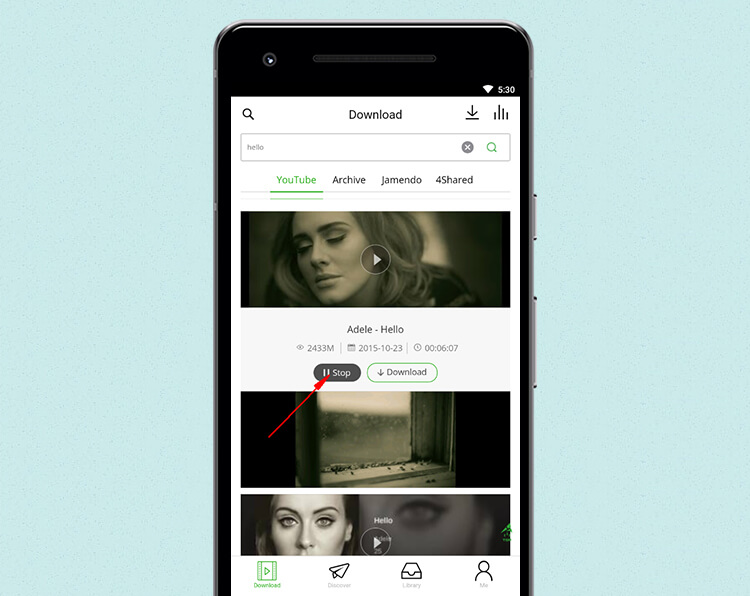 Step 3. Download Video to Mobile Phone
Clicking "Download", the download menu will appear. You can select the image quality you want to download in the " Video" area and select the effect you want in the "Audio" area.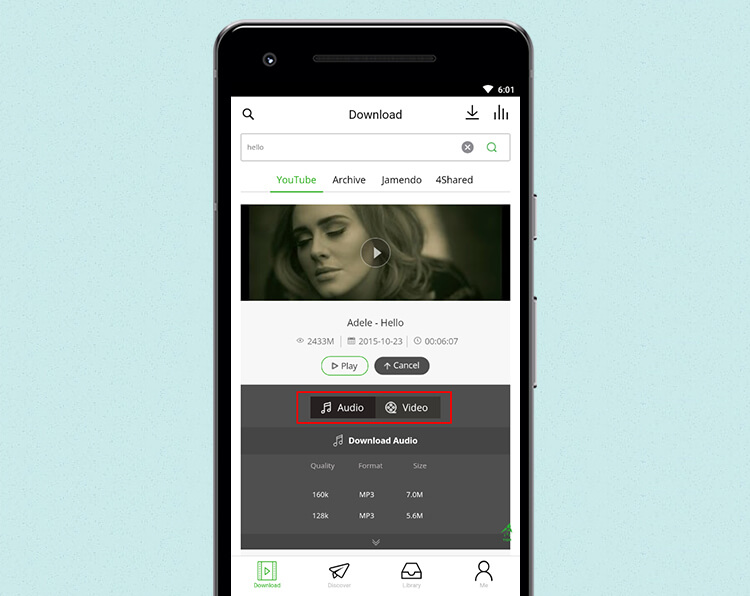 When you finish video download, you play the video on AnyVid by clicking play button.
That is so easy and convenient!
Right?
Conclusion
---
I have to say that they are all good video downloader for mobile phone - Snaptube app and AnyVid, but if we want to enjoy the video well, I think AnyVid is a better choice.
It enables you to search, download and play video within a simple video downloader. That is what we want!
So if you like it then have a try now! Download AnyVid!
I bet that AnyVid will be your best choice for video download.
Eric Quinn is a freelance writer based in Florida. He has 9-year experience in writing product reviews about software and mobile apps, having tested over 100 products so far.
Video Downloader Snaptube VS AnyVid: