How to Download Videos on iPhone – The Ultimate Guide
---
If you ever tried to download videos on iPhone, you know it's not quite possible. Due to Apple's policy, you can barely find any video downloader app from App Store.
Then you may ask:
Can I download a video from Safari to my iPhone?
The answer is negative too.
Still, you can save videos from popular video streaming sites like YouTube, Hulu, Netflix, etc. However, the premise is that you're willing to pay $11.99/m for YouTube Premium, $7.99/m for Hulu basic subscription, $13.99 for Netflix Premium.
If you want to know how to download videos on iPhone for completely free, then you should keep reading.
The tool that I want to share with you is a free video downloader app for iPhone – Free Video Finder. Actually, it's a web app, which means you don't need to install anything on your iPhone.

Safari is a fast and efficient browser for iOS devices. But it doesn't work out when you need to download videos on iPhone or iPad from Internet. That's why we need a video download browser for iPhone. Personally, I prefer to use Cheetah Browser to download files on iPhone and iPad.
Now, make sure you've got Cheetah Browser on your iPhone.
Cheetah Browser
Previously No.1 on the App Store's tool ranking
Open the browser, enter "Free Video Finder" to the search bar, and the first one in the search result is today's leading role.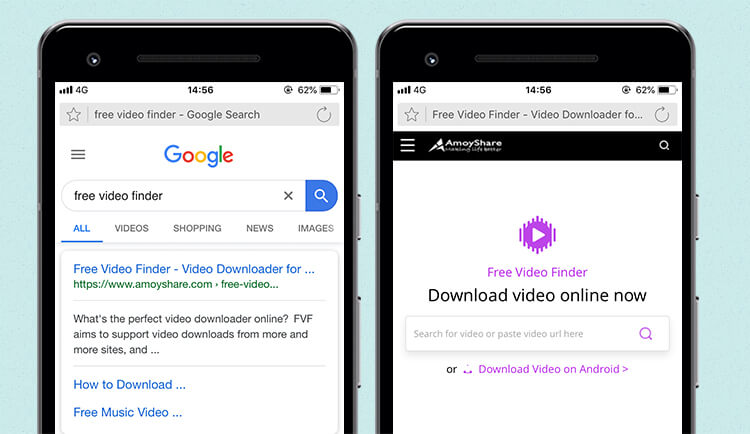 Now, everything is ready. Let me walk you through the video download process step by step.
Step 1 - Search the video
Just search the keywords about the video that you want to download. For example, I want to watch some funny videos, and I enter "funny" to the search box. As you can see, there're lots of relevant results.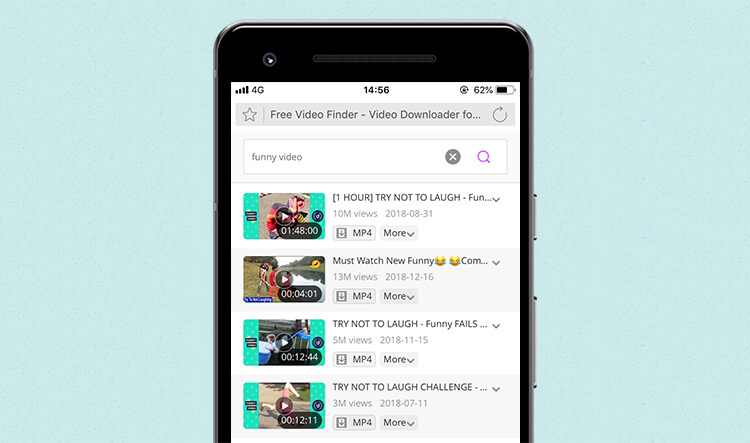 If you want to download a specific video, all you need to do is copy and paste the video URL to the search bar. And you can get the video in the search result as well.
Step 2 - Play the video
Before downloading, you can preview the video to make sure it's what you want.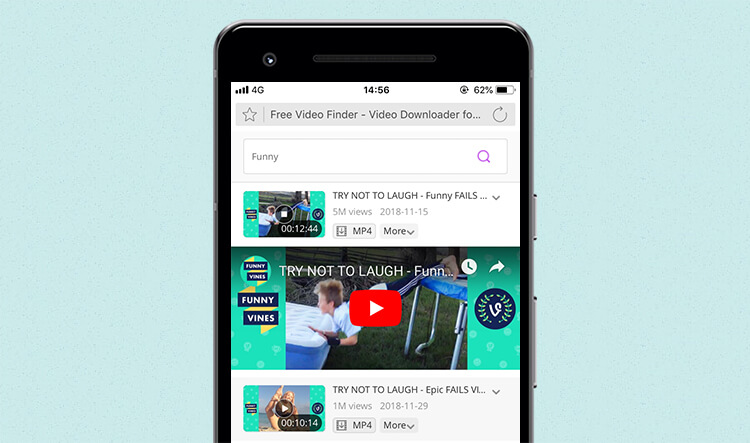 Here's a tip for you, when you stream videos on Free Video Finder, there's no ads at all. Free Video Finder serves as a great tool to block ads on YouTube. Think about it, you're gonna pay YouTube Premium for $11.99 per month to enjoy YouTube ad-free. With Free Video Finder, it costs nothing.
More than YouTube, Free Video Finder supports over 1000 video sites around the word, such as Facebook, Instagram, Vimeo, Dailymotion etc. Check the full list of 1000+ supported site >
Step 3 – Hit the download button
Just tap the MP4 button, and the download will start instantly. If you want to download the YouTube video in different formats, the "More" button will help you out.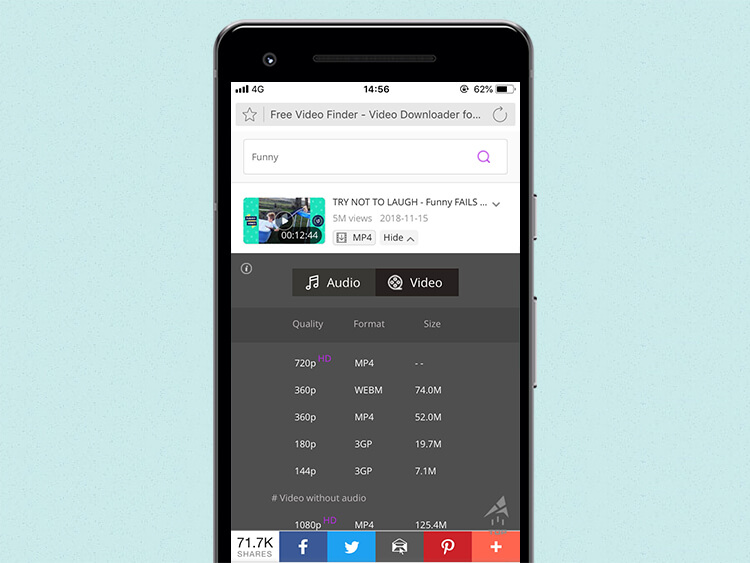 There're various video qualities ranged from 144p to 720p. Except for MP4 format, there're multiple video file types like 3GP, WebM, and so on. If you're attentive, you'll notice that video without sound is also available for downloading.
All the downloaded videos can be found as follows.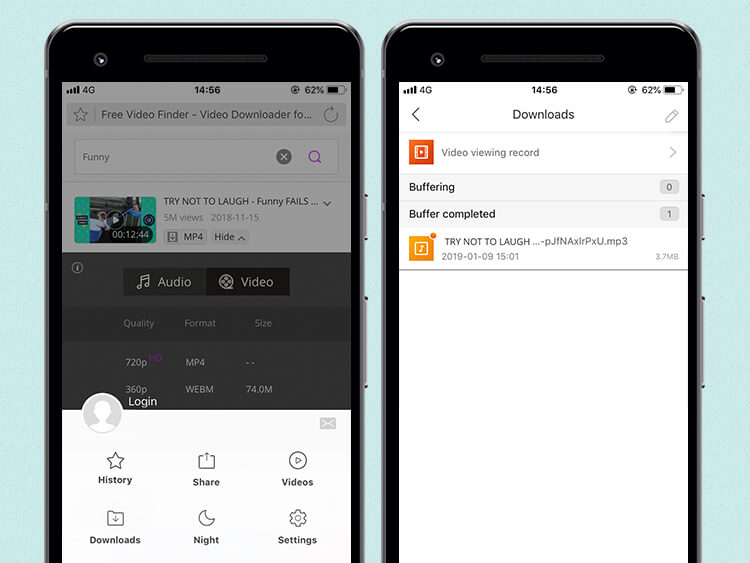 Conclusion
---
"How to download videos on iPhone?"
I bet you shall never be bothered by this question again. If you find this post helpful, please share it with more people.
Feel free to leave comments below if you have any question.
Hi! I'm Sarah Pace from LA, and I am a freelancer. I like to explore the Internet and help users to fix problem, etc. So I create blogs on my
Google+
to share everything I got with you, follow me!