How to Download Vimeo Videos to Computer
Vimeo is one of the most popular video-sharing websites with more than 50 million creators.
There are more than 16,000 video uploads every day.
What does it mean?
It implies that even if you spend a whole day in them, you still fail to finish.
There is no doubt that downloading Vimeo videos is uneasy due to their strict rules.
The good news is that this problem can be solved with today's article.
#1 How to Free Download Vimeo Videos Online?
Vimeo provides online download option.
Let's see how it works.
Step 1: Enter anything about the video into the search bar (Here we take "mashoru leila- roman" as an example).
Click the "GO" button. Then you will get quite a few familiar results.
Step 2: Click on the video you want, and preview it to make sure it is the right one.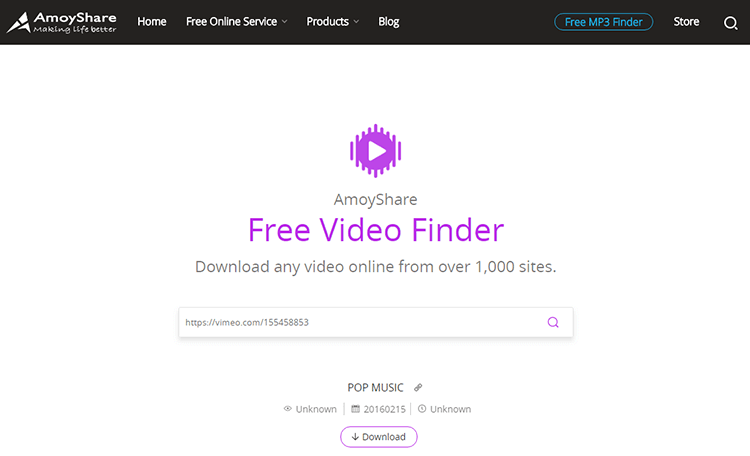 Step 3: On the bottom left-hand corner, you can see the "Download" option.
Step 4: Choose a quality and click on the 'Download button', and then you just get the video.
You can get the video easily through the method above.
Nevertheless, here comes a problem.
For privacy settings, Vimeo allows their members to specify whether they want to open the download option for other users.
If a member has disabled downloading, you won't see the "Download" button on the video page.
At this point, what can you do?
Take it easy.
Just keep moving...
#2 How to Download Private Vimeo Videos?
For Vimeo videos not available for download, you should try AnyMusic due to the following features.
1000+ sites supported with unlimited video resources, such as YouTube, Facebook, Archive, and more.
Powerful search algorithm enables users to grab videos from online streaming sites by entering THE name of the songs, albums, and artists.
High-quality video download gives you wonderful visual experience.
No ads and virus will bother you.
Preview the video to avoid the error downloading.
Fast download speed and batch download which will save your quality time.
Now, let's see how to save Vimeo videos with AnyMusic.
Option 1. Search via URL
Step 1: Copy the URL from Vimeo and paste it into the search bar. Then you can see the search result.
Step 2: Click on "Download" button and choose a format to get it.
Option 2. Search by Keyword
In this option, you can get access to the same videos from other video streaming sites.
Step 1: Enter the related information about the desired video into the search bar. Then, you can see lots of search results in front of you.
Step 2: Before downloading the video, you can preview and play the video. This prevents you from downloading the wrong video file. As you can see, the only thing you need to do is click on the "Play" button.
Step 3: Click on "Download", and there're many different file types for your choice.
Yes, you just need to choose a format which is compatible with your devices. Then the music download will start automatically.
In addition, you can check the downloading process in the Library.
Quick Tip:
Suppose you have downloaded Vimeo videos, you might be wondering how to add it to your devices? Go to the Library, click the Change Saved Directory to iTunes Music folder or wherever you want, and the video will be added within seconds.
By now, you have mastered the skill to download Vimeo videos.
Based on the features above, you can decide if AnyMusic meets your needs.
If you want to know about AnyMusic, you can read the Related Articles below.
And if you want to download other Vimeo videos, just let me know in the comments.
That's all. Thank you for your reading!