How to Download YouTube Playlist to MP3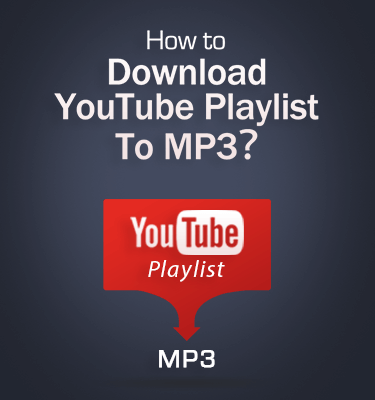 You probably already know how to extract music tracks from YouTube videos.
But I guess you've been tired of converting YouTube music one by one.
How about downloading all songs from YouTube playlist?
It sounds fantastic, right?
I'm so excited to share my favorite YouTube Converter – AnyMusic, to help you to easily download YouTube playlist to MP3 within minutes.
First of all, I'd like to show you how to create a playlist on YouTube. Then I'll teach you how to download a playlist from YouTube to MP3.
How to Create a YouTube Playlist?
When you need to make a YouTube Playlist, YouTube Mix should be the right choice for you.
It is an auto-generated playlist that will display recommended 50 video files according to the ones you watched.
Once the 50 videos have been watched, another 50 videos will be shown as the YouTube playlist.
Just add all favorite ones before you extract MP3 from YouTube playlist.
Step 1Find YouTube Mix
There are 3 ways to access to YouTube Mix. You can find it in Search results, on Music cards or in the suggested section on certain pages.
Step 2Save YouTube Playlist
And then tick each of the songs that originally in the YouTube Mixes, choose +Add to from the top row options to create a new playlist according to your requirements.
Tip:
If you add some different tracks to the YouTube playlist, you can also searching the desired music from YouTube, and then add the track into playlist just with the similar procedure as YouTube Mix.
How Can I Download YouTube Playlist to MP3 on Windows?
Once you make a YouTube Playlist of your own, you can get YouTube playlist off to MP3.
And then you can enjoy all the songs on the go.
Now I'd like to show you how to download tracks of YouTube with AnyMusic on Windows.
Step 1Enter the URLs of Every Track
Just right click each of the tracks in the YouTube playlist to get the URLs of the songs.
And then copy and paste the URLs to Video to MP3 of AnyMusic.
Step 2Extract Videos from YouTube Playlist to MP3
Once you click the search icon, the program will fetch the detail information about videos from YouTube.
You can click the Play button to preview the video again or click the Download button to choose the MP3 format.
Step 3Download All Tracks to Library of AnyMusic
AnyMusic handles the downloading process for YouTube videos in batch.
You can add many tracks as you want, you can find the added tracks in the Downloading part of Library.
Once the files downloaded, you can get them in the Downloaded part.
Tip:
How to sync music from YouTube playlist to iTunes?
If you need to download YouTube playlist to MP3, you only need to choose the Downloaded part. And then click the Change Saved Directory to iTunes > iTunes Media > Automatically Add to iTunes to sync music files to iPhone and other iDevices.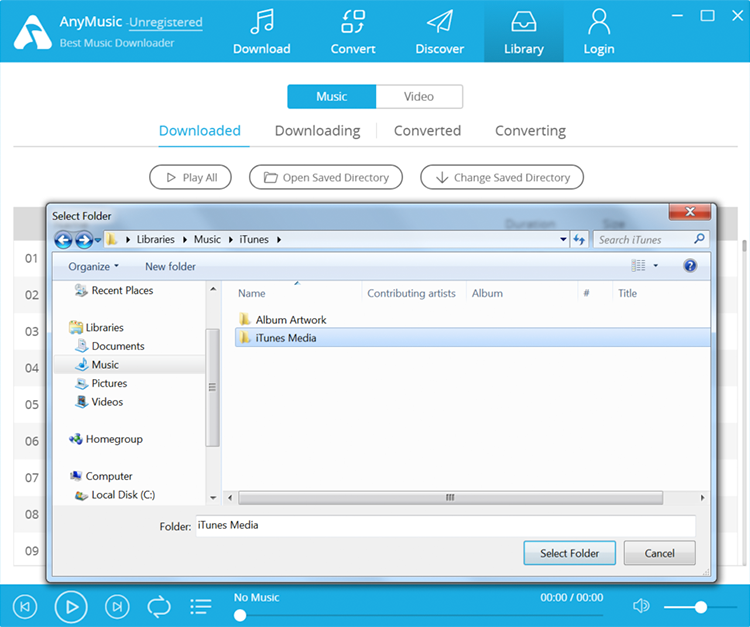 Actually AnyMusic 2.0 still does not support download the whole YouTube playlist to MP3 in one click now.
The feature has already taken into consideration for the coming version. If you need to get all tracks in batch, you can keep tuned in to the coming version.
If you're a Mac user, you can skip the above content and read the following guide.
How to Convert YouTube Playlist to MP3 on Mac?
If you need to add more music tracks to YouTube playlist, you can also search for the desired tracks from AnyMusic as well.
AnyMusic provides the powerful searching algorithm to search and extract more music from YouTube.
Step 1Search for Desired Music
The YouTube Playlist created by YouTube Mix might not meet full requirements.
When you wanna download playlist from YouTube to MP3 for a new star, you can enter the name of the artist to search for all the music from YouTube, Sound Cloud, Archive, and more.
Step 2Play Music before Downloading
If you do not confirm about the fetched music, you can check the information about the music provided by AnyMusic or click the Play button to preview the video or audio file before downloading it.
Step 3Download YouTube Playlist as MP3
Now you can download all the music of this artist to create a private YouTube playlist for you own.
Moreover, you can download or sync the music downloaded from YouTube to iPhone or other devices with ease.
Tip:
How to manage MP3 files with AnyMusic?
If you need to add more music or fetch some tracks from iTunes, you only need to click the Change Saved Directory and save your music files to appointed folder. It is convenient to manage music from different channels within the program.
And when you want to create several YouTube playlist to MP3, you only have to change the destination folder when you download tracks for different videos.
While reading here...
I bet you can't wait to download AnyMusic on your computer.
Just download the corresponding version (AnyMusic for Mac & AnyMusic for Windows) to enjoy your favorite music tracks now.
If you have any question or suggestion, just leave a comment to me.
I'm really looking forward to get feedback from you guys.
Wish you have fun with AnyMusic!