YouTube Playlist Downloader Free Online | 2018 Guide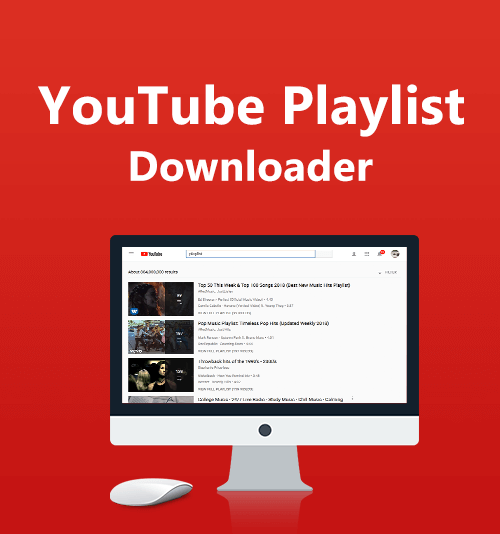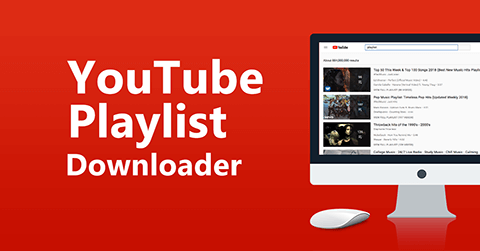 YouTube is one of the most frequently used video sites in our daily life.
Perhaps you have obtained the method of downloading YouTube video to MP3 from the article before.
It's quite convenient, isn't it?
What if you need to download YouTube playlist?
Do you know the answer?
Don't worry!
We'll assist you to clear the fog that lies in front of you!
Today we'll introduce the best YouTube playlist downloader free online to you.
Hope you'll find one you prefer from this article.
Time waits for no one.
Let's begin now!
Part 1 How to Get Playlist from YouTube Online?
The first one we recommend is a site where you can easily download YouTube videos or even playlists. It is named Free YouTube Downloader.
You can download and convert videos to any format you need with it without fee and effort. Let's see how to make it!
Step 1: Visit YouTube and Select
Open YouTube.
Enter keywords on the search bar, select out what you appreciate.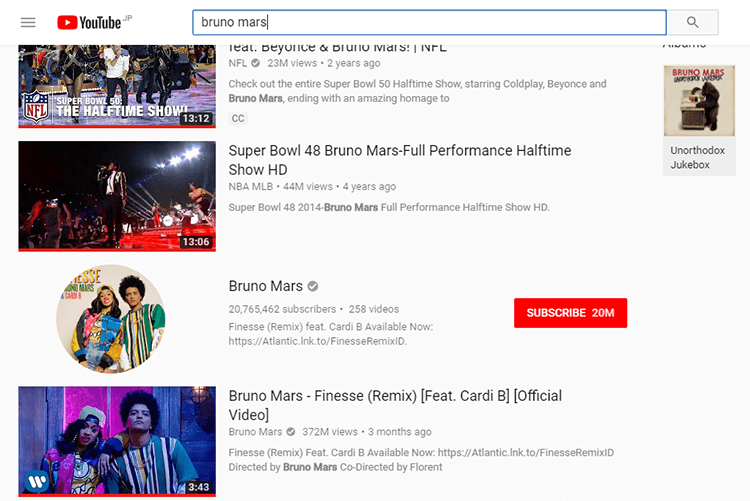 Step 2: Copy the Playlist URL
You have 2 choices here.
1. Right click the playlist then to choose "Copy link address".
2. Copy directly from the address bar on the top of the page.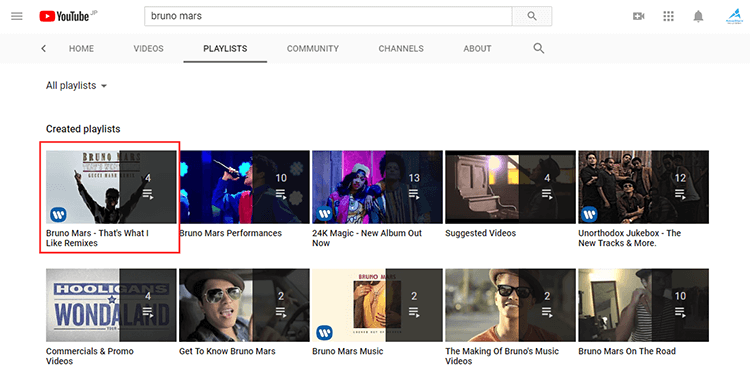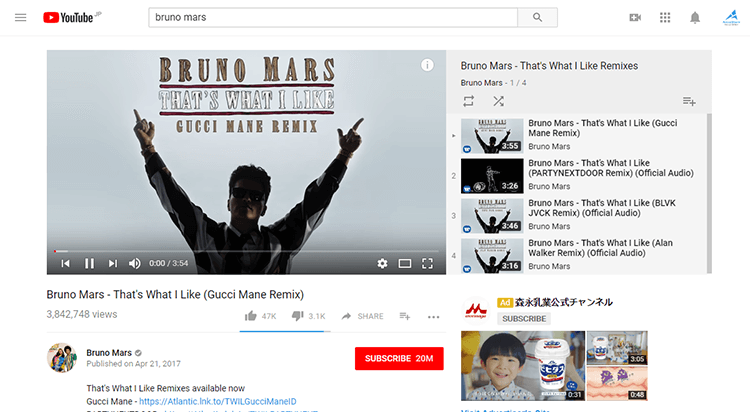 Step 3: Paste the Link to Playlist on Free YouTube Downloader
Go to Free YouTube Downloader.
You can see the search bar in the middle of the page.
Paste the link and click on the search iron on the right.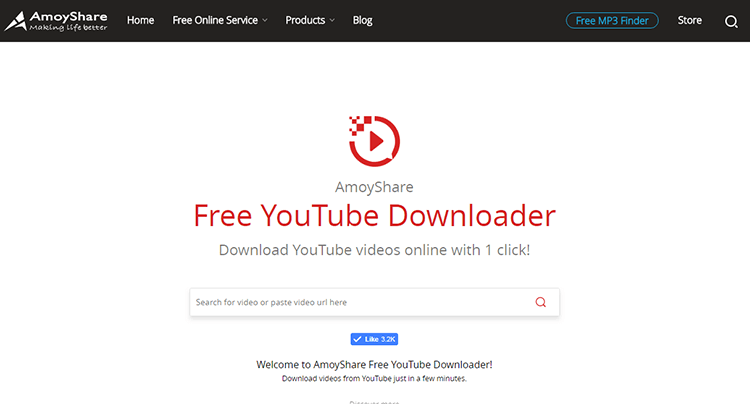 Step 4: Play Videos Online
It won't take a long time to see the search results.
To avoid wasting time downloading wrong videos, playing them online seems necessary.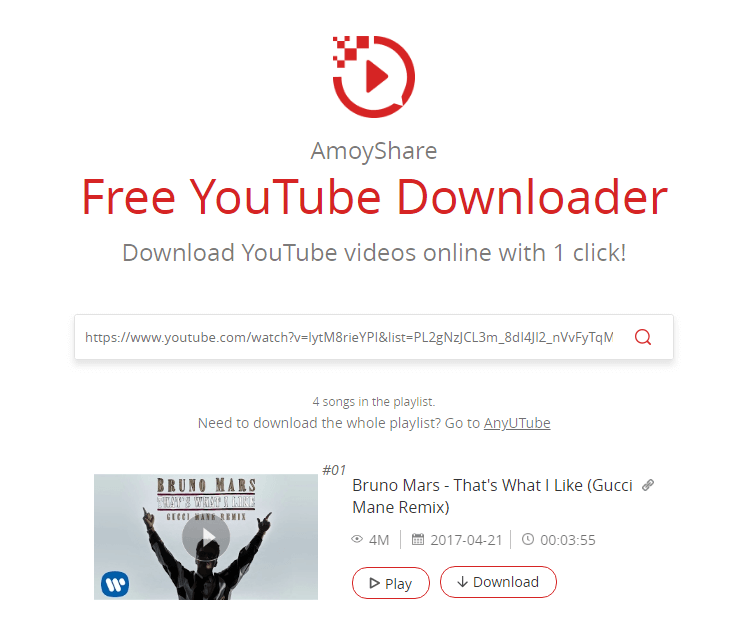 Step 5 Choose Format and Download.
Click on the "Download", a few formats may pop up.
Pick out one you demand and download now!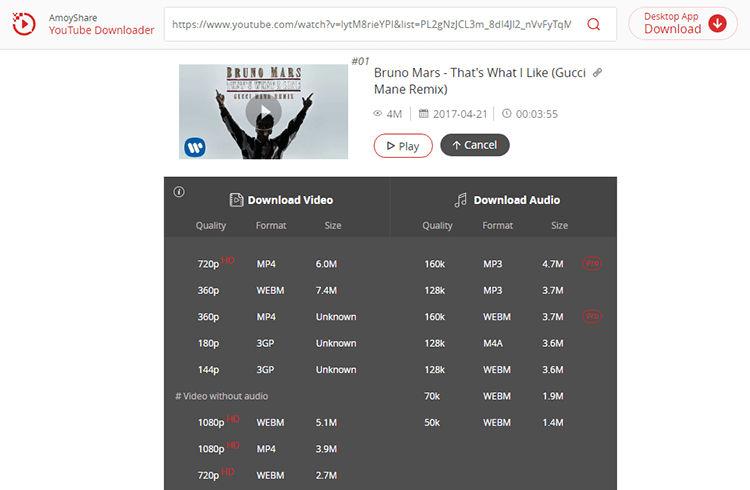 There are all the steps for downloading YouTube playlist.
Free YouTube Downloader can meet almost all of your needs. It is not only a video downloader but also a converter and a player. Concise page and full functions attract lots of users. Also, you don't even need any professional knowledge because of its simple operations.
All the services on the site are free. Search and download speed are worthy of praise, too. However, you have to download videos from full YouTube playlist one by one.
Next, we'll show you another way so that you can download all songs from YouTube playlist with one click.
Part 2 The Best Batch YouTube Playlist Downloader.
The best YouTube playlist downloader, AnyUTube, is an application with lots of advantages. You can search videos by entering keywords or pasting URL copied from the YouTube. You'll never be disappointed with the abundant resources.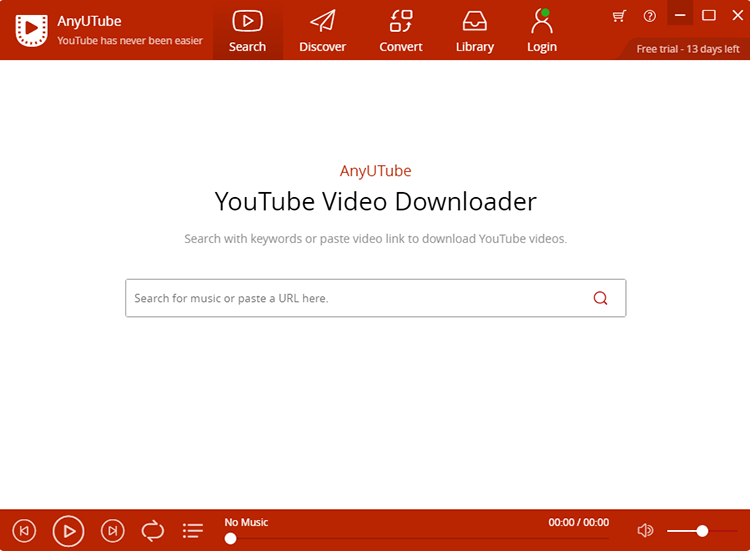 Then you can download YouTube playlist to mp3/mp4 in a short time. What counts most is that you can download entire YouTube playlist at once. The only thing you need to do is to copy playlist URL from YouTube and paste it on the search bar on AnyUTube. There is no need to download them one by one.
How wonderful it is!
Additionally, AnyUTube supports different kinds of formats for users to choose. No ads and unnecessary plug-ins, AnyUTube gives you the best user experience. I'm absolutely certain that AnyUTube is second to none in all of the video downloaders.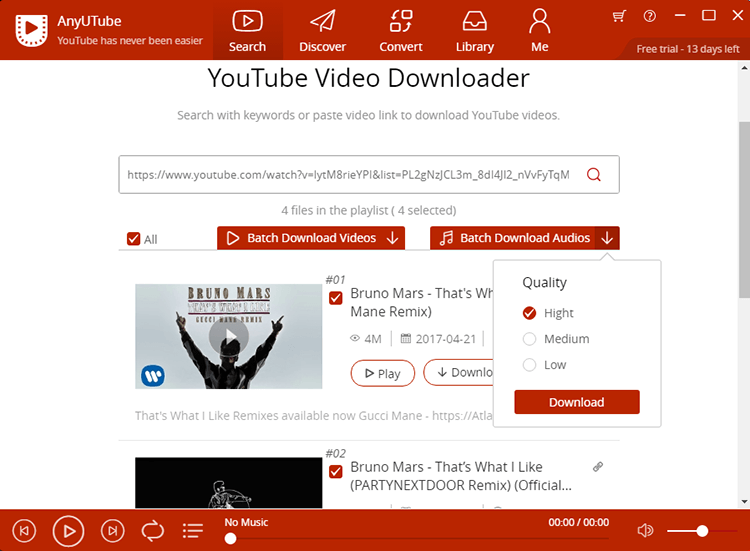 As we can see on the home page, "YouTube has never been easier", AnyUTube makes our life more comfortable. If you're finding a way to download YouTube playlist, AnyUTube must be your first choice. Download it and tell us your feelings below after using it.
Wait! I forget to introduce you with the powerful function of AnyUTube. What is that?
With AnyUTube, you can download YouTube videos by browsing YouTube on "Discover".
Which means when you are watching a YouTube on AnyUTube, you only need to click the download button on bottom right corner.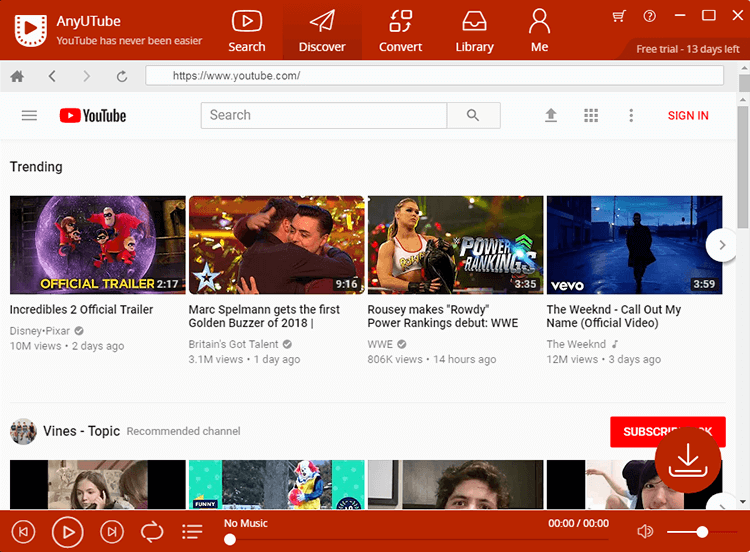 Conclusion
The above is all about this article.
Are you pleased with the YouTube playlist downloader free online?
Do you have any problems after reading the article?
Or do you have other ways about how to download YouTube playlist?
Leave your questions and proposals below.
We will reply to you as soon as possible.
Wish you a lucky day!
See you next time!
YouTube playlist downloader:
The Best Free Online YouTube Playlist Downloader: