How to Download YouTube MP3 Songs?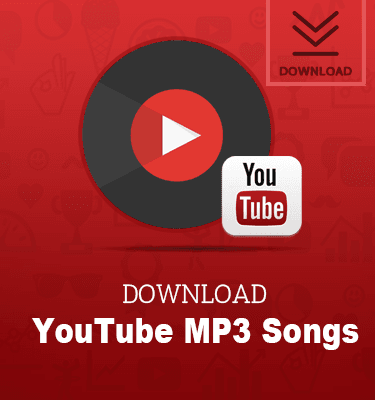 Afternoon, Coffee, YouTube.
Beanbag, Music, Read books.
These are all things that you can think about a perfect afternoon. And of course, music is the most significant part of this perfect afternoon.
Though we can always find suitable music on YouTube, download those songs is a big problem for many people.
Actually, it's not that hard as you think.
And Today,
I'm going to introduce a SUPER EASY method to download YouTube MP3 songs!
To download songs from YouTube to Your Computer...
The first thing you should do is to get a YouTube MP3 song downloader.
In my experience, AnyMusic is the best one that I've ever used. It is an all-in-one music solution that can help you to download any music you like.
You can download the AnyMusic to your PC or Mac for free as below.
OR
You can also download it directly from the website by visiting the homepage of AnyMusic.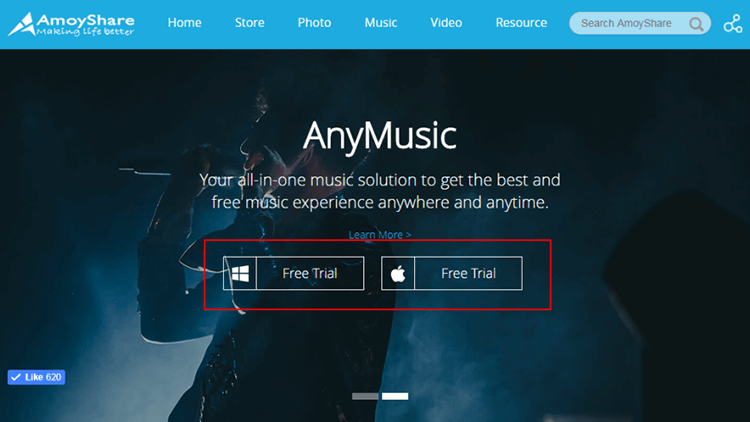 As long as you get there, you can download this super powerful software by a simple click on the homepage.
The rest of steps are the same as downloading all other software. You download it, you installed it and you can get start to use it.
Once you've done with the installations, you can get started to download YouTube music you like.
Notably, AnyMusic offers two options for you to get YouTube MP3 songs download. I will explain both of them in the following article.
Option 1
Download YouTube MP3 Music with Video URL
In the first option, you need to open your browser first and get into YouTube.
Then find the song that you want to download. Right click on the video and choose "Copy video URL".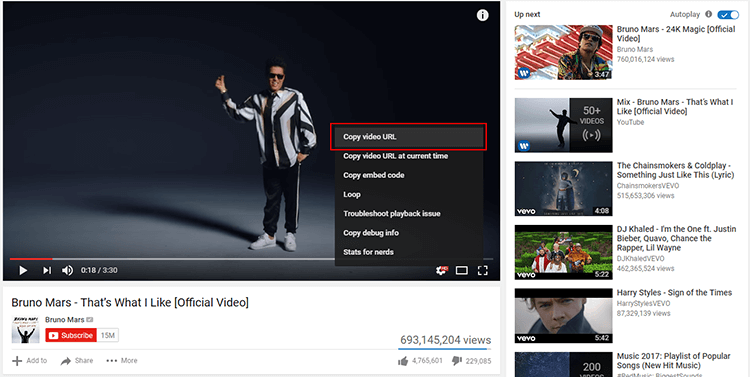 Then, go back to Anymusic.
Paste the URL into the search bar and press the search icon.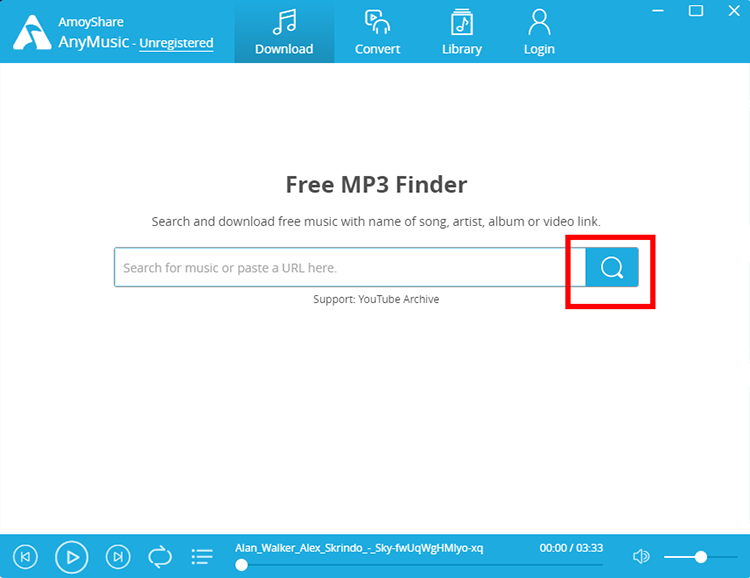 You will get the result immediately.
If you want to check whether it is the right song or not, you can click the Play button on the left, the website allows you to stream the music online.
Once you make sure it's the right song, just click the Download button, and you will see a few format options in the drop-down column.
Choose the file type that you like, for example, I'm choosing the MP3 format here.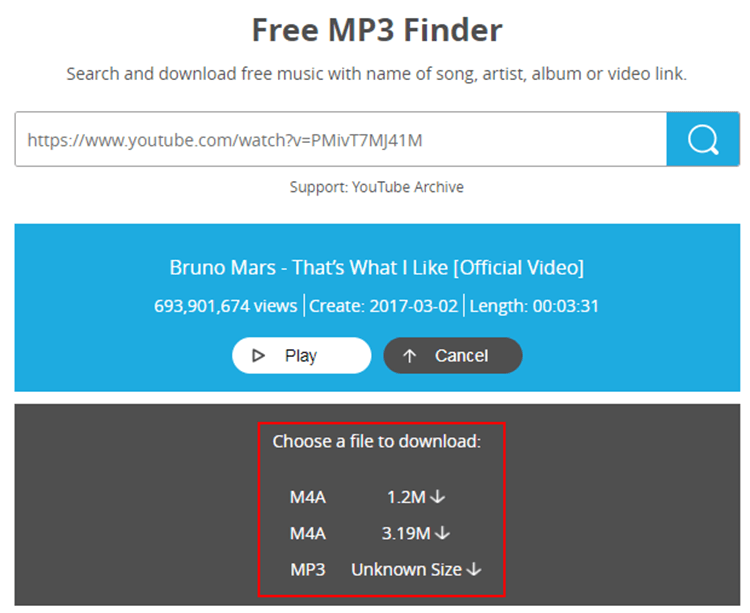 And then the program will automatically convert the YouTube songs to MP3.
Meanwhile, you can check the downloading progress in the Library.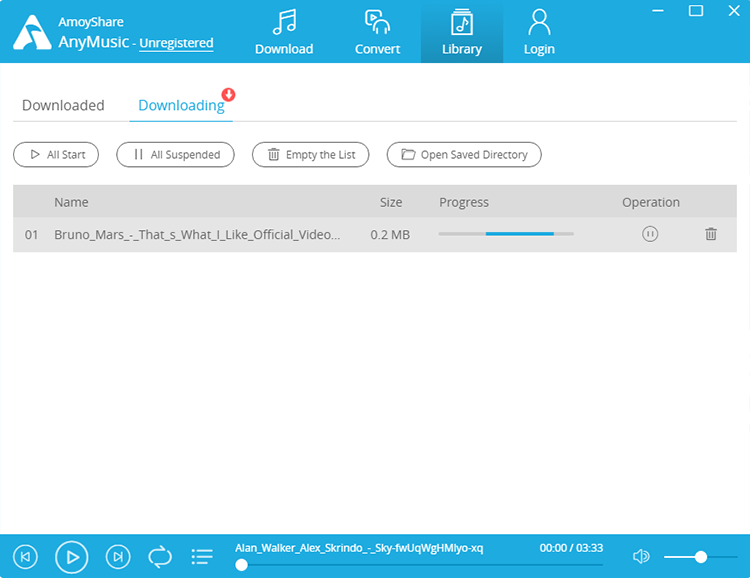 Option 2
Search and Download YouTube MP3 Songs with Keywords
In this option, you don't need to copy the URL of YouTube music, you can just input the name of a song in the search bar and many results will turn out on AnyMusic.
Now I enter "That's What I Like" into the search bar, and as you can see there are several versions of this song on result page.
Just choose the one that you like the most!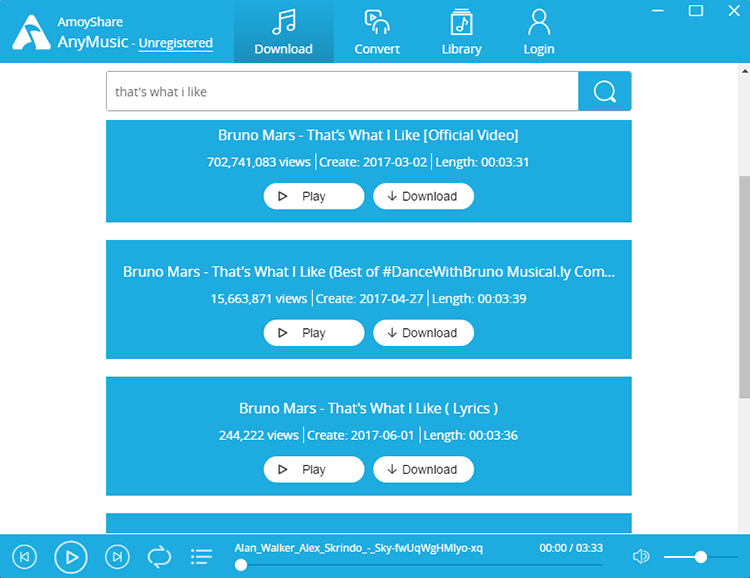 Again, you can pre-view the music by press the Play button on the left.
Once you make up your mind, you can click Download button to select the audio format that you need. I will choose MP3 here.
After that, your download will start immediately.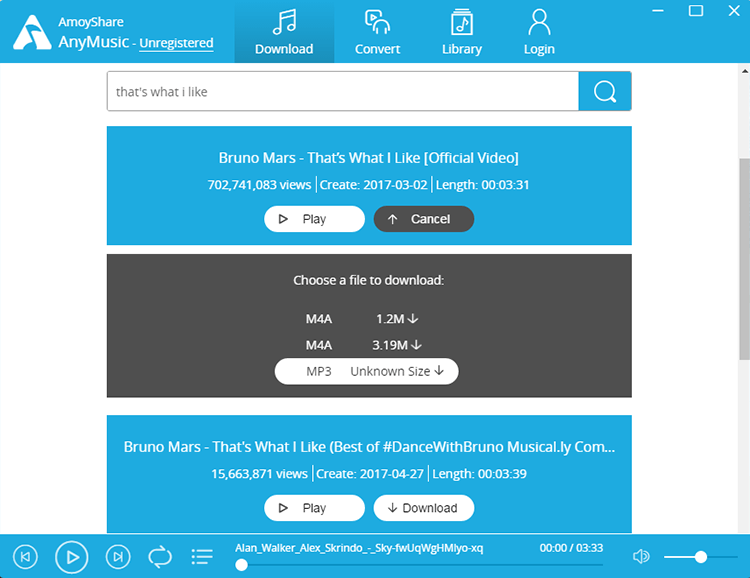 The same as the first option, you can check the downloading progress in Library, too.
Alright, the song has been downloaded. Now, you can check all of your songs in Downloaded.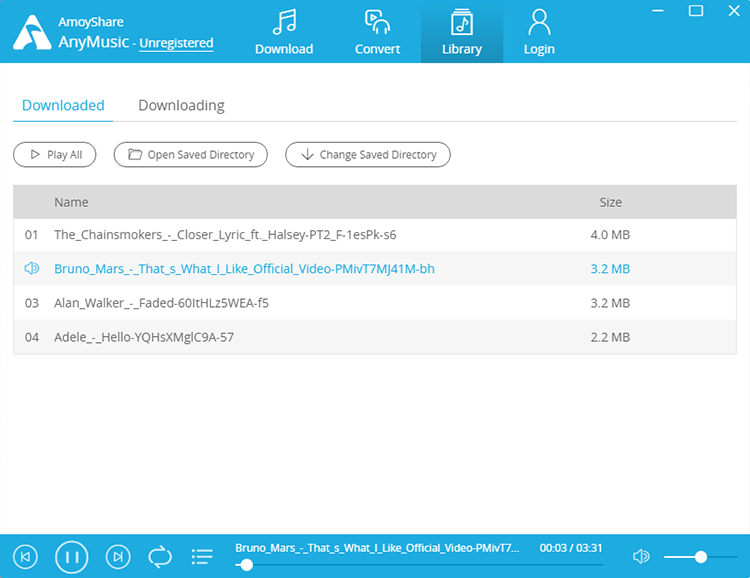 Quick Tips:
To find out where exactly your songs are saved, click Open Saved Directory, the folder where you keep all your music will show up.
If you're not satisfied with the default folder, you can change it by clicking Change Saved Directory.
By Now...
Since you can simply listen to the songs by clicking the Play button, my entire introduction is over.
That is so easy, isn't it?
If you have any question about this article or you want to share your idea about downloading YouTube MP3 songs, just let me know in the comment below.
Alright, now you can listen to your favorite music, and enjoy this chilling afternoon!