What is the Best YouTube Converter of 2017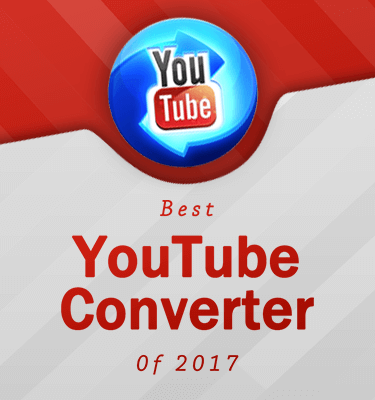 As the largest social media site for the video sharing, YouTube has tens of thousands of videos and music files.
It is easy to enjoy the music video online at home with a reliable Internet connection.
What if I want to listen to the music on the go?
YouTube Converter is always the best solution to download and convert videos from YouTube for offline using.
To help you make it, I'd like to show you how to use the best YouTube to MP3 converter AnyMusic step by step.
A Quick Question before We Start...
What Makes a Good YouTube Converter?
When you enter something like "best YouTube Converter" into the search box on the Google web site, you can find countless results.
But which one really works? You just have too many options to choose.
Well, here are some features that I think a good YouTube video Converter should have.
Powerful algorithm to search and fetch all the videos from YouTube.
Download YouTube video to MP3 or other formats in a fast speed.
Support batch download. This feature enables you extract a large amount of video and audio at the same time.
Extract video or audio files in high quality. If you want to download YouTube video to smart TV, you can convert YouTube to 1080P or 4K video.
Manage and organize music folders to keep your files sorted.
Anyway, there is no fixed standard for the best YouTube audio converter. But you can use the 5 points to determine whether a YouTube converter actually works or not.
By the way, if you only need to download YouTube videos, you'll love Free Video Downloader. It's an online websites that allows you to download videos from multiple online streaming sites, such as YouTube, Facebook and more.
Go back to AnyMusic...
In the part, you'll find that AnyMusic well proves every item mentioned above.
As an all-around MP3 YouTube converter for both Windows and Mac, AnyMusic is outstanding in lots of fields.
AnyMusic allows you to discover, download, transfer, and play free video or MP3 anywhere at any time.
1Discover the desired free music with songs, artists, albums or links. AnyMusic has multiple music and video resources, SoundCloud, YouTube, Facebook and more.
2Download the video or music with different sound qualities according to your preferences. The program also provides a fast detection and downloading algorithm for YouTube.
3The Built-in music player enables you to preview the music before downloading YouTube video, that is, you can always get exactly what you want without other software.
4Sync the music to Apple devices without iTunes, you can save the music directly to iTunes. And then enjoy the music or video on the go without Internet connection.
AnyMusic is one of the few YouTube video converters which provides the excellent searching algorithm to find the desired video or music with detailed information.
AnyMusic Library can help you manage the video files downloaded from YouTube, which is very helpful to make your media folders organized.
Download the music to iTunes directly. As Apple Store just pulls off YouTube converter app, AnyMusic should be the best choice to save video downloaded from YouTube to iPhone or other devices.
The program does not support download video in 1080P or 4K at the current moment.
Still more functions should be explored for the Library Management within the YouTube converter to MP3.
Since AnyMusic is So Great, How to Use It?
First of all, download and install AnyMusic for Win or AnyMusic for Mac as needed.
And then you can convert YouTube videos to audio tracks as follows.
When you launch the program, you can find different sections for YouTube downloading - Find Music, Video to MP3 and Library.
You can convert YouTube videos to MP3 files by using Find Music and Video to MP3.
Part 1
Download YouTube to MP3 by Searching Music Database
Step 1Search Music with Keywords
Choose Find Music. You can search and download free music with name of songs, artists, albums or video links. AnyMusic is able to find music from YouTube and Archive.
For example, I want to download Beatle's In My Life. So I enter the song name into the search bar. And there are quite a few music video resources from YouTube in the result.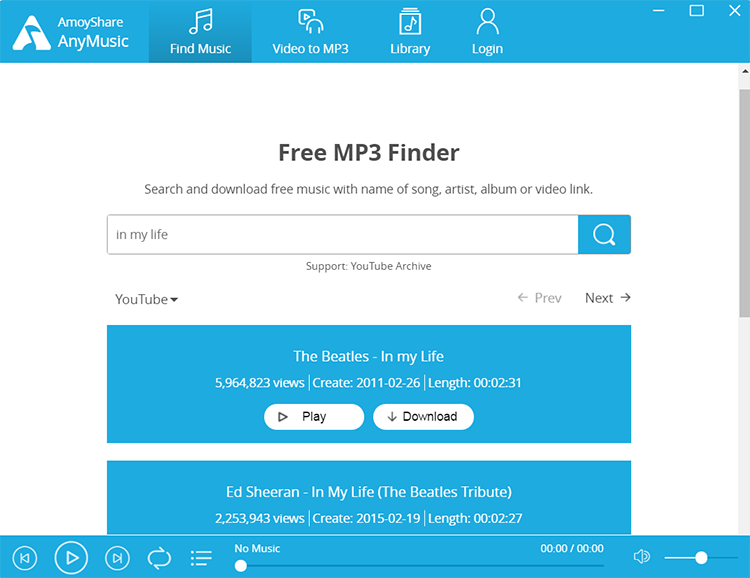 Step 2Select a Format for Downloading
Before downloading, you can preview the video by clicking on the Play button. If it's the music you want, you can click Download and choose a format for converted file.
In this case, the first search result is the music I want, and I choose the MP3 format. You know, it's the most compatible audio file format that almost works on all music player and devices.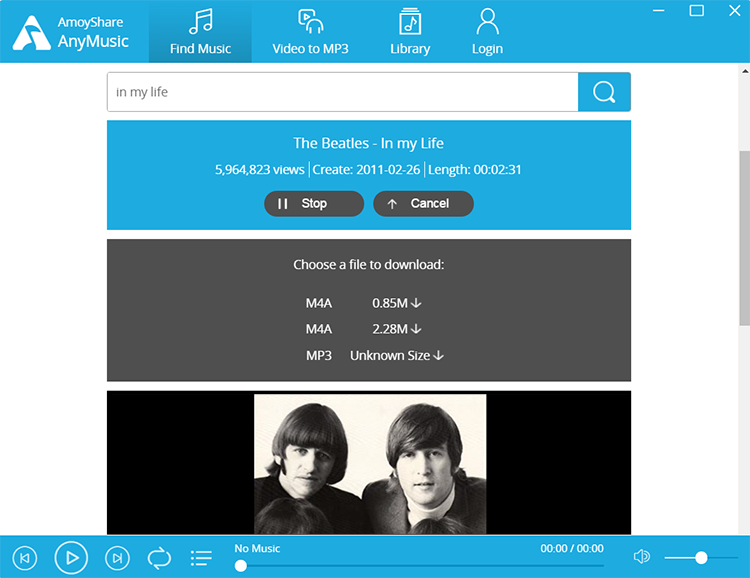 Step 3Find Downloaded Music
All the downloaded music can be found in the Library page. Besides, you can manage the files downloaded from YouTube and other channels. And you can sync the music to iTunes by clicking the Change Saved Directory.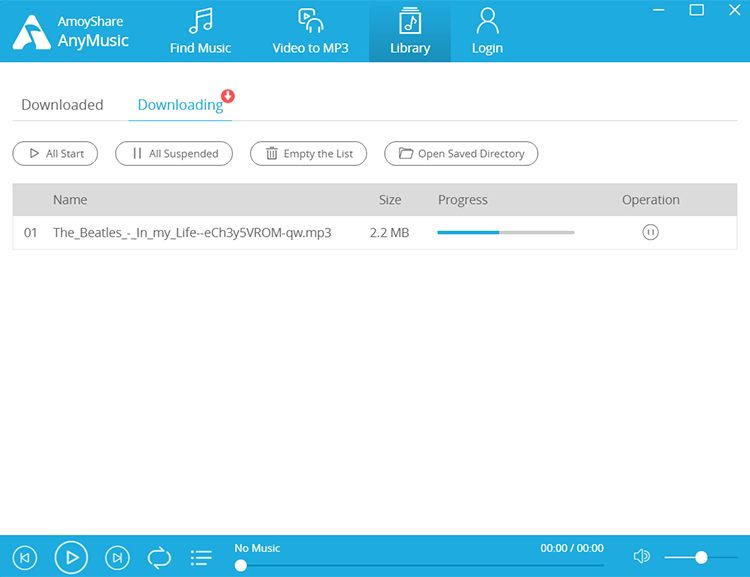 Part 2
Extract Music from YouTube with Video Link
If you have URL of a YouTube video, you can simply use a link to get download music off YouTube.
Step 1Search with Video Link
Copy and paste the URL of the music video or the video clips into the Video to MP3. AnyMusic will get all the information for the video with few seconds.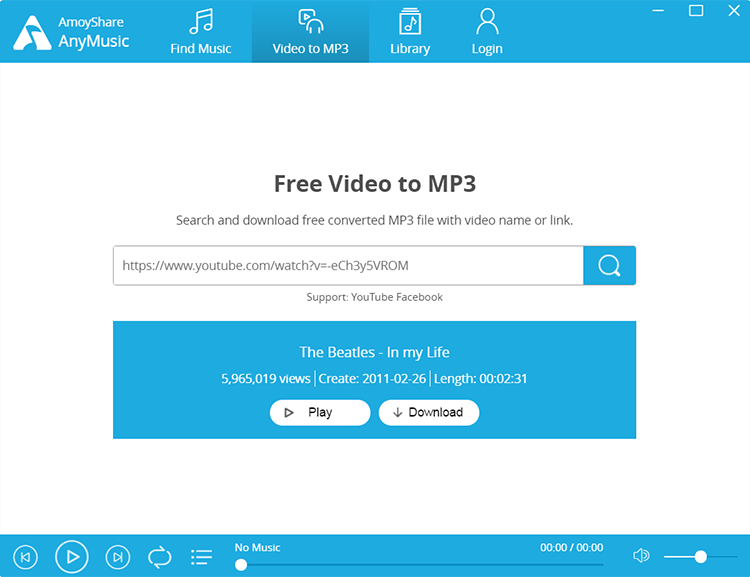 Step 2Play the Music & Download
Stream the music video by clicking the Play button. And then download the YouTube video by choosing a file type as needed.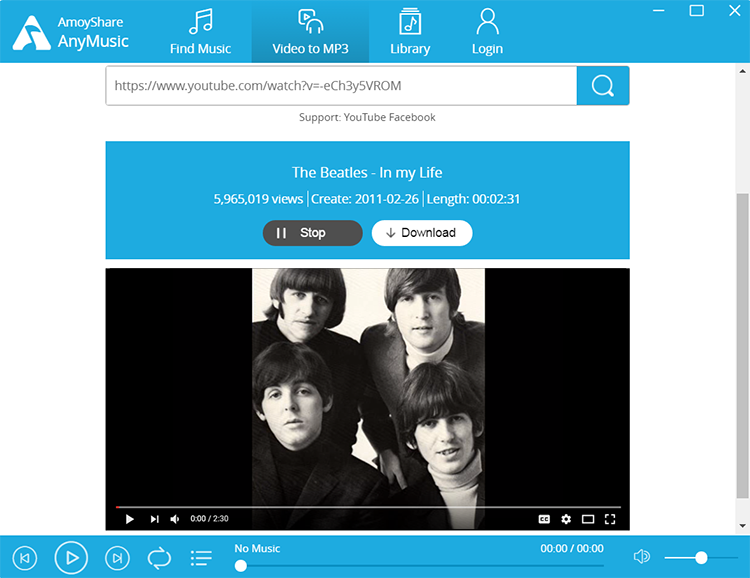 Step 3Manage Music Files
When YouTube conversion is completed, you can find the downloaded songs in the Library.
Moreover, you can manage your music files by changing the saved folder.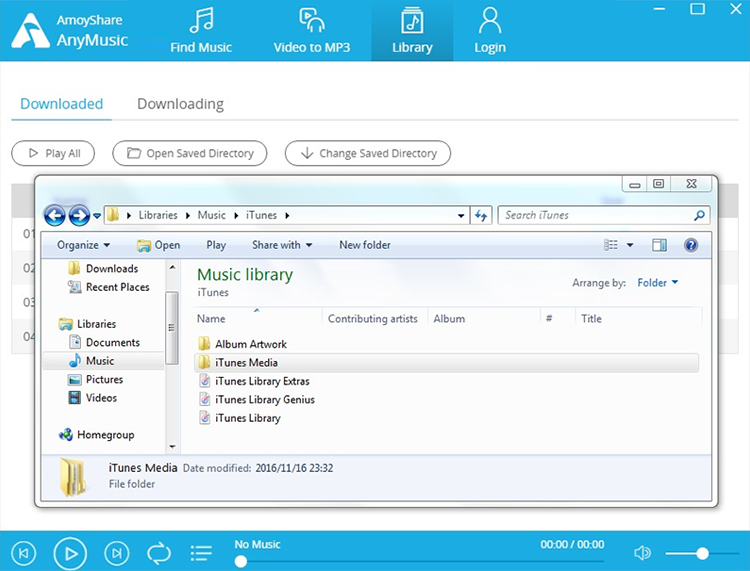 So Easy?
I know how you'd feel when you finish reading this tutorial.
It's just so easy!
Now you already learn how to convert YouTube video to MP3 or other formats.
I hope you can SHARE this guide to your friends, so more people can benefit from this super useful YouTube converter.
If you have any question while using AnyMusic, just leave a comment to me. I'll reply to you as soon as possible.