The Best Top 10 YouTube Classical Music Download 2018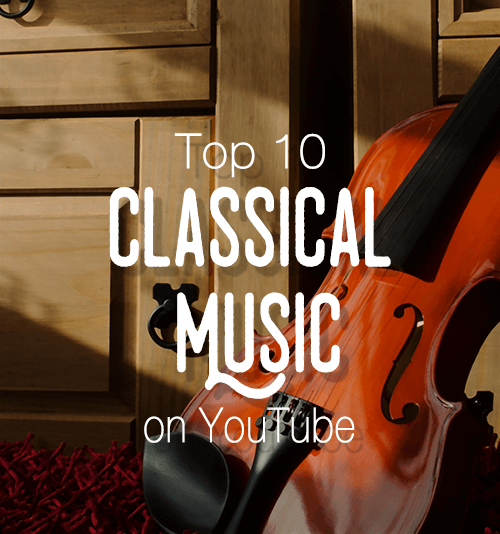 Do you like classical music?
When I was young I thought classical music was something boring.
As I'm getting old, especially when I listen to the Mozart for the first time,
I found that it's not boring, it's the wonderful harmonies.
It's mentally stimulating and it gives me a comfort.
Most important, classical music leaves us much to the imagination.
So, it can be fun to listen.
There are many classical music masterpieces on the Internet,
Today we are going to enjoy Top 10 YouTube classical music.
If you love that beautiful melody,
Welcome to download the YouTube classical music you like.
Part 1 YouTube Classical Music Top 10 List
So many YouTube classical music, which one can be listed in the top 10 list? We can't promise this is really your favorite top 10 classical music on YouTube, but we try our best to select 10 classical songs that you may like. Let's enjoy now!
1. Factotum aria from Barber of Sevilla - Rossini
Factotum aria from Barber of Sevilla was made by Rossini, a famous Italian composer born in 1816. This classical music plays an indispensable role in the classical music world, for its particular spirits.
Download Factotum aria from Barber of Sevilla YouTube Classical Music >>
2. Canon - Pachebel
Canon is a famous classical music by German composer Pachebel. Actually, there was no clue for the exact date when this masterpiece was created. In western world, it has been used frequently in some special occasions, including wedding and funeral ceremony.
Download Canon YouTube Classical Music >>
3. Madamina - Mozart
Canon is an aria from Mozart, a noted musician. It was one of his most popular arias, once performed in an opera called Don Giovanni. In this opera, it was sung by a servant in order to depict his master's tons of lovers.
Download Madamina YouTube Classical Music >>
4. Salomo - Händel
Salomo is an English oratorio from Hadel, composed in 1759. It was inspired by the biblical stories of a wise king Salomo. This classical music was performed in 1749, which aroused a great attention at the time.
Download Salomo YouTube Classical Music >>
5. Trumpet Concerto - Haydn
Trumpet Concerto is made by composer Haydn. If you are an expert in classical music, you will know that it includes three movements, which is a little bit different from current trumpet concerto with four or more movements.
Download Trumpet Concerto YouTube Classical Music >>
6. Votre Toast - Bizet
Votre Toast is an aria composed by Bizer, from the opera called Carmen in1963. In the opera, this song was sung by a bullfighter to illustrate different situations in the bullring, the happiness of the crowds and the fame brought by victory.
Download Votre Toast Classical Music >>
7. Air - Bach
Air is a well-known classical music from Bach. It is a kind of instrumental composition, which can be applied to the melodies of folk songs and ballads. Such sort of music is usually performed in the court.
Download Air YouTube Classical Music >>
8. Wedding day at Troldhauge - Greig
Wedding day at Troldhauge is a musical piece made by Greig, written in 1896. There was a sweet story behind this song. Briefly, Grieg composed the song for memorizing the 25th anniversary of their marriage.
Download Wedding day at Troldhauge YouTube Classical Music >>
9. Nessum Dorma - Puccini
Nessum Dorma is one of the most famous arias from Punccini, from the final act of the opera Turandot, in which it was sung by the prince to express his wholehearted love to the gorgeous but cold princess.
Download Nessum Dorma YouTube Classical Music >>
10. Fur Elise - Beethoven
Fur Elise is one of Beethoven's most prevalent compositions, published in 1867. Normally, it is regarded as a bagatelle with its light tune.
Tips
If you want to browse more classical music online, here is a list of classical music sites, you can stream the classical music online or listen to the classical music radio:
1. Classical-Music.com
2. Classical FM
3. Naxos Classical Music
4. ArkivMusic
5. Classical Music Online
6. Shoutcast
7. Musopen
8. Last.fm

Part 2 How to Download YouTube Classical Music Playlist?
For the top 10 YouTube classical music list above, you can download the music by clacking the link, if you want to download the whole classical music playlist with one click. I will share an amazing way to download all classical music you like. Let's see!
If you want to download YouTube classical music playlist, you need a music downloader called – AnyUTube.
Download AnyUTube and you will this screenshot: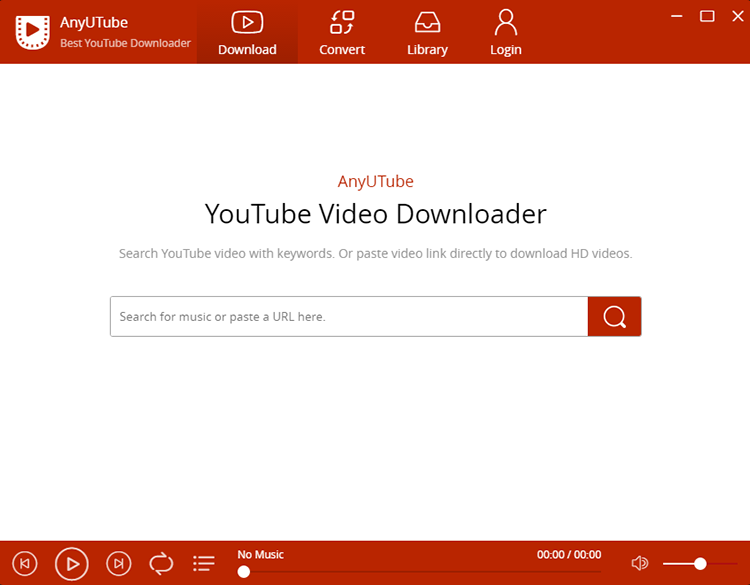 So, how to download playlist? Go on!
Easy move! You only need a playlist link and put it on AnyUTube.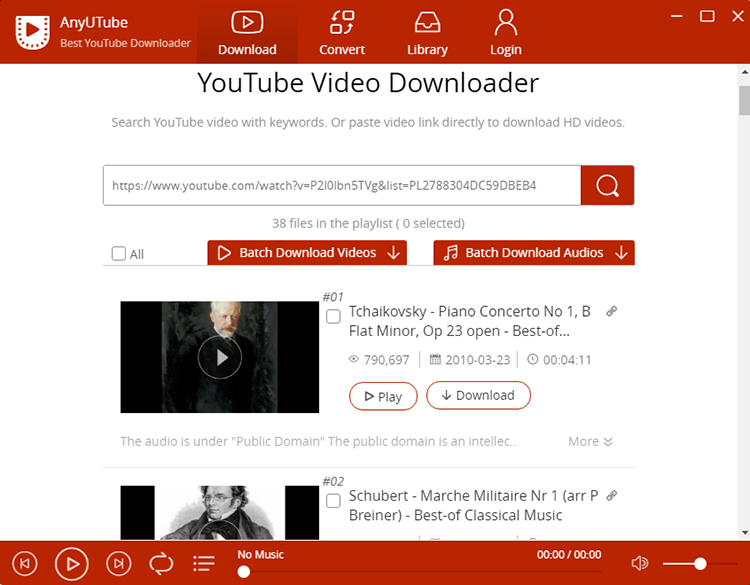 You can easily search the YouTube classical music playlist on AnyUtube. When you find the playlist then you can play them.
OK. The amazing part is coming…
Tap "All" and choose the audio quality you want then you can get the whole playlist download in just a few seconds.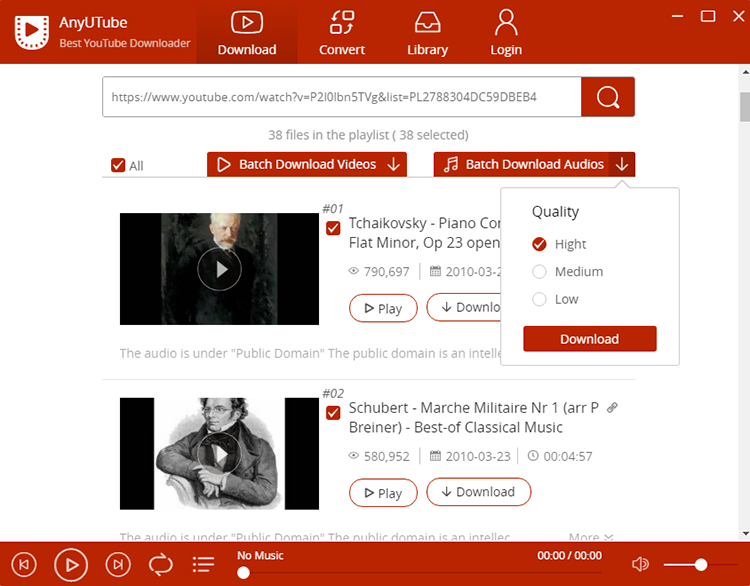 With these simple steps, you can download music playlist with one click.
Pretty cool, right?
You can try it by yourself you will love it!
In Conclusion
If you guys like YouTube Classical music we share above,
Please go and download it without hesitation.
Hope you will love classical music more and more.
If you like, you can share your own YouTube classical music playlist with us.
Please feel free to leave a comment below.
Have a wonderful day!
YouTube Classical Musical Download: