Best Vimeo MP3 Converter - Convert Any Vimeo to Mp3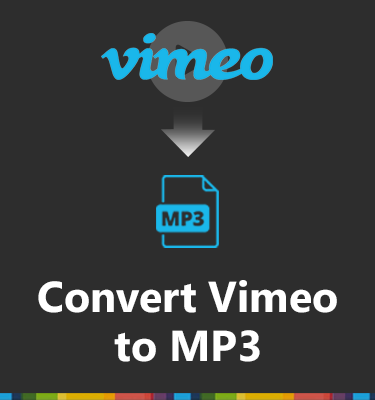 Vimeo is a creative video-sharing site.
For music lovers, there are many high-quality music videos worth watching.
It is enjoyable to watch the music video online at home with a reliable Internet connection.
Wait! Wait! Wait!
What if I want to listen to the music go hither and thither?
How can I extract or convert Vimeo to MP3?
Well, what save you is not a superman but a Vimeo video converter now.
Alright, let's see "What" and "How" about our saviour.
Before we get started...
Here are some facts you might not have known about Vimeo.
It was founded in November 2004 by Jake Lodwick and Zach Klein.
The name Vimeo was created by Lodwick, as a play on the words video and me.
It was the first video sharing site to support HD video uploading (started in October 2007).
Users can create, share, discover and download videos on Vimeo.
It is really a good platform for video lovers, right?
#1 Everything about the Best Vimeo Converter
AnyMusic, a free Vimeo MP3 converter, is your best choice to convert video to MP3.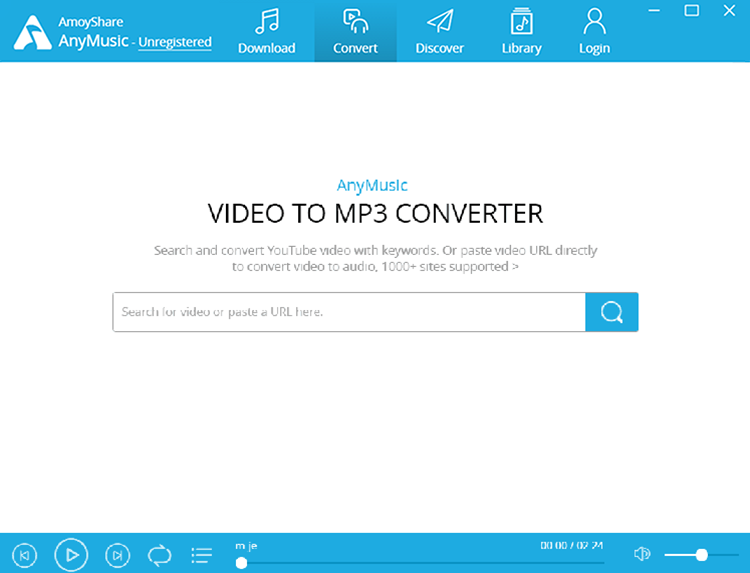 Though there're quite a few similar tools such as SnapTube, MyMedia and SaveVideo.me etc., AnyMusic is outstanding due to the following reasons:
√ Easy to Find Music. It's easy to get whatever music you want by searching with video URL or keywords about the music. Also worth mentioning is the powerful search algorithm of AnyMusic, which allows you to find music with name of artist, song, album and more.
√ Multiple Video Resources. Except for Vimeo, you can also extract music from YouTube, Facebook, Jamendo and more than 1,000 sites. That's to say, all the music resources are opened for you.
√ Safe and Clean. AnyMusic offers you a green environment without disturbing ads and virus. Therefore, you can immerse yourself in the world of music.
√ Efficient and Effective. The inner music player enables you to preview the desired music video in order to get exact one. Indeed, it's one of the biggest advantages that distinguishes it from all other Vimeo videos to MP3 converters.
√ Time Saving. Batch download will save your time, so that you can have more time to enjoy music as you wish.
√ Alternative File Formats. In addition to MP3 format, AnyMusic has many file types for your choice, such as M4A, WAV and more. You can select any one of it according to your preference. It is up to you.
While reading here, you may be impressed by the awesome features of AnyMusic, but still have no idea exactly how to download music from Vimeo to MP3.
No hurry. Let's explore more of the Vimeo MP3 converter.
#2 The Way to Convert Vimeo to MP3 Audio Files with AnyMusic
As I mentioned earlier, it's easy to search for desired music in two different ways, URL or keywords.
Now I'd like to show you how to make it step by step.
Solution 1. Search via URL
Step 1: Pasting the URL of the video you want into the search box.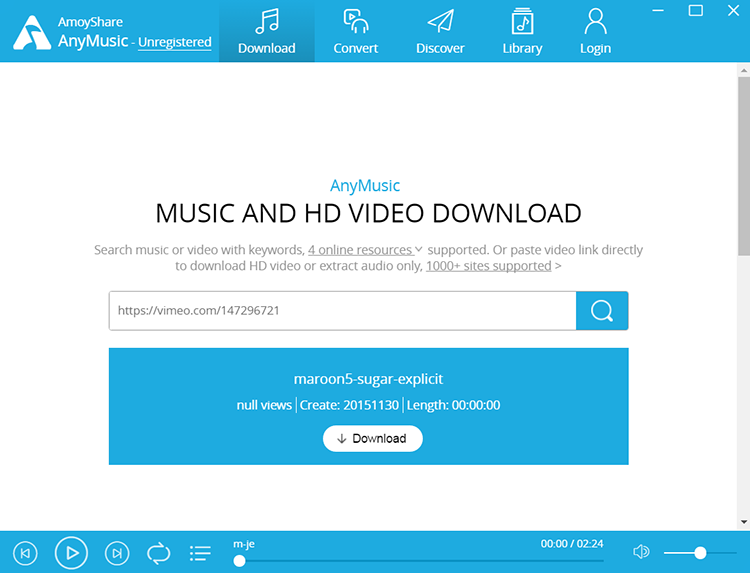 Step 2: Click on "Download" button and find a format you want, then you just get the Vimeo to MP3 download.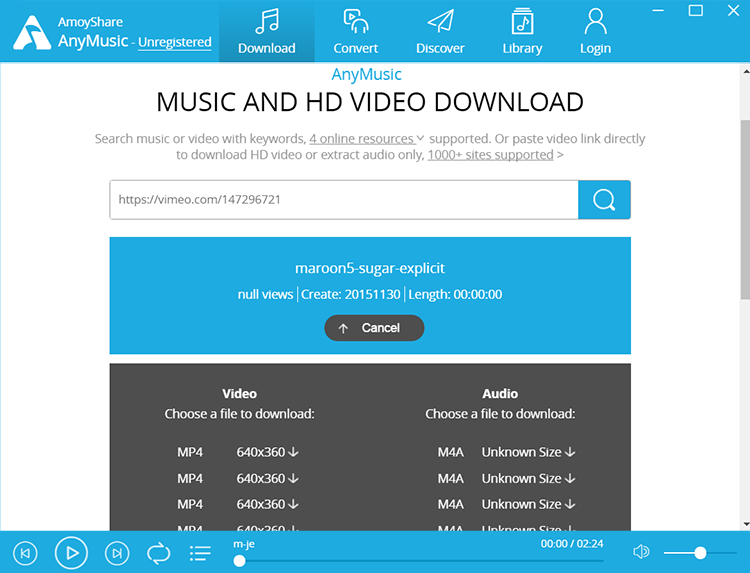 Well, it is that simple.
Solution 2. Search by Keywords
If you don't have video URL, you can still get the video you want.
Here we provide another way to get access to your favorite music from other video streaming sties.
Just follow my steps.
Step 1: Click on Convert, enter any keywords about the song you want to download into the search bar. And then you can see lots of results as follows.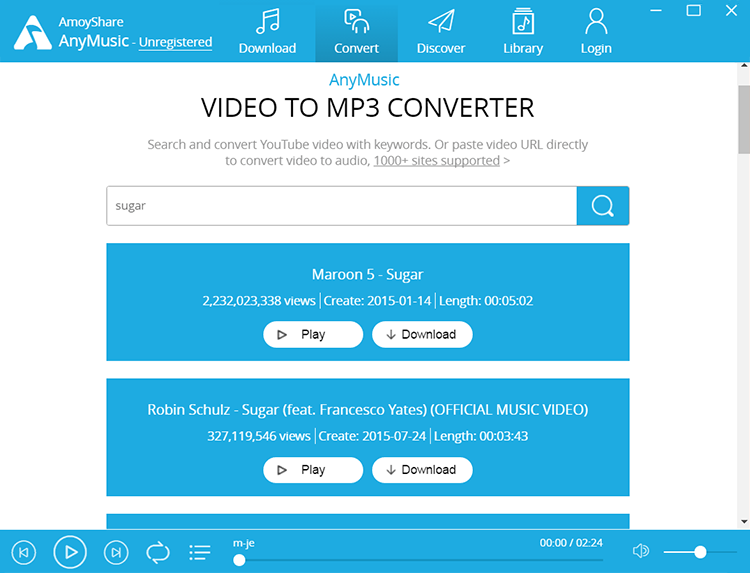 Step 2: Preview and play the music before downloading. Just click on Play button, and this will help you make sure if it is what you are looking for.
Step 3: Since you have found the exact music, it is time to get it. Click on Download button, and select the MP3 format. AnyMusic will automatically download the music within seconds.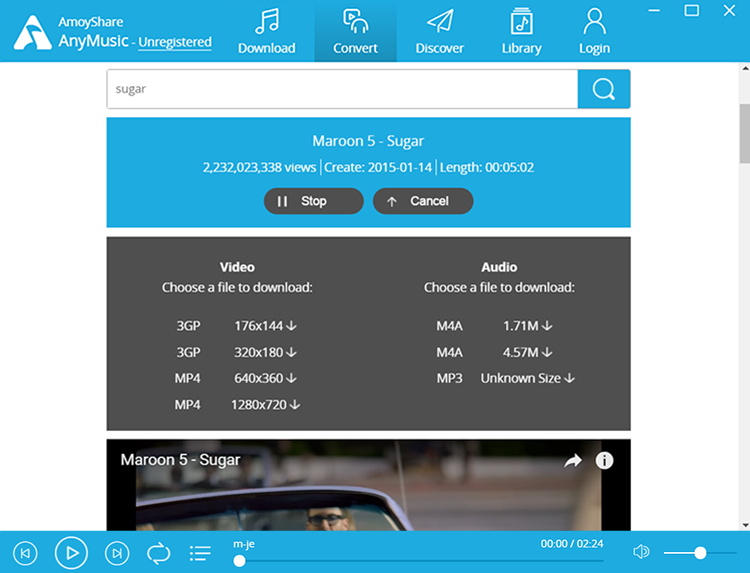 Tips:
If you want to transfer downloaded music to iPhone, you can click on Open Saved Directory before downloading. If you have download Vimeo to MP3 on Mac or PC, you can click on Change Saved Directory to change the default download path to the Music files of iTunes.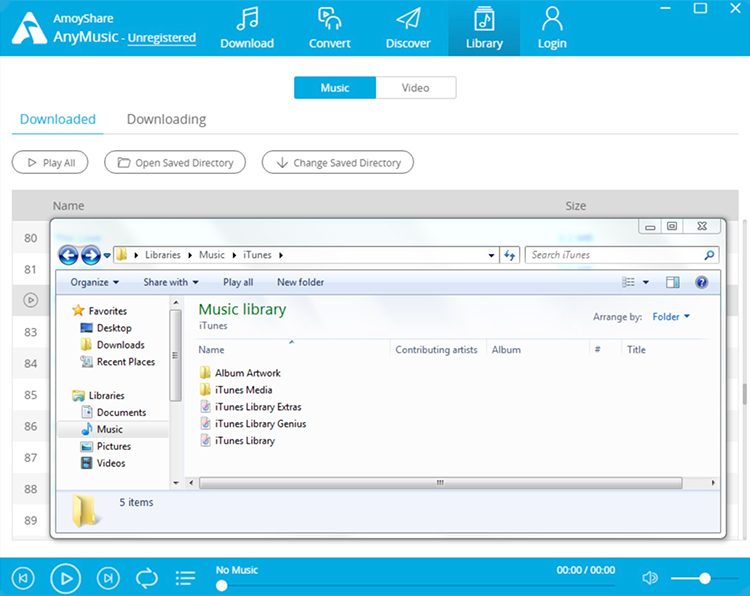 So easy, right?
Based on the above solutions, you can easily get MP3 from Vimeo, YouTube, Facebook and more.
Congratulations!
You have get the key to download Vimeo video to MP3!
Anyway, you can decide whether AnyMusic works for you.
It would be great if you can share any better Vimeo to MP3 converters with me.
If you want to know more about how to extract music from other online video-sharing sites, just click the articles below.
Please feel free to leave comments if you have any question about the process of Vimeo MP3 download.