How to Download YouTube to MP4 online?
YouTube is one of the most widely used websites in our daily life.
It is also the biggest video-sharing platform in the world.
It allows users to upload, view, share videos, and subscribe other users.
But the question is…
Do you know the way to download YouTube video to MP4?
It seems to be the most concerned problem from readers' comments.
Many people are still confused about the question.
I think I have the best way to solve the troublesome matter for you.
Here, I will show you 2 efficient ways to download YouTube video to MP4.
What are they?
Can't wait?
Let's get started!
Part 1 Download YouTube Video to MP4 Online
Free YouTube Downloader provides an easy access to download videos on YouTube.
Let me show you how to make it!
Step 1. Copy Video Links on YouTube
Visit YouTube and search for videos you like by entering keywords.
Pick out the video you want to download then copy the video link.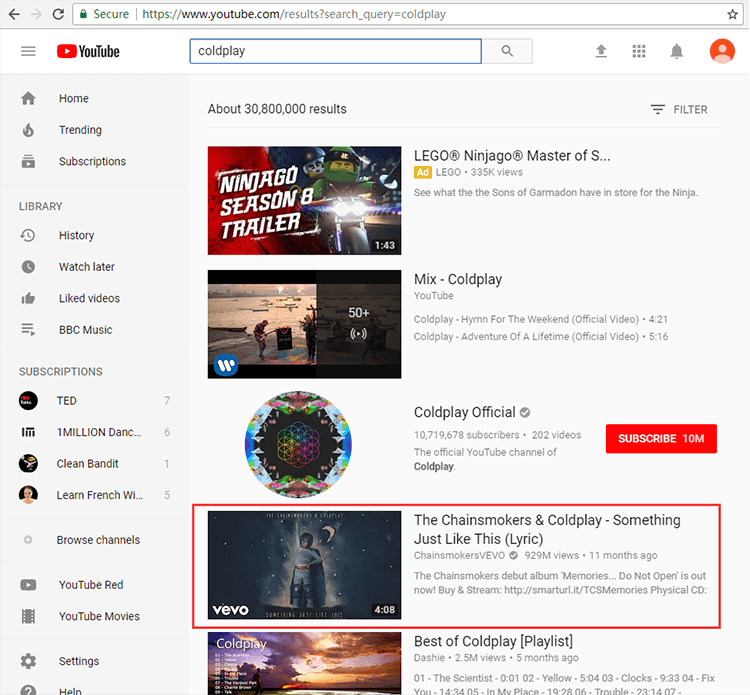 How to copy YouTube video link?
1. Copy the URL from the address bar on the top of the page.
2. You can also right click the video then choose "Copy video URL".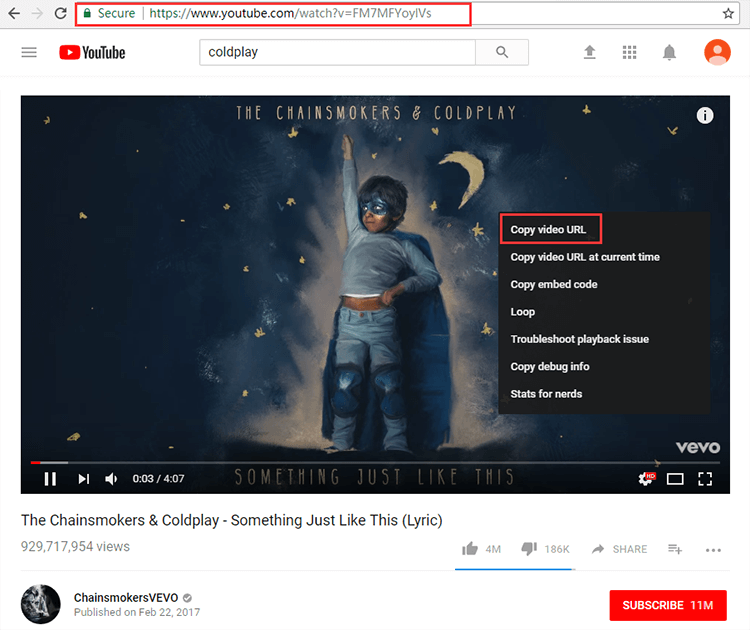 Step 2. Paste The URL on Free YouTube Downloader
Go to Free YouTube Downloader.
Paste the video link on the search bar in the middle of the page.
Then click on the search iron on the right and you'll get the target video soon.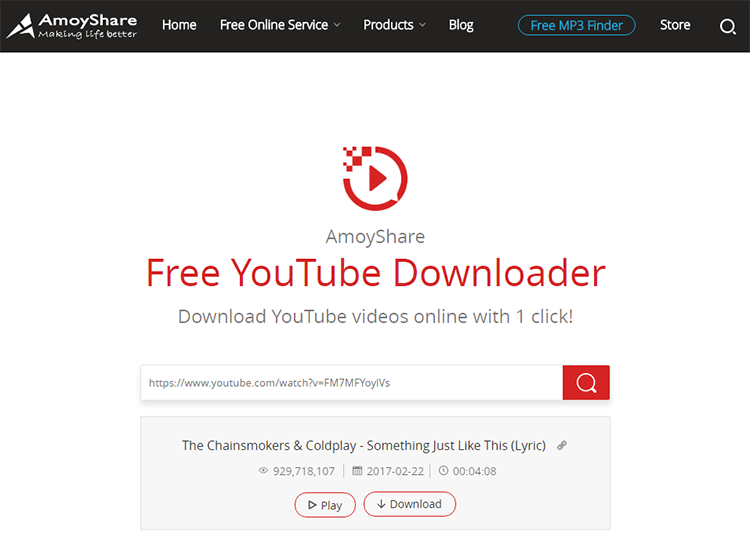 Step 3. Play the Video Online.
Click on the "Play" icon.
Make sure the video is the right one you want to download.
You don't want to waste time getting the wrong one, right?
Step 4. Download Video to MP4 Now
After confirming the video is the right one you are searching for,
You can click on the "Download" to get it for free.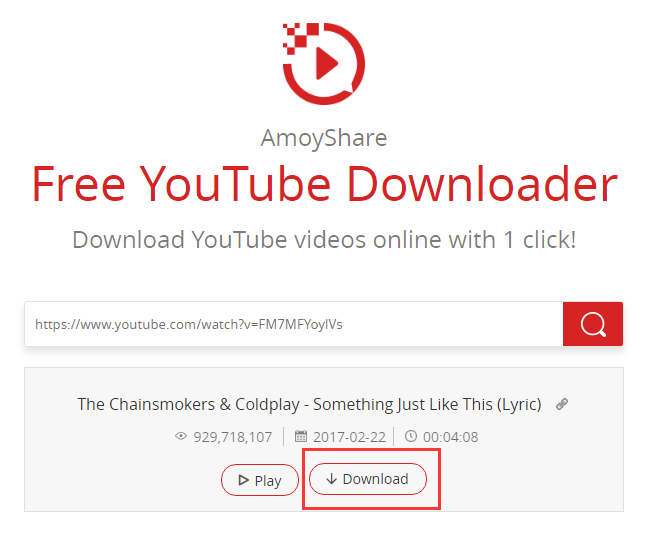 Step 5. Choose the MP4 Format.
Free YouTube Downloader supports different formats for users.
Don't forget to choose the MP4 format for your video.
And you'll get the video downloaded quickly.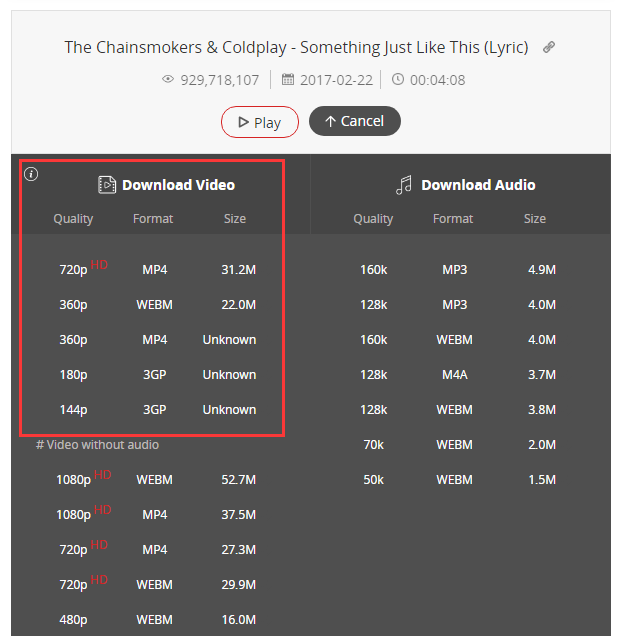 These are all the steps for downloading YouTube video to MP4 with Free YouTube Downloader.
It's quite convenient, isn't it?
Try it and show me your user experiences!
Next, I will show you another way to download YouTube videos.
It is a little different from Free YouTube Downloader.
That is AnyUTube --- a popular YouTube video downloader.
Part 2 Batch Video Download with AnyUTube
Why we choose AnyUTube?
It has multiple advantages when using.
I'm absolutely certain that you'll be surprised at its powerful functions.
It is not only a MP4 video downloader but also a video converter.
You can search videos by entering keywords or URL on the search bar.
And then you can download videos from YouTube to MP4 HD directly.
In addition, it supports users to convert YouTube videos to MP3 and M4A formats.
How wonderful it is!
What matters most is that AnyUTube allows downloaded YouTube playlist.
What's more, you'll never be disappointed with the search speed and results.
You will agree that AnyUTube provides us a great user experience.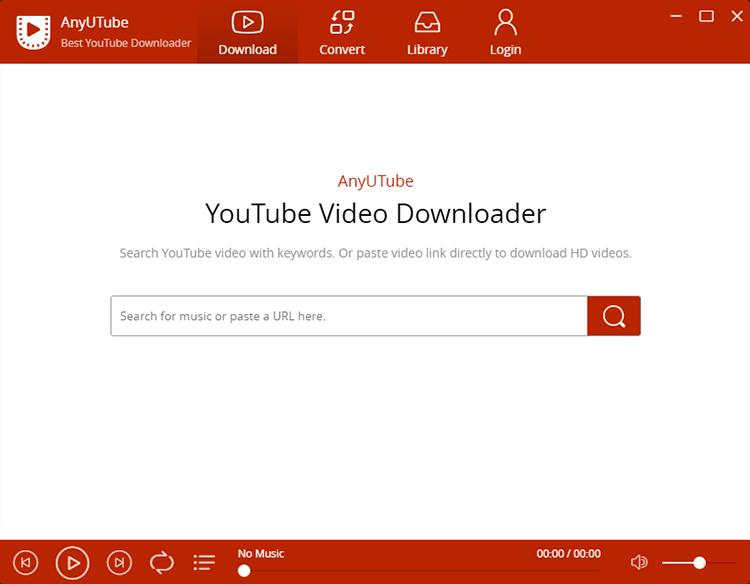 When you get the whole YouTube playlist on AnyUTube, then you can get batch download YouTube videos or audios with one click.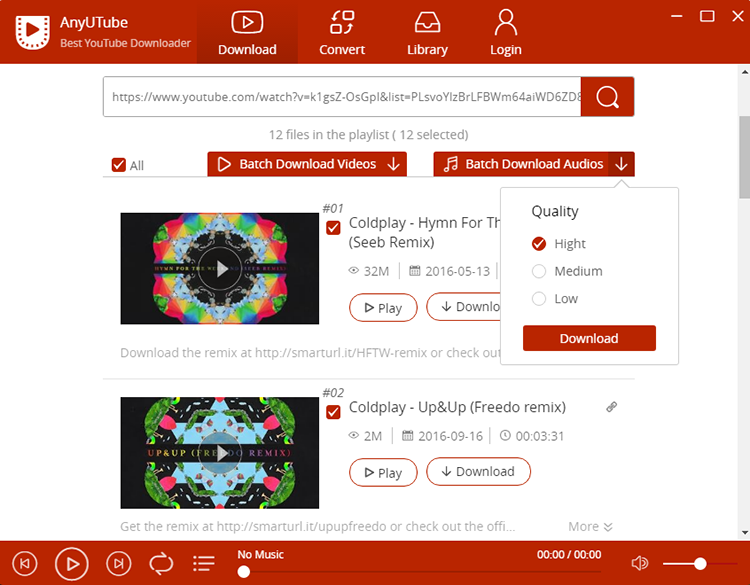 Conclusion
Have you already mastered the 2 skills to download YouTube video to MP4?
Downloading YouTube video to MP4 is not so difficult, right?
Hope you will like the 2 methods we introduce.
If you have any problems and suggestions, just leave comments below.
I'll reply to you as soon as possible.
Thanks for your reading and have a nice day!
See you!