How to Download Video to MP4 from YouTube online?
YouTube is one of the most widely used websites in our daily life.
It is also the biggest video-sharing platform in the world.
It allows users to upload, view, share videos, and subscribe other users.
But the question is…
Do you know the way to download video to MP4 from YouTube?
It seems to be the most concerned problem from readers' comments.
Many people are still confused about the question.
I think I have the best way to solve the troublesome matter for you.
Here, I will show you 2 efficient ways to download YouTube video to MP4.
What are they?
Can't wait?
Let's get started!
Part 1 Free Video to MP4 Online Service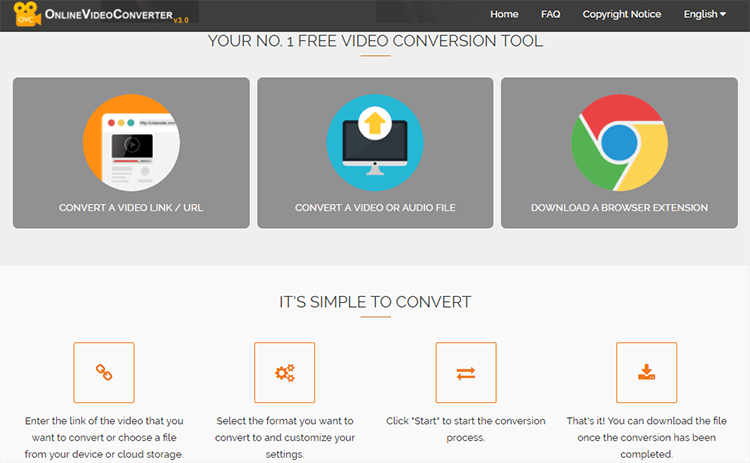 OnlineVideoConverter is a free online media conversion web application. Users can simply convert any video/audio to various formats by uploading a file or paste a video link. It supports a wide range of mp4 videos portals, such as YouTube, Dailymotion and Vimeo. Besides, you can also do conversion on you Android, Apple or Windows phone or even tablet.
Pros:
√ No need to install any software on computer.
√ Registration not required.
√ Unlimited conversions.
Cons:
× Too many ads on the site.
× Can't download a playlist at a time.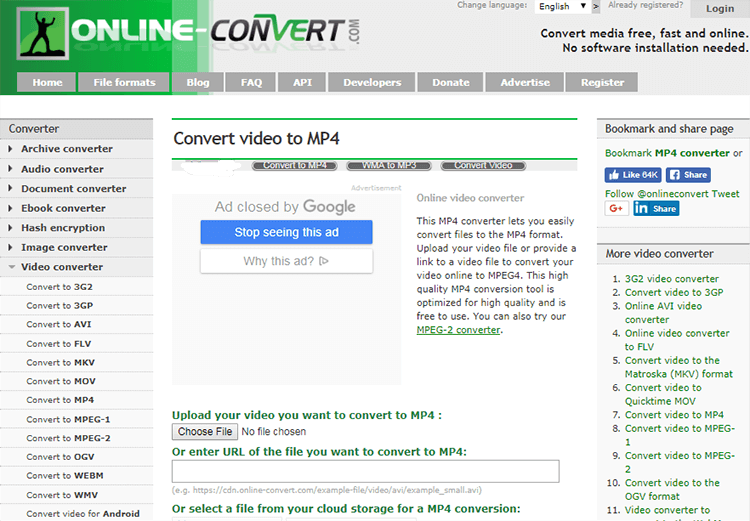 Via OnlineConverter, you can convert video by upload local file, enter URL of the file, or even select a file from your cloud storage. What's more, except for selecting formats, it also allows you to choose the type of your target device, like iPad, iPod, PS3 or XBOX 360. That's efficient.
Pros:
√ No software installation needed.
√ You can convert 4 files at the same time.
Cons:
× Subscription required when file size is bigger than 100 MB.
× Convert at a normal speed without subscription.
× With ads.

With FLVTO, you can choose either download YouTube videos mp4 online or via software. The differences between them are the download speed and the amount of files you can convert simultaneously.
Pros:
√ Files can be converted to mp3, mp4, avi, mov, wmv, and 3GP formats.
√ You can download and convert media from YouTube, Facebook, Vimeo, Dailymotion, etc.
Cons:
× You need to add tracks to iTunes library so as to save tracks on your iPhone.
× Too many ads on the homepage.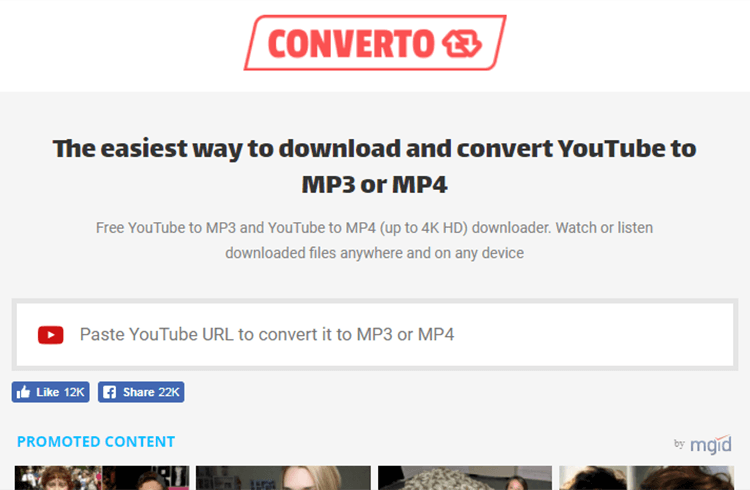 Converto allows you to free convert any YouTube video to MP3 or to MP4 format (video up to 4k HD). Besides, it also features media cutter. You can cut video online and save it immediately. In addition, you can also edit ID3 tags or file name. That's really convenient for you to manage files.
Pros:
√ No need to install software.
√ Registration not required.
√ You can cut or change video quality.
Cons:
× You can only paste YouTube URL, but not upload file.
× You can only convert YouTube videos.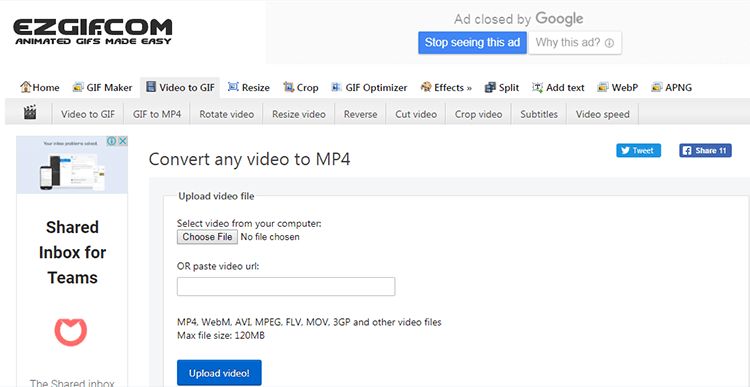 With EGZIF, you can convert videos by uploading video file from your computer or pasting video URL. The maximum file size is 120 MB. However, EGZIF is mainly focus on its GIF service. Therefore, there is limited information for video converter.
Pros:
√ No need to install software.
√ Registration not required.
√ It supports various formats, including MP3, WebM, AVI, MPEG, FLV, MOV, 3GP, etc.
√ Featuring video cutter.
Cons:
× Insufficient information about its video converter service.
× No search bar on the site.
× With many ads.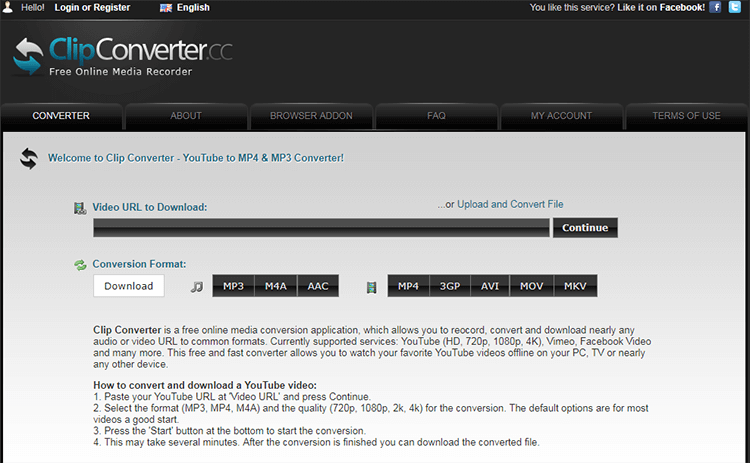 Clip Converter is a free online media conversion application. You can record, convert, and download any audio and video to various formats. It supports portals including YouTube, Vimeo, Facebook, and more.
Pros:
√ You can install the addon on YouTube pages, so as to convert and download video directly.
√ It supports browsers like Firefox, Chrome, Safari, and Internet Explorer 8.
√ Ads-free.
Cons:
× You can only convert and download a file at a time.
× You're not allowed to cut videos.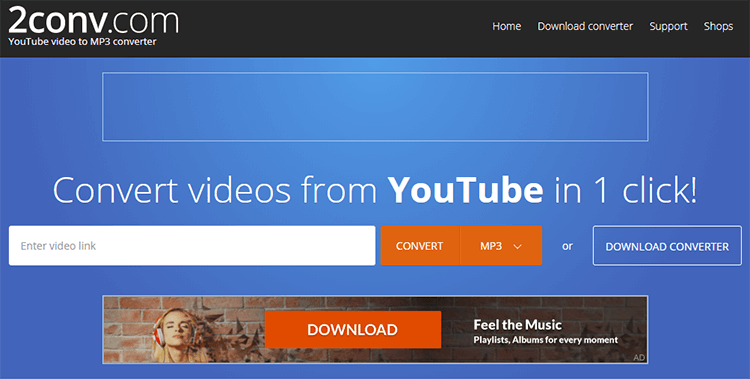 2CONV is a free online YouTube video to MP4 converter. Besides, it also comes with a free application for PC. With it, you can download multiple files at once, enjoy HD quality and tag every track.
Pros:
√ It supports any Operating System and any browser.
√ Come with a free and outstanding application for PC, like you can download up to 99 file at once in lightening-speed.
Cons:
× You can only grab videos from YouTube.
× Uploading your own files is not supported.
Part 2 The Best Site of Video to MP4 from YouTube
Free YouTube Downloader provides an easy access to download videos on YouTube.
Let me show you how to make it!
Step 1. Copy Video Links on YouTube
Visit YouTube and search for videos you like by entering keywords.
Pick out the video you want to download then copy the video link.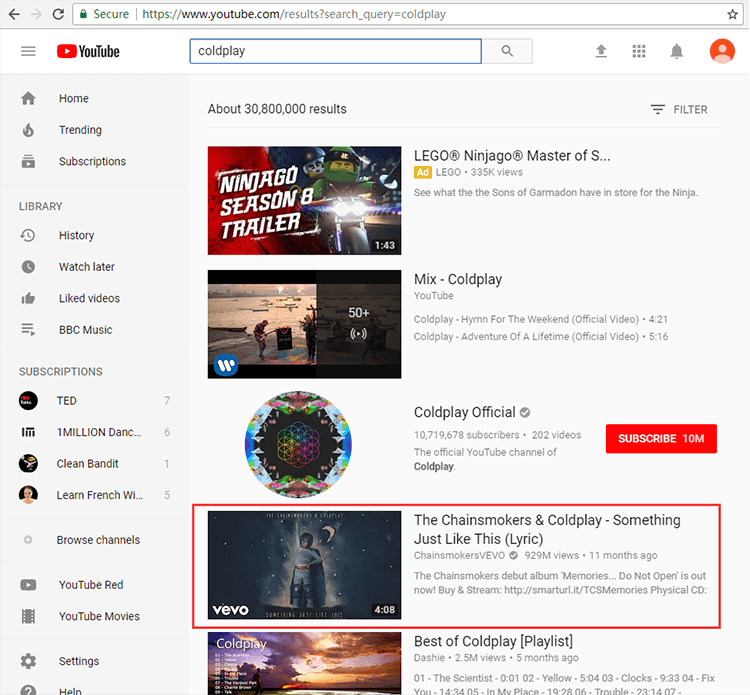 How to copy YouTube video link?
1. Copy the URL from the address bar on the top of the page.
2. You can also right click the video then choose "Copy video URL".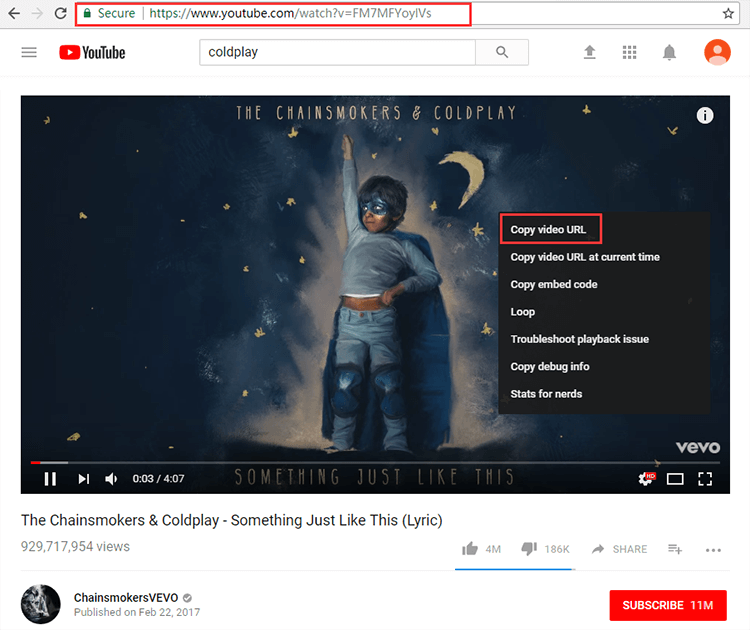 Step 2. Paste The URL on Free YouTube Downloader
Go to Free YouTube Downloader.
Paste the video link on the search bar in the middle of the page.
Then click on the search iron on the right and you'll get the target video soon.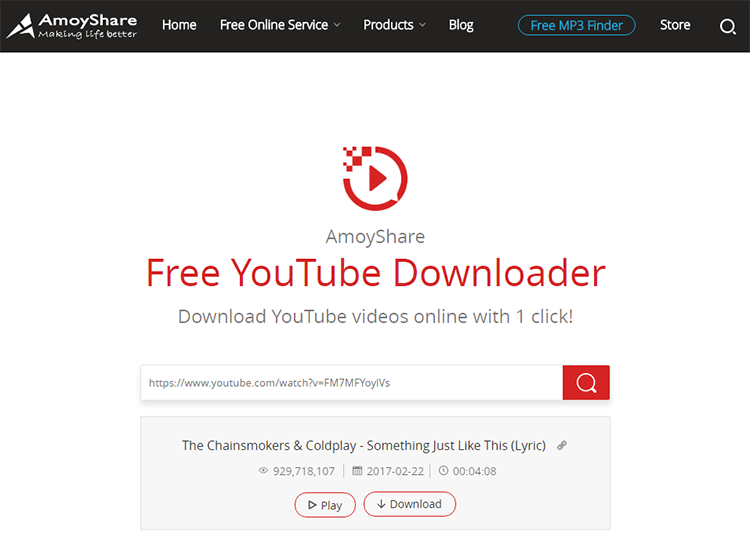 Step 3. Play the Video Online.
Click on the "Play" icon.
Make sure the video is the right one you want to download.
You don't want to waste time getting the wrong one, right?
Step 4. Download Video to MP4 Now
After confirming the video is the right one you are searching for,
You can click on the "Download" to get it for free.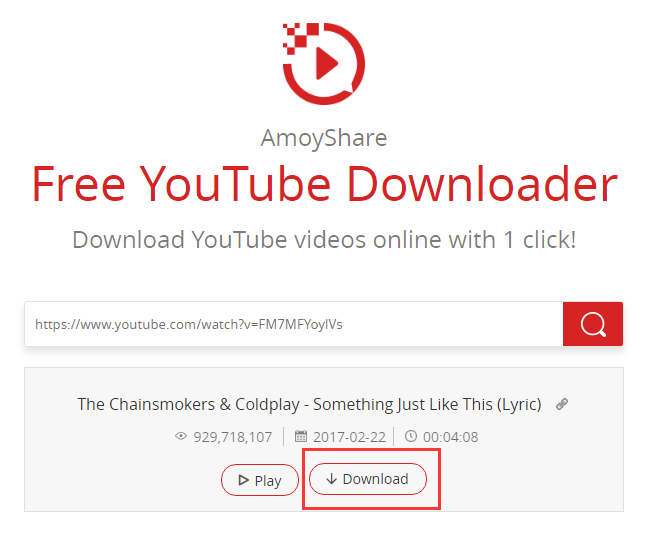 Step 5. Choose the MP4 Format.
Free YouTube Downloader supports different formats for users.
Don't forget to choose the MP4 format for your video.
And you'll get the video downloaded quickly.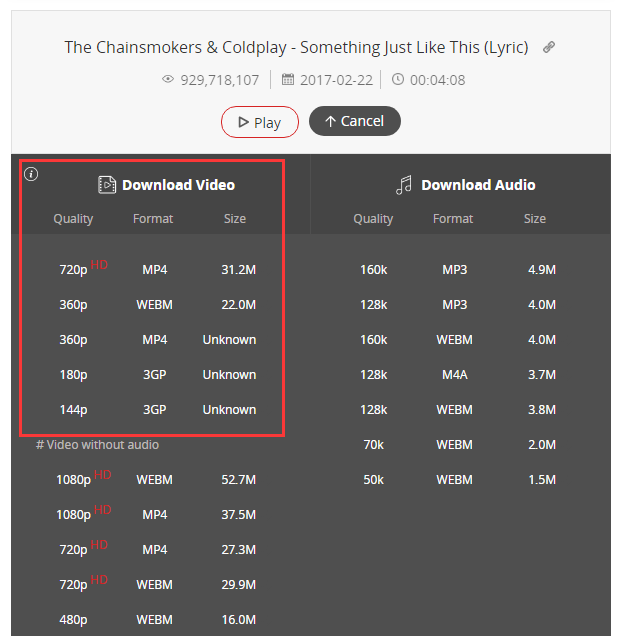 These are all the steps for downloading YouTube video to MP4 with Free YouTube Downloader.
It's quite convenient, isn't it?
Try it and show me your user experiences!
Next, I will show you another way to download YouTube videos.
It is a little different from Free YouTube Downloader.
That is AnyUTube --- a popular YouTube video downloader.
Part 3 Batch Video Download with AnyUTube
Why we choose AnyUTube?
It has multiple advantages when using.
I'm absolutely certain that you'll be surprised at its powerful functions.
It is not only a MP4 video downloader but also a video converter.
You can search videos by entering keywords or URL on the search bar.
And then you can download videos from YouTube to MP4 HD directly.
In addition, it supports users to convert YouTube videos to MP3 and M4A formats.
How wonderful it is!
What matters most is that AnyUTube allows downloaded YouTube playlist.
What's more, you'll never be disappointed with the search speed and results.
You will agree that AnyUTube provides us a great user experience.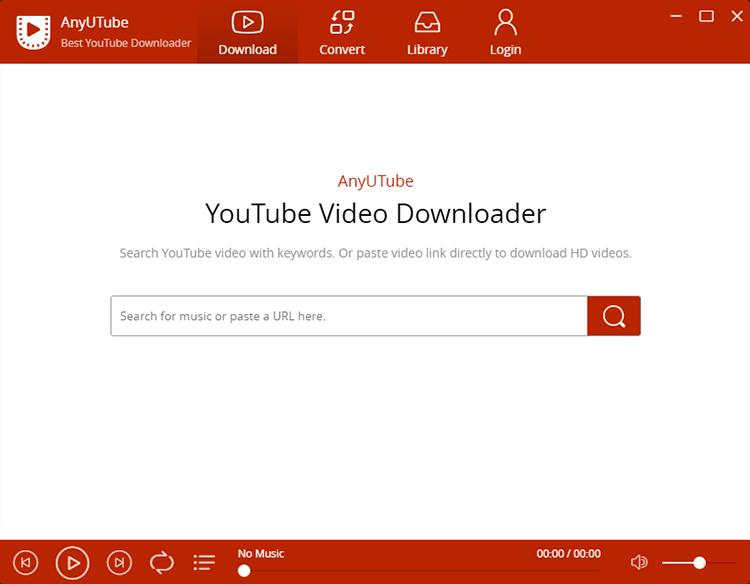 When you get the whole YouTube playlist on AnyUTube, then you can get batch download YouTube videos or audios with one click.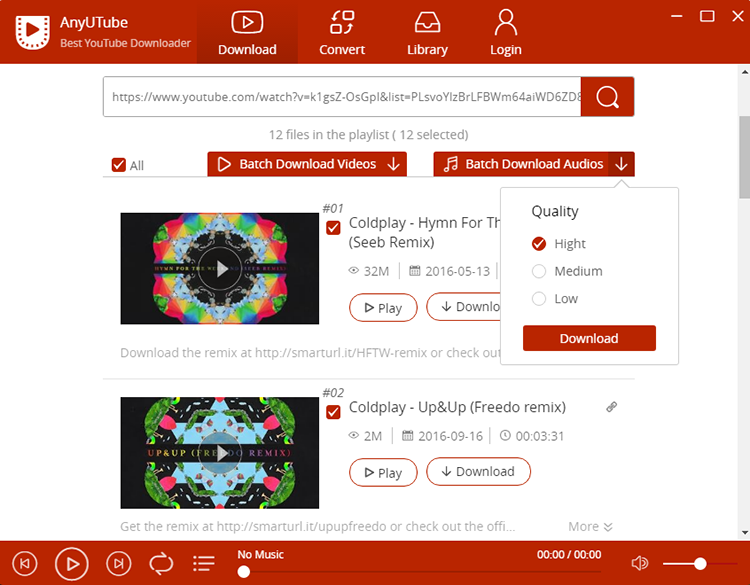 Conclusion
Have you already mastered the 2 skills to download YouTube video to MP4?
Downloading YouTube video to MP4 is not so difficult, right?
Hope you will like the 2 methods we introduce.
If you have any problems and suggestions, just leave comments below.
I'll reply to you as soon as possible.
Thanks for your reading and have a nice day!
See you!