Best 10 Valentine's Day Gifts for Significant Other (Him & Her)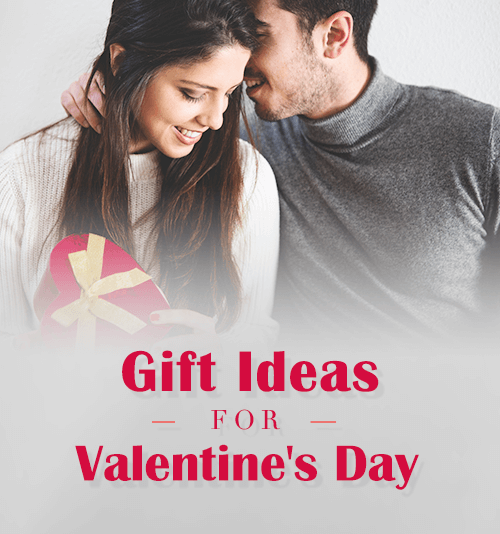 Valentine's Day is a big day for lovers from all over the world.
Most of them buy gifts and say sweet words express their love to each other.
However, it's a hard work to decide and choose what to buy, is it?
I have some questions for you.
What's the best gift you have received from your lover as a Valentine's Day gift?
What's the most creative gift you ever bought?
What are your best gift ideas for the 2018 Valentine's Day?
If you can answer all of them, then congratulations!
If you can't, don't be panic.
Today, I will share the best 10 Valentine's Day gift ideas 2018 with you.
While you may need some music to set a romantic mood, check the list of best romantic love songs and get them all for free.
Now, start our lovely Valentine's ideas…
Part 1 Valentine's Day Presents for Him
First, I'm introducing 5 Valentine's Day gift ideas for him to you.
What Valentine's gift may be occurred to you when you are preparing for your boy? Maybe boys prefer something like computer keyboard, or a PSP?
Anyway, you have to be very clear that what's your boyfriend or husband favorite. Right? So let's see whether you can find something for him.
1. HyperChiller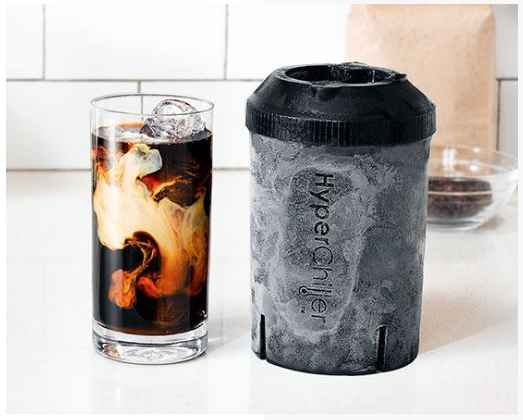 If your lover is a big fan of iced coffee and drinks, HyperChiller would be a nice choice. Let me tell you why.
Many people add ice to the drinks to make them iced. But the ice will change the flavor of the drink. With the help of HyperChiller, you can chill a cup of hot coffee in only 1 minute without any dilution.
It's exposed to two layers of ice cold stainless steel that have a surface area, which are equals to over 30 large ice cubes yet prevent any dilution in the process of cooling.
It doesn't need to be charged, too.
HyperChiller can save your time and money spent in the coffee shop and it pays for itself in just 2 weeks!
2. Bamboo Wireless Keyboard and Mouse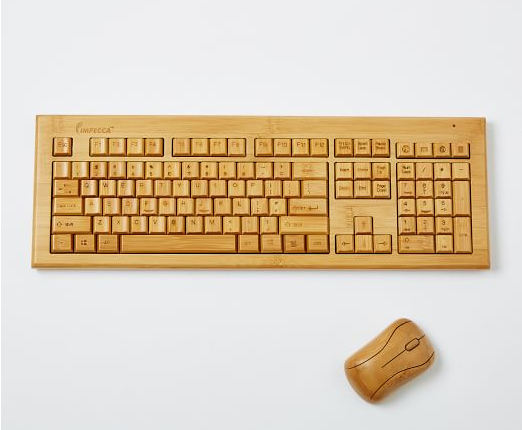 Want to add some element of nature to your lover's office?
I would like to share a Valentine's Day gift ideas for him with you, which is buying him the bamboo wireless keyboard and mouse.
These unique things will make his office areal a little cozier and less like a spot he simply occupies from nine to five. The 100% bamboo keyboard and mouse duo will definitely change the style of his desk.
Besides, neither the mouse nor the keyboard requires a cord. They're wireless up to 35 feet so his desk will stay neater. They will be compatible with most tablets, smartphones and computers.
3. Personalized Stainless Steel Collar Stays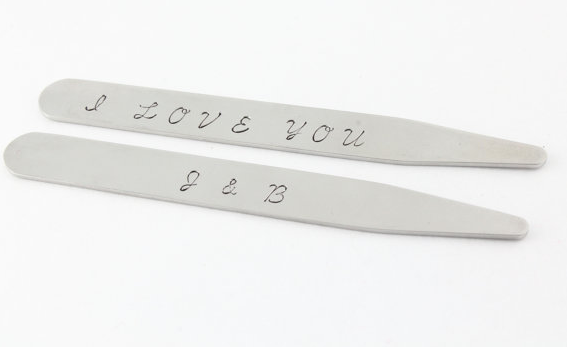 This kind of stainless steel collar stays are quite suitable for man who spends most of his day suited up in the office.
Engrave them with your initials or an anniversary date. They will be his personalized collar stays.
When he works late and looks at the stays, he will think of you, the one loves him so much.
Each collar stay is stamped by hand, so it won't be necessarily straight or even, which lends an imperfect charm to this personalized gift.
4. Yours and Mine Highball Set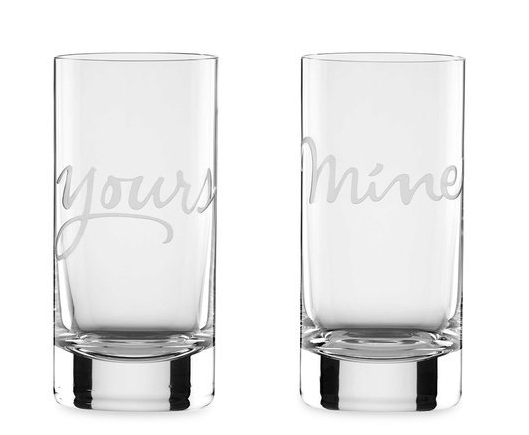 Good things come in pairs!
The perfect highball set in a cozy date night at home or simply for morning orange juice.
The etched glasses are even dishwasher-safe so there won't be any debates over whose turn it is to do the dishes.
Each glass holds a generous 16 ounces and come pre-boxed in Kate Spade's signature witty and colorful packaging. Therefore, no gift-wrapping is necessary. It's thoughtful, isn't it?
One more thing, the company's free shipping policy is the icing on the cake.
5. Hammock Table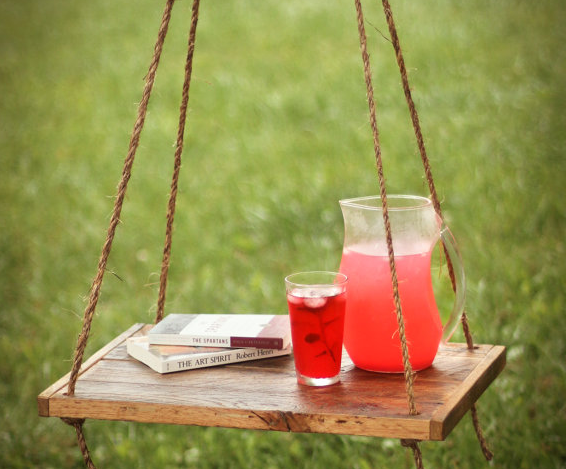 Do you know what could possibly make hammock lounging even more comfortable? A table hangs right alongside it. This sturdy barn wood table comes with rope so it can be suspended from a tree limb, beam or ceiling.
If your lover loves a natural wood element indoors, try replacing a traditional end table or nightstand with one or two of these in his/her home. Though it sways slightly, it's sturdy enough to hold drinks and books.
This hammock table can be made from one solid piece of barn wood or several planks. If you have a preference, you can leave a note with your order to the seller.
Part 2 Your Baby Girl Deserves the Best on Valentine's Day
Boys, if you are struggling with preparing Valentine's gift, you may wonder that what she likes or how I can make her happy? I know that girls' minds are always elusive.
But I am still confident that you will find something she loves in the following ideas.
So please keep reading and surprise your girl!
6. Kikkerland Portable BBQ Suitcase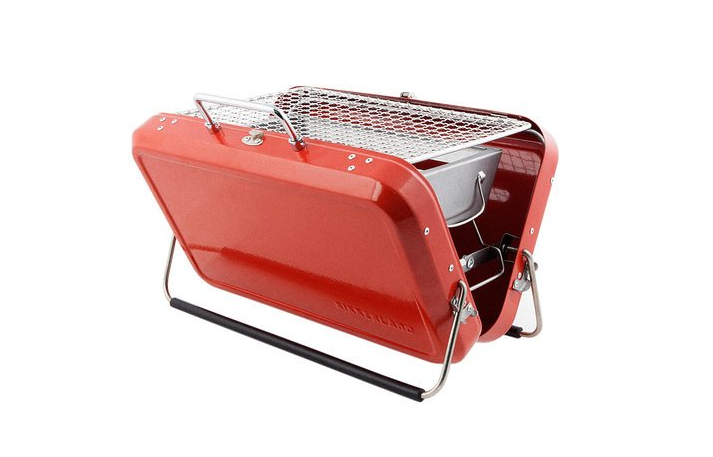 Whether her specialty is cheeseburgers or ribs, this portable grill will get the job done, no matter where you are.
This suitcase opens to reveal a fully functioning charcoal grill with enough room to cook for two. It's perfect for an impromptu picnic date in the park or a barbecue in apartment with small balconies.
It locks and closes securely to tuck away even in the smallest nook of your pantry. What's more, the suitcase can be transported easily. Pair it with a cookbook from her favorite grill master or a set of portable grilling tools will surprise her without doubt.
I think this is the best Valentine gift for girlfriends who enjoy BBQ with their lovers. What do you say?
7. Folding USB Rechargeable Book Light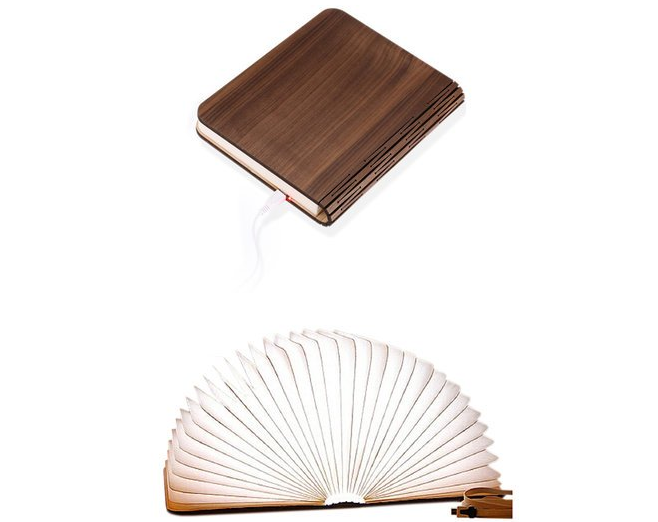 It may look just like an ordinary book but this little gadget is anything but a book light. The cover flips can be opened 360 degrees to become a hanging pendant lamp. Or you can lay it flat and use it as a table lamp.
The rechargeable soft LED light, which can remain powered on for up to 8 hours so you don't need to worry about being bothered by wire. It turns on when the book opens and shuts off when it's closed.
The book's spine also features a micro USB port to power up electronic devices and cell phones. This is really a thoughtful design, isn't it?
With just 12 ounces and 8.5 inches long, it tucks right into you lover's briefcase and it's easy to transport.
I'm sure this is a creative Valentine gifts for your beloved.
8. Bronze Custom Map Key Ring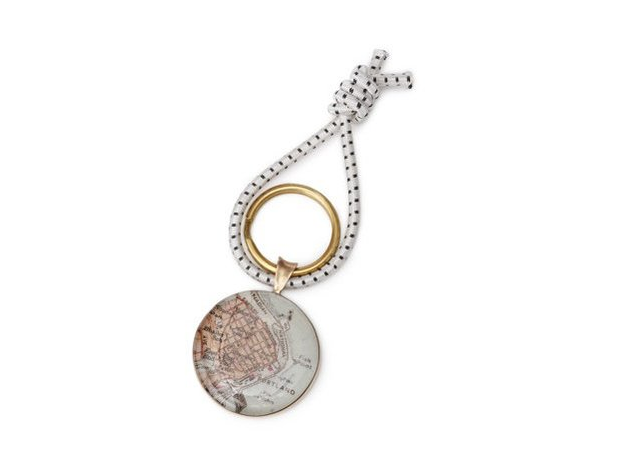 What would be an unforgettable present to give your girlfriend for Valentine's Day?
Are you looking for a more personal gift?
Inspired by her passion of sailing, Maine-based maker Charlotte Guptill started to add nautical charts into her designs on jewelry. With the help of her husband, John, and some talented Maine artisans, Charlotte handcrafts custom nautical chart and map adornments in her studio on the Portland waterfront.
No matter how many miles away, you can always carry a memento that's spot on. Take your favorite locale with this cute travel companion that keeps the memory of your most cherished sites. It will keep your keys organized, too.
This handmade key ring can be a romantic gift for Valentine's Day.
9. DIY Valentine's Day Cards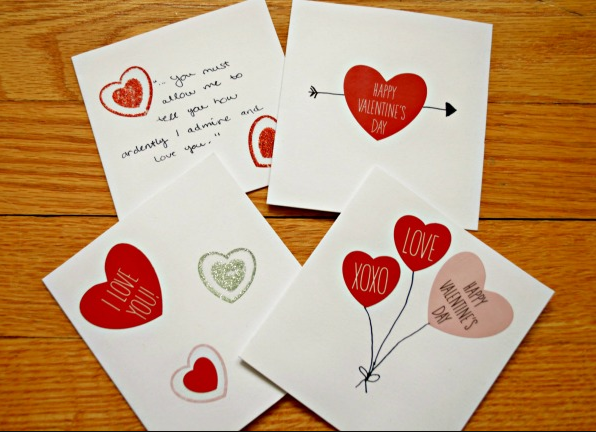 Is there anything won't cost you a dollar?
Yes, there is.
You don't always have to buy gifts for your lover. Create something will be another good gift idea for her. Don't worry if you are not good at painting. She won't mind if you just write down something on the card.
Everything you two have been through. Things you wanted to say but didn't tell her. What kind of life you want to live with her? Or, just express your feelings after the time being with her.
Put this card in her purse or the pocket of her coat secretly. Then you can start to imagine her reaction after reading it.
10. Valentine's Day Breakfast In Bed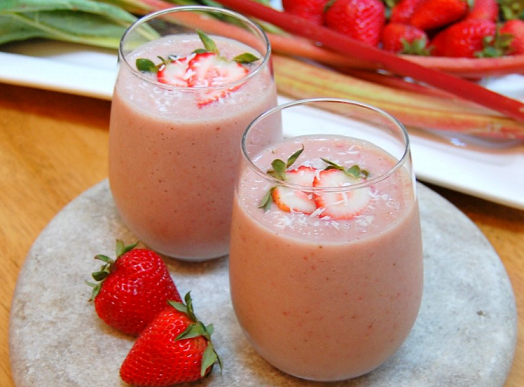 Valentine's morning is a perfect excuse to indulge in berry-infused pastries and heart-shaped foods. The way to anyone's heart is to go through their stomach. You can dish up a lovely breakfast for your lover and start a sweet sunny day!
Next, I'll teach you how to make simple strawberry smoothies.
All you need is milk, frozen strawberries and strawberry jam.Simply throw them all into a nice blender and whirr away!
Strawberry jam is the secret to the surprisingly intense strawberry flavor. It's not difficult for you to make, right? And the color of the smoothie will cheer her up.
Of course, you can make other heart-shaped food, for example, hot chocolate with marshmallow hearts.
Conclusion
Well, these are all 10 Valentine's Day gifts idea I want to share with you.
Do you have your own idea in the mind?
I'm sure you will be less confused now.
If you have more creative and special ideas, feel free to share with me.
Leave them in the comments and I will reply soon.
Happy Valentine's Day!
The best gift for Valentine's: