Best U2 Songs – Top 10 Songs Free Download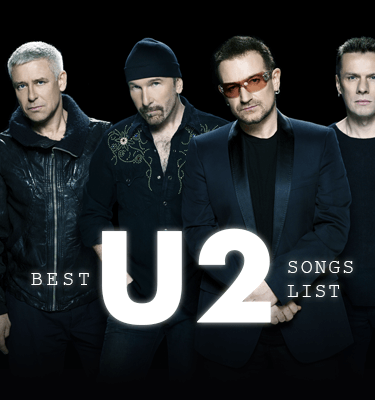 U2, the greatest Irish rock band, created a unique style of rock and roll.
U2 song's lyrics are characterized by religious images, personal themes, social and political events.
They made outstanding contributions to the world's pop culture.
U2 received many accolades include 22 Grammy Awards, 7 Brit Awards.
They have countless fans all over the world, and they are an ageless myth in the rock circle.
Today, I'm going to share a list of best U2 songs on YouTube.
Let's get started!
1. With or Without You
"With or without you
Through the storm we reach the shore
You give it all but I want more
And I'm waiting for you"
"With or Without You" is U2's third track from their fifth studio album, "The Joshua Tree". The song was released as the lead single on 16 March 1987 and made them international superstars.
This single spent three weeks to top the US Billboard Hot 100 chart, and 18 weeks in total on the Hot 100.
In 2010, Rolling Stone magazine placed the song at No.132 on their list of "The 500 Greatest Songs of All Time".
When I first heard the song in the American drama "Friends", I was inspired by its melody. It's undoubtedly one of the best songs of U2 songs list.
2. I Still Haven't Found What I'm Looking For
"I have scaled these city walls
These city walls
Only to be with you
But I still haven't found what I'm looking for"
"I Still Haven't Found What I'm Looking For" was released in May 1987 as the second song from their album "The Joshua Tree".
The song was a hit; it topped No.1 on the US Billboard Hot 100 and peaked at No.6 on the UK Singles Chart. This single also received 2 nominations at the 30th Grammy Awards in 1988.
The song is U2's 9th most played live song, and has been played on every tour. This is a song about faith. Bono sang the deep feelings of a lot of people with his unique and vigorous voice.
3. Desire
"Lover, I'm on the street
Gonna go where the bright lights
And the big city meet
With a red guitar…on fire
Desire"
"Desire" was released as a lead single from the album, "Rattle and Hum" and received huge success.
This single reached No.3 on the US Billboard Hot 100 and several single chart lists. "Desire" also won the Grammy Award for Best Rock Performance by a Duo or Group with Vocal.
"Desire" created a catchy rhythm; the cheerful rhythm makes you forget your worries. I can't help immerse myself in this song, and you?
4. Mysterious Ways
"She'll be there
If you hit the ground
It's alright, it's alright, it's alright
She moves in mysterious ways"
"Mysterious Ways" began as an improvised demo called "Sick Puppy"; the band struggled to build a song from it.
The song topped the Modern Rock Tracks and Album Rock Tracks charts and peaked at No.9 on the Billboard Hot 100. This U2 song on YouTube has 19,562,296 views up to now.
Mysterious Ways features a danceable beat, funky guitar hook, and conga-laden percussion. The song's lyrics were created by Bono and described s story about romance and women.
5. One
"One love
One blood
One life
You got to do what you should
One life"
"One" was released in February 1992; it became a single from their successful album "Achtung Baby".
The song soon topped the Irish Singles Charts and US Billboard Album Rock Tracks and Modern Rock Tracks charts. "One" is one of the theme songs of the 2006 World Cup in Germany.
The album "Achtung Baby" had sold 8,000,000 copies and won a Grammy Award in 1993. It has since been acclaimed by writers and music critics as one of the greatest albums of all time.
6. Discothèque
"You get confused
But you know it
Yeah, you hurt for it, work for it, love
You don't always show it"
"Discothèque" is the lead single from U2's 1997 album, "Pop". The song peaked at No.1 in many countries' charts, including the UK Single Chart.
The song is dance music remixes used as B-sides; I think it had an influence on the remixes of music at that time. When you heard this song, you just want to dance and move your body.
7. Where the Streets Have No Name
"I want to reach out
And touch the flame
Where the streets have no name
I want to feel, sunlight on my face
See that dust cloud disappear without a trace"
"Where the Streets Have No Name" dropped on streaming services in August 1987. Lead vocalist Bono wrote the lyrics and became a commercial success.
The song was performed on a Los Angeles rooftop for the filming of its music video, which won a Grammy Award for Best Performance Music Video.
The U2 song's lyrics were inspired by a story that Bono heard about the streets of Belfast, where a person's religion and income are evident by the street they live on.
If you like this song, then you cannot miss the amazing music video and U2's live performance.
Actually, you can easily get the U2 songs free download here >>
8. Angel of Harlem
"Soul love…this love won't let me go
So long…Angel of Harlem
Bird land on fifty-three
The street sounds like a symphony"
"Angel of Harlem" was another famous U2's song. This single was released in December 1988 and the lyrical content referred to various New York City landmarks.
"Angel of Harlem" peaked at No.9 on the UK Singles Chart, No.8 on the Dutch Top 40, and No.14 on the Us Billboard Hot 100.
The melody of this song is smooth and relaxed; the rhythm is light-hearted. U2 sang the song to its own style.
9. Hold Me, Thrill Me, Kiss Me, Kill Me
"You're a star
Oh no, don't be shy
You don't have to go blind
Hold me, thrill me, kiss me, kill me"
This U2 song was released as a single in 1995 from the "Batman Forever soundtrack" album.
The song reached No.2 on the UK Singles Chart, No.16 on the US Billboard Hot 100, and No.1 on the Billboard Album Rock Tracks and Modern Rock Tracks charts. It also received two Grammy Award nominations.
The song was played live on every show of the PopMart Tour. I first heard the song on YouTube, and I was really surprised by this musical rock band legend.
10. Beautiful Day
"It's a beautiful day
Sky falls, you feel like
It's a beautiful day
Don't let it get away"
"Beautiful Day" is the first track from "All That You Can't Leave Behind" and released on October 10, 2000. The mixing of songs was so complicated that it took two weeks for U2 to finish.
In 2001, this song won three Grammy Awards for Song of the Year, Record of the Year, and Best Rock Performance by a Duo or Group with Vocal. What a great achievement!
Rolling Stone listed "Beautiful Day" as the 9th best song and readers ranked it as the 3rd best single for the decade of the 2000s. Personally, I think it was a philosophical song with broad spiritual feelings.
Conclusion
That's all about the best 10 songs by U2.
Now, don't forget to get U2 songs free download.
Up to now, U2 has maintained its unshakeable position and influence in rock music.
And just recently, the band released a brand-new single.
If you have more U2 songs to share with me; then, don't forget to leave your comments below!
Hope you enjoy today's sharing!