The Weeknd Songs - The Top 10 Hits on YouTube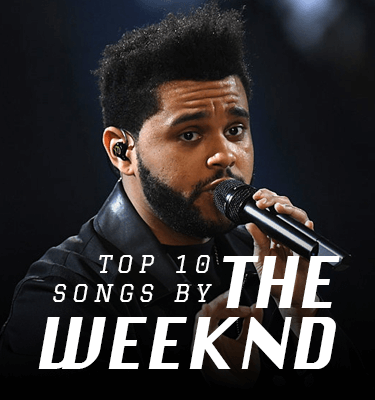 The "Starboy" The Weeknd owns high, flexible vocal and enticing tone.
He draws inspiration from Michael Jackson, Prince, and R.Kelly.
Some people think he could be the next Michael Jackson.
2 Grammy Awards, 2 American Music Awards and 8 Billboard Music Awards…
These could provide a convincingly demonstration of his music talent.
In this article, we will share with you the 10 top hits of the Weeknd's songs on YouTube.
Hope you guys enjoy and get free downloads!
1. Starboy (ft. Daft Punk)
"Switch up my style, I take any lane.
I switch up my cup if I kill any pain,
Look what you've done.
I'm a motherfucking Starboy."
Listening to "Starboy" while driving a roadster, you might feel whole world charmed by you.
It has topped the raking list in many countries like, Canada, France, Sweden, New Zealand as well as US Billboard Hot 100. It has received 1,214,206,529 views up to now.
In the MV, the little black cat became a panther at the end, which indicated he have breakthrough after all the chaos and confusion.
2. I feel It Coming (ft. Daft Punk)
"Tell me what you really like,
Baby you can take my time.
We don't have to fight,
Just take it step-by step."
"I Feel It Coming" would be one of the Weeknd song's that remind you of Michael Jackson.
The Weeknd's subtle and colored voice leading the song to unfold a love story between two people from different stars before our eyes; still, the "stargirl" portrayed by Kiko Mizuhara.
The combine of the Weeknd and Daft Punk always give us something awesome.
It has received 240,111,482 views on YouTube till now.
3. The Hills
"Hill have eyes, the hills have eyes.
Who are you to judge, who are you to judge?
Hide you lies, girl, hide your lies.
Only you to trust, only you."
"The Hills" has wined best R&B song and best streaming song (audio) from Billboard Music Award.
And it topped the Billboard Hot 100 on Oct.3, 2015 and occupied the top place for six weeks. It has received 10,129,457,689 views on YouTube.
"The Hills" has two official remixes version, one featured Eminem, and the other one featured Nicki Minaj.
The song is filled with desperation of love that wait for his dream girl's love is become an extravagant hope.
4. Earned It (Fifty Shades of Grey)
"You're my favorite kind of night,
So I love when you call unexpected.
Cause I hate when the moment's expected,
So I'm care for you, you, you."
"Earned it" is the sound track to the film 'Fifty Shades of Grey' and served as leading single of the Weeknd's second studio album Beauty behind the Madness.
By this song, the Weeknd won his first Grammy Award for Best R&B Performance at the 58th Annual Grammy Award.
Still, "Earned it" climbs to No.3 on the Billboard Hot 100. It received 285,973,124 views on the YouTube.
It's worth to mention that the MV is out of fabulous. Don't miss it.
5. Reminder
"Recommend plays my song on the radio,
You too busy trying to find that blue so."
"Reminder" has reached the Top 10 on both the R&B songs chart and Hot R&B/Hip Hop songs chart. It peaked at No.31 on the US Billboard Hot 100.
Its MV features cameo appearances from Drake, ASAP Rocky, Travis Scott, Bryson Tiller, YG, French Montana, Metro Boomin, Belly, Nav, Derek Swise.
And it got 131,985,226 views on the YouTube.
This song's Lyric is the Weeknd's self-definition in the field of music.
6. Can't Feel My Face
"I can't feel my face when I'm with you,
But I love it, but I love it, oh."
"Can't Feel My Face" is peaked No.1 on both US Billboard Hot 100 and Canadian Hot 100. It also nominated for 2 Grammy Awards – Record of the Year and Best Pop Solo Performance.
Public compare "Can't Feel My Face" to Michael Jackson's works, they give this song a high valuation.
But others hold the opinion that this song is about drug or a drug-like woman. Do you agree with that? What's your opinion?
Its views on the YouTube are up to 838,015,069.
7. Love Me Harder (ft. Ariana Grande)
"Tell me something I need to know,
Then take my breath and never let it go.
If you just let me invade your space,
I'll take the pleasure, take it with the pain."
"Love Me Harder" is a song recorded by the weeknd's and Ariana Grande, and the name of the song double entendre about rough sex.
It peaked at No.7 on the Billboard Hot 100, and its views on the YouTube are 490,901,907.
"Love Me Harder" is the song that makes you blush – Ariana and the Weeknd's duet in the MV combined Ariana's sexy look in black tight dress and catty headwear.
8. Secrets
"I hear the secrets that you keep,
When you're talkin' in your sleep."
If "Starboy" is match to roadster, "s" is so fit in the Mustang or Chevelle while you are driving along the coast.
"Secrets" has reached No.47 on the US Billboard Hot 100, and it received 62,140,415 views on the YouTube.
The song's style is retro which is so delightful, makes you wanna shaking shoulders.
9. Often
"In my city I'm a young god,
That Pussy kill be so vicious.
My god white, he in my pocket,
He get me redder than the devil 'til I go nauseous."
"Often" would be one of the Weeknd's erotic songs and its lyric always makes you shy.
The background vocal repeated the same lyric: "Seneler sürer her günüm yalnız gitmekten yorgunum". It means: "I spend every day like a year, I had had enough by myself."
When Katy Perry gets asked at the Grammy Awards: "Which song will you pick while you make love?" she replied that would be the Weeknd's single "Often."
If the question goes to you, which one will you pick?
10. Party Monster
"I'm good, I'm good, I'm great.
Know it's been a while,
Now I'm mixing up a drank.
I just need a girl who gon' really understand."
"Party Monster" reached the No.1 on the US Rhythmic Hot 100 (Billboard). And it features background vocal from Lana Del Rey.
It depicts the party life which someone is like a paranoid addicted to drug, sex and alcohol.
Meanwhile, its MV is something so psychedelic that I want to tell the doctor I can't see anything after I watch it.
Conclusion
That's all for today's sharing.
Is your favorite one is in today's top 10 list of The Weeknd songs?
I bet you've downloaded many songs via the link under every music video.
If you have different idea about the top 10 list, just leave a message to us in the comments.
Besides, any suggestion is also welcome.
See you!