Thank U, Next Download - Ariana Grande New Album Songs
---
2018 must be a complicated year for Arianna Grande.
She born sorrow and won the glory.
In this year, Grande has gone through her ex-boyfriend, rapper Mac Miller's death and her break-off with comedian Pete Davidson.
In the same year, she announced to release her fifth studio album Thank U, Next.
Finally in February, here comes the Ariana Grande's new album! It broke the record for the largest streaming week for a pop album, debuting with 360,000 album-equivalent units.
In support of both "Sweetener" and "Thank U, Next," Grande will embark on the Sweetener World Tour, beginning in March 2019. For detailed Ariana Grande tour dates, please click here.
Now follow my steps to look into three most hit songs:
Thank U, Next
---
Thank U, Next is the first single released in the same-title album.
It peak atop of the charts of 12 countries and became her first No.1 single on the US Billboard Hot 100.
The lyrics acknowledge four of her ex-boyfriends referring to Big Sean, Ricky Alvarez, Pete Davidson and Mac Miller, respectively.
No Irony, no resentment.
She is so frank to face her past relationships, which has touched the hearts of many and make the song popular.
Thought I'd end up with Sean
But he wasn't a match
Wrote some songs about Ricky
Now I listen and laugh
Even almost got married
And for Pete, I'm so thankful
Wish I could say "Thank you" to Malcolm
'Cause he was an angel
Type in "Thank U Next" in Free MP3 Finder and download this song now.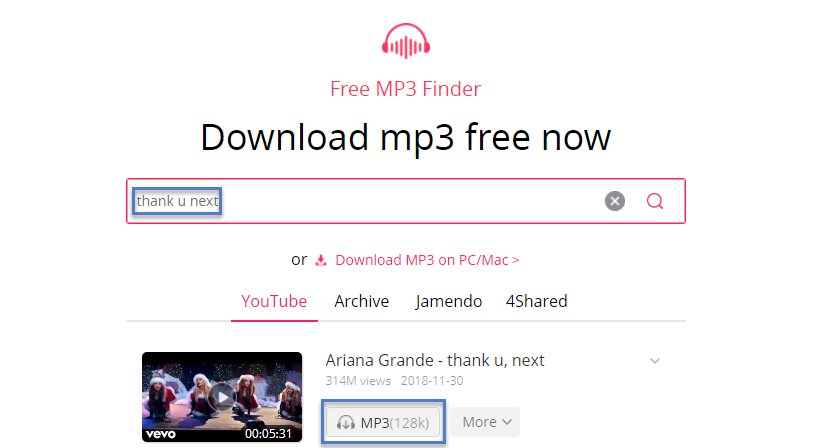 7 Rings
---
"7 Rings" is the second single, released on January 18, 2019.
Myths continue. It peak at number one in 15 countries and making Grande the third female artist to have two or more songs debuting atop of the Hot 100.
Ariana Grande also explained the meaning behind this song in tweet.
well ............. 'twas a pretty rough day in nyc. my friends took me to tiffany's. we had too much champagne. i bought us all rings. 💍 it was very insane and funny. & on the way back to the stu njomza was like 'bitch, this gotta be a song lol'. so we wrote it that afternoon. https://t.co/CoczmPj1Fo

— Ariana Grande (@ArianaGrande) 2018年12月1日
Break Up with Your Girlfriend, I'm Bored
---
Break Up with Your Girlfriend, I'm Bored was released as the third single on the day of the album's release.
The track's debut atop of the UK Singles Chart made Grande the first female artist to replace herself at number one on the chart, dethroning her previous single.
Grande teased ahead of her album release that this would be a fun song.
This new song is about unabashedly wanting someone who's taken.
In other voice, some say that Ariana is trying to tell the world that she's leaving her boyfriend so she can begin loving herself.
Could this really be what Ariana is saying in "Break up with Your Girlfriend, I'm Bored"? Find your answer in this musical video.
That's all for today's post.
Have you got the whole album Thank U, Next downloaded yet?
Which one do you predict to be the next hit song on music chart?
Leave your comments below and share with us!
Ella Wilson is a music writer and reviewer from Washington, DC. She loves sharing everything about music, such as music apps, popular songs, and music culture.