Best 50 Soothing Music Put You to Sleep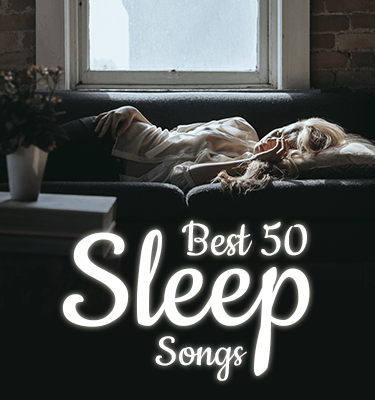 After a busy and stressful work day, what do you need the most?
A good rest!
Sleep sounds will help you to improve moods, relieve your depression, and enforce your attention.
However, there are always something far less than your expectation.
You're exhausted, and desperately want to have a rest.
Anyway, you just can't fell asleep.
Don't worry, here is a list of 50 soothing music for sleep.
May you sleep tight tonight!
Part 1. Sleep Music Free Download (01-10)
Angel — Sarah Mclachlan
Love Will Keep Us Alive — Eagles
Song from A Secret Garden — Secret Garden
Wonderful Tonight — Eric Clapton
Goden Leaves — Passenger
Moonlight — Ariana Grande
Time to Say Good Bye — Lauren Aquiline
Lost Stars — Adam Levien
Love Yourself — Justin Bieber
Fall Again — Kenny G/Robin Thicke
Part 2. Free Download Soothing Music for Sleep (11-20)
Stay With Me — Sam Smith
Like A Fool — Keira Knightley
God Knows I Tried — Lana Del Rey
Move Together — James Bay
Silver Bells — Lady Antebellum
Angel Down — Lady Gaga
Love Is Blindness — U2
Unintended — Muse
Blue Ain'T Your Color — Keith Urban
You Look Like Rain — Luke Byran
Part 3. Download Soothing Music for Sleeping (21-30)
Somewhere In Time — Wayne Gratz
Old Money — Piano Tribute Players
Beyond The Memory — July
Faylinn — David Hicken
Without You — Seori
Eau — Yutaka Hirasaka
My Heart — Irini
Vow to Virtue — Denean
Sundial Dreams — Kevin Kern
The Promise — Secret Garden
Part 4. Soothing Music for Sleep Free Download (31-40)
Lullaby — Raspberry Field
Baleen Morning — Balmorhea
April — Bluedawn
Homesick — Radical Face
River Lows in You — Yurima
Eyes Closing — Two Steps from Hell
Peace of Mind — Jacoo
Breathe — Jacoo
The Right Path — Thomas Greenberg
Tell Me — Noicybino
Part 5. Sleep Beats Make You Calm Down (41-50)
Weightless — Marconi Union
Sleep Through the Rain — Monroe Products
An Ending, a Beginning — Dustin O'Halloran/Peter Broderick
Write Me a Letter — Denless Melancholy
Leaves on the Water — Brian Crain
Tokyo Love Theme — Yusuke Tsutsumi
Born a Stranger — Kan R.Gao
I Feel My Savior'S Love — Paul Caedall
Hopes and Dreams — Bessoo
Mom Piano — Motohiro Nakashima
Hare are more sleep music for you to listen to.
>> Download the best sleep music!
How to Download Soothing Music to Your Devices?