Selena Gomez New Songs of 2017 (Official Music Videos)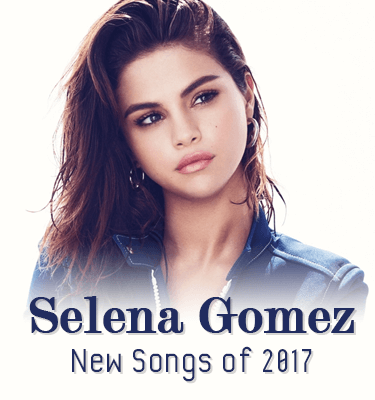 This year must be a lucky one for Selena Gomez, why?
Physically, Selena Gomez has just received a kidney transplant from her best friends.
Musically, she has released three new singles, "Bad Liar", "Fetish" and "It Ain't Me".
However, these songs spark a lot of controversy.
Some people said Selena Gomez new songs bring fans a new Selena Gomez that they had never known before.
While other people hold the view that what the music video reveals is the real Selena Gomez - weird, self-harming, and depressed.
What's your opinion?
Now, let's take a closer look at Selena Gomez's new songs.
1. Selena Gomez - Bad Liar
"Look at this photograph every time I do it makes me laugh."
[About the Song]
"Bad Liar" was released on May 18, 2017. The song received acclaim from critics, who noted the mid-tempo production for its non-traditional structure in Gomez's catalog. 
Her voice is restrained and emphasized on "Bad Liar" by being mixed to limit and contain it. In short, the song has received almost unanimous praise from critics, some of whom called it Gomez's best track to date.
[About the Music Video]
The music video is set in 1978 and follows Gomez portraying "a shy high schooler, a gym coach with a Farrah Fawcett-inspired coif, a bespectacled male teacher, and a mom, all of whom are interconnected in unexpected ways."
Mike Wass of Idolator called it "a breath of fresh air at a time when the hot trend in music videos is dying tragically."
In my view of it, it's about being in love with the only person who truly deserves her love - herself.
By the way, almost all the lyrics have a corresponding screen in the video, have you noticed?
2. Selena Gomez - Fetish ft. Gucci Mane
"You got a fetish for my love I push you out and you come right back."
[About the Song]
"Fetish" is a new song by Selena Gomez which released on July 13, 2017.
Contemporary music critics praised the song, highlighting its experimental nature as well as Gomez's vocals and subsequent artistic growth. 
Wass concluded that Gomez has "come into her own as an artist, confidently dabbling in sub-genres usually reserved for the alt crowd."
[About the Music Video]
In this music video, Selena Gomez is gobbling glass, soap, and lipstick.
It sounds like a little bit creepy…
And I bet you've never seen Gomez like this before.
So have you figured out what Selena Gomez's "Fetish" music video actually about after watching it?
Selena thought that this video showed an inner-Selena, saying "For so long I felt like I (wasn't able) to do something like this, not because I don't want to but because I lack that confidence."
Collins, one of Gomez's closest friends and contemporaries said that "It's one of my favorite genres to make a female look strong."
This song is probably the most controversial one.
Anyway, just like most followers, the song is a fetish for me, and you?
3. Kygo, Selena Gomez - It Ain't Me
"Who's waking up to drive you home when you're drunk and all alone?
  Who's gonna walk you through the dark side of the morning?
It ain't me."
[About the Song]
"It Ain't Me" is a song by Norwegian DJ Kygo and American singer Selena Gomez, released by Sony and Ultra on 17 February 2017.
The song peaked at No.1 on the US Dance/Electronic Songs (Billboard), No.2 on the US Mainstream Top 40 (Billboard) and No.6 on the US Adult Top 40(Billboard).
Matt Medved of Billboard magazine regarded it as one of Gomez's most mature-sounding releases and appreciated Kygo's usage of her vocals, adding that the song showed both collaborators' "best sides".
Many listeners thought it was a diss targeted at Justin Bieber when the track first came out. Just from looking at the scathing lyrics, it was pretty obvious that Selena was sending a message. "Somewhere along the lines/ We stopped seeing eye to eye/ You were staying out all night/ And I had enough."
But after watching the video, the story that Selena and Kygo tell is a much more loving one.
[About the Music Video]
The official music video, directed by Philip R. Lopez, was released on 24 April 2017. The video is a tale of one woman's dedication to her man, even when he can't bear witness to her devotion.
The cutest moment is when the music brings the couple together through the barrier of consciousness.
Gomez is out to touch your heart with this one, will you agree with me?
In The End...
Do you have a new understanding about Selena Gomez new songs after reading this article?
Even though she has just pull through, there is no denying that she is a marvelous young singer.
Let's look forward to her new album!
If you have any view about above new song by Selena Gomez, just leave comments below.
Or if you want to know more about hot songs, you can read the related articles below.
See you!
Selena Gomez new song 2017 download: