Top 10 Romantic Songs for Valentine's Day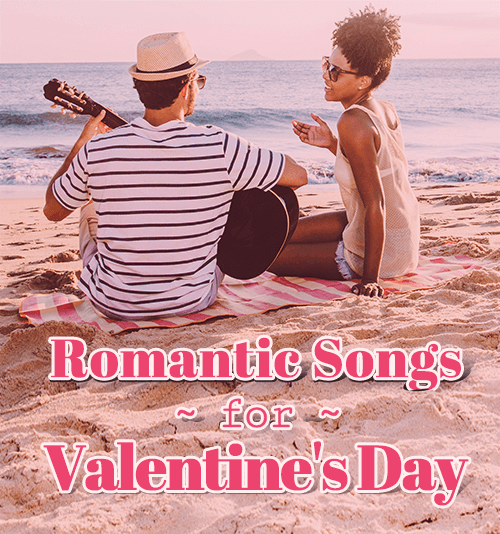 Valentine's Day is the most romantic time of the year.
Love is in the air.
Whether you're having a candle dinner with the one you love,
Or planning a special date with your crush...
You have come to the right place!
These 10 soundtracks are my favorite romantic songs for Valentine's Day.
Some of them are classic and some are pop at present.
Hope these songs will help you through the day!
1. All of Me – John Legend
"Cause all of me
Loves all of you
Love your curves and all your edges
All your perfect imperfections"
All of Me was produced by Dave Tozer and John Legend. It was released on August 12, 2013. This song achieved really good results in the year of 2014. By means of the song, Legend also obtained his first No.1 Single on Billboard Top 100.
This song was inspired by John Legend's wife, Chrissy Teigen. They met in 2007 and married on September 14, 2013. What's more, Legend and his wife played the MV, which was really impressed. Every time I hear this song, I can feel how much she means to him.
2. When You Say Nothing at All – Alison Krauss
"The smile on your face lets me know that you need me
There's a truth in your eyes saying you'll never leave me
A touch of your hand says you'll catch me if ever I fall
Now you say it best when you say nothing at all"
When You Say Nothing at All is a country song, it also has 3 different versions. Alison Krauss covered this song in the year of 1995.
I'm not a big fan of country music, but this song is absolutely my favorite country song. For one thing, Alison's voice is REALLY pure and sweet. For another, this was the song of my parents' wedding. Even now, my mother often plays this song. Every time she plays the song, I will sing with her. I know this song means so much to her.
3. Perfect Duet – Ed Sheeran & Beyoncé
"Well I found a man
Stronger than anyone I know
He shares my dreams
I hope that someday we'll share a home"
The original track Perfect appeared on Ed Sheeran's third album ÷. On November 30, 2017, Sheeran teamed up with Queen Beyonce to release a different acoustic version, Perfect Duet. Sheeran begins the track by singing the first verse, and Beyonce chimes in on the second verse. Then, Sheeran joins her in the end to sing the harmonious last verse.
The moment I saw this pair worked together, I knew it must be a wonderful song. As expected, it only took 3 weeks to crown the Billboard Hot 100. The duet version was more like two lovers just fell in love and they were so looking forward to having a family together. Why don't you borrow it and share with the one you love on Valentine's Day? Don't miss the chance to express yourself!
4. One Less Lonely Girl – Justin Bieber
"I'm gonna put you first (I'm coming for you)
I'll show you what you're worth (that's what I'm gonna do)
If you let me inside your world
There's gonna be on less lonely girl"
This song was released on October 6, 2006. This single received major critical praise, because Bieber rendered this song smoothly and his tender vocals well blended with the beat.
I personally really like this song. I will add it to my wedding songs playlist for sure! I once watched a YouTube video. A girl played this song at her wedding. How lucky that Bibber just passed by. Then he walked in and sang the song for her. I believe that MUST be an unforgettable night!
5. Make You Feel My Love – Adele
"I'd go hungry, I'd go black and blue
I'd go crawling down the avenue
No, there's nothing that I wouldn't do
To make you feel my love"
This song was released in 2008. However, it did not gain much attention at that time. Until 2010, the song was performed on a TV series. it then reentered to people's spotlights and spread widely.
This song was sung from the perspective of a girl. A girl who was really adored someone and wanted to give him all. While I bet you have the similar feeling that when you have a crush on someone, you don't want to miss any moment of his life. Even if there is something happened, you still want to accompany him get through it.
6. Crush – Yuna Ft. Usher
"I feel a little rush
I think I've got a little crush on you
I hope it's not too much
But boy when I'm with you I hear it
My heart is singing
La la la la la la..."
You might not familiar with Yuna. Yuna is a Malaysian singer, and this song was from her third album Chapters (2016).
I feel a little rush, Yuna sings. I think you would have the same feeling that when you have a crush on someone, you'll worry about missing him. Therefore, I will encourage you to be brave. Instead of missing him, why don't you work up the nerve to tell him?
7. Just the Way You Are – Bruno Mars
"When I see your face
There's not a thing that I would change
Cause you're amazing
Just the way you are"
Just the Way You Are was released on July 20, 2010. This song peaked at No. 1 on the US Billboard Hot 100. Besides, it was the best-selling digital single of 2011 with sales of 12.2 million copies. 
Just like Bruno Mars sings, love doesn't mean that you need to change the way you are, because you only bring him enjoyment by being you. My friend used to tell me that, changing for others are lie to yourself. Therefore, we should always be faith to ourselves.
8. If I Ain't Got You – Alicia Keys
"Some people want diamond rings
Some just want everything
But everything means nothing
If I ain't got you"
If I Ain't Got You was released in February 2004. This song received two nominations at the 2005 Grammy Awards, and finally Alicia Keys won the Best Female R&B Vocal Performance.
The gentle tempo of the music makes it ideal for dancing on Valentine's Day. Don't miss the chance to ask your girlfriend to dance!
9. Yellow – Coldplay
"I swam across
I jumped across for you
Oh, what a thing to do
Cause you were all yellow"
Yellow is a song by Coldplay, which was released in 2000. Even if 17 years on, this song still remains one of the most popular songs of the band.
This song reminds of my college time. That was just a wonderful memory. I didn't like that kind of near and far, but I was too yellow to express myself toward the one I liked.
10. Belong – Fyfe Ft. Kimbra
"Hey
Can we make a home together?
I'll be willing if you're willing to try
I'm tired of feeling like a passer-by
Want to grow, want to grow, want to grow"
Belong was released in this year. Though it doesn't have considerable hit and video playback on YouTube, the beat of this song still amazed me.
In addition, the lyric of this song is very straightforward. It's very suitable to make a proposal.
Conclusion
The above are my recommendations of romantic songs for Valentine's Day.
Have you ever heard some of them?
Which song is your favorite?
Then, don't hesitate to download songs you like!
By clicking the link under each song, you can download it for free.
If you have any other romantic songs want to share with me, please feel free to leave your comments below!
Happy Valentine's Day!