Rita Ora Songs Free Download |Top 10 List Update (2017)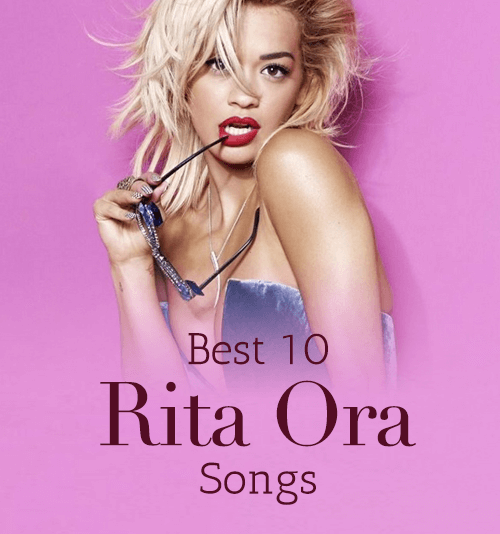 She rose to prominence in 2012 featuring in DJ Fresh's single "Hot Right Now".
The song reached No.1 in the UK.
She's a young girl with powerful voice.
So who is she?
She's Rita Ora.
After long wait, she finally comes back with the new album Anywhere.
By this chance, I've reviewed all her songs again, and picked the best 10 Rita Ora songs.
Now, let's go over the list together.
1. How We Do (party)
"Out in the streets we're running
Shut down every block
So put your arms around me, baby
We're tearing up the town
'Cause that's just how we do"
"How We Do" is a song from Rita Ora's debut studio album, Ora.
The song was certified gold by the BPI for sales over 400,000 copies in the UK. Also, it topped at No.2 in US Hot Dance/Club Songs (Billboard).
Just as the name clearly depicts, the song encourages listeners to let go of their worries or cares and go to party. I think the song just right for you while you're on the way to the night club.
2. I Will Never Let You down
"When you're feeling low on love
I'll be what you're dreaming of
Oh Ooh, I Will Never Let You Down"
"I Will Never Let You Down" was released on 31 March 2014. The song debuted at No.1 on the UK Singles Chart, making it as the Ora's fourth overall UK NO.1 single within 3 years.
In July 2014, Billboard listed "I Will Never Let You Down" as one of the "10 Best Songs of 2014 (So Far)".
"I have a million ways to make you fall in love with me." Maybe this is Ora sings about. I believe the sweet lines and brisk chorus will let you repeat the song over and over again.
3. Your Song
"Don't want to sing mad songs anymore
Only want to sing your song
Cause your song's got me feeling like that
I'm in love, I'm in love, I'm in love"
"Your Song" was released on 26 May 2017. The song peaked at No.7 on the UK Singles Chart. It also reached the top 20 in more than 15 countries.
The song was Written and composed by Ed Sheeran (with Steve Mac), the song also features Sheeran on backing vocals.
I can say without boast, you can get the style of Ed Sheeran once you hear the song. Their chorus is a prominent part of the song. I just am dying to share the song with you!
4. Body on Me
"If you want it then you got it, hold me
No more, no more wasting time
We can, we can go all night
Ayo, ayo
I just wanna feel your body on me"
"Body on Me" is a song features guest vocals by American recording artist Chris Brown. The song was released on 7 August, 2015.
It reached No.6 in US Bubbling Under Hot 100 Singles (Billboard) and peaked at No.6 in New Zealand Heatseekers (RMNZ).
This song talks about two people had both deeply fallen in love with each other. Chris Brown and Rita Ora's vocals almost like a heaven-made match! Hope you enjoy it!
5. I.P
"R.I.P, to the girl you used to see
Her days are over, baby she's over
I decided to give you all of me
Baby come closer, baby come closer"
We all know the famous song of Nneka "Heartbeat". "R.I.P" is a song sampling one chapter of it. "R.I.P." debuted at No.1 on the UK Singles Chart with sales of 104,592.
The song was released as the lead single from the album in the United Kingdom on 6 May 2012, featuring British rapper Tinie Tempah.
Personally, I like the message behind the song. "R.I.P" is supposed to be a tribute to singer Christina who's been shot and killed. She's a great cover singer!
6. Poison
"I pick my poison and it's you
Nothing could kill me like you do
You're going straight to my head
And I'm heading straight for the edge"
This pop power ballad "Poison" is a song released on 18 May 2015. We can feel that it was more passionate and not electronic-sounding.
This is a piece that makes me totally fall in love with her. Good rhythm and perfect vocal makes the song outstanding. It talks about pain experienced from a failed relationship.
Lyrically, Ora recalls all the ways she fallen in love with him, while she tries to forget him, she clarifies in the chorus that she cannot let him go. At the same time, she struggles to relieve from the pain… Just feel the heart-broken!
7. Shine Ya Light
"Wo-oh, shine your light
Wo-oh, set the world on fire
Wo-oh, shine tonight
Wo-oh, set the world on fire"
"Shine Ya Light" was released as the third single from her debut studio album Ora. The song was released in the United Kingdom on 4 November, 2012. The song was included in The Sims 3: Seasons as a soundtrack.
"It was more than a music video," according to Ora, "it was a moment in our history as Kosovo, it was a moment for people to see us: how we live, our landscape. It was my duty to do my video there." That's what she talks about the music video.
Kosovo is hometown of Ora. The lyrics have the feeling of returning to her hometown.
8. Radioactive
"Palms to the sky, we unite
I'm feeling it, feeling it, feelin-fee-feeling it
We rise tonight"
"Radioactive" was released in UK on 11 February, 2013 as the fourth single from Ora. It reached No. 18 in the UK Singles Chart.
This is the perfect song whilst you are getting ready for a big Friday night out. According to a music critic: "This is simply a fantastic song that will appeal to most that hear it and it makes us want to get our party shoes on!" Will you agree?
Try it, and I'm sure the song will stir you up to a party.
9. Black Widow
"You should've known better
Then to mess with me harder, honey
I'm gonna love you, I'm gonna love you
Like a black widow, baby"
"Black Widow" is a song by Australian rapper Iggy Azalea. The song's hook is sung by Rita Ora. The song peaked at No.3 on the US Billboard Hot 100. It has also reached No.4 in the UK and NO.15 in Australia.
Lyrically, "Black Widow" is a dark love song which deals with the subjects of revenge and feminism in a failed romantic relationship.
Thins song was initially written by Katy Perry, but gave it to Azalea after it was completed. Although Katy Perry did not perform in the song but you can see Ora succeed in the song and well done in it.
10. Anywhere
"Over the hills and far away
A million miles from LA
Just anywhere away with you"
This is a new song released two months ago. Soon it climbed to No.2 on the UK Singles Chart after released. It was chosen by The Guardian as their track of the week.
This is Ora's first time wrote the song by her own. It was inspired by Ora wanted to go on a road trip with her friends to escape from Los Angeles.
Rita Ora is a city girl, so for her, being anywhere, like going to a beach or anywhere is all she wants. Then she can be breaking free.
In the end…
As you can see, the new album brings a new Rita Ora to us.
I believe her brilliant vocal will give more surprise to us.
Remember that you can download all above Rita Ora songs by clicking the links.
If you're also a big fan of Rita, share your favorite song list with me!
I'd love to hear what you think!
If you encounter any question while downloading songs, just let me know in the comments.
Rita Ora songs free download: