How to Rip Audio from YouTube on Computer (Windows & Mac)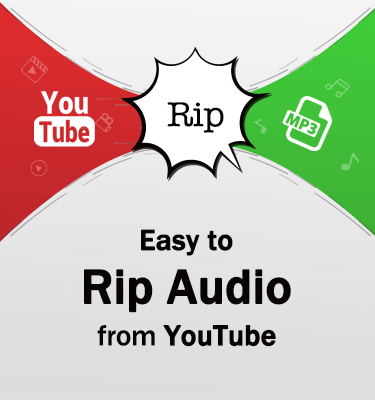 As YouTube is the largest video sharing platform, there's plenty of AWESOME music resources on YouTube.
Though YouTube does not support users to download YouTube video files or rip audio as MP3, you can still resort to other solutions.
AnyMusic is the all-in-one music converter to rip audio from YouTube videos for Windows, Mac, iOS and Android devices easily without third party music software.
You can extract audio from YouTube video files simply with a few clicks.
Want to know how?
Just follow me, and you will be amazed by the powerful music tool.
Part 1
The Main Features of AnyMusic
Find Music
AnyMusic is able to download audio from YouTube, Facebook or other streaming sites.
No matter the song name, artist, album or video URL, AnyMusic can extract audio from YouTube to different file formats and sizes as you want.
Download Free MP3 Music
After you search YouTube video songs, AnyMusic will list the detected audio files from YouTube, with the detail information about size and format.
Built-in Music Player
Before you rip audio from YouTube, you can play the YouTube video first.
When the download is finish, you can play audio tracks with advanced decoder, which will upgrades your music experience to a next level.
Manage Downloaded Music
Once you rip music from YouTube, you can manage the files in Library or sync the files to iPhone or Android devices.
Part 2
Rip Audio from YouTube on Mac & Windows
There're two main methods to rip audio off YouTube - to search audio songs to download, or to extract audio from YouTube link directly.
These two methods correspond to two tools of AnyMusic, which are Free MP3 Finder and Free Video to MP3.
Whatever for Mac or Windows users, the process of extracting audio from YouTube video files is completely the same. So, I only take Mac version as an example in this article.
Extract Music from YouTube by Using Free MP3 Finder
Step 1Search YouTube music with keywords.
As for the case, you can search and convert YouTube videos for free with names of songs, artists, albums or video links.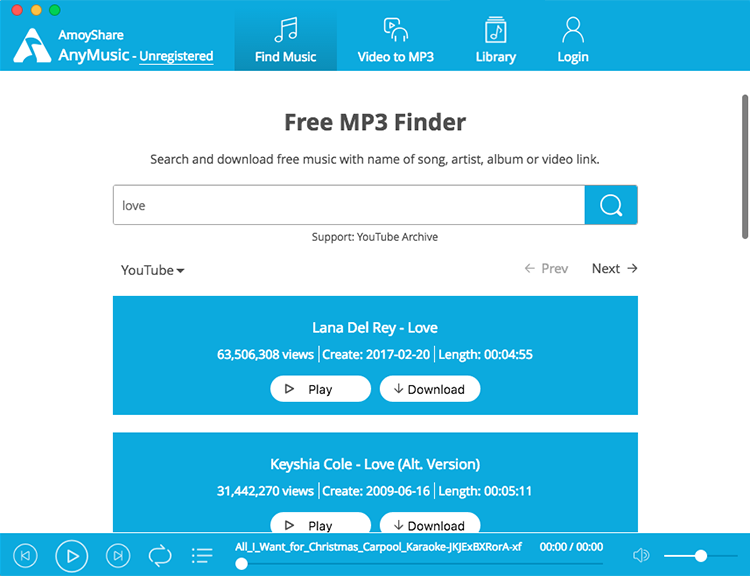 Step 2Choose Play or Download options.
The Play button helps you to preview the video. With the Download button, you can extract audio from YouTube in different file formats.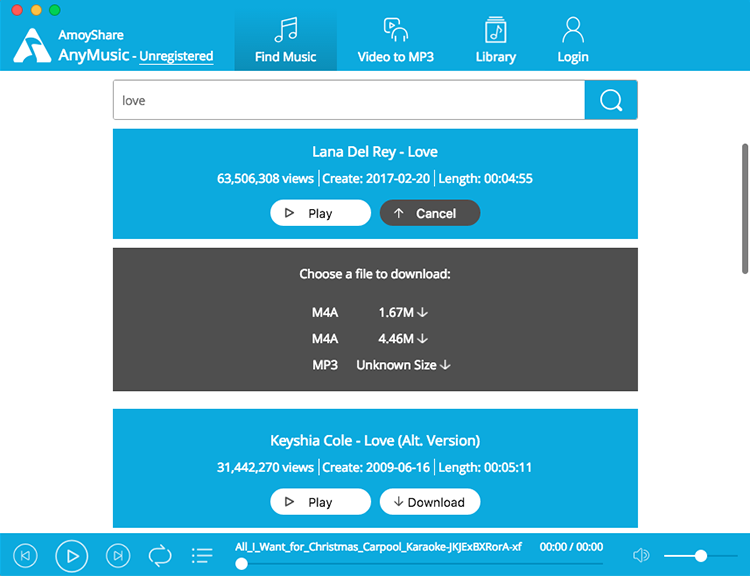 Step 3Manage downloaded music in Library.
Once you connect Android device to computer, you can use Windows Media Player to enable Sync List to transfer the ripped audio from YouTube to Android devices.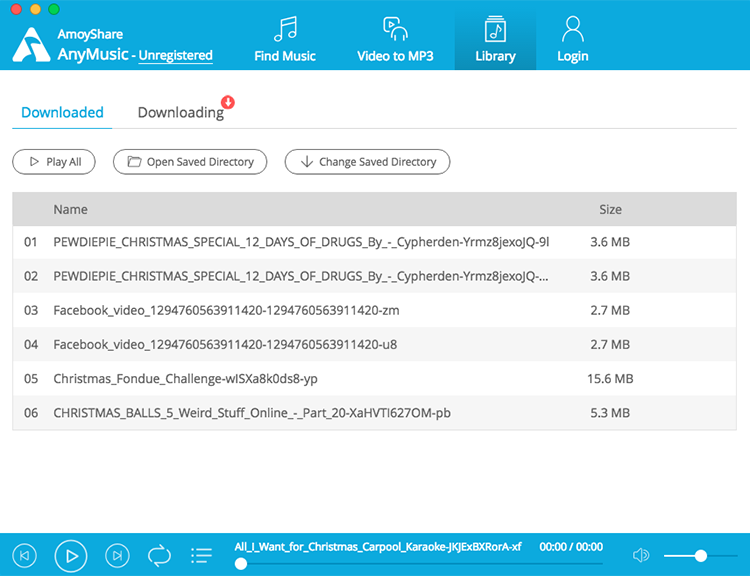 Rip Audio off YouTube with Free Video to MP3
Step 1Enter the URL of the YouTube video.
As for the case, you only need to copy and paste the URL of YouTube link to the program to extract the audio files to your computer.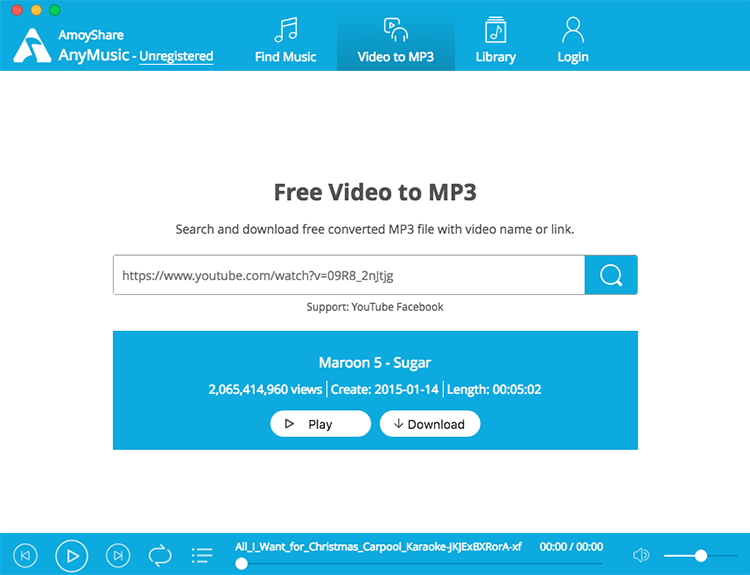 Step 2Listen to the YouTube music.
Preview the YouTube video to make sure it's the exact music you want to convert to audio.
Step 3Choose file type as needed.
You can select format and size according to your requirement. And the program will automatically convert YouTube video to selected file format.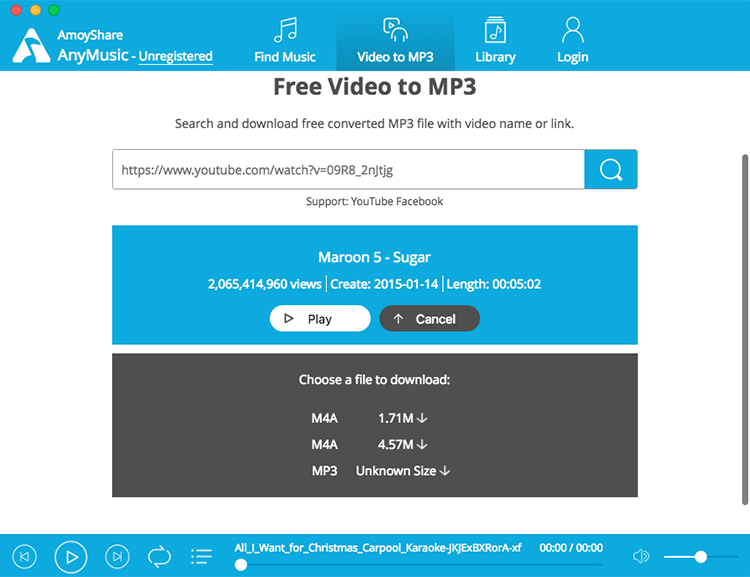 Part 3
Tips on Converting YouTube to Audio Files
AnyMusic supports batch ripping audio from YouTube and Facebook as well as single music conversion.


You can paste YouTube video link to by right clicking the video and select Show Video URL option.


The Music Library of AnyMusic always works with audio player together, you can use it to manage downloaded songs in a smart way.


You can also use AnyMusic to sync the downloaded audio tracks to iPhone.

Turn to library and click Downloaded page first, to replace default folder with iTunes folder instead.

Hit Change Saved Directory option below, and then follow my step: /Music/iTunes/iTunes media/Automatically add to iTunes/ folder, to prepare to rip audio from YouTube to iPhone.

If you do know where the media files are saved on the Android devices you can also follow above steps to download the YouTube songs to your devices directly.
Wrapped Up
When you wanna download YouTube music, AnyMusic should be the most efficient program to rip audio from YouTube.
AnyMusic not only let you to search and extract audio from YouTube on Windows and Mac, but also sync the music to iPhone and Android devices with ease.
What is more, AnyMusic also supports you to organize music files.
If you have any query for downloading audio from YouTube or any other video sharing sites, please feel free to tell me in the comments.