Best Rihanna Music Videos: Top 10 Stunning MV on YouTube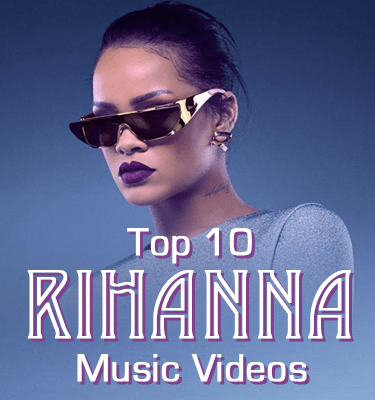 An excellent music video makes the song more attractive.
Have you noticed that:
The music video won't let you down if the song is hot?
Right!
This is what we are going talk about today!
We choose 10 best Rihanna music videos for you!
You must wonder that which videos will stand out in so many great works of Rihanna?
Take your time and I will reveal this amazing video list next, and give you an easy and direct way to download all of them!
Time is running out! Let's get started!
10. Pon de replay
The name means "play it again" in Bajan Creole, one of Barbados' two official languages.
The song was a commercial success, peaking at No.1 in New Zealand and on the US Billboard Dance Club Songs chart. It also reached No.2 on both the US Billboard Hot 100 chart and the UK Singles Chart. This video has 86,670,373 times watching record.
Download this Rihanna music video free >>
9. S&M
The video was inspired by Rihanna's "sadomasochist relationship with the press, it isn't just about a bunch of whips and chains.
The music video was generally well received. But some countries banned this video due to its overtly sexual content. It was posted on YouTube as being mature content, which restricted it to users over the age of 18. However, it still got 90,805,254 times watching record on YouTube.
Download the Rihanna music video >>
8. Disturbia
The video was voted the sixth best music video of the 2000s in a Billboard poll. And it has 144,676,349 times watching record.
It is quite special and freaky music video as the Jillian Mapes of Billboard wrote that Rihanna created "a memorable and edgy image akin more to Marilyn Manson than her Top 40 colleagues."
Download this Rihanna music video from YouTube >>
7. Bitch better have my money
"Bitch Better Have My Money" was released on June 28, 2015 and reached the Top 10 in eight countries.
On November 18, 2016, it surpassed the 100 million views mark, making it the 1st ever age-restricted Vevo certified video and got 115,176,098 times watching records on YouTube.
Download this Rihanna music video free >>
6. Umbrella
Maybe it is not the beat music video, but it is definitely one of the most popular music videos.
The video was officially released on the iTunes Store on May 11, 2007, peaking at No.1 for a period of eight weeks and 351,279,418 view marks on YouTube.
Rihanna music video Umbrella download >>
5. Where have you been
The video received 4.93 million hits in its first 24 hours. It also received 2 MTV Video Music Award nominations, including Best Choreography Video and Best Visual Effects. On YouTube, it has 730,625,165 views mark.
Download this Rihanna music video from YouTube >>
4. Rude Boy
Rude Boy was released on February 19, 2010. It peaked at No.1 on the US Billboard Hot 100 in its fourth week for 5 consecutive weeks, and was Rihanna's sixth US No.1 single.
Rihanna is shown wearing a skin tight black and white cat suit, sitting on a stuffed Zebra, with a black and white background. It was quite creative in the music video art and brought a huge view marks with 428,838,930 times on YouTube.
3. Only girl
This song is a sign that Rihanna moves away from the dark themes of her previous album, and express her demands physical attention from her lover.
This music video was praised for its simplicity colorful and pleasant imagery. In this video Rihanna imply that she is the only female in the world, echoing the song's title and lyrics.
"Only Girl (In the World)" won the Grammy Award for Best Dance Recording at the 53rd Grammy Awards in 2011. On YouTube, it gets 614,251,620 times hits.
Download this Rihanna music video from YouTube >>
2. We found love
The video premiered on October 19, 2011. Some people think this music video just like a short film, but there is something banned in this video, so some countries banned this video at a particular time period.
The video has amassed over 730 million views on YouTube. And it also won the Grammy Award for Best Short Form Music Video.
1. This is what you came for
This song was released on 29 April 2016, and its music video was released on 16 June 2016 on YouTube. Two months after its release, the video reached 500 million views, and on 29 November 2016, the video reached 1 billion views. As of July 2017, it has reached 1.7 billion views.
Time flies!
I'm going to finish the sharing of the best Rihanna music videos today.
If you like what I recommend, you can download the HD video directly by clicking the link below the video.
As for download all Rihanna albums, you can further read this article: How to Get Free Music with AnyMusic?
Welcome to leave a comment if you have any question and suggestion!
Top 10 Rihanna Music Videos (Official)