Prince Songs | Free Download Top 10 Prince's Biggest Hits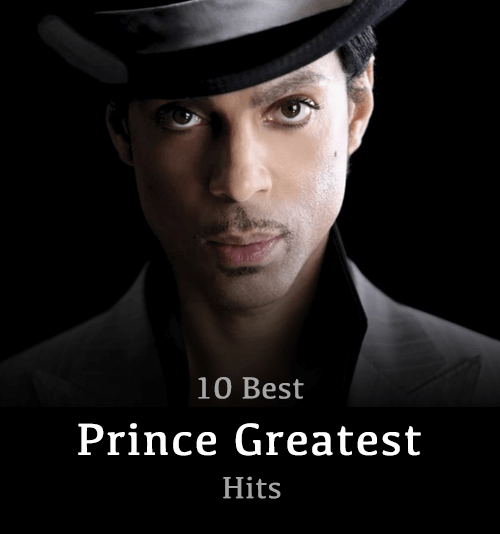 "If music is an expression of life, Prince's life was entirely musical."
"Prince's ideas and energy were inexhaustible."
"It seemed clear that music was his way of being in the world, his favorite way of thinking."
These are comments about Prince.
We will understand soon…
Why he is one of the most beloved and influential musicians.
Prince's music involves multiple styles, including funk, rock, R&B, soul, pop and so on.
He is known for his flamboyant stage presence, extravagant dress and wide vocal range.
Here is a list of Top 10 Prince songs for you.
Let's have a look.
10. Call My Name
"Call, Call my name
Call, Call my name
I heard your voice this morning calling out my name"
"Call My Name" is a song from Prince's 2004 album Musicology. The song won the Grammy Award for Best Male R&B Vocal Performance at the 47th Annual Grammy Awards in 2005.
The slow melody may ease your stress after a day's busy work, help you with forgetting the trouble and make life better. Let's shake our body slowly with the melody and relax from head to toe!
9. The Holy River
"I called my girl and told her I had something to give her
I asked her to marry me and she said yes, I cried
Oh, that night I drowned in her tears and mine
And… and instead of a glass of sorrow and wine"
The song talks about the story of spiritual enlightenment and Prince's decision to marry Mayte Garcia. It ranked at No.19 on US Billboard Mainstream Top 40 and peaked at No.4 in Belgium.
Listening to the song, I always feel comfortable and sing with the soft melody. As for me, it's a song suitable for a rainy day hanging around on the street.
Have you ever known about the song? Or what songs do you like listen to on a rainy day? Maybe the song can win your heart!
8. Do Me, Baby
"Let's stop fooling around
Take me baby kiss me all over
Play with my love
Bring out what's been in me for far too long"
"Do Me, Baby" is a song from Prince's fourth album Controversy. The song on the Billboard Hot 100 at No.46 and topped the US Hot R&B/Hit-Hop songs.
If you haven't listened to the song before, click on the link below, you'll understand why Prince is called one of the sexiest musicians in the world. And if you're interested in his performance in concerts, you can also watch the videos. I'm sure you'll be surprised!
7. Thieves In The Temple
"Love come quick
Love come in a hurry
They're thieves in the temple tonight"
The song is the twelfth single in Prince's 1990 album Graffiti Bridge. It topped the US R&B chart and reached No.6 in the US, No.7 in the UK. It also became a No.9 hit on the dance chart.
It is a unique single with Prince's emotional voice and the syncopated drum machines. And the lyrics "Love come quick, Love come in a hurry" let me ponder something else – Love is what we need to live in the world, but at the same time, it is love that hurts us a lot.
6. Sexy Dancer
"Sexy dancer, you got my body screamin'
Sexy dancer, you got me just a creamin'
Sexy dancer, when you rub my body
Sexy dancer, it gets me so hot, hot"
"Sexy Dancer" was the follow-up single to Prince's self-titled second album in the UK. When it was released, it got high praise among listeners and became a worldwide hit soon.
The song has few lyrics but is not short on funk by using prominent bass guitar, grunts and scream to excite you, driving you to shake your bodies unconsciously. If you want to relax for a while, listening to this song must be a good choice!
5. I Would Die 4 U
"I'm not your lover
I'm not your friend
I am something that you'll never comprehend"
"I Would Die 4 U" is a single by Prince and The Revolution from their 1984 album, Purple Rain. The song peaked at No.8 on the Billboard Hot 100 and it has sold 561,772 copies in the United States until April 30, 2016.
The song shows a man's deep love for his lover, which was written with simple but sincere lyrics. Perhaps the song can be one of the good selections when making your confession to someone you love. Download Prince songs for free and enjoy it!
4. Kiss
"You don't have to be rich
To be my girl
You don't have to be cool
To rule my world"
The song was composed, written and produced by Prince, stayed at No.1 on the US Billboard Hot 100 for 2 weeks. The single was considered Gold in 1986 for its sales of 1,000,000 copies by the RIAA. It also entered the NME list of the 150 greatest singles of all times at No.4.
In my opinion, it's one of the sexiest songs I have ever heard. Prince's stylish voice is so unforgettable that you may remember it even though you hear it for just once. Let's be wrapped in Prince's sexy voice!
3. When Doves Cry
"How can you just leave me standing
Alone in a world so cold, world so cold
Maybe I'm just too demanding
Maybe I'm just like my father too bold"
"When Doves Cry" was a worldwide hit, which was the top-selling single of the year according to Billboard magazine. It was Prince's first American No.1 single, spending 5 weeks on the charts. Also, the song went to No.52 on the Rolling Stone list of the 500 Greatest Songs of All Time.
The wonderful guitar solo performed by Prince, it taken me into the charming music world of Prince. And besides the guitar, Prince played all instruments on the track. What a talented and attractive musician! Don't you think so?
2. Let's Go Crazy
"This life you're on your own
And if the elevator tries to bring you down
Go crazy punch a higher floor"
The song was the opening track on both the album and the film Purple Rain. It became a big hit on the Billboard Hot 100 at No.2 and also topped the Hot R&B/Hip-Hop Songs as well as becoming a UK Top 10 hit.
The lyrics are encouraging and philosophical, which regard life as elevator that we decide on ourselves. It goes without saying that the song offers lots of thought for us and it also has magic to take our bad mood away quickly. You can download Prince free music by the link below. Let's go crazy!
1. Purple Rain
"I've never meant to cause you any sorrow
I've never meant to cause you any pain
I only wanted to one time see you laughing
I only wanted to see you laughing in the purple rain"
"Purple Rain" is a song chosen as the third single from the album of the same name. Moreover, it was also used as a soundtrack in the movie Purple Rain. The song reached No.2 in the United Stated for 2 weeks, and it was certified gold by the RIAA in 1984.
"When there's blood in the sky – red plus blue equals purple. Purple rain pertains to the end of the world and being with the one you love and letting your faith/god guide you through the purple rain." Prince talked about the meaning of Purple Rain.
I was shocked by the guitar solo and was impressed for the atmosphere of sadness created by Prince's special voice. I can say that it's one of my favorite Prince songs. What about you?
Your Turn
These are all about the Top 10 Prince songs.
Have you started downloading the songs via the links we provide above?
Or do you have any other different recommendations?
There are dozens of songs by Price, and you might have different idea about the top 10 list.
Please feel free to comment below!
We'd love to hear from you!
Prince songs download mp3 free: