Top 10 Online Radio Stations for Music Streaming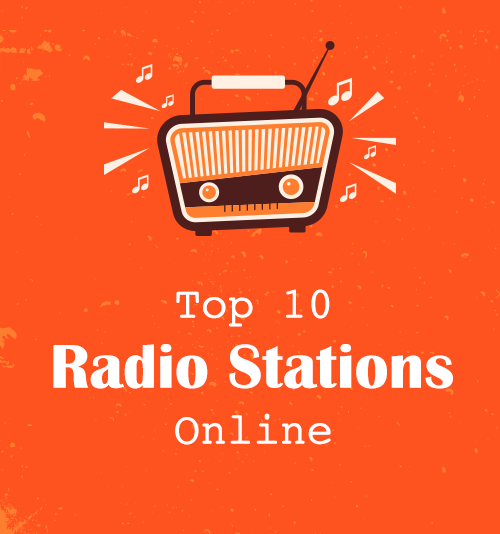 Nowadays, people enjoy music on streaming sites or music player.
So what is your choice?
When you are driving on the road…
Music radio station maybe the only choice for you, right?
Even not on the road, some people are used to enjoy music on radio stations.
Radio has many channels from region to region, and it can be enjoyed everywhere.
So what are the best online radio stations for music streaming?
If you are puzzled right now, then you should read through this article today.
I am sure you will find the radio station you like, or maybe you are using one of them right now.
Anyway, let's get started!
Part 1 Best 10 Internet Radio Stations for Free Streaming
1. TuneIn
TuneIn is a global online streaming service delivering live news, radio and sports. It enables people to discover, follow and listen to over 120,000 real radio stations and more than 5.7 million podcasts streaming from every continent.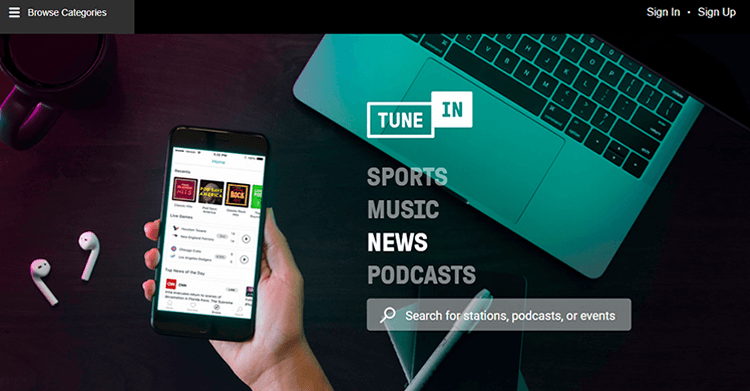 For Music Streaming:
On its browse categories, you will find the music section on the page. On MUSIC section, there are 5 parts about music radio station: Popular in Music, Editor's Choice, TuneIn's Music Exclusives, Explore (43 themes) and Top Stations.
I'd like to talk more about the Explore part, there are 43 themes for you to explore. If you are 60's/70's/80's or 90's music lover, you can find the specific radio station; you also can choose the stations according to the music genres. So that is quite comprehensive music radio station for music streaming. For me, I love the station 977 Today's Hits best. Maybe you can try it!
Pros
✔ More than 120,000 broadcast radio stations, 4million podcasts, and 57,000 audiobooks.
✔ Ability to rewind and record live radio. Display recently started broadcasts.
✔ Lots of ways to find stations you may be interested in.
✔ Mobile App is free from picture ads and popups.
✔ Website doesn't require you to create a user account (the Apps does).
Cons
✘ TuneIn doesn't allow you to skip radio while listening.
✘ You can't search and listen to a specific song.
2. Jango
Jango is a free online radio streaming service that allows users to create and share custom radio stations. We can see the striking slogan on the homepage: Free Internet Radio that plays music you'll love. So, Jango is all about online music radio streaming.
For music streaming:
On Jango, you can choose your favorite band or singer; then Jango will play music from what you choose and other similar artists. Jango has hundreds of ready-made stations (42) divided by music genres and themes.
BTW, all radio stations contain advertisement.
Pros
✔ Good sound quality.
✔ Watch music video.
✔ Unlimited skips.

Cons
✘ Intrusive artist promotion ads.
✘ No subscription to remove ads.
3. iHeart Radio
iHeartRadio is a free broadcast and music recommender system works in U.S., Australia, New Zealand and Canada. "All your favorite music. All your favorite stations. All free." – It is the slogan that iHeartRadio tells us on the page. On the site, you can explore radio station like live radio, artist radio, talks, sports, comedy and podcast.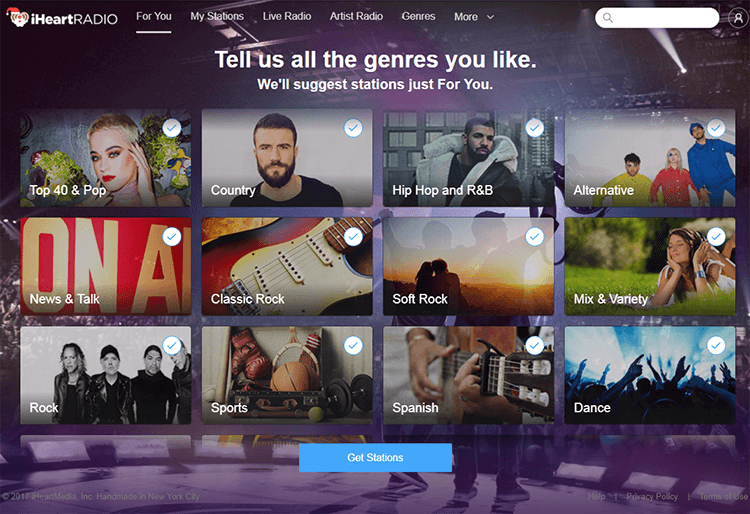 For Music Streaming:
When you come into the iHeartRadio for the first time, you need to choose the genres you like, then you can start your music streaming. According to your music taste, you can choose different music radio by genres like pop, rock, country and so on.
Create personalized music stations based on your favorite singers by using the iHeartadio library of millions of songs.
Pros
✔ Many live and curated artist streams.
✔ View the song lyrics while listening.
✔ You can browse informative artist bios and news articles.
✔ Save the song and station.
✔ Available online, on mobile and tablets.
Cons
✘ Unable to rewind live radio.
✘ No family plan.
✘ Unattractive interface design.
4. Internet Radio
Internet Radio has running internet radio for over 10 years; it provides radio station like live news, sports, talk and various genres of music. As of 2017, Internet Radio became one of the most popular internet radio platforms and applications including TuneIn Radio, iHeartRadio and Sirius XM.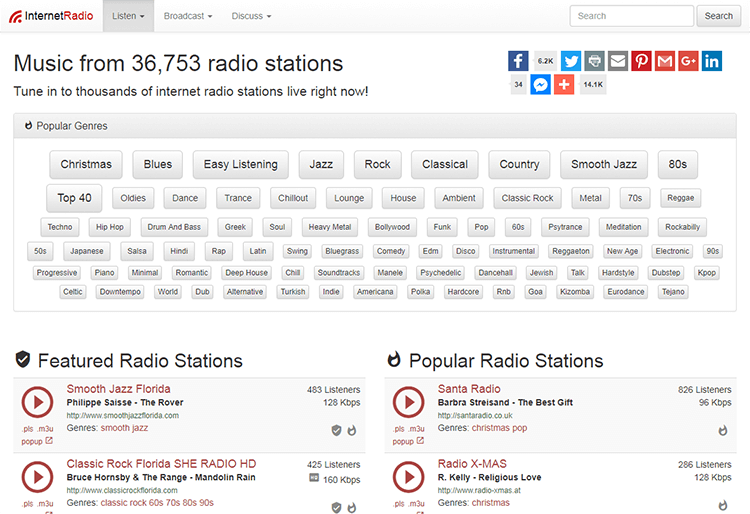 For Music Streaming:
There are 197 music genres on Internet Radio, you also can choose radio station from Featured Radio Stations and Popular Radio Stations. Every station has quality mark like 128k, 160k and so on. For 160k, it's the HD radio station on Internet Radio. You also can visit the official radio site on Internet Radio, that is to say, Internet Radio is a collection of radio stations.
Pros
✔ Internet Radio has many station choices, including international stations.
✔ It works anywhere in the world with an internet connection.
✔ No signal interruption.
Cons
✘ Relies on Internet connection. If the Internet is down the radio won't work.
✘ It has more complicated interface design so more difficult to use.
✘ It's more expensive than other websites.
5. Sirius XM
With 32 million subscribers, Sirius XM creates and offers ad-free music, premier sports and live events; news and comedy; exclusive talk and entertainment. You can enjoy Sirius XM in cars from every major car company in the U.S., and smartphone and other connected devices.
For Music Streaming:
The Sirius XM streaming service only works in U.S. and Canada, so you have to use VPN if you are out of these two areas. When you on the Sirius XM homepage then tap "Listen online" then you can choose music radio station. There are 11 music genres on the page, and every genre has many related radio stations.
Pros
✔ Numerous live talks, sports and music channels.
✔ Ability to pause and rewind tracks.
✔ Song recommendations.
✔ Deep channel customization potions.
✔ High-profile exclusive content.
Cons
✘ No lyrics.
✘ Additional cost to stream from the Internet.
✘ You have to purchase equipment to listen in your car.
6. BBC Music Radio
BBC is the world's oldest national broadcasting organization. BBC provides online services like Television, Radio, News, Music and others. About radio, BBC has many categories like comedy, drama, music, history, news, politics, science & nature, entertainment and so on.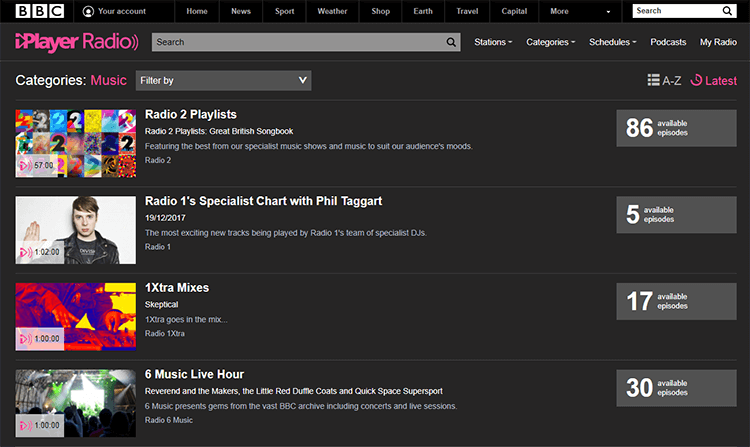 For Music Streaming:
Landing on the radio page of BBC, then choose the music category, then you will get a radio station list about music. If you want to find a specific music genre station, you can filter by the music genres. Some radios are finished, but you still can replay it, only for 30 days. Of course, you can enjoy those live radio programs.
Another way to stream music is choose the radio station. There are 10 radio stations are serve on the whole of the U.K. So which radio station that provides music streaming? Let's see.
Radio :Radio 1 plays a mix of current songs, including independent/alternative, rap, hip pop, rock, house, electronica, dance, drum, dance and pop.
Radio : Radio 2 playing adult contemporary, country and soul music amongst many other genres.
Radio : Radio 3 presenting classical and Jazz music together.
Radio : 6 Music is the first music radio of BBC, it is available only on digital media. And it has become the most listened-to BBC digital-only radio station.
Pros
✔ BBC Radio 6 provides high quality radio station.
✔ More radio themes for streaming, not only music.
✔ Clear radio schedule.
✔ 30 days to rewind finished radio.
Cons
✘ No lyrics.
✘ A little bit difficult to find the radio you like to stream music.
7. AccuRadio
AccuRadio is a multichannel Internet radio service founded in 2000. It is the first personalized Internet radio station designed specifically for adults with sophisticated musical tastes. They offer over 975 channels of rock, pop, jazz, country, classical, Christian, world music and more.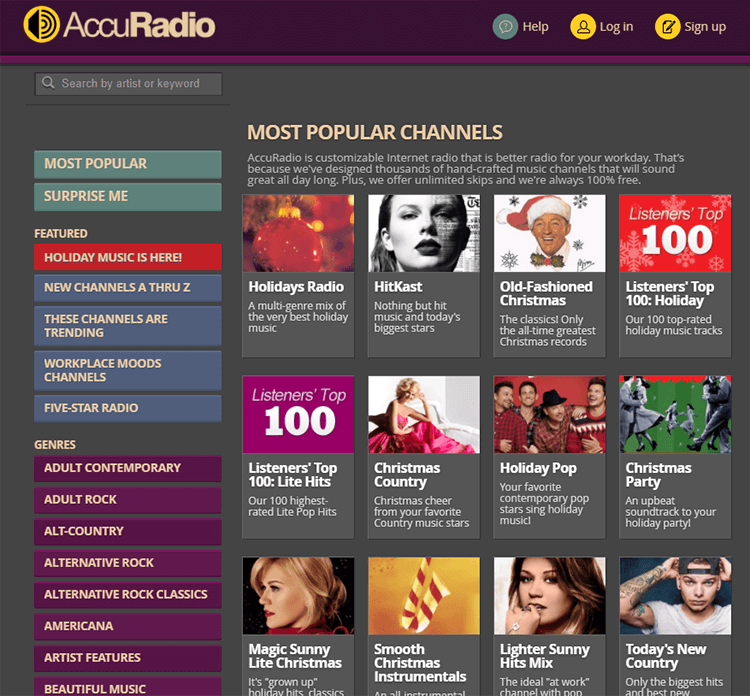 For Music Streaming:
You can find the radio station you like by exploring the genres and featured; then you can enjoy the music with one-click. The best thing is you can enjoy the unlimited skips while listening. Easy! Just enjoy!
Pros
✔ On AccuRadio, you can share the channel or music you love on Facebook or Twitter.
✔ If you don't the song or certain artist, then you can ban it on the site so that they won't be played next time and forever.
✔ Buy any music you like, but the site will be redirected to Amazon music store.
✔ You also can submit music to AccuRadio, just contact with AccuRadio.
Cons
✘ Donation request.
✘ No lyrics.
✘ Ads.
8. Slacker Radio
Slacker Radio is an online music radio service available in the U.S. and Canada. Users can explore different music genres and themes to find you love radio station.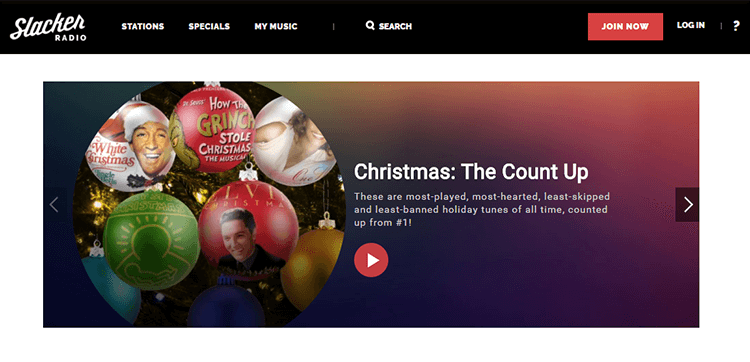 For Music Streaming:
On Slacker Radio, there are 3 types account: Slacker Radio Free, Slacker Radio Plus and Slacker Radio Premium. For different account, you will enjoy different streaming experience.
Pros
✔ Radio station library.
✔ Excellently curated stations and fun playlist.
✔ Intuitive design.
✔ Useful tuning controls with good sound quality.
✔ Live ESPN radio and lifestyle stations.
✔ New and the weather channel updates.
Cons
✘ No family plan.
✘ Lacks lyrics in browser-based version.

9. Pandora
Pandora Internet Radio is a music streaming online service which plays songs that have similar musical traits. It will gives you personalized radio that plays what you love and continually evolves with your tastes.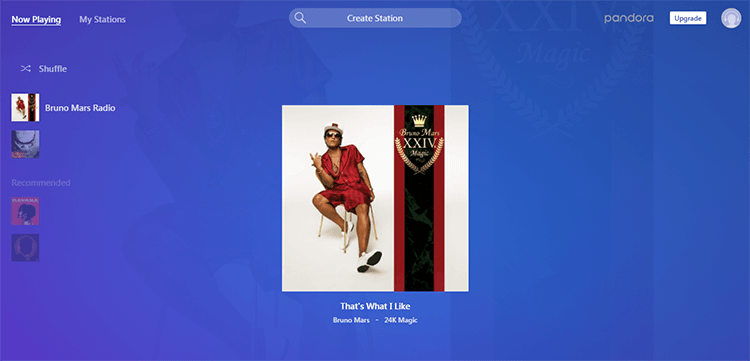 For Music Streaming:
Sign in the website then start with name of an artist, song, genre or comedian and create a station. Next, enjoy the music, it's that simple.
Pros
✔ You can view the song lyrics and bookmark the song you like, and shuffle the music by similar artists.
✔ The simple platform encourages voting on songs which it uses to further define your preferences.
✔ Smart algorithms take work out of picking music.
Cons
✘ No live content.
✘ Some tracks are available for on-demand streaming.
✘ Can't browse by category.

10. Radionomy
Radionomy is an online radio service that provides music streaming. It works on France Germany, Spain and English country. On Radionomy, you can enjoy the music from artists, music genres and featured stations completely free of charge!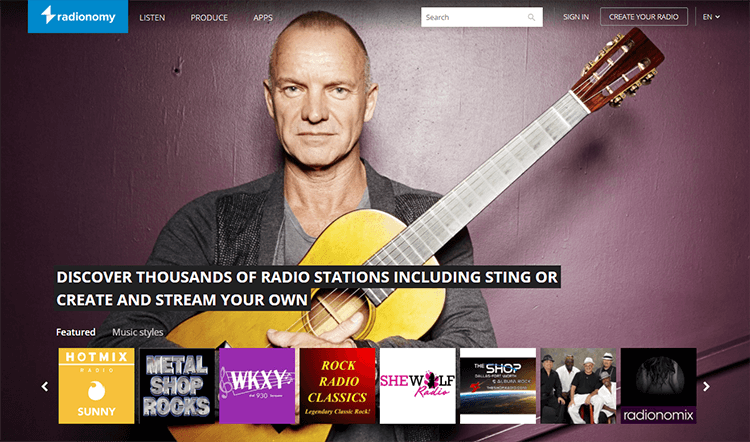 For Music Streaming:
Once you are on the page of Radionomy, you can start to play radio by choosing a station you are interested in without sign in. Nothing difficult to operate on the site and everything is free.
Pros
✔On Radionomy, you can pause the radio while listening; it is not allowed to skip, view the lyrics or something else.
✔ Add the channel or songs into your favorites or share it on Facebook or Twitter.

Cons
✘ Unable to pause and rewind radio.
✘ No lyrics.
✘ Only can browse radio stations by featured stations and music styles.

Part 2 Which is the Best Internet Radio Station?
So, for the top 10 radio station list, how do you choose the perfect one for you?
May the following comparison table can help you to make the decision.
| | | | | | | | | |
| --- | --- | --- | --- | --- | --- | --- | --- | --- |
| Site | Subscription | Best Quality | Free Version Available | Mobile App | Live Program | Non-Music Content | Song Lyrics | Ad |
| TuneIn | $9.99/mo $99.9/yr | 320k | ✔ | ✔ | ✘ | ✔ | ✘ | ✔ |
| Jango | Free | - | ✔ | ✔ | ✘ | ✘ | ✔ | ✘ |
| iHeart | $9.99/mo (web) $12.9/mo (App) | 128k | ✔ | ✔ | ✘ | ✘ | ✘ | ✔ |
| Internet Radio | $25/mo | 96k/128k | ✔ | ✔ | ✘ | ✘ | ✘ | ✘ |
| Sirius XM | $5/month | 320k | ✘ | ✔ | ✔ | ✔ | ✘ | ✔ |
| BBC Radio6 | Free | - | ✔ | ✔ | ✔ | ✔ | ✘ | ✔ |
| Accuradio | Free | - | ✔ | ✔ | ✘ | ✔ | ✘ | ✔ |
| Slacker | $3.99/mo (plus) $9.99/mo (premium) | 320k | ✔ | ✔ | ✔ | ✔ | ✔ | ✔ |
| Pandora | $4.99/mo (plus) $9.99/mo (premium) | 192k | ✔ | ✔ | ✘ | ✘ | ✔ | ✔ |
| Radionmy | Free | - | ✔ | ✔ | ✘ | ✘ | ✔ | ✘ |
For Free Radio Stations:
Actually, if you are apt to use free radio stations for music streaming, then I will recommend Jango and Radionomy, but if you are ok with ads then you can try BBC Radio 6 and AccurRadio as well.
For Paid Radio Stations:
If you like to pay for a better radio music streaming, for different payments, I will recommend TuneIn first, because I quite appreciate its design and music radio station like 997 Hits which is my favorite station.
The second choice is iHeart which is a good alternative to TuneIn. As for Internet Radio, if you are willing to pay the highest price for radio music streaming, why not?
If you are resident in the U.S. or Canada, then just choose from Sirius XM, Slacker and Pandora, because these are only work in specific area. So just pick one you like.
Ending…
There are more than 10 radio stations for music streaming on the Internet.
Also, we have no such a standard to tell you which one is the best.
Because everyone has their own needs.
But for the list above, we have tried them all for providing more convincing information to you.
But I'll say radio station is not the only way to stream music.
Maybe you can try free MP3 music download sites.
Anyway, if you find the one you like, then we are glad to solve your problem.
If you have suggestion, question or just wanted to add some other trusted online radio stations, then just tell us in the comment section.