Best 10 Nirvana Songs Free Download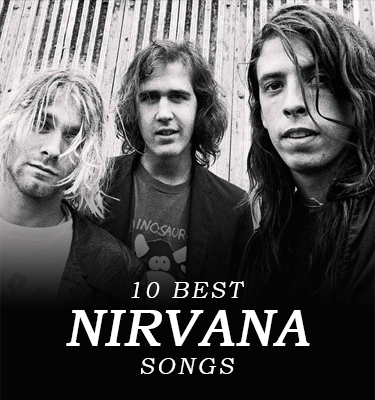 In 1987, an American rock bank was formed, named Nirvana.
After a seven-year career, they dissolved because of the death of one member.
However, their music maintained and greatly influenced modern roll culture.
They were considered as one of the most influential and important bands in history.
To pay a tribute to this grand band, we'll share you with some best Nirvana songs on YouTube.
No more wait, let's get drunk in their music world!
No. 1 Smells Like Teen Spirit
"I'm worse at what I do best
And for this gift, I feel blessed
Our little group has always been
And always will until the end"
"Smells Like Teen Spirit" made an unexpected success in late 1991 and brings the band to the top of many charts. The song reached at No.6 on the Billboard Hot 100 and placing high on music industry charts all around the world in 1991 and 1992.
The song has got beautiful lyrics and good beat. It's easy to sing and dance along. All of these things make it catchy. Unbelievable, that is the only word I can think of to describe this song. That's the top Nirvana song in my mind, and you?
No.2 Come As You Are
"Take your time, hurry up, the choice is yours, don't be late
Take a rest as a friend as and old memoria"
"Come As You Are" earned the band's 2nd American Top 40 hit, and 2nd UK top 10 hit, and peaked at No.9 on the UK Singles Chart. Rolling Stone ranked as one of "The 500 Greatest Songs of All Time". Besides, the 2016 film As You Are was named after the Nirvana track.
Smells like teen spirit is good, but this one completely washes you away. Come As You Are is a song that gives you such a deep trip in the world of wonder because the lyrics are amazing and certainly has a deep meaning.
No.3 The Man Who Sold The World
"We passed upon the stair
We spoke of was and when
Although I wasn't there
He said I was his friend"
"The Man Who Sold The World" was also released as a promotional single for the album, and received considerable airplay on alternative rock radio stations. It has peaked at No.6 on the US Alternative Songs (Billboard).
The song starts with an awesome guitar and ends with applause. It's a covering song with new life at the hand of the band. What it impressed I most was the guitar show in the end, which was really beautiful part.
No.4 Lithium
"Sunday morning is everyday for all I care
And I'm not scared
Light my candles in a daze
'Cause I've found god"
"Lithium" was released as the third single from Nevermind in July 1992. The song has reached No.64 on the US Billboard Hot 100 and No.11 on the UK Singles Chart. Also, NME ranked Lithium at No. 52 on its list of the "100 Best Tracks Of The '90s" in 2012.
As a guitar lover, the guitar riff in this song is simply the catchiest thing I've ever heard. And the title to the song brings a lot of meaning out in Nirvana song lyrics. As for the beat, this song will pump you up!
No.5 Heart-Shaped Box
"Meat-eating orchids forgive no one just yet
Cut myself on angel hair and baby's breath
Broken hymen of your Highness, I'm left back
Throw down your umbilical noose so I can climb right back"
"Heart-Shaped Box" peaked at No.1 on the Billboard Modern Rock Tracks chart and the international release of the single reached No.5 on the UK Singles Chart. The accompanying music video won two awards, including Best Alternative Video at the MTV Video Music Awards in 1994.
The song has so much raw emotion and it is a true mystery as there are many ways to interpret it, only Kurt himself knew what it really meant. And you can feel the pain in Kurt's voice. Like, physically. This song makes you sad.
No.6 In Bloom
"We can have some more
Nature is a whore
Bruises on the fruit
Tender age in bloom"
"In Bloom" charted at No.5 on the Billboard Album Rock Tracks chart and US Mainstream Rock (Billboard). The accompanying music won Best Alternative Video at the MTV Video Music Awards and topped the music video category in the 1992 Village Voice Pazz & Jop critics' poll.
This song is probably not the most meaningful or deep of Nirvana song, but it's genuinely very enjoyable to listen and sing along to. This lyrics to this song are beautiful self-aware written to literally mock those who like it. It's truly an amazing song.
No.7 About A Girl
"I'm standing in your line
I do hope you have the time
I do pick a number too
I do keep a date with you"
"About A Girl" was released on 1989. It is the first song on the posthumous MTV Unplugged in New York album. The song has peaked at No.1 on the US Alternative Songs (Billboard) and No.3 on the US Mainstream Rock (Billboard).
Kurt Cobain wrote this for his girlfriend at the time, Tracy Marander. They lived together for a while, and he took the photo that's on the album cover. This one is currently one of my favorite nirvana songs. What about you?
No.8 All Apologies
"What else could I write
I don't have the right
What else should I be
All apologies"
"All Apologies" is also a Broadcast Music, Inc. Award-winning song. The Rock and Roll Hall of Fame has included All Apologies on its list of "The Songs That Shaped Rock and Roll". Commercially, the song reached at No.1 on the US Alternative Songs (Billboard) and No.4 on the US Mainstream Rock (Billboard).
The "lazy" vocals as well as that feeling of just wanting all apologies can just make this a song to get lost in. The lyrics are so amazing and Cobain's voice gives me chills every time I hear this song.
Can't stop listening to the Nirvana songs? Download it now >>
No.9 Where Did You Sleep Last Night
"In the pines, in the pines
Where the sun don't ever shine
I would shiver the whole night through"
"Where Did You Sleep Last Night" is a traditional American folk song. Nirvana occasionally performed this song during the early 1990s. And Cobain earned critical acclaim for his acoustic performance of the song during Nirvana's MTV Unplugged appearance in 1993.
When Cobain burst at the last phase of the song, pain in his voice, in his eyes, for a moment it seems like he found his long lost passion for music. I really love the accented strumming and the emotional vocals in the last chorus.
No.10 You Know You're Right
"It's so warm and calm inside
I no longer have to hide
There's talk about someone else"
"You Know You're Right" is the last song recorded by the band, released on October 8, 2002. The song toped at US Mainstream Rock (Billboard) and US Alternative Songs (Billboard). In 2012, the song was re-released on the band's second greatest hits compilation, Icon.
Being their last recorded song, if just listening to the lyrics doesn't give you chills, then I don't know what will. Not to mention the amount of emotion that's in this song. As Nirvana's final Masterpiece, Kurt really put his heart out on this one.
In The End…
Releasing only three full-length studio albums in their career, they made a legend in the field of music.
It's the end of the sharing of top 10 Nirvana songs.
If you have any suggestions, just leave your comments below.
You can also click on the following articles to enjoy more hot hits.
See you!