MP3 Music Downloader App 2018 (For Android & iOS)
---
Many articles tend to list 10 or 20 mp3 music downloader app, and tell readers to go for the one which appeals them the most. What a waste of time!
I bet you've read much stuff like this, but still struggle to find the best one.
Therefore, I only want to share 2 apps that actually work well - one for Android, and the other one for iPhone.
Well, I'll go through the details of each app, or you can directly download the mp3 download app above.
1. AnyMusic - Best MP3 Download App for Android
---
First, let me list the features that I like about AnyMusic.
Download music to listen offline
Over 1000 sites supported
High-quality audio download
Stream YouTube music & video without ads
Now, I'll specify these features for you, or you can only read the part that you want to learn more.
Download music to listen offline
You can get direct mp3 download on your mobile device, and then you can listen when you don't have an Internet connection.
Also, playing the downloaded music won't use any mobile data.
Wherever you go, you'll never stop listening to music with AnyMusic mobile app.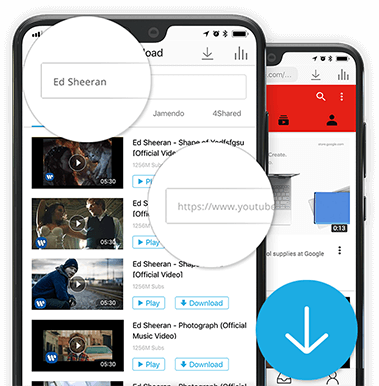 Support many different sites
AnyMusic supports music & video download from over 1000 popular sites, such as YouTube, Vimeo, Facebook, etc.
What's the best?
All these sites are embedded on AnyMusic. It's kind of like inbuilt browser, and you're able to visit any of the sites just within the app.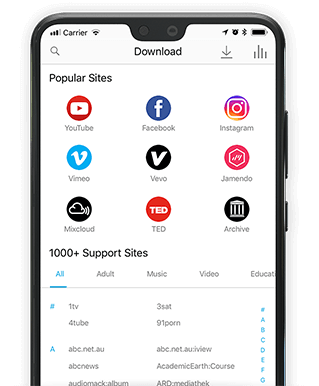 High-quality mp3 download
With AnyMusic, you can download mp3 ranged from 96k to 192k.
So you can choose the audio quality according to the storage of your mobile device.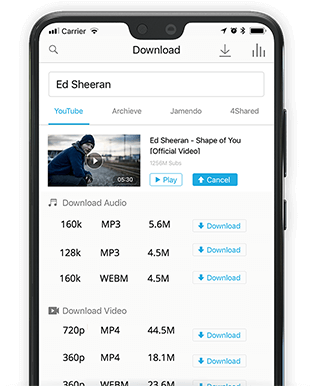 Some of you may not happy with the 192k, I know that many people take it for granted that the HIGHER the BETTER.
However, the truth is we can barely hear the difference of sound over 192k. So the mp3 192k can be good enough just for mobile.
Stream YouTube without ads
You must be bothered by the ads on YouTube unless you've subscribed to YouTube Premium (formerly YouTube Red), which costs $11.99/month.
Emmm…it's almost $150 a year!
With AnyMusic, you don't need to pay a penny to enjoy no ads on YouTube.
Even if you don't need to download free music mp3 app, AnyMusic can be a great tool to watch YouTube videos without ads.
Note: AnyMusic is also available for Windows and Mac.
2. FMF – Web App to Download MP3 on iPhone
---
You may notice that I refer Free MP3 Finder (FMF) as web app.
Due to Apple's policy to protect copyright, it's impossible to find free mp3 music download app in App Store.
But there're still options, like web app.
Any mobile browser can open the web app. It's just like browsing a web page, but the web page functions as well as independent app.
That's why I reocommend FMF with - you can download free music on mobile without installing any app.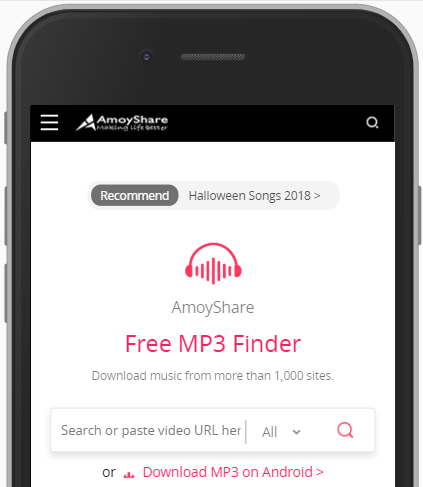 For more tutorials, click here to learn how to download free music on iPhone with Free MP3 Finder.
Conclusion
---
In this article, I've share two of my favorite apps to download songs on mobile.
AnyMusic covers the features for a good mp3 music downloader app for Android:
√ Free music download for offline listening
√ YouTube, Facebook, and 1000+ sites supported
√ High-quality mp3 download straight to phone
Beyond that, AnyMusic is also a great video downloader and YouTube ad blocker.
For iPhone, Free MP3 Finder (FMF) performs well as a web app. Whether on iPhone or Android phone, actually, you can effortlessly download music with FMF.
Anyway, both of the apps are worth a try.
If you have better solutions, just let me know in the comments. Always love to hear from you!
Ella Wilson is a music writer and reviewer from Washington, DC. She loves sharing everything about music, such as music apps, popular songs, and music culture.