The Best MP3 Converter You Should Know of 2017
"I want to extract MP3 files from online streaming websites. How to choose a perfect MP3 converter from thousands of MP3 downloading programs?
– Joe Allen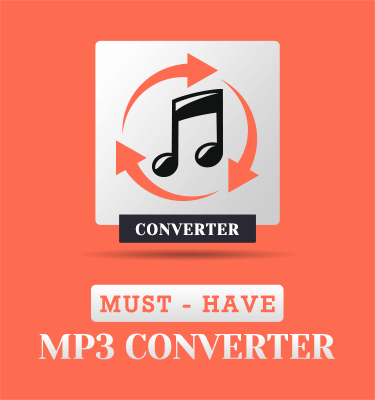 This was a comment from one of my followers.
Actually, I've received lots of comments like this
I decided to something about it.
So I spent one month to test more than 50 different MP3 converters on different devices.
This sounds a bit like looking for a needle in a haystack.
Fortunately, I finally find out an all-round MP3 converter - AnyMusic, which performs well on all devices.
Now, I'd like to show you more details about AnyMusic, as well as how to rip audio from online streaming sites.
How to Determine Whether a MP3 Converter Really Works?
Usually, we save MP3 songs or other music files on MP3 Players for offline listening, such as iPod or iPhone.
In order to have an excellent experience for music listening, a good video to MP3 converter should have following qualities.
Extracting MP3 from different types of online video formats as well as converting other audio formats to MP3.
Export MP3 with different size, quality and codec, which can be used for different types of devices accordingly.
Sync the music to the compatible devices with an easy process, without complicated steps to transfer files between devices.
That's Why I think AnyMusic is the Best MP3 Converter...
Just as the name of AnyMusic, it is a powerful MP3 converter that allows you to get any free music.
You can not only download MP3 music from YouTube and other online streaming sites, but also manage the audio files downloaded.
It is a one-stop solution for you to discover, download, convert and play free MP3 anywhere at any time.
1Discover Music without Limit

AnyMusic provides multiple music and video resources, like SoundCloud, YouTube, Facebook and More. This point makes sure users can always get the music they want.

2Download Music in Different Formats

In addition to MP3, you're able to get free song download in other file formats. What is more, you can also use the MP3 downloader and converter in fast speed.

3Add Music to iTunes

The powerful iTunes alternative AnyMusic also makes the phone synchronization easier than ever before. You can add downloaded MP3 music to iPad, iPod or other iDevices without iTunes.

4Build-in Music Player

When you have no idea about the detected music from YouTube, you can also use the inner player to check more detail about the music.
Powerful search algorithm enables to grab your desired music from online streaming sites by entering name of the songs, albums and artists.
Download free video from Facebook, YouTube and other online streaming sites with video name and link.
Preview and play downloaded video with the program before you download the files.
Easy to manage and sync MP3 to iTunes or the other devices.
The video to MP3 converter lacks of the settings for the audio parameters, such as audio codec, size of the MP3 files and more others.
Unable to add tags, artists' information to the downloaded songs from online streaming site.
How to Convert MP3 with AnyMusic?
Before getting started, let's get familiar with the main pages of AnyMusic.
| Menu | What is the feature for? |
| --- | --- |
| Find Music | Search and download free music with name of songs, artists, albums or video links, which supports YouTube Archive. |
| Free Video to MP3 | Search and download free converted MP3 files with video name or link. You can use the MP3 converter for both YouTube and Facebook. |
| Library | Download and manage all the MP3 files from YouTube and Facebook. Play downloaded files. Sync to iTunes or other devices with easy steps. |
There are two modes to convert MP3 with AnyMusic, you can use the Find Music or the Free Video to MP3.
Just check more detail about the process with the MP3 downloader as below.
Solution 1: Find Music
STEP 1Enter something about the music.
Choose the Find Music, then you can enter the name or related tags of the music. The search engine will check for the music within few seconds.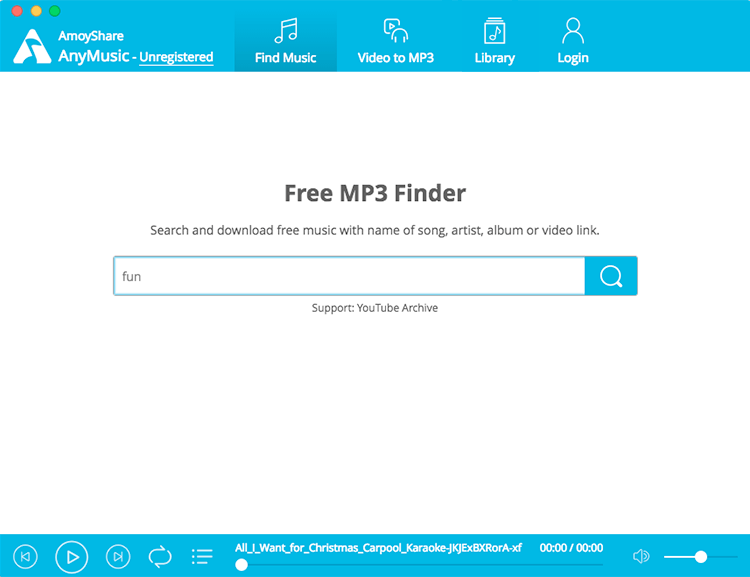 STEP 2Preview the video or audio.
Check the details about the MP3 file. The information includes name, views, date and length of the music. Click the Play button to play the music file before downloading.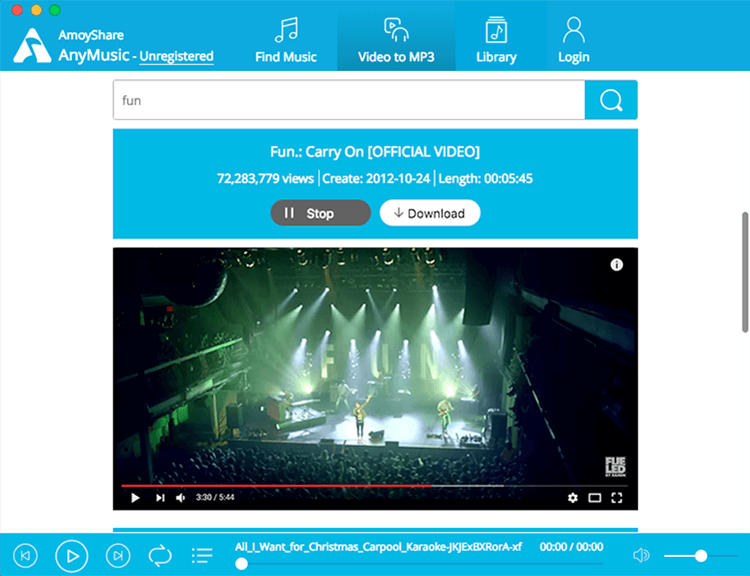 STEP 3Download the MP3 file.
When you confirm the music is the one you want, you can click the Download button to extract music from online streaming sites.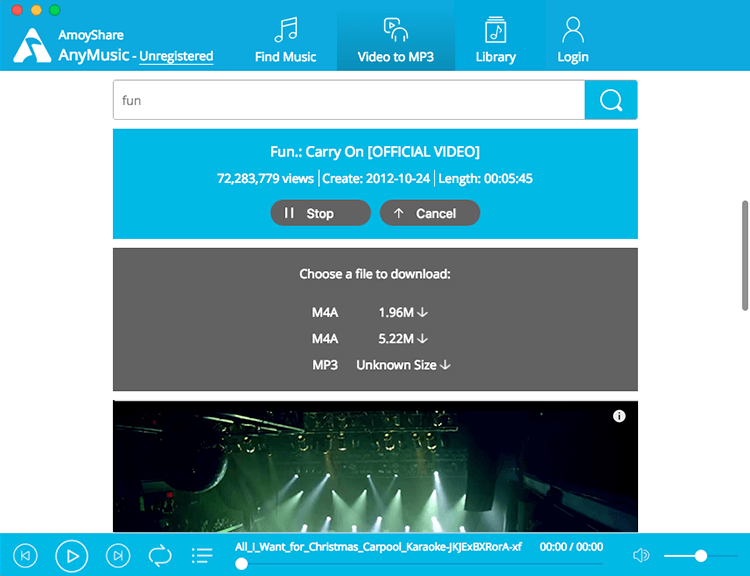 Solution 2: Free Video to MP3
STEP 1Search music with related info.
Enter the URL of the Facebook or YouTube video. As you can see in the screenshot, once you paste the Facebook link into the search bar, a result will show up on the page.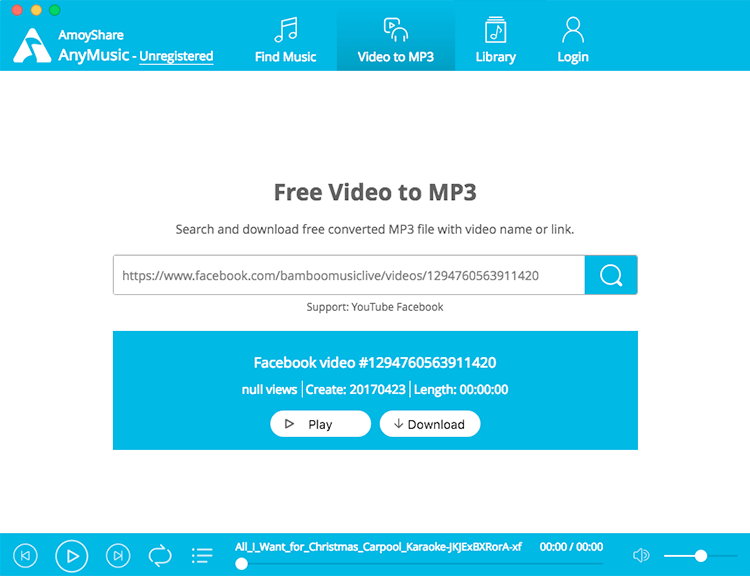 STEP 2Choose the format and download.
Select the MP3 format, and the software will automatically convert the Facebook video to MP3 within seconds. After that you can find the music in the Library.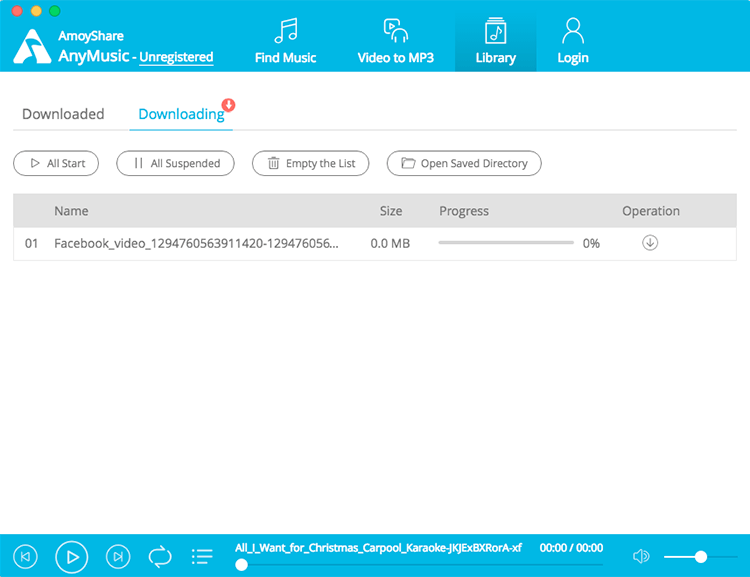 Besides, AnyMusic is a good MP3 converter for iPhone. On the page of Library, you can click on the Change Saved Directory Button to change the destination folder to sync your music to iTunes.
At Last...
Hope this guide helps!
The whole testing process is unbelievably painful, and I'm glad my readers don't need to suffer that.
As long as AnyMusic is useful for you, all my effort just pays off!
If you find any other MP3 converter that is even better than AnyMusic, don't hesitate to share it with me!
Leave a comment below if you have any further questions, I'll check and reply regularly.