Miley Cyrus Songs | List of 10 Biggest Hits (Newly Updated)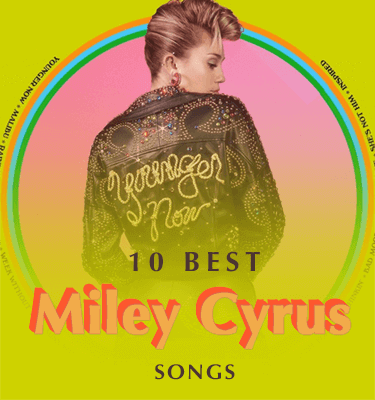 She is popular, unpredictable and controversial.
She brings her all brand new album back!
Miley Cyrus's new album Younger Now has released on September 29.
If you still remember her last two album – Bangerz and Miley Cyrus & Her Dead Petz.
You would surprisingly find Miley Cyrus seems come to her new stage now.
She seems go back to Nashville where she grew up.
Wanna see how amazing she is with her stunning music?
Today, I'm going to bring you a list of Miley Cyrus songs on the YouTube.
Get ready and hit the road!
1. Wrecking Ball
"I came in like a wrecking ball,
I never hit so hard in love.
All I wanted was to break you walls,
All you ever did was break me."
"Wrecking Ball" serves as second single of Miley's forth studio album Bangerz. It was Miley first No.1 single in the U.S Billboard Hot 100.
It topped the chart for two weeks, then "Royals" from Lorde replaced the place. But unexpected, "Wrecking Ball" knocked back to No.1 place for a week, after nine weeks.
Its MV is controversial, Miley swinging naked on a wrecking ball. But in this way, it received 19 million views within first day of release.
No matter what Miley looks like in this MV, this song is a pretty nice to hear.
2. The Climb
"There's always gonna be another mountain.
I'm always gonna wanna make it move.
Always gonna be an uphill battle,
Sometimes I'm gonna have to lose.
Ain't about how fast I get there,
Ain't about what's waitin on the other side.
It's the climb."
"The Climb" would be a song in almost every schooldays.
It's the soundtrack of the film "Hannah Montana", which is starring by Miley Cyrus.
It climbed to No.4 on the Billboard Hot 100 and received Nomination for the best song Written for Motion Picture, Television or Other Visual Media at the 52nd Grammy Awards.
The song is a power ballad with the Lyric that encourage people to confront the difficulties in life and you will learn and grow after all.
3. Malibu
"I never came to the beach, or stood by the ocean.
I never sat by the shore, under the sun with my feet in the sand.
But you brought me here and I'm happy that you did.
'Cause now I'm as free as birds catching the wind."
"Malibu" brings the "fairy" Miley back to ours sight.
It serves as lead single from Miley's 6th studio album "Younger Now". It peaked at No.10 on the US Billboard Hot 100.
Its MV and lyric depicted the relationship with Miley's Fiancé Liam Harmsworth. Dressing in all white and running, jumping and hugging her dog Enu on Malibu's beach, Miley sings softly and happily.
It's really a gentle poppy love song which I highly recommend you to add in the holiday or traveling playlist.
4. The Backyard Sessions – "Jolene"
"Jolene, Jolene, Jolene, Jolene,
I'm begging of you please don't take my man.
Jolene, Jolene, Jolene, Jolene,
Please don't take him even though you can."
"Jolene" is a song written and singed by American country music artist Dolly Parton.
Miley's cover version gives it a new meaning of life.
The instrument with Miley's beautiful and high Pitched voice makes the song heavenly.
It received 128,453,289 views on the YouTube.
5. Younger Now
"No one stay the same,
You know what goes up must come down.
Change is a thing you can count on.
I feel so much younger now."
"Younger Now" is a same name song from Miley Cyrus 6th studio album Younger Now.
In this song, you will feel the humble country-pop Miley is back, and in a more refreshing and soothing way.
Comparing to her last two albums 'Bangerz'& 'Miley Cyrus & Her Dead Petz', "Younger now" shows a more mature and expressive Miley.
There is no question that she means what she sings. We can feel her joy and comfort that she enjoying current life and relationship.
6. We Can't Stop
"Red cups and sweaty bodies everywhere,
Hands in the air like we don't care.
Cause we came to have so much fun now,
Got somebody here might get some now."
"We Can't Stop" is the lead single from Miley Cyrus' 4th album Bangerz.
It peaked at No.2 on the US. Billboard Hot 100 and got 783,341,574 views on the YouTube till now.
It got mixed reviews from music critics, for which talked about a house party and recreational drug use
Honestly, I can't agree more about the lyric: "remember only god can judge us, forget the haters cause somebody loves ya."
Do you agree with me?
7. Party in the U.S.A
"Everybody's looking at me now,
Like who's that chick that rockin' kicks.
She gotta be from otta town.
So hard with my girls not around me,
It's definitely not a Nashville party."
"Party in the U.S.A" is from Miley Cyrus' first EP The Time of Our Lives.
As the lead single from the project of Hollywood records, and when it passed from Jessie J to Miley, they adjusted the lyric to fit her personality.
This is a pop song, while the lyric reflects the resettling from Miley's hometown Nashville to Hollywood.
It's peaked at No.2 on the US Billboard Hot 100, more than that it was certified 7 times platinum by the RIAA.
8. When I Look at You
"Everybody needs inspiration,
Everybody needs a soul,
Beautiful melody, when the nights alone."
"When I Look at You" also comes from Miley's first EP The Time of Our Lives. It was soundtrack of the romantic-drama film 'The Last Song'.
However it cannot copy the commercial success of previous single, "Party in the U.S.A". It only climbed to No.16 on the Billboard Hot 100.
If you have watched the movie, you would feel more emotional to this song.
9. Adore You
"I love lying next to you,
I can do this for eternity.
You and me,
We're meant to be in holy matrimony.
God knew exactly what he was doing, when he led me to you."
"Adore You" is opening track of Miley Cyrus' 4th studio album Bangerz. It serves as the 3rd and last single by RCA records. It climbed to No.21 on the Billboard Hot 100.
It's a contemporary R&B and pop ballad which Miley express her emotion to her boyfriend at that time.
Miley's vocal delivery depicts a picture that she whispers secret of love to her dream boy's ears.
The least serious woman seems the most affectionate.
10. Week without You
"I'd go and grap my old blue jeans,
I'm sick of wearing this silly dress.
I know that I gave you my heart,
But you stomped it to the ground.
And that's what got me wondering what it's like,
To not have you around."
"Week without You" is 2nd single from Miley's 6th studio album. Since it's a new release song, it peaks at New Zealand Heatseekers at position 8 currently.
It's audio on the YouTube receives 2,457,219 views till now.
It's a goodbye song to the unsatisfying lover, with freely and cheerful tone to get rid of the wrong guy. Maybe I will miss you, but I won't tear for you anymore.
Conclusion
That's all for Miley Cyrus' songs playlist.
Do you enjoy yourselves with all the songs and their MV above?
I know the good songs of Miley Cyrus are more than the above 10.
And everyone has unique music taste, so…
If you have your own Miley Cyrus playlist, please share with me at the below comment.
I'm glad to share the wonderful music with you all!
See you soon.
Free download best Miley Cyrus songs: