Best Madonna Songs – Top 10 List of Madonna Songs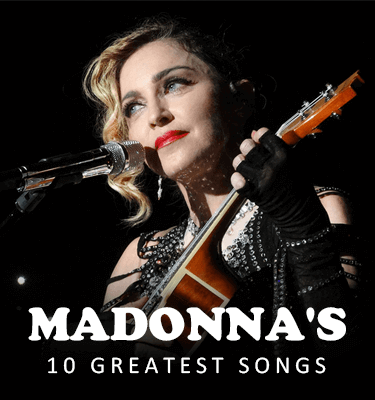 Today, what we are going to share is the top 10 Madonna songs.
Madonna is undoubtedly Queen of Pop.
She has released many successful albums.
Guinness World Records recognizes her as the best-selling female recording artist of all time.
Madonna was also listed on the 100 Greatest Artists of All Time List and the 100 Greatest Songwriters of All Time by Rolling Stone.
Why can she make such great achievements?
Maybe we can get the answer in her songs.
Now, let's move on to enjoy her musical magic.
1. La Isla Bonita
"Tropical the island breeze
All of nature wild and free
This is where I long to be
La isla bonita"
La Isla Bonita was released on 25 February 1987. La Isla Bonita means the beautiful island in Spanish. It peaked at No.1 in the UK Singles charts, also topping in many other countries, including Canada, Austria, France, Germany and etc.
Madonna performed in the music video in the Latino style. She looks beautiful and passionate in a red dress. And the song gives me a sense of mystery, as if I was sambaing in the beautiful island. How about enjoying the video together with us? And you can also get Madonna songs on YouTube.
2. Hung Up
"Every little thing that you say or do
I'm hung up
I'm hung up on you"
Hung Up was released in October 2005. Madonna wrote and produced the song with Stuart Price. It peaked at No.1 in many weekly charts, and also topped in many countries' year-end charts. And it has been sold over 9 million copies worldwide.
As a dance-pop and disco song, Hung Up was based on "Gimme! Gimme! Gimme", ABBA's hit single in 1979. It is a retro style, but still fashion, I think. Listen to the song, and imagine that you were round the dancing floor in 20th century. You will be surprised.
3. Like a Prayer
"When you call my name it's like a little prayer
I'm down on my knees, I wanna take you there
In the midnight hour I can feel your power
Just like a prayer you know I'll take you there"
Like a Prayer was released on 3 March, 1989 as lead single of the album. Still, Madonna wrote and produced it, together with Patrick Leonard. Like Madonna's many other songs, Like a Prayer was commercially successful. It was No.1 on the US Billboard Hot 100, also the seventh single of Madonna to do so.
In the music video, Madonna is beautiful and sexy. Although it aroused controversy at that time, it was successful and amazing. It was a pop rock song, but also gospel music. And its lyrics are like some kind of self- redemption. It is perfect, absolutely one of top 10 Madonna songs. Come on, you will love it!
4. Like a Virgin
"I made it through the wilderness
Somehow I made it through
Didn't know how lost I was
Until I found you"
The Sire label released Like a Virgin on 31 October 1984. Like a Virgin is considered to be some kind of legend in the music career of Madonna. It was her first No.1 single on the US Billboard Hot 100. And it was Like a Virgin that entrenched her pop culture icon's position.
The first time I heard or knew this song was in The Professional, a famous film. And after I searched for the song, I was totally crazy for it. In my opinion, it was more about breathing again except being sexy. And the melody is relaxing. Hope you will love it.
5. Vogue
"Strike a pose
Strike a pose
Vogue, vogue, vogue
Vogue, vogue, vogue"
Vogue was released on 27 March, 1990. It is a dance-pop song, also a house song, which was novel at that time. Vogue is also considered to be the milestone of dance music. Its music video on YouTube has been over 71 million views.
If you have watched the film, The Devil Wears Prada, you must have heard Vogue. It's the soundtrack of that movie.
The music video is black-and-white, which is in great retro-vogue. And we can see Madonna dancing in the video. I like that dance. And if you are interested in it, why not check the video to listen to Vogue and learn the steps.
6. Material Girl
"Living in a material world
And I am a material girl
You know that we are living in a material world
And I am a material girl"
Material Girl was the second single of the album Like a Virgin. And it was released on 23 January, 1985. In its music video, Madonna, as paying tribute to her idol, imitated Marilyn Monroe's performances in the film Gentlemen Prefer Blondes. And the video was then on the list of VH1's 100 Greatest Videos.
Although the song's name is Material Girl, it's actually a reflection on being material, I think. And it works today. In such a material world, never ever lose our true-self and always live for love. Come on for listening to it. If you have different ideas, welcome to share with us.
7. 4 Minutes
"If you want it
You've already got it
If you thought it
It better be what you want"
4 Minutes was released on 17 March, 2008 with Justin Timberlake and Timbaland for the featuring vocals, both of whom are famous American singers. 4 Minutes is a dance-pop song, but also hip hop music. It peaked at No.1 in the weekly charts in many nations, such as UK Singles, US Dance Club Songs.
As for me, I love the chorus part by Madonna and Timberlake. If you want it, you already got it… And Madonna's "tick-tock" part sounds amazing. I shared this song with my good friends, and they said that the song gave them so much energy. Now, are you ready to go?
8. Papa Don't Preach
"Papa don't preach, I'm in trouble deep
Papa don't preach, I've been losing sleep
But I made up my mind, I'm keeping my baby, oh"
Papa Don't Preach was released on 11 June, 1986, still a dance-pop song, but with moderate melody. After its releasing, it peaked at No.1 on the US Billboard Hot 100 and also the UK Singles. Its music video on YouTube has reached 50 million views.
With clear rhythm in the first part of the song, I know I will love this song. And Madonna's singing is just awesome! Most notable, in the music video, she is with short hair, wearing a slogan T-shirt, dressed in jeans, just like a tomboy. That's so cool. Want to see a different Madonna, click the video.
9. Bitch I'm Madonna
"We go hard or we go home
We gon do this all night long
We get freaky if you want"
At the first time I heard the song's name, Bitch I'm Madonna, the first word coming to my mind was WOW.
Bitch I'm Madonna was released on June 15, 2015, just two years ago. It topped No.1 in the US Dance Club Songs chart. Actually, Madonna was 57 in 2015, but we can still find that she is energetic. Time is so kind to her. Now, let's enjoy this amazing Madonna song together.
10. Don't Cry For Me Argentina
"Don't cry for me Argentina
The truth is I never left you
All through my wild days"
The original version of Don't Cry for Me Argentina was recorded by Julie Covington. And in 1996, Madonna re-recorded it as the soundtrack for the film of the same name, Don't Cry for Me Argentina. Her version then reached the top of the charts in many countries.
In fact, it is Don't Cry for Me Argentina that makes me know about Madonna. I like her expression in this song. It is touching and classic. And I have to say that the film is also well worth seeing. I bet that you will love both the song and the movie.
Conclusion
That's all we would like to share with you today.
Which song do you like the most?
If you like our recommendations, please share the song list with more people.
You can also click the download link below the video to freely download more Madonna songs.
If you have any ideas or suggestions, please don't hesitate to tell us.
Thank you for your reading.
Free download Madonna songs list: