Best 10 Love Songs for Him (Valentine's Day Playlist)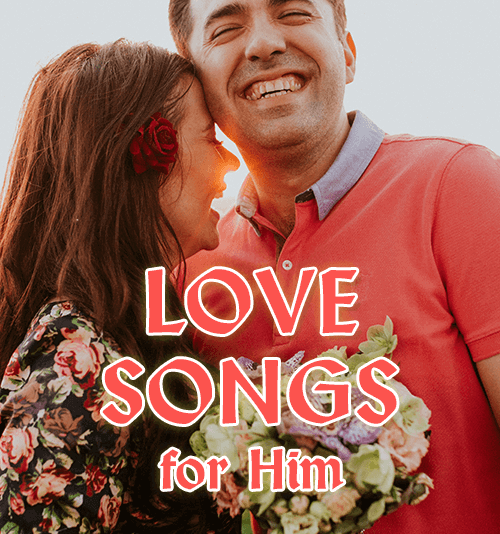 Valentine's Day is the day for you to show your love.
It can be done by watching a movie together or sending him a card.
Hans Christian Andersen once said: "Where words fail, music speaks."
Sometimes it could be hard for people to confess what's on their mind, especially for shy girls.
Today we are sharing 10 love songs for him.
So girls, here are the top 10 love songs to dedicate to your boyfriend.
Hope you can enjoy the beautiful music in romantic Valentine's Day.
1. "Make You Feel My Love" by Adele
"There's nothing that I wouldn't do
Go to the ends of this Earth for you
To make you feel my love, oh yes
To make you feel my love"
"Make You Feel My Love" is a song written by Nobel Laureate Bob Dylan. It appeared on his album, Time Out of Mind. This album won 3 Grammy Awards.
Adele's version was released as the album's fourth and final single on October 27, 2008. The most wonderful promise in the world can only be delivered by our queen of queens, Adele. Though it is slowly narrated, we can still feel the historic power.
2. "Unconditionally" by Katy Perry
"Unconditional, unconditionally
I will love you unconditionally
There is no fear now
Let go and just be free"
"Unconditionally" is famous because of the American singer Katy Perry. It was released as the second single from her fourth studio album Prism on October 16, 2013. This work is inspired by a humanitarian trip to Madagascar that Perry made in partnership with UNICEF.
The lyrics of "Unconditionally" are touching. Perry is an angel, to the letter and in spirit. Let us listen to her wonderful music.
3. "Crazy in Love" by Beyoncé
"Got me looking so crazy right now, your love's
Got me looking so crazy right now (oh, crazy)
Got me looking so crazy right now, your touch (you're in love)
Got me looking so crazy right now (love)"
"Crazy in Love" is the joint efforts by the American singer Beyoncé and American rapper Jay-Z. It is categorized in Beyoncé's debut solo studio album Dangerously in Love (2003). Rich Harrison and Eugene Record also help with the song.
The repeating lyrics vividly depict how much Beyoncé love the guy. Personally, I love this song most for it is so genuine and touching.
4. "Jump Then Fall" by Taylor Swift
"Every time you smile, I smile
And every time you shine, I'll shine
And every time you're here baby, I'll show you, I'll show you
You can jump then fall, jump then fall, jump then fall"
"Jump Then Fall" is a song recorded by American country pop singer Taylor Swift. Presented in the "Platinum Edition", this song is part of her second studio album "Fearless". As soon as it was released, it soon became a hit on many music charts, including the Billboard Hot 100.
This country love song for him is quite good. The lyrics here are filled with light-hearted melody and love. Life can be simple but unique. Love is two pairs of eyes see a future. Shall we follow Taylor and pilot our wonderful life.
5. "Kiss Me" by Sixpence None The Richer
"Oh, kiss me, beneath the milky twilight
Lead me out on the moonlit floor
Lift your open hand
Strike up the band and make the fireflies dance"
"Kiss Me" is a song recorded by American pop rock band Sixpence None the Richer. Released as a single in 1998, it reached No.2 on the Billboard Hot 100. This song became a success worldwide
The song is hailed as one of the group's best-selling single in the United States, peaking at No.2 for one week behind TLC's "No Scrubs". People like the song for many reasons, among which the pretty picture it display counts.
6. "Adore You" by Miley Cyrus
"When you say you love me
Know I love you more
And when you say you need me
Know I need you more"
"Adore You" is recorded by American recording artist Miley Cyrus. It is classified as acoustic love ballad and originated from her breakup with Liam Hemsworth.
This fantastic song is the opening track of Miley's fourth studio album Bangerz (2013) and was released as its third and final single on December 17, 2013 by RCA Records.
7. "I'm Yours" by Alessia Cara
"It cannot wait I'm sure
There's no need to complicate
Our time is short
This is our fate, I'm yours"
Unveiled in 2015, I'm Yours became an instant hit. And it appeared on the album Know-It-All. As Alessia confessed in the song, life is quite short. So we should make everyday counts and protect the ones we love.
When your boyfriend listens to this song, he got to be moved by that romantic melody. Come on, share with us your lovely story related to this song.
8. "Love Me Like You Do" by Ellie Goulding
"You're the light, you're the night
You're the colour of my blood
You're the cure, you're the pain
You're the only thing I wanna touch"
As the theme song of Fifty Shades of Grey, it is quite catchy. It won lots of prizes, including the Europe Music Award and Mainstream 40 Music Award in 2015. Also, it was nominated at the 58th Grammy Awards.
Millions of fans around the world are crazy about this song. The lyrics are so inspiring. The melody and the rhythm are so powerful.
9. "When I Need You" by Celine Dion
"Keeping me warm night and day
  When I need you
  Just close my eyes and I'm with you
  And all that I so want to give you"
Released in 1997, this song got our loving singer more famous. Celine Dion is a very talented singer. She has won 5 Grammys and 7 Billboards.
The happiest thing in the world is you are here while I need you. So, gentlemen, would you mind right here waiting. Sometimes love could be very easy.
10. "Ain't Nobody (Loves Me Better)" by Felix Jaehn ft. Jasmine Thompson
"Loves me better
Makes me happy
Makes me feel this way
Ain't nobody
Loves me better than you"
It was nominated for the Echo Award for Dance National. It also won Grammy Award for Best R&B Performance by a Duo or Group with Vocal.
Listening to the song, are you sharing the same feeling with me. Just enjoy the picturesque scenery. When the protagonists bumped into each other, does it remind you of the movie Flipped.
Conclusion
Are you satisfied with our recommendation of the greatest love songs for him.
Surely there is one of your favorites on the list.
If you have other love songs for him, we are glad to help you out.
Remember download the love songs by clicking the download link.
Please feel free to leave comments below whether you got more to suggest.
Have a great day!