Best 10 Love Songs for Her (Valentine's Day Playlist)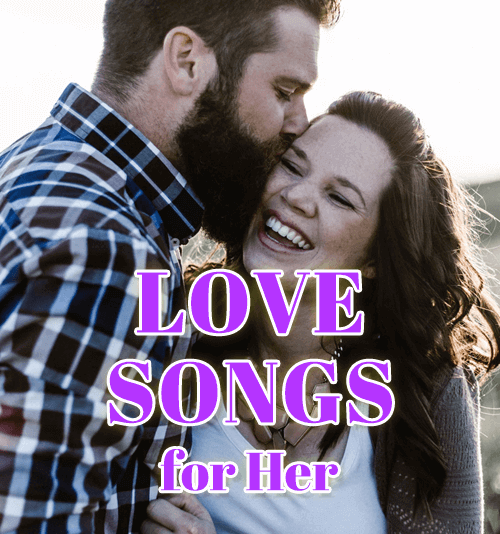 What things will be occurred to your head regarding Valentine's Day?
With no doubt, you will say a bunch of flowers or a box of chocolates.
But, Guys, don't forget a crucial catalyst, romanticlove songs, which can help you fulfill your dreams, like making a successful proposal.
Plus, songs about love do create amorous atmosphere for such a particular festival.
Here, we provide a list of love songs for her, with free download links.
Now, please come with me to enjoy ourselves into these touching songs below.
1. When You Say Nothing At All - Ronan Keating
"All day long I can hear people talking out loud
But when you hold me near, you drown out the crowd
Try as they may they could never define
What's been said between your heart and mine"
When You Say Nothing At All was well performed by Ronan Keating. As his debut single, it was released in the 1990s, reaching No. 1 in UK Singles Chart. A great number of music-lovers have been fascinated by this moving love song for its poetical lyrics.
To be honest, it was just in a few couple of weeks ago that I heard this song for the first time. It popped up as an episode in the movie, Notting Hill, which got my boyfriend and me in that romantic scene.
What we can felt at that beautiful moment was touched and satisfied. Therefore, I do recommend you guys to share it with your dream girl or girlfriend during dating. That would be pretty awesome.
2. Try - Asher book
"But I'll try for your love
I can hide up above
I will try for your love
We've been hiding enough"
Try was displayed by Asher Monroe Book, a handsome and gifted actor. It also served as an episode in the well-known movie, Fame, and has become a great hit since it was issued in 2009.
You could feel a bit of struggle and exertion lying ahead of two lovers when you listen to it, but also, you could be encouraged to be brave when facing your true love by this smoothing song about love. As the song name says, please having a try. It won't let you down.
3. You Are Beautiful - James Blunt
"You're beautiful, you're beautiful
You're beautiful, it's true
I saw your face, in a crowded place
And I don't know what to do"
You Are Beautiful was written by British singer, James Blunt, teamed with Sacha Skarbek and Amanda Ghost. It was released as Blunt's third single from his dubut album, Back to Bedlam, being welcomed by people around the world with over 1000 million clicks on YouTube. Also, it climbed to No. 1 and No. 2 in the UK and Australia separately.
In fact, this song was written for his ex-girlfriend. From the lyrics, I can feel his sadness and helplessness when he happened to encounter his ex with her current Mr. Right. But, guys, don't you think it is a meaningful song for you to win back the heart of your ex-girlfriend, if you really mean it.
4. Marry You - Bruno Mars
"Don't say no, no, no, no, no
Just say yeah, yeah, yeah, yeah, yeah
And we'll go, go, go, go, go
If you're ready, like I'm ready"
Marry You is a pop love song by American singer Bruno Mars, written by The Smeezingtons. Tons of achievements have been made by this song, like taking the 10th place on Canadian Hot 100.
Believe me! Girls will be enchanted by this love song featuring dynamic tempo. What you can feel from its lyrics is sweet and whole-hearted love. So, gentleman, if you plan to make a proposal on Valentine's Day in a promising year of 2018, it may be good background music for you to choose.
5. I'm Yours - Jason Mraz
"So I won't hesitate no more, no more
It cannot wait, I'm sure
There's no need to complicate
Our time is short
This is our fate, I'm yours"
I'm Yours is coined by talented singer, Jason Mraz, who mentioned that it was written only around 15 minutes. It has been welcomed by people in every corner of ther world since it was issued 10 yesrs ago, selling over 6 million downloads, with over 370 million viewers on YouTube.
When touching this song, lovers somehow may put down their burden. The following picture is a beautiful dream what girls including me endeavor to pursue: taking a walk with the other half on the beach to bask in the morning sun, feeling the breeze with a comfy song, and speaking "I am yours" out loud to each other. That would be super sweet and cool.
6. Right Here Waiting - Richard Marx
"Wherever you go, whatever you do
I will be right here waiting for you
Whatever it takes or how my heart breaks
I will be right here waiting for you"
Right Here Waiting is a song by American singer RIchard Marx, released in 1989. It was a worldwide hit, topping charts around the world, the U.S. included, taking the lead (No. 1) on the Billboard Hot 100. Besides, it has caught numerous viewers' eyes, over 157 million.
To tell you the truth, it serves as one of top 10 love songs in my heart, and has been put into my wedding playlist. If you love a girl, you could probably utilize this song to tell her that you will always by her side and on her back no matter how tough the life is. And you won't leave her until the end of the day.
7. My Love - Westlife
"So I say a little prayer
And hope my dreams will take me there
Where the skies are blue
To see you once again, my love"
My love is played by Irish boy band Westlife, issued in 2000. It debutted at top 1 the UK Singles Chart, and was the best seller single of 2000. It was one of their most top-notch songs to date, with over 135 million viewers on YouTube.
Its graceful melody, quite catchy and touching, really speaks to my heart. As one of classical love songs known to most young generation, it really makes me feel sweet when touching it. Lovers will definitely enjoy every second of the song when listening to it together on a romantic day.
8. You Give Me Something - James Morrison
"Cause you give me something
That makes me scared alright
This could be nothing
But I'm willing to give it a try"
You Give Me Something is a song by James Morrison, released in 2006, peaking at No. 5 on the UK Singles Chart, regarding as his first top 10 hit.
This song, I have to say, produces great chemical reaction in my mind. Its melodious and joyful tunes give me deep impression, so whenever this song is being sung, I cannot help but sing along with it. Besides, the lyrics are utterly motivating and inspiring.
9. Wonderful Tonight - Eric Clapton
"I feel wonderful because I see
The love light in your eyes
And the wonder of it all
Is that you just don't realize how much I love you"
Wonderful Tonight is a nice ballad written by Eric Clapton in 1976. There was a romantic story behind this song. It was created while Eric Clapton waiting his dreamboat, Pattie Boyd, to get ready to attend Paul McCartney's annual Buddy Holly party.
Well, the tempo and the lyrics of this song are so subdued and realistic that I hardly can remove my earphones. It is a perfect fit in some certain kind of atmosphere, including wedding anniversary, to record that beautiful moment.
10. Maybe - Jay Sean
"Everyday patiently wait
Feeling like a fool but I do anyway
Nothing can feel as sweet and as real
As knowing I wasn't waiting in vain"
Maybe is a single by Jay Sean from the album, My Own Way, coming out in 2008. It peaked at No. 1 on the Japanese Airplay Charts, and reached Top 20 in the UK Singles Chart. Jay Sean mentioned that the melody occurred to his mind when he was driving car.
I must say that the song is not only sentimental, but enthusiastic as well. Its lyrics describe how a boy is caught up on a girl and how much he longs for receiving focus from his dream girl. It can serve as a good tool to tell your girl you miss her and you care about her so much.
Conclusion
If you guys have a crush on any romantic love songs for her we share above,
Please go and download it without hesitation.
I know, everyone has his own taste.
Would you mind to share your own playlist of love song.
Please feel free to leave a comment below.
Looking forward to receiving a message from you!
Have a nice day!