Lana Del Rey Songs | Free Download Top 10 Hits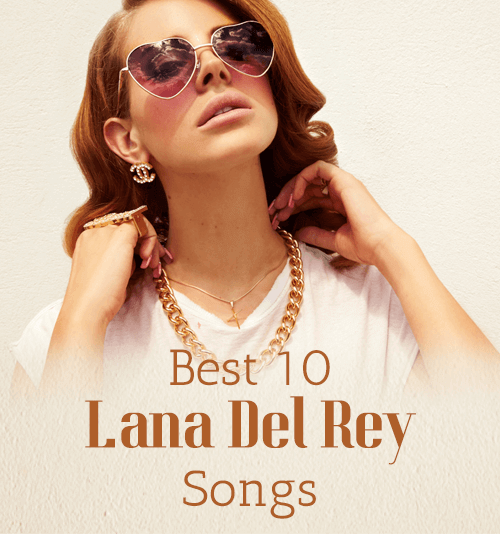 Elizabeth Woolridge Grant, known professionally as Lana Del Rey.
You may have heard her gorgeous voice from Young and Beautiful.
You know what?
Lana Del Rey began to write songs since she was only 18.
If you don't know about her, that's ok.
After listening to her music, you'll be impressed by her special style.
Wanna take a shot?
Now, let's enjoy the top 10 Lana Del Rey songs.
1. Young and Beautiful
"Will you still love me
When I'm no longer young and beautiful
Will you still love me
When I got nothing but my aching soul
I know you will, I know you will"
"Young and Beautiful" is a song written by Del Rey and Nowels and used for the soundtrack to the drama film The Great Gatsby (2013).
Lyrically, "Young and Beautiful" shows a young lover's apprehension about whether love can last. The song reached top 10 in Australia and broke into the Billboard Hot 100. It also peaked at No.3 on the Hot Rock songs chart.
Her voice is perfect for the song. I'm sure after you hear it for one time, you'll feel something just like what I felt. And you'll hear it again and over again unconsciously. It's a nice music before bedtime. Download and enjoy it!
2. Summertime Sadness
"Kiss me hard before you go
Summertime sadness
I just wanted you to know
That baby you're the best"
"Summertime Sadness", a trip hop ballad song released on June 22, 2012. The song reached No.1 in Poland, Ukraine and America. It helped Del Rey break into the US Hot Dance Club Songs chart. And its music video gained success on YouTube.
The song is written by Lana Del Rey when she was depressed. The lyrics are simple but sincere, it's full of sadness. It can easily move you to tears if you hear the song before sleeping.
3. Love
"You get ready, you get all dressed up
To go nowhere in particular
Back to work or the coffee shop
Doesn't matter cause it's enough
To be young and in love"
"Love" was written and produced by Lana Del Rey as the lead single from her fifth studio album Lust for Life (2017). Love debuted at No.44 on the Billboard Hot 100. It also debuted at No.2 on Hot Rock Songs.
It's an enchanting mid-tempo ode to the hope of youth and love. It reassures the listener that love still can conquer everything. It had been covered into many versions, and we can feel the song is warm through its lyrics.
4. Ride
"I drive fast I am alone in the night
Been tryin' hard not to get into trouble
But I've got a war in my mind
So, I just ride"
"Ride" is a song from her third extended Play (EP) Paradise (2012). It's a ballad that thematically involves parental problems, alcohol consumption and loneliness.
The song opens with an audible inhalation, before Del Rey gushes out "I've been out on that road." Critics said "Ride" elevated Del Rey to the soul pop levels of singers like Adele. Do you agree with it?
5. Dark Paradise
"Everytime I close my eyes
It's like a dark paradise
No one compares to you
I'm scared that you won't be waiting on the other side"
The song was released on March 1, 2013, as the sixth and final single from Born to Die. Billboard said about the song's lyrics "Del Rey once again declares her undying love for her bad-boy lover."
Listen to the song, it will make you feel like sleeping. Maybe that's why the song draws the fan's attention. Anyway, the song topped at No.5 after releasing and reached No.45 in Official German Charts. Just feel the magic!
6. West Coast
"I can see my sweet boy swayin
He's crazy y Cubano como yo my love
On the balcony and I'm saying
Move baby, move baby, I'm in love
I'm in love (I'm in love)"
This is a melancholy love song that depicts a woman torn between love and ambition. It debuted at NO.17 on the Billboard Hot 100, while also reached No.26 on Rock Airplay chart.
Personally, I think "West Coast" is a song can free your mind. It sounds not that hard compare to her other songs. When you listen to the song you feel like you've been taken to the West Coast.
7. Born to Die
"Come and take a walk on the wild side
Let me kiss you hard in the pouring rain
You like your girls insane
Choose your last words
This is the last time
'Cause you and I, we were born to die"
"Born to Die" is the second studio album and major label debuted by Lana Del Rey. The album debuted at No. 2 on the US Billboard 200. "Born to Die" reached No.1 on international record charts.
The music video was awarded for best international music video. The song talks about a failure relationship with her ex-boyfriend. They love each other but they just can't go on… But she wrote the song in hope of everyone get their true love.
8. Lust for Life
"They say only the good die young
That just ain't right
'Cause we're having too much fun
Too much fun tonight yeah
And a lust for life and a lust for life
Keeps us alive keeps us alive"
"Lust for Life" was released on July 21, 2017 and featured Canadian singer The Weeknd. The song achieved worldwide success. It was peaked at No. 1 on US Billboard 200 and so on.
Their pure voice sounds like come from a faraway place and free listeners' mind.
Everyone have their own dreams, create their own life path, and you will be rewarded for following your passion.
Yes, it's dreams that wakes you up every morning, isn't it?
9. Burning Desire
"I've got a burning desire for you, baby
I drive fast, wind in my hair
I push you to the limits
'Cause I just don't care
I've got a burning desire for you, baby"
"Burning Desire" was noted as the best single in 2011 by Guardian. It's a tragically-themed love song. Del Rey used her low but sexy voice to express her burning desire for her love one. We can strongly feel it by the "burning" lyrics.
Why the music video released on Valentine's Day? The video below tells you the truth. Click it now!
10. National Anthem
"Tell me I'm your National Anthem
Red, white, blue's in the skies
Summer's in the air and baby
Heaven's in your eyes
I'm your National Anthem"
The song serves as the fifth single of the album Born to Die. It compares National Anthem to the constancy of love. The song topped at No.37 on the US Rock Songs chart and many other charts in the world.
What's more, in the music video of this song, Lana acted as Jacqueline and pays tribute to Marilyn Monroe. It is worth for you to see. Is there a person that makes you walk through fire for?
Conclusion…
That's all about the top 10 Lana Del Rey songs.
Do you find the ones that touch you most?
If so, remember to add them to your playlist, and don't miss the free download links.
You may have different ideas about the top 10 song by Lana Del Rey.
It's totally fine, and we'd love to hear what you think.
Just leave a comment to us.
Don't worry if these songs don't hit off with you, you can find more recommendations from the related articles below.
Lana Del Rey songs download: