Free Download Lady Gaga Songs (Top 10 Hit Singles)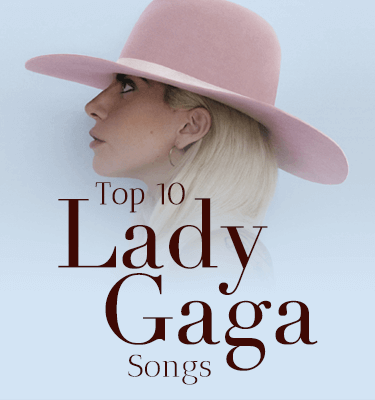 When it comes to Lady Gaga, what pops into your head?
Her catchy songs?
Her distinctive clothing?
Her exaggerated high heels or her dramatic dance?
Undoubtedly, Lady Gaga has a great influence on pop music.
She has received numerous accolades and awards worldwide due to her unique music style.
Today, we are going to listen to the top 10 Lady Gaga hits.
Now, get ready for the musical journey!
● Lady Gaga All Hit Songs Download
No.1 Just Dance
The song lyrics describe marvelous experience in a party; so to speak, this single gave Lady Gaga hope for her musical career when she went to LA to do her own music.
"Just Dance" was Lady Gaga's first hit single, dropped on streaming services on April 8, 2008. This hugely successful dance pop had put Gaga into the worldwide spotlight.
The song peaked at No.1 on the US Billboard 100. It has received 228,462,645 views on YouTube up to now. In addition, this single has sold 790, 0000 copies in the whole world.
No.2 Poker Face
"Poker Face" created a catchy track and soon became the champion single in 20 countries after it was released. "Poker Face" won the fifty-second Grammy Award for Best Dance Recording on January 31st 2010. Also, "Poker Face" broke the UK single chart of reigning week number single record. It was Lady Gaga's hit single.
In the music video, Lady Gaga picked up a couple of eye-catching outfits, including diving suits made by her; it continued the music style of Lady Gaga.
Impressively, its melody lingered in my mind for a long time when I first heard the song.
No.3 Million Reasons
Lady Gaga's fifth studio album "Joanne" perhaps marked a serious departure for a pop star. She ditched the style that initially made her a household name. "Million Reasons" released on October 6, 2016.
The song won the top weekly song list of iTunes downloads in US. Also it reached the top fourth on the US Billboard 100, and it has been the sixth best single sold in America so far in 2017.
I heard the song in a coffee shop, I was deeply touched, and it made me to believe that the Lady Gaga we knew was back.
No.4 Telephone
Lady Gaga and Beyoncé collaborated in writing "Telephone". Dynamic rhythm and disco retro element of combination was the biggest highlight of the song. "Telephone" ranked third highest on the US Billboard 100. The song has received 284,442,517 views on YouTube up to now.
When I first listened to this song on TV shows, I immediately fell in love with its excellent rhythms. You must have the same feeling with me.
No.5 Bad Romance
"Bad Romance" was certified gold on the song list of 16 countries. This single won the fifty-third Grammy Award for Best Female Pop Vocal Performance and Best Music video in 2011. "Bad Romance" became the fastest hit video in five years since YouTube was founded. Now, "Bad Romance" has 861,443,717 views on YouTube.
Lady Gaga adapt the popular music melody of 1990s, which made this song more varied. Come and enjoy this song!
No.6 Born This Way
"Born This Way" issued on May 23, 2011. It expressed Lady Gaga's creative intention of being unaffected by anyone and born this way. The song won the top of iTunes downloads in 23 countries. Meanwhile, it won the eighteenth MTV European Music Award for Best single.
"Born This Way" has received 214,447,945 views on YouTube so far. In my point, this song delivers positive energy and always makes me feel inspirational.
No.7 Check to Check
Lady Gaga collaborated with legendary Tony Bennett to released Jazz Album "Cheek to Cheek". The album won the fifty-seventh Grammy Award for Best Traditional Pop Vocal Album. That was a successful cooperation.
In this song, Lady Gaga sang jazz to its own style, it was a laudable attempt. I was really surprised to see two musical legends perform on the same stage.
No.8 The Edge of Glory
The song is the third single of Lady Gaga's album "Born This Way", released on May 9, 2011. Also it ranked third highest on the US Billboard 100. "The Edge of Glory" adds the rarely seen Sax style to pop tracks. The theme of the song is to commemorate her grandfather and remind people to value what they have.
The lyrics, "I'm on the edge of glory" make me full of energy. Whenever I feel helpless, I will listen to this song. Lady Gaga always sings magical songs and captures people's heart.
No.9 Do What U Want
"Do What U Want" was made by Lady Gaga and the American famous R&B songwriter R.Kelly, it was released on October 21, 2013. What's more, "Do What U Want" had topped the iTunes download list in 117 countries and regions by October 22, 2013.
Lady Gaga had her own thoughts, dreams and feelings in this song. "Do What U Want" was well received, and the critics praised the song was creative. I think her voice in this song sounds like Christina Aguilera. Do you agree with me?
No.10 The Cure
This latest single marks the return of Lady Gaga. "The cure" became popular since its release on April 14, 2017. The song has made quite a few achievements on songs list in several countries.
Lady Gaga also performed this single at the Coachella for the first time. "The Cure" has received 31,533,922 views on YouTube so far. The melody of "The Cure" is brisk and the song lyrics are tinged with sadness. Amazing!
● Lady Gaga Albums
Lady Gaga has released 4 studio albums, including The Fame (2008), Born This Way (2011), ARTPOP (2013), Cheek to Cheek (2014) and Joanne (2016).
When it comes to her latest album Joanne, there is a story behind this title. Gaga never met her aunt, Joanne Stefani Germanotta, because Joanne died before she was born. However, Joanne influenced a lot on Gaga's family and her. Gaga's parents opened a restaurant called Joanne's Trattoria in New York, Gaga tattoed the date of Joanne's death on her left biceps, and this time Gaga also named her album as Joanne. Now you know how important Joanne means to this family.
Tips: To get Lady Gaga albums free download, you just need a software like AnyMusic. Let's me show you how as follow.
Let's take the example of downloading Lady Gaga  Joanne full album YouTube playlist. Firstly, I need to paste the YouTube playlist link to AnyMusic. Then, I can either click "All" to download the whole playlist or pick up some of my favorites to download at a time.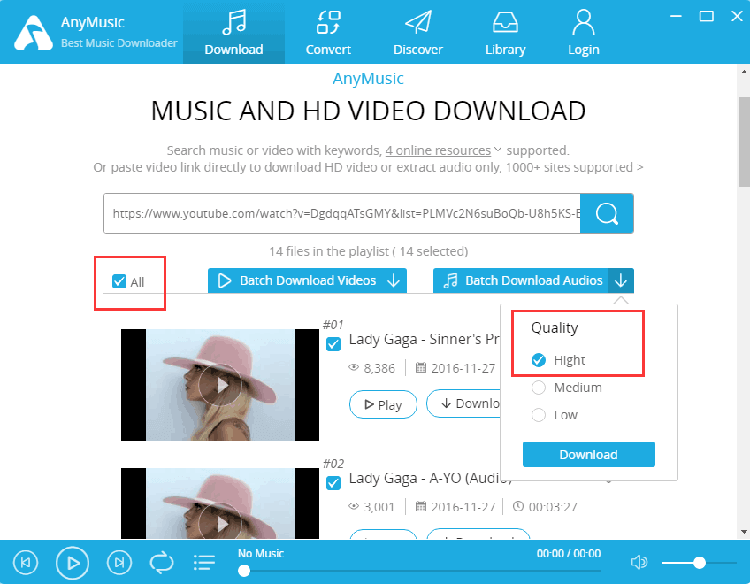 ● Lady Gaga Tour 2018
Here is a list of Lady Gaga Joanne World Tour in February. Discover more Lady Gaga concert details and information at her official site.
| | | |
| --- | --- | --- |
| Date | Arena | Location |
| FEB 4 | The O2 | London, United Kingdom |
| FEB 6 | Manchester Arena | Manchester, United Kingdom |
| FEB 8 | The O2 | London, United Kingdom |
| FEB 11 | Hallenstadion | Zurich, Switzerland |
| FEB 13 | LANXESS Arena | Koln, Germany |
| FEB 15 | Ericsson Globe | Stockholm, Sweden |
| FEB 17 | Royal Arena | Copenhagen, Denmark |
| FEB 20 | AccorHotels Arena | Paris, France |
| FEB 21 | AccorHotels Arena | Paris, France |
| FEB 23 | Mercedes-Benz Arena | Berlin, Germany |
● More Information
Official Site: https://www.ladygaga.com
Wikipedia: https://en.wikipedia.org/wiki/Lady_Gaga
YouTube channel: https://www.youtube.com/channel/UCNL1ZadSjHpjm4q9j2sVtOA
Facebook: @ladygaga
Twitter: @ladygaga
Instagram: @ladygaga
Conclusion
The above are my collections of Lady Gaga top 10 hits.
Which one is your favorite?
Did you already download it?
Just a reminder, when you get into the download page, you can also search for other songs by Lady Gaga.
If you have other recommended Lady Gaga songs, then don't forget to leave your comments below.
Finally, thanks for you reading!