Justin Timberlake Songs | List of Best 10 Singles (Newly Updated)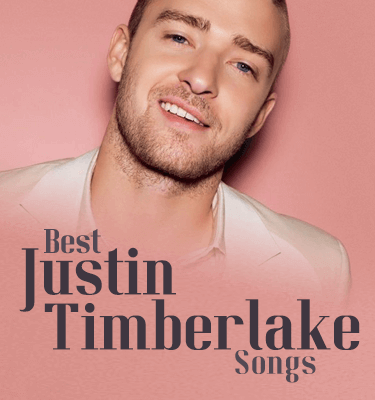 Justin Timberlake is considered to be one of the most influential artists of today's pop culture.
He has won 10 Grammy Award and 4 Emmy Award.
What is the identity you know most about all his identities?
Singer? Actor? Producer? Businessman? Husband?
Today, let's learn how success he is in the music world.
I'm going to share the top 10 Justin Timberlake songs with you.
Let's see whether your favorite one is in the list.
About Justin Timberlake
Justin Randall Timberlake (born January 31, 1981) is an American singer-songwriter, actor and record producer. Some of you may know Justin Timberlake wife is Jessica Biel , a Hollywood actress. This Suit & Tie singer married her in 2012, and they welcomed their baby Silas Randall Timberlake into the world in April 2015.
Justin used to be one of the youngest members of NSYNC. NSYNC was an American boy band formed in Orlando, Florida in 1995. It consisted of 5 members, including Justin Timberlake, JC Chasez, Chris Kirkpatrick, Joey Fatone, and Lance Bass. They've sold more than 70 million albums, while they didn't release new materials since 2002. At that time, Justin gradually became a successful solo singer. In 2007, this boy band was officially broken up.
By the way, Timberlake is about to perform in Super Bowl LII halftime show on Feb. 4 in Minneapolis. That will be Timberlake's 3rd time performing at the game. He previously performed at Super Bowl XXXV in 2001 with his band NSYNC.
Top 10 Best Justin Timberlake Songs
Here, I listed the top 10 Justin Timberlake songs of all time. Don't hesitate to free download any of them by clicking the link below the YouTube video.
1. Can't Stop the Feeling
"Can't Stop the Feeling!" was released as a single on May 6, 2016. It is also a soundtrack to the film Trolls.
The single reached No.1 on the US Billboard Hot 100, opening with 379,000 downloads in its first week. And it was the best-selling song of 2016 in the US. As of 2017, it has sold 3 million downloads in the country.
The song is filled with upbeat rhythms, and it wants to pass happiness to people. Listening to the song, I couldn't help dancing to the music. What about you?
2. Mirrors
"Mirrors" peaked at No.2 on the Billboard Hot 100 and NO.1 on the Mainstream Top 40 in the United States. It was also ranked at No.6 on the Year-End Hot 100 chart.
The song was met with positive reviews by critics upon release and won a Grammy Award nomination for Best Pop Solo Performance.
Lyrically, Justin Timberlake wrote this song for his wife and wanted to express his declaration of love.
If you're lucky enough to find your partner or haven't found it yet, let's hear this song together.
3. True Colors
"True Colors" was sung by Justin Timberlake and Anna Kendrick. It was the soundtrack of the film troll. This song is a cover for Cyndi Lauper's True Colors.
The true voice, simple strings, and positive lyrics made this song go straight to the heart and touch the deepest, unspoken emotion.
When I heard it, I couldn't help listen to it again and again.
4. Cry Me a River
"Cry Me a River" was released as the second single from Justified. The song was ranked at No.3 on the Billboard Hot 100 charts.
A Rolling Stone reviewer called the song a "breakup aria". Lyrically, "Cry Me a River" is an R&B song about a brokenhearted man who moves on from his past.
In the face of a breakup, many people's first reaction is to be negative. And this song use "cry me a river" to destroy any emotional defense.
If you have emotional problems, let's listen to it together.
5. What Goes Around…Comes Around
"What Goes Around ... Comes Around" release as the third single from FutureSex/LoveSounds. It became Timberlake's third consecutive No.1 hit on the Billboard Hot 100.
The song won Best Male Pop Vocal Performance at the 50th Grammy Awards, where it also received a nomination for Record of the Year.
The song is about betrayal and forgiveness. After hearing the song, many people insisted that it is similar in meaning to "Cry Me a River".
If you want to know the difference between two songs, download it and listen.
6. Sexy Back
"Sexy Back" was released on July 18, 2006. The song became Timberlake's first No.1 single on the Billboard Hot 100, staying 7 weeks at the top spot. It also topped other charts, including the Mainstream Top 40, Hot Dance Airplay, and Hot Digital Songs.
The song adds a lot of low-pitched beats. After listening to this song, I felt the other side of Justin Timberlake.
7. Love Never Felt So Good
"Love Never Felt So Good" is a mix of Michael Jackson and Justin Timberlake.
The song became Michael Jackson's 29th top 10 single and Justin Timberlake's 16th on the Billboard Hot 100.
If you happen to be a fan of Michael Jackson, download this song immediately!
8. Suit &Tie
"Suit & Tie" was premiered on YouTube on January 13, 2013, and was released on January 15. It features vocals from American rapper Jay-Z. The song went on to peak at No.3 on the US Billboard Hot 100.
From its lyrics, the song is an ode to the joys of "being handsome and well-dressed".
This song is full of happy beats. You can try it.
9. Rock Your Body
"Rock Your Body" peaked at No.2 on the UK Singles Chart and became the third single from Justified to do so, following "Like I Love You" and "Cry Me a River". It also charted at No.5 on the Billboard Hot 100.
If you're a fan of Justin Timberlake, you can't miss this song.
10. TKO
"TKO" reached No.36 on the US Billboard Hot 100 and No.9 on the Hot R&B/Hip-Hop Songs (Billboard).
Lyrically, "TKO" leans heavy on boxing metaphors, which means a technical knockout, to describe the feeling of being knocked out when he sees his ex out with another guy.
The song is full of the R&B style. If you're a fan of the R&B style, you definitely can't miss this sing!
Justin Timberlake New Album
Finally, the wait is over! Timberlake's 5th studio album Man of the Woods will drop February 2nd, two days before Timberlake performs at the Super Bowl LII Halftime Show. He said that this album was inspired by his son, wife and his home state of Tennessee.
Right now, 2 singles of the upcoming studio album has released. They are Filthy and Supplier. You can subscribe Timberlake's YouTube channel and get the latest news.
Also, if you would like to download this new album or other Timberlake YouTube Playlists, you should try AnyMusic. AnyMusic allows you to download all videos from a YouTube playlist at a time.
You just need to copy and paste the YouTube playlist link ( https://www.youtube.com/watch?v=gA-NDZb29I4&list=PLmKpzlX7eFr8fDxf7epdYnovISolsISre) to the search bar of AnyMusic, and click "All" then you can enjoy offline listening. By the way, you can also convert these music videos to audio formats within 1 application!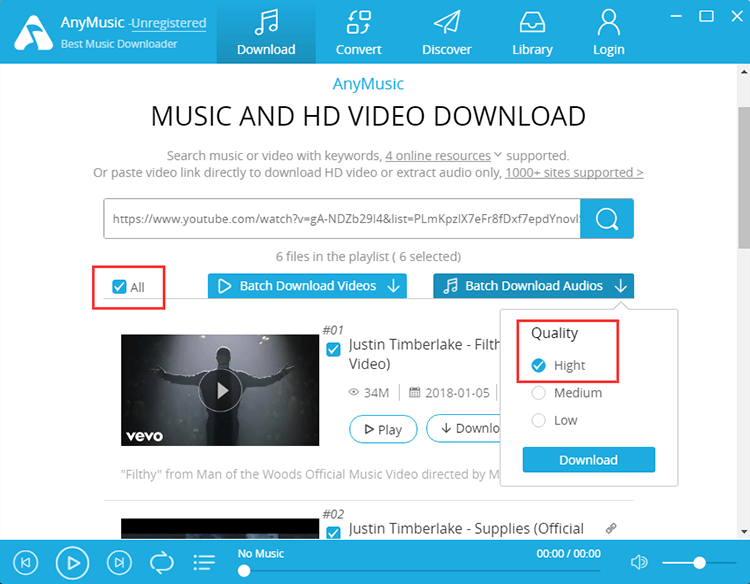 Justin Timberlake Tour 2018
Here I listed Justin's tour plan in upcoming March. For more Justin Timberlake Tour 2018 information, chick here.
| | | |
| --- | --- | --- |
| 03.13.18 | Toronto, ON | Air Canada Centre |
| 03.15.18 | Toronto, ON | Air Canada Centre |
| 03.18.18 | Washington, D.C | Capital One Arena |
| 03.21.18 | New York, NY | Madison Square Garden |
| 03.22.18 | New York, NY | Madison Square Garden |
| 03.25.18 | Newark, NJ | Prudential Center |
| 03.27.18 | Chicago, IL | United Center |
| 03.28.18 | Chicago, IL | United Center |
| 03.31.18 | Cleveland, OH | Quicken Loans Arena |
More information:
Justin Timberlake official site: https://www.justintimberlake.com
Justin Timberlake Facebook: @justintimberlake
Justin Timberlake Twitter: @jtimberlake
Justin Timberlake Instagram: @justintimberlake
Justin Timberlake official YouTube channel: https://www.youtube.com/user/justintimberlakeVEVO
Justin Timberlake Wikipedia: https://en.wikipedia.org/wiki/Justin_Timberlake
Well…
That's all for today's post.
Have you found out the song you like?
Perhaps you have different idea about the best 10 Justin Timberlake songs.
Let me know in the comments.
If you have any problem while downloading above songs, feel free to drop a comment. And I'll reply to you as soon as possible.