Julia Michaels Songs| Top 10 Julia Michaels Songs MP3 Download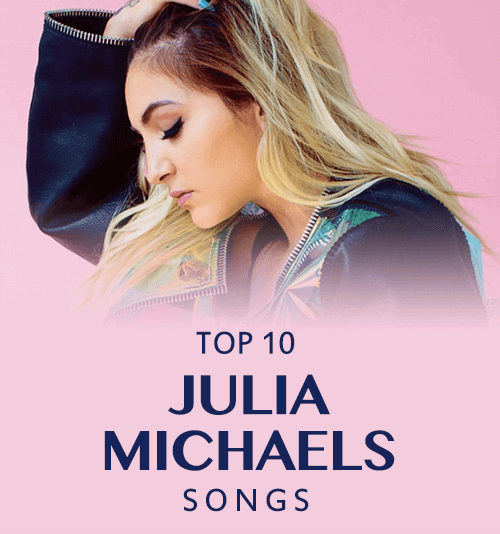 Julia began singing at the age of 12 and writing songs at 14.
She started to write in the Hollywood Pop Circuits when she was 16.
At 19, this talented girl met Lindy Robbins and they wrote a song together.
She performed with Kygo, a Norwegian musician, at the closing ceremony of the 2016 Summer Olympics in Rio.
In 2017, she was nominated for New Artist of the Year of American Music Awards.
What's more, she was nominated for 2018 Grammy Best New Artist.
What do you know about this remarkable singer?
Have you ever heard of her songs?
Today, we will share the top 10 Julia Michaels songs with you.
1. Issues
"'Cause I got issues, but you got 'em too
So give 'em all to me and I'll give mine to you
Bask in the glory, of all our problems
'Cause we got the kind of love it takes to solve 'em"
This song received a Grammy Award nomination for Song of the Year at the 60th Annual Grammy Awards. In the UK, the song has peaked at No.10, becoming Michaels' first top 10 hit in the country. Also, song has sold 889,000 copies in the US as of July, 2017.
This is an upbeat song about people got "issues" when they are in relationships. Did you ever judge people you love? We can get an answer from the song. If we have enough love for each other, we can get over all the issues.
2. I Miss You
"I miss you, yeah, I miss you
I miss you, yeah, I miss you, oh, I do
I miss you, yeah, I miss you
Though I'm tryin' not to right now"
This is a song by British electronic music group Clean Bandit, featuring vocals from Julia Michaels. It was released to digital retailers on 27th, October, 2017. The song peaked at No.6 on the UK Singles and No.9 on the US Hot Dance/Electronic Songs (Billboard).
"I wrote this one when I was at the height of an emotional roller coaster. When I was at the top, this flew out of me." said Julia from her Facebook. "I Miss You" is about missing a romantic partner of a relationship. But she couldn't handle this collapse well and she's still attaches to this man.
3. Carry Me
"Could you carry me
Back into your heart again
Could you carry me
Right into your distant hands"
The song is on Kygo's debut album, Cloud Nine. It features vocals and co-written by Julia Michaels. This song was performed by Julia and Kygo in the Summer Olympics closing ceremony in the Maracanã Stadium on 21th, August, 2016.
The song reached No.16 on the US Hot Dance/Electronic Songs (Billboard). Watching the music video of the song, I feel the energy of young people and the joy of playing sports. How often do you exercise in the rush of the modern life?
4. Help Me Out
"Help me out
'Cause I don't wanna do this on my own
Help me out, out
Help me out, 'cause I need something up to calm me down"
The song was written and composed by Maroon 5 frontman Adam Levine, Julia Michaels, Thomas Wesley Pentz, King Henry and Justin Tranter. It was released by Interscope Records on 6th, October, 2017.
The music video of the song is so special. I was attracted by it and watched for many times. I think you will like this neon light themed video, too. Besides, their voices sound really nice together. What do you say?
5. Uh huh
"Uh-huh! I think you're movin' in too close
But I think that it's my body wanting it the most, like
Uh-huh! I don't know what it is I feel
But I know it's my emotions going in for the kill, like"

The song was written by Michaels and Justin Tranter, along with the song's producers, Mattias Larsson and Robin Fredriksson. It was released on 2nd, June, 2017 and is the 2nd track of her mini-album, Nervous System. 
This song shows a battle between a woman's mind and heart. I feel the passion and panic. She has fiery feelings for a man. On the other hand, she wants to be rational and take it slow. Have you got this kind of feeling before?
6. Worst In Me
"But maybe it's the worst in me
That's bringing out the worst in you
I know we can fix these kinks
But the worst in me doesn't want to work on things"
"Worst In Me" was written by Michaels, Justin Tranter, Mattman and Robin. The song was released on 28th, July, 2017. This song catalogs the envy and spite that seep slowly into a relationship. 
"(I'm) basically talking about my last relationship and why it couldn't work and why things just sorta fall apart, because you're kind of afraid of good things and you just sabotage them all the time." said Julia on The Late Late Show with James Corden. Sometimes people struggle a lot in love, do you agree?
7. Don't Wanna Think
"Well, I don't wanna think about you right now
Don't wanna think about you right now
'Cause if I did, it would be damn bad
And I'd show up at your house"
This track was written and produced by Julia herself, unlike the other tracks of the EP that were made with the help of other collaborators. The song is about an emotional insight of not being over the ex.
It's never easy to forget someone. She struggles to forget her ex-boyfriend, but failed. She keeps thinking about him, calling and texting him at night. Listen to the song, and you will feel the sadness of her.
8. Make it Up to You
"So, let me make it up, make it up, make it up, make it up to you
Let me make it up, make it up, make it up, make it up to you
Let me make it up, make it up, make it up, make it up to you
However, whenever, whatever you want me to"
As the majority of the tracks of the Nervous System, this song was written by Julia herself with the help of her long-time collaborator Justin Tranter and Swedish duo Mattman & Robin, who also produced it.
"Make it Up to You" is about the nastiness of Julia's behavior towards her lover. She loves to mocking him and keeping him on his toes, but she eventually feels sorry for it. Now you know why she sang "let me make it up to you".
9. Born To Party
"All night, lookin' tight
Everybody feel it alright
So, turn it up on a Friday
I-I-I'm born to party"
"Born To Party" is the debut song written and recorded by Julia Michaels when she was only 16 years old. She gained attention when her single was featured on MTV's hot TV show The Hills.
The song, with its fun and steady dance beat, has become a quick success among the viewers. Julia is talented in music, truly. Young people were all born to party. They sing, they dance, and they laugh. The music will cheer you up!
10. Just Do It
"So if you're gonna do it
Then, baby, just do it
Don't let me down gently"
In "Just Do It", Michaels tells a story about a romantic partner, who decided to break up with her. She prefers him to do it at once in order to let herself move on instead of waiting for him to lead her on.
Not every relationship will have a happy ending. Sometimes we need to leave the wrong person to meet the right one. Just say the words you want to end the relationship will make things easier. What's your opinion? Were you the one that say goodbye first?
Conclusion
That's all 10 top Julia Michaels songs.
I'm sure now you know more about this outstanding singer.
Do you like her style?
Is there a song of her that attracts you the most?
To click the links below the songs you can get them downloaded free.
Share your ideas with me in the comments.
Good day!