John Lennon Songs – Best 10 Solo Songs by John Lennon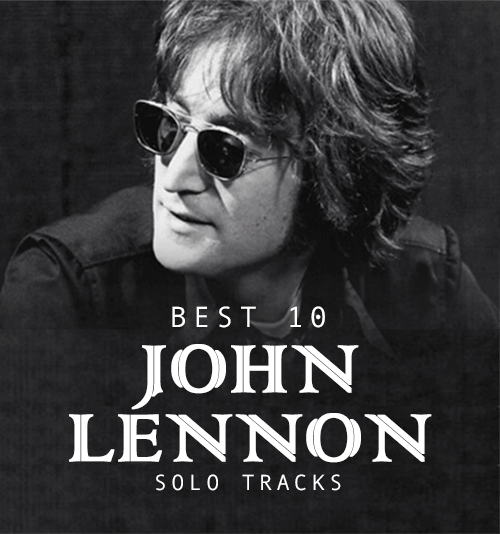 He was twice inducted into the Rock and Roll Hall of Fame.
In 2008, Rolling Stone ranked him the fifth-greatest singer of all time.
By 2012, his solo album sales in the US had exceeded 14 million units.
He is responsible for 25 No.1 singles on the US Hot 100 chart.
He is John Lennon.
I believe that you are quite familiar with this name.
When did you start to listen to his songs?
Which of his song is the first that you listened?
Now, let's take a look at the top 10 John Lennon songs.
1. Give Peace A Chance
"This-ism, that-ism
Isn't it the most
All we are saying is give peace a chance
All we are saying is give peace a chance"
The first solo single issued by Lennon and it became an anthem of the American anti-war movement during the 1970s. The song peaked at No.14 on the Billboard Hot 100 and No.2 on the British singles chart.
Bagism, Shagism, Dragism… Sometimes we are just trapped in these. If we give peace a chance, do not care much about differences. Only care about peace that the world really needs, I believe things will be better.
2. Imagine
"Imagine there's no heaven, it's easy if you try
No hell below us, above us only sky
Imagine all the people living for today (Uh…)
Imagine there's no countries, it isn't hard to do"
The best-selling single of John Lennon's solo career.
BMI named it one of the 100 most-performed songs of the 20th century.
Rolling Stone ranked it No.3 in their list of "The 500 Greatest Songs of All Time".
Let's imagine a world without countries, possessions, nothing to kill or die for, we are just man live together and share the world. This kind of life will come true as long as we never stop chasing.
3. Happy Xmas (War Is Over)
"And so this is Christmas ( War is over)
And what have we done (If you want it)
Another year over (War is over)
And a new one just begun (Now)"
The song reached No.4 in the UK in 1972, and this song peaked at No.2 after Lennon's death in 1980. It is also a protest song against the Vietnam War.
Christmas is always filled of happiness. With the word of "War is over" you will be lighted up. Enjoy this delightful song, you will feel the Christmas.
4. Jealous Guy
"I didn't mean to hurt you
I'm sorry that I made you cry
Oh no, I didn't want to hurt you
I'm just a jealous guy"
This song is one of the most commonly recorded Lennon songs. It has at least 92 other recorded versions, the most notable one from Roxy Music's version, which reached No.1 in several countries 3 months after John Lennon's death.
Sometimes, we may hurt people we love because of jealousy or misunderstandings. We didn't mean to hurt them but we actually did. What we need to do is to say sorry and let them know how much we love them.
5. Starting Over
"But when I see you darling
It's like we both are falling in love again
It'll be just like starting over, starting over
Everyday we used to make it love"
The song released in 1980. It is Lennon's biggest solo hit in the United States, staying at No.1 for five weeks. In 2013, Billboard Magazine ranked it as the 62nd biggest song of all-time on the Billboard Hot 100 charts.
Love is always strong when it begins. We grow together with people we love, love grows, too. If we choose a place and start over, love will be more special. Where and when will you choose to start your love over?
6. Mind Games
"Love is the answer and you know that for sure
Love is a flower, you got to let it, you got to let it grow
So keep on playing those mind games together"
"Mind Games" was the lead single for the album of the same name. In the US, the song peaked at No. 18 on the Billboard Hot 100 and No. 10 on the Cashbox Top 100.
The lyric "Yes is the answer" is a nod to his wife Yoko Ono's art piece that brought them together.
This song was recorded as Lennon split with her for his 18-month "lost weekend" with May Pang.
To know clearly about what is happening and keep positive about the future. Love is the answer to everything. We will make this world better by creating more love.
7. Oh My Love
"Oh my love for the first time in my life
My mind is wide open
Oh my lover for the first time in my life
My mind can feel"
"Oh My Love", which was released in 1971, is the only songwriting collaboration on Imagine. The song has been recorded by numerous artists, such as The Bells, Cilla Black and Jackson Browne. A cover version by The Lettermen became a minor hit, peaking No.58 on the Japanese singles chart in 1972.
Love is magic. When you meet someone you love, you will have new thoughts about this world. The song is sweet and relaxing, how about listening this song before sleeping? I guess you will have a nice dream.
8. Mother
"I just got to tell you
Goodbye, goodbye
Mama don't go
Daddy come home"
The song peaked in the US at No.19 on the Cashbox Top 100 and No.43 on the Billboard Hot 100.
"Mother" is actually a cry to both John's parents, who abandoned him in his childhood. John's father left the family when John was an infant. His mother did not live with him although they had a good relationship.
I can feel his sadness and desperation. No one would be happy if their parents abandoned them. The best thing for a child is stay together with his parents. What's more, love from parents will let children grow up happily.
9. Watching the Wheels
"Well they give me all kinds of advice designed to enlighten me
When I tell them that I'm doing fine watching shadows on the wall
Don't you miss the big time boy you're no longer on the ball
I'm just sitting here watching the wheels go round and round"
It was the third and final single released from Lennon and Ono's album Double Fantasy. The song reached No.10 in the US on the Billboard Hot 100 and No.7 on Cashbox Magazine's Top 100.
We don't play toys now, but it doesn't mean that we couldn't go back to the happy childhood. Keep the thought we used to keep and stay simple, we can make the happy time come to us again. Do you think so?
10. Working Class Hero
"Keep you doped with religion and sex and TV
And you think you're so clever and classless and free
But you're still fucking peasants as far as I can see
A working class hero is something to be"
"Working Class Hero" is a song from John's 1970 album John Lennon/Plastic Ono Band, his first album after the break-up of the Beatles. Lennon recorded the song over a hundred times until he was satisfied with the recording.
This is a political song, telling the story of someone growing up in the working class. The refrain of the song is "A working class hero is something to be". Working makes us valuable and we gain sense of achievement. What's your opinion on working?
Conclusion
What do you think about these top 10 songs of John Lennon?
You can download the songs you like by clicking on the links under each music video.
Any songs out of this John Lennon solo songs list you want to share with me?
Just leave a comment below.
Have a nice day!