Jennifer Lopez Songs - Top 10 List Free Download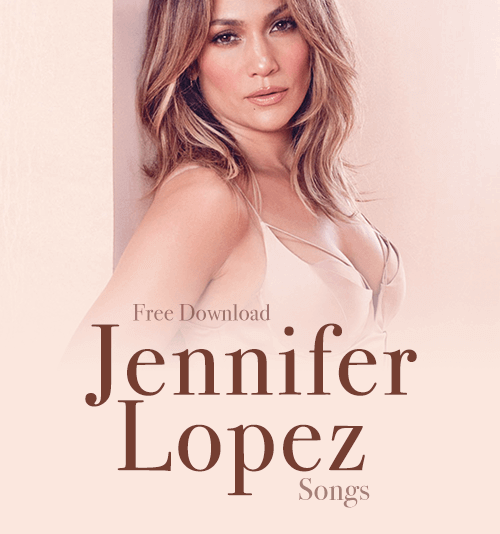 As a child, she enjoys a variety of musical genres.
As she growing up, she always dreams of being a multi-tasking superstar.
And now, she did it.
She's a brilliant actress, dancer, and a fashion designer.
Most importantly, she's a marvelous singer.
So, who is it?
It's Jennifer Lopez.
Now, I'm going to share you with best 10 Jennifer Lopez songs.
Keep pace with me!
1. On The Floor
"Dance the night away
Live your life, and stay young on the floor
Dance the night away
Grab somebody drink a little more
La la la la la la la
Tonight, we gon' be it on the floor"
"On The Floor" is a song recorded by Jennifer featuring American rapper Pitbull and released on February 8, 2011. It incorporates elements electro house, Latin music and techno music.
Lo recorded a Spanish-language version of the song titled "Ven a Bailar" (Come to Dance). It's said that the song made her famous around the world. It topped more than 30 national single charts, and sold over 4 million copies.
For me, I totally don't know how to dance, I know this is a dance pop song when I hear the song, and feel like dancing along with it. If you feel the same, that's exactly what J. Lo wants. Just feel the magic!
2. Dance Again
"I wanna dance, and love, and dance again
I wanna dance, and love
And dance again
Dance, yes, love, next"
"Dance Again" is an up-tempo dance-pop song, features Lopez singing about wanting to dance and love, and it contains several sexual innuendos. It stood for her surviving a rough divorce. As she said: "I had to get through it for my kids."
I hope the song can help you lift out of the darkness and make you "Dance Again" when you are down. Just try it and get free download here.
3. Ain't It Funny
"Ain't it funny how a moment could just change your life
And you don't want to face what's wrong or right
Ain't it strange how fate can play a part
In the story of your heart"
"Ain't It Funny" was written by Lopez and Cory Rooney for the Adam Shankman who directed romantic comedy The Wedding Planner. According to Rooney, "all those words and melodies just started coming to me while watching the comedy."
Although somebody criticized on the song: Latin pop song should be done properly. However, the song was a commercial success. In Poland, it peaked at No.1 and lasted for 8 weeks on the Polish Singles Chart. In UK, the song peaked at No.3.
Will you love this Latin-flavored song?
4. Love Don't Cost A Thing
"You think you gotta keep me iced, You don't
You think I'm gonna spend your cash, I won't
Even if you were broke
My love don't cost a thing"
"Love Don't Cost A Thing" carries on Lopez exploration of love in her music from her first single "If You Had My Love".
It's a song based on her two-year relationship with rapper Sean Combs who allegedly "showered" Lopez with expensive jewelry. Just as Lopez sings in the chorus: He did hurt Lopez. But we can't feel the heart-broken through the lyrics.
5. If You Had My Love
"And if somehow you knew that your love would be untrue
Would you lie to me
And call me baby?"
It's a mid-tempo pop and R&B song that also features Latin and hip pop influences. Michael Jackson had also showed interest in recording it, but he felt that it was better suited for a female singer.
Listen to the song its lyrics revolve around the beginning of a new relationship. And I think the song showed J. Lo's great talent in Latin roots.
Anyway, it's considered one of Lopez's biggest hits, it topped at No.9 on Billboard Hot Dance Club Play Chart and so many other charts at that time.
6. Ain't Your Mama
"Things are about to change, I hear, I hear
We used to be crazy in love
Can we go back to how we were
When did you get too comfortable
Cause I'm too good for that, I'm too good for that
Just remember that, hey"
This is the second time that Lopez and Pitbull have collaborated on a song. Like "On The Floor", the song aims to let listener enjoy for dance, parties. And she did it.
Lyrically, the song celebrates a woman who is independent and won't accept a partner who needs to be taken care of. But please notice that it's not about man-hating. We love you. We just want you to see us the way we are, and never take us for granted.
The song debuted at No.9 on the US Billboard Hot 100, also reached No.5 in Germany.
7. I'm Real
"Cause I'm real
The way you talk
The way you move
Cause I'm real"
"I'm Real" is the name of two songs. The original version was released as the album's fourth single and the other version "I'm Real (Murder Remix)" was featured on a reissue of J. Lo in July 2010.
But both versions received mostly positive reviews. The singer offers voluptuous good times as long as her lovers "don't ask me where I've been."
8. Live It Up
"Oh we can do anything we want
Live it up so live it up live it up go
Oh and we ain't stopping till we're done
Live it up so live it up live it up"
"Live It Up" was announced on April 24, 2013, was original served as the lead Single to Lopez's eighth studio Album.
The song has got moderate success. It entered the US Billboard pop songs chart at No.33 and charted on the US Dance/ Electronic Digital Songs chart at No.13.
The song inspires us "do whatever we want", "live it up".
9. I'm Into You
"When I look into your eyes, it's over
You got me hooked with your love controller
I'm trippin' and I could not get over
I feel lucky like a four leaf clover
I'm into you, I'm into you"
It's recorded in seventh studio album Love. The song topped at No.41 on the Billboard Hot 100 and reached the top 10 on the UK Single Charts.
This is a song sings about being lost in love and lose her lover's attraction, while her love one tease at her. Just like the lyrics in the song: Do you get into the "I'm Into You"?
10. Papi
"Move your body, move your body
Dance for your papi
Rock your body, rock your body,
Dance for your papi
Put your hands up in the air
Dance for your man if you care
Put your hands up in the air air air"
This is a Latin-flavored dance song and topped the charts across the globe at that time.
The song revolves around Lopez's love to dance for her man. It's said to be the highlights of this album. And I must tell you that the music video of the song is worth watching. It is rife with a fresh, fiery and focused energy. Try it now!
The song topped the U.S. Billboard Hot Dance Club Songs Chart.
Wrapping It Up
So that's all about the top 10 Jennifer Lopez songs.
Is your favorite one in the list?
Perhaps you have different ideas about the best songs of Jennifer Lopez.
We'd love to hear your thoughts!
Feel free to leave a comment!
By the way, would these download links above be helpful for you to download free music?
If so, please share this post to more people. They'll thank you later.
See you!
Jennifer Lopez songs download: